Jump to navigation
Recipe: Scallops with Lamb Sausage and Beans
This dish is unbelievably delicious. Both Boo and Greg said it might be the best thing Iíve ever made. Sure wish it was my recipe. Itís not. Itís Michael Symonís, and it comes from his book
Michael Symon's Live to Cook .
I never thought to put lamb and scallops together, but it is a fantastic combination. And donít leave the orange out. The zest and the mint pull it all together in a scrumptious way.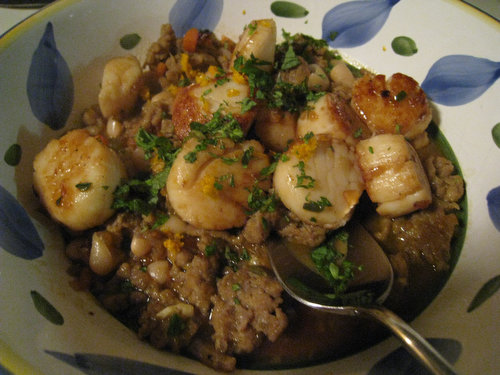 If you are going to make your own sausage, which I recommend doing, you'll need to start the day before. I did it the morning of, but it would have been even better with more time for the flavors to blend. Here is Michael Symonís Lamb Sausage recipe.

1 tablespoon olive oil
1 pound loose lamb sausage
1 pound dry-packed scallops
Kosher salt
1 fresno chil, seeded and diced
1 garlic clove, minced
1 shallot, minced
1 cup cooked cannellini beans
Grated zest and juice of 1 orange
1 cup chicken stock
2 tablesoons torn fresh mint leaves

Heat the olive oil in a large skillet over medium heat. Add the crumbled lamb sausage and cook until slightly crispy, about 4 minutes. With a slotted spoon, remove the sausage from the pan.

Increase the heat under the pan to medium-high. Season the scallops with salt and add them to the pan. Cook on the first side for 1 to 2 minutes or until golden brown. Flip the scallops, add the chili, garlic and shallot and continue to cook for 1 or 2 minutes.

Remove the scallops from the pan and return the sauasge to the pan along with the beans, orange juice and stock. Simmer for 3 minutes. Remove from the heat and divide the mixture among four to six bowls. Top with the scallops and then garnish with the orange zest and mint.

Serves 4 to 6.
Comments
Add Comments