Jump to navigation
Recipe: Salmon with Salmon Roe and Vanilla Oil
Charles Abellan, a progressive Barcelona chef, invented this dish, which combines distinct flavors and textures: sweet vanilla, salty roe, silky salmon, the pop of the egg. The salmon is cooked sous vide in the restaurant, but at home, itís covered in plastic wrap and cooked in a low oven (suggested by David Bouley). Donít worry, the plastic wrap wonít melt at this low a temperature. From
The New Spanish Table by Anya von Bremzen.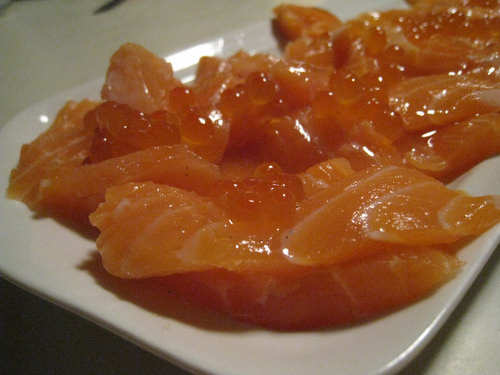 For the vanilla oil
1 1/2 best-quality vanilla beans
1/2 cup light bodied, flavorless cooking oil, such as grapeseed or sunflower

For the salmon
1 1/2 pounds extremely fresh skinless center-cut salmon fillets at least 1-inch thick
Vegetable oil, for brushing the salmon
Coarse salt
4 to 5 ounces salmon roe

Make the vanilla oil: Scrape the seeds from the vanilla beans into a small microwavable bowl. Add the oil and the vanilla pods and heat in a microwave on high power for 45 seconds. Then cover the bowl with aluminium foil and let the oil infuse at room temperature for 4 to 6 hours. The oil will keep for several days stored at room temperature in a jar.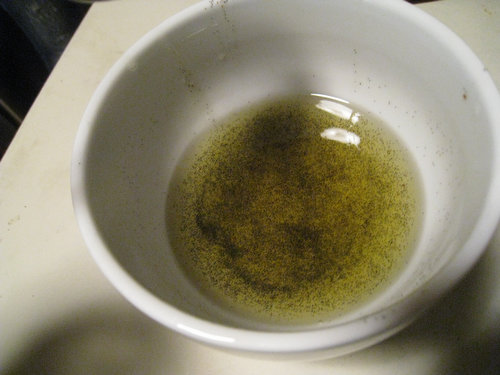 Prepare the salmon. Preheat the oven to 180 degrees.

Cut the salmon fillet lengthwise into two pices and place ona well-oiled heatproof plate. Brush the fish with a little vegetable oil and sprinkle with a little salt. Wrap the plate tightly in a double layer of sturdy plastic wrap and place it on a baking sheet.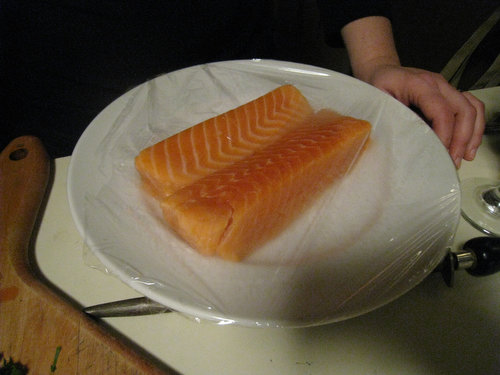 Bake for 13 to 15 minutes. Check after about 7 minutes. If for some reason the plastic wrap has burst, wrap another piece over the plate. When done, the salmon wonít looked cooked through, so just go by the number of minutes.

Remove the salmon from the oven, unwrap and let cool to room temperature, loosely covered with a sheet of clean plastic wrap.

To serve, blot the salmon dry with a paper towel and slice it crosswise into medium-thin slices. Arragne 3 or 4 slices on pretty appetizer places and drizzle some vanilla oil on and around the salmon. Spread a little salmon roe on top of each slice of salmon and serve at once.

Serves 6 to 8 as a tapa.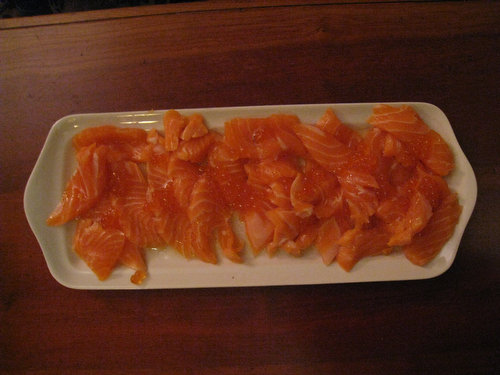 Comments
Add Comments