Jump to navigation
Recipe: Mussels with Chorizo
From
The New Spanish Table by Anya von Bremzen.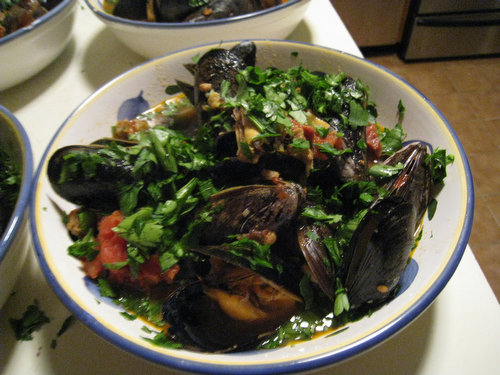 2 tablespoons extra-virgin olive oil
6 to 7 ounces sweet Spanish-style chorizo sausage, cut in half lengthwise, then into medium-thin slices
6 medium garlic cloves, sliced
1 1/2 cups chopped canned tomatoes
1/2 small dried red chili, such as arbol, crumbled
2 cups shrimp stock, or 1 1/4 cups clam juice diluted with 3/4 cup water
1 medium pinch saffron, pulverized in a mortar and steeped in 2 tablespoons very hot water
1 teaspoon red wine vinegar
1 medium pinch sugar
Coarse salt
2 pounds mussels, scrubbed well and debearded right before using
1/4 cup minced fresh flat-leaf parsley, for garnish
Country bread, for serving

Heat the olive oil in a wide, heavy pot over medium heat. Add the chorizo and cook, stirring, until lightly browed and beginning to crisp, 4 to 5 minutes. With a slotted spoon, transfer the chorizo to a bowl. Add the garlic and cook until golden and crisp, 2 to 3 minutes. With a slotted spoon, transfer the garlic to the bowl with the chorizo.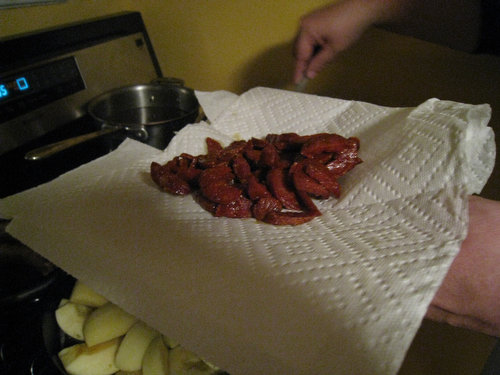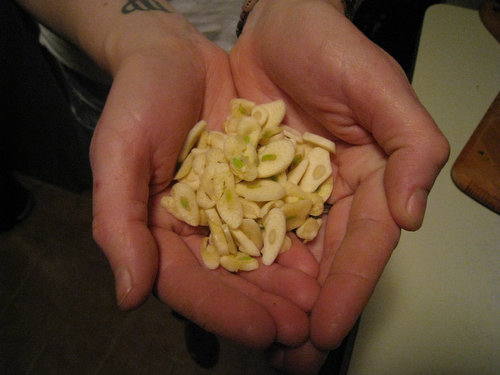 Spoon off all but 1 tablespoon of the oil from the pot, then add the tomatoes and the chile. Cook over medium-low heat until the tomatoes are well reduced and lightly caramelized, about 7 minutes, stirring occasionally. Add the shrimp stock, increase the heat to medium-high and bring to a boil. Reduce the heat to low, add the saffron and simmer, covered, to blend the flavors, about 10 minutes. Add the vinegar, sugar and salt to taste.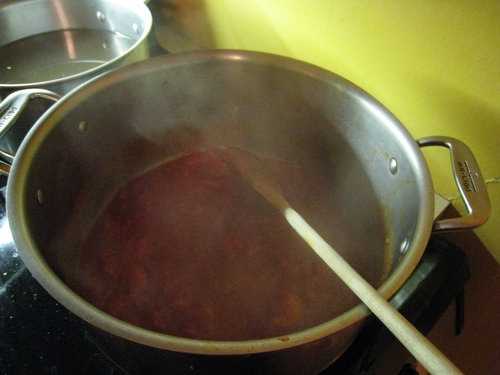 Add the mussels to the pot, cover and cook over medium-high heat, shaking the pot occasionally until the mussels open, 5 to 7 minutes. Remove and discard any mussels that donít open. Stir in the reserved chorizo and garlic. Transfer the mussels to an earthenware cazuela or another rustic serving dish, sprinkle with parsley and serve with slices of country bread.

Serves 4 to 6 as a tapa. (The photo below was a doubled recipe.)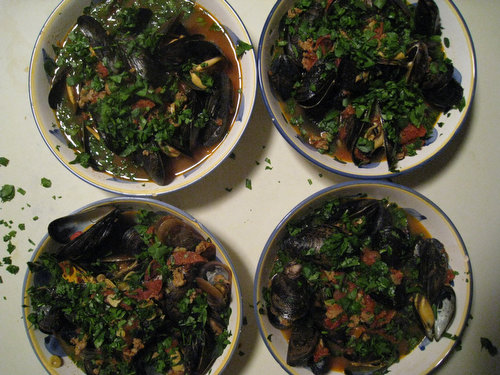 Comments
Add Comments