Jump to navigation
Lemon-Ginger Vodka Ices
Special Cocktail No. 3 at the cabin. (Now with a recipe.)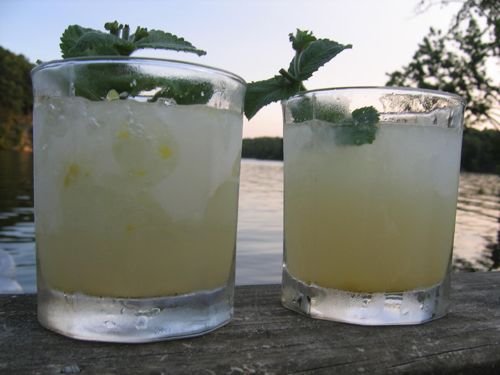 1 (3-inch) piece of fresh ginger, peeled and thinly sliced
2 cups water
1 1/2 cups sugar
Finely grated zest of 1 lemon
1 cup fresh lemon juice
8 cups crushed ice
2 cups vodka
8 mint sprigs

First, make the slushy ginger-lemon mixture by starting with a ginger simple syrup. Combine the ginger, water and sugar in a small saucepan and bring to a simmer over medium heat. Simmer for 5 minutes, then let the ginger mixture cool slightly. Transfer to a blender and puree. Strain the syrup into a large, shallow glass dish. Stir in the lemon zest and the juice. Cover and freeze until firm, at least 4 hours.

Let the frozen ginger-lemon mixture stand at room temperature for about 5 minutes. Chop the mixture into chunks. Put half the pieces in a blender, add 4 cups of crushed ice and 1 cup of vodka. Blend until slushy. Pour the vodka cocktail into 4 lowball glasses and garnish with a mint sprig. Repeat with the second half of the mixture, ice and vodka. Put the mixture in the freezer if itís for your second round.

Makes 8 drinks.

To make a virgin version: add 1/2 cup water to the blender in place of the vodka. Pour the mixture into a highball or rocks glass about halfway up. Add ginger ale and turn the drink out once into a cocktail shaker. Pour the drink back into the glass and add a mint sprig.

Comments
Add Comments