Jump to navigation
Alice's Corn Salad
Tessa's friend Alice served this salad at one of those infamous "there'll only be a few people for dinner" parties at the lake. Of course there were 15 people for dinner. But the party was fun, and the corn salad was delicious.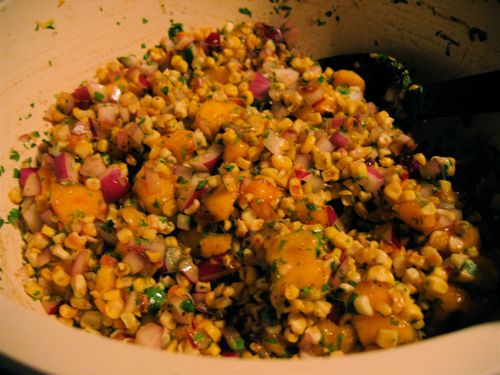 10 to 12 ears of corn (about 1 1/2 per person)
1 red onion, chopped fine
3 mangoes, diced
1/2 cup loosely packed cilantro, roughly chopped
Balsamic vinegar
Salt and pepper

Shuck the corn and grill it over medium-high heat, turning occasionally, until the kernels are brown. Carefully cut the corn off the cob into a big bowl.
Add the onion, mangoes and cilantro and toss. Drizzle with balsamic and season with salt and pepper. Serve room temperature.
Be sure to make enough for leftovers.
Yield: About 8 servings.
Comments
Add Comments