Jump to navigation
Watermelon-Basil Mojito
Special Cocktail No. 4 at the cabin.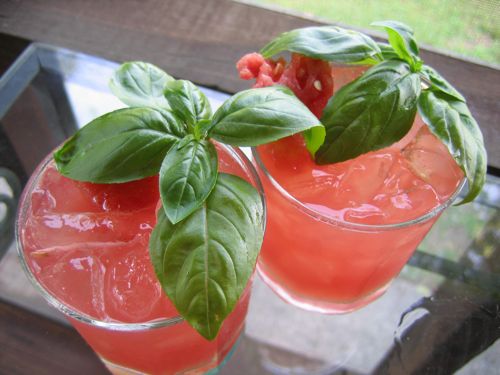 1/4 large watermelon (about 2 to 3 cups)
1 cup basil leaves, loosely packed
3/4 cup lime juice
1/4 cup simple syrup
1 cup rum
Club soda

Put the watermelon in a large pitcher. Add the basil leaves, lime juice, simple syrup and rum and muddle so the watermelon breaks up and the basil leaves release their oils.

Fill 4 glasses with crushed ice. Strain the watermelon mixture into a cocktail shaker filled with ice. Shake vigorously and strain into the glass. Top with club soda. Garnish with a basil leaf and watermelon slice.

Makes 4 to 6 drinks.
Comments
Add Comments