Jump to navigation
Blackberry-Mint Margarita
Special Cocktail No. 1 at the cabin. Adapted from Food&Wine's Cocktails 2006 book and originally served at The Hungry Cat in Hollywood, Calif.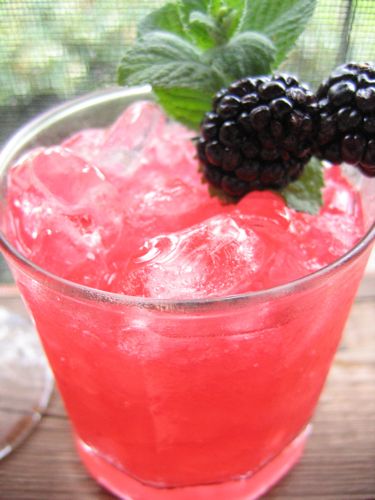 1 pint blackberries
1 big bunch mint
1 1/2 cups tequila
1 cup lime juice
1/2 cup simple syrup (1:1)

Take out enough blackberries for your garnish. Put the rest of the blackberries, mint and tequlia in a big pitcher. Muddle to break the blackberries and release the mint oil. Add the lime juice and simple syrup.
Fill 4 glasses with crushed ice. Strain the magarita mixture into a cocktail shaker filled with ice. Shake vigorously and strain into the glass. Garnish with blackberries and, if you like, mint sprigs.

Makes about 8 drinks.

To make a virgin version: Omit tequlia and simple syrup from the pitcher. Fill a rocks glass (with ice) 3/4 the way with the blackberry-mint-lime and top with lemon-lime soda.


Comments
Add Comments