Jump to navigation
Farmers Market Loot, July 20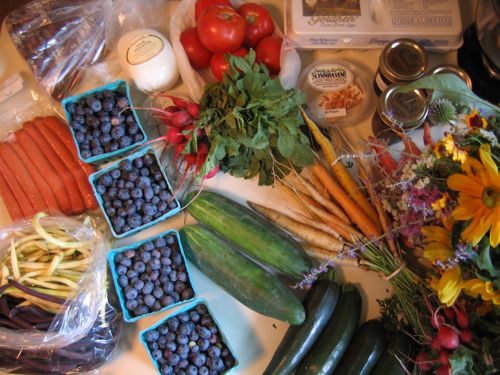 Big loot today. It's a mixed bag of Sour Cherry Farm sustenance — and the makings of a birthday party.
Dines Farm $9
Hot dogs $6
Eggs $3

The Orchards of Concklin $16
Blueberries $2.50 per quart=$10
Tomatoes $6

Blooming HIll Farm $27
Zucchini $3 per pound
Purple beans and Yellow Wax beans $2.50 per pound
Cucumbers $3 per pound
Radishes $2.50 per bunch
Carrots $3 per bunch

The Jam Man $14
3 cups Blackberry and blueberry jam: $5 each, but 2 for $9=$14

Lynnhaven $5
6 pepper goat cheese $5

The Baker's Wife $5
$5 half loaf of cranberry-walnut bread

Panzanella Foods $8
Large mozzarella $8

High Meadow Flower Farm $12
1 large bouquet $12


Now to be fair, this farmers market loot isn't all for our own cooking. We're helping Kelli throw Rory's birthday party, so the stuff from Blooming Hilli is going to make crudite and tea sandwiches (the cucumbers), the blueberries are for a fruit salad (with peaches brought from Tennesee!) and the jam is for peanut butter and jelly sandwiches for the kids. So the totals are for this week's farmers market loot:

Sour Cherry Farm: $45
Rory's Party: $51
For a total of $96.


For former entries in the farmers market loot series, please click below.
July 13.
June 29.
June 24.
June 15.
June 8.
June 1.

Comments
Add Comments