Jump to navigation
Playing Cards at the Cabin, Where the Competition is Ruthless
Leigh's mother Grace was an expert card player. She taught us all kinds of great games during our vacations in Tennessee as children. Two of them are still especially popular: Russian Bank and Canasta.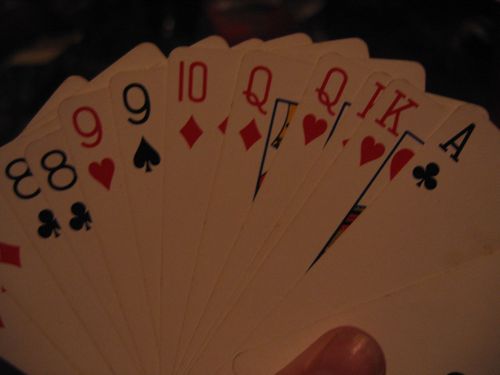 Unfortunatley, we only played one round of Canasta this year — but it was a doozy. For those who are unfamiliar, it's like a gigantic game of gin rummy, but with partners. And instead of sets of threes and fours, you have to collect seven of each kind of card. That makes a canasta. (Which is, by the way, the Spanish word for basket.)

Now these are Chattanooga rules. If you looked in Hoyle's, you might find something different. Anyway, you start with 13 cards.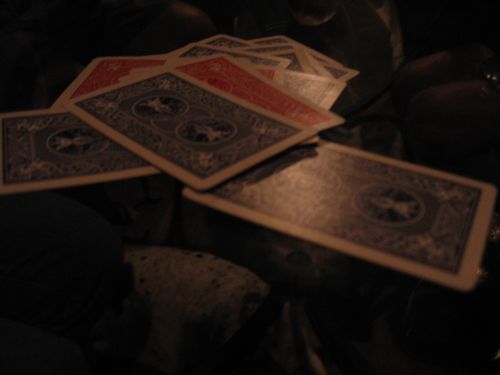 When it's your turn, you either draw two cards from the pile. Or, after you've melded — which means putting cards down on the table — you may pick up the discard pile. (Sometimes it's very juicy.) But you may only pick it up if you have two of whatever card is on top, either in your hand (sneaky) or on the table.




Depending on how far it is in the game, you need 50, 90 or 120 points to lay down some cards so your partner can help you start getting canastas. Cards that are between 4 and 9 are worth 5 points; 10 and the face cards are worth 10; Aces and 2s are worth 20; and Jokers are 50.

What about threes, you ask? Well, red threes are an automatic 100 points, and you draw a new card to replace them. (See the red threes in front of both players here?) And black threes, while only worth 5 points, are very valuable because they can freeze the discard pile.

Once you have six cards, you're supposed to turn the last one crosswise so everyone at the table knows you're one card away from getting a canasta.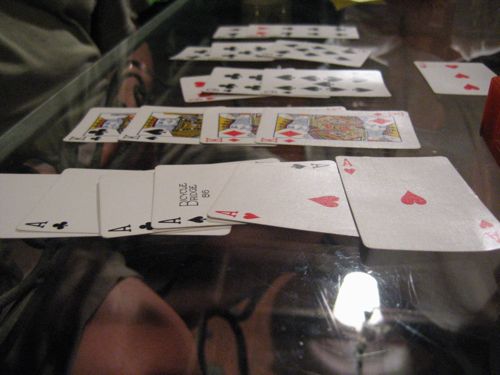 Here's mom, contemplaing her next move.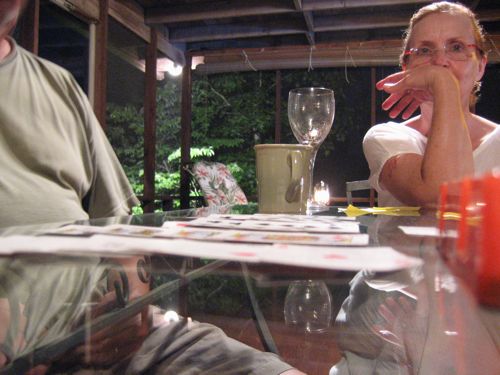 Now here's mom, contributing to that canasta and proceeding to kick our ass.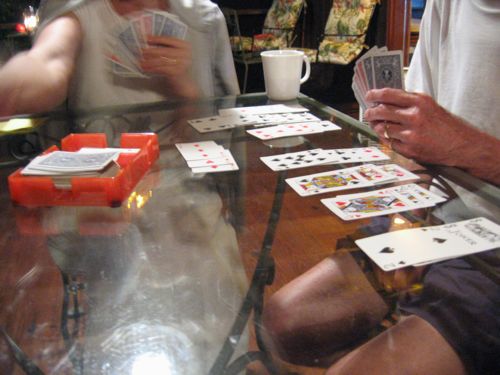 Just look at that score.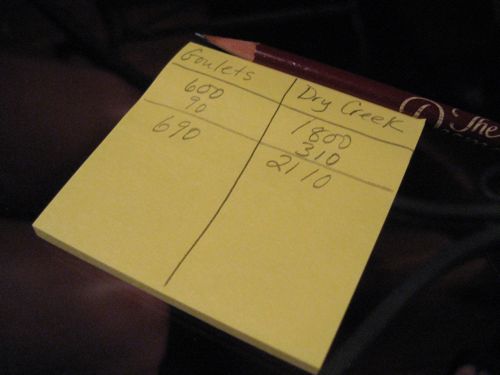 Let me explain the team names.

They stem from a story that Sarah and I overheard while waiting in the Broadway theater for "La Cage Aux Folles" to begin. Robert Goulet had taken over one of the leads roles and the crowd was nervously awaiting seeing him. We started noticing a lot of chit-chat from the woman in the row in front of us, who was turning around to talk to the woman to our left. We came to realize they were together. They were talking about how they used to listen to his records and swoon.

Then one of them piped up with a knowing glance, nodding her head, glancing down, and making her wrist limp as she spoke: "But then I sawr him at Westbury Music Faia, and let me tell you: He was NOT soba."

We were dying.

So when came to realize that all of the members of one team were partaking in cocktails that evening; and only one member of the other team was — we realized that one team was NOT soba. We became the Goulets. The other team was dubbed Dry Creek.

During the game, we took a dessert break: blackberries and peaches picked that day at Schwenk Farm.




Mom, being smug.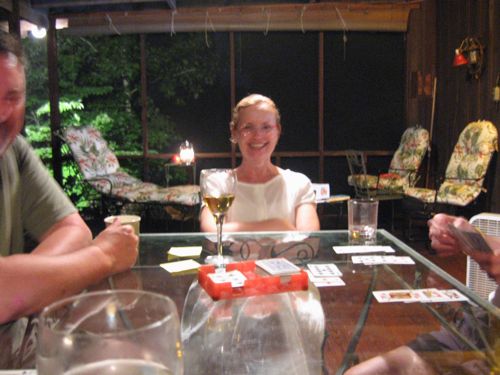 Comments
KKO wrote:
Add Comments