Jump to navigation
The Fish Mandate Continues
Greg has taken to calling my new interest in seafood ďThe Fish Mandate.Ē As I mentioned on my work blog
(click),
one thing thatís keeping the mandate in check is a lack of good seafood shops. But we found one over the weekend that does a pretty good job. We bought two fillets of grouper and served them with a red curry sauce.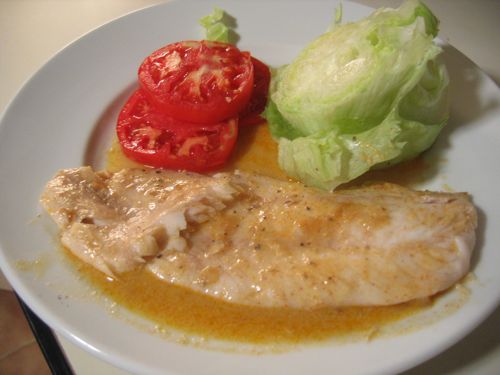 First, the ingredients. I gotta admit, Mel, this is not a very ďlocal, seasonalĒ dish. But itís mighty tasty. And yes, those are Sour Cherry Farm shallots and basil.

The dish is really, really easy. Preheat the oven to 450. You chop the shallots, melt some butter and saute them over low heat. Then you splash some dry white wine in the pan to deglaze and let it reduce until itís almost gone. Then you stir in the rest of the ingredients: coconut milk, lime juice, fish sauce, red curry paste, salt and pepper.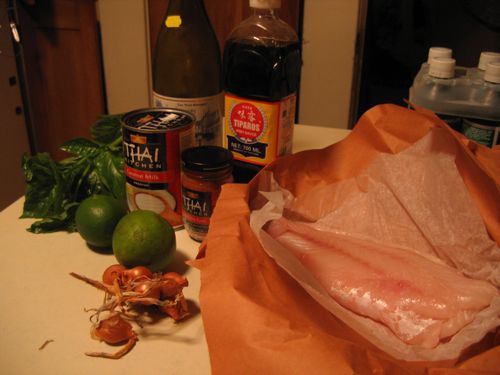 Bring it to a boil and let it thicken a bit. Then youíre ready to cook the fish.

Take parchment paper or foil and make a little well. Pour some sauce in it.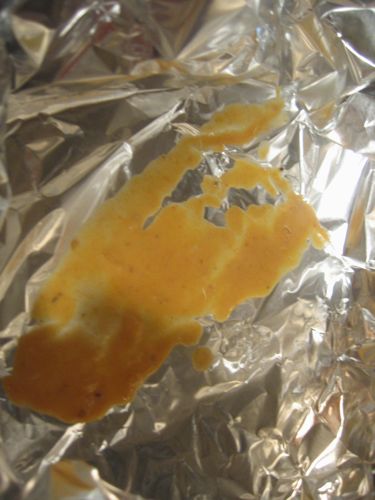 Put your fish filet on top, and salt and pepper it.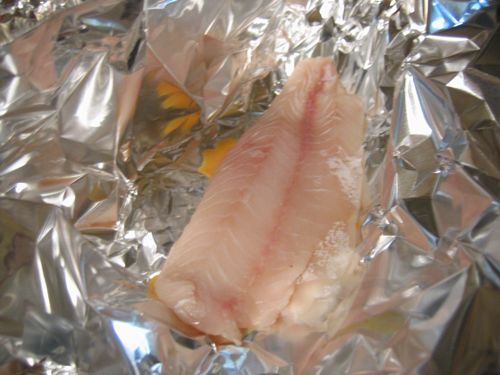 Pour some more sauce on top of it.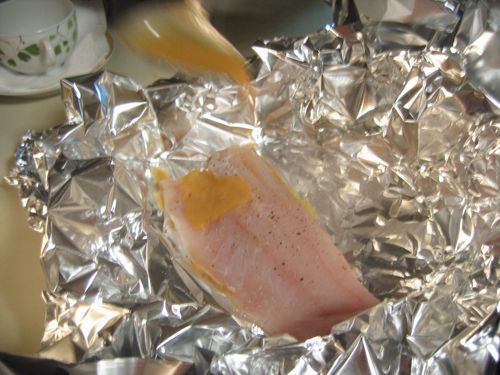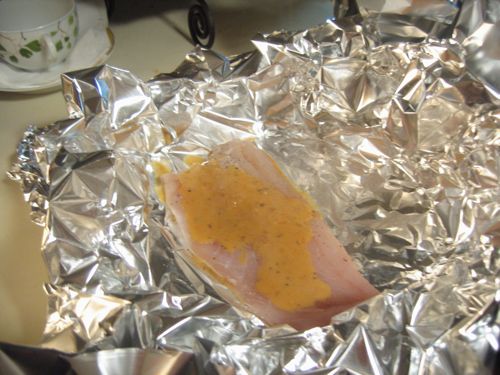 Then put a sprig of basil on top and seal up the packet so the sauce wonít leak.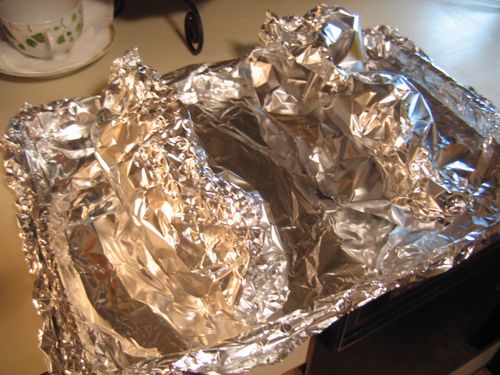 Bake for 12 to 14 minutes at 450. Then take it out and let it rest for 2 minutes. Open it up.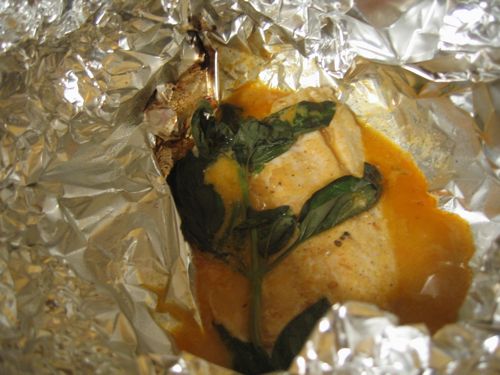 Then slide it out of the packet (oops! my fish broke!) and make a spout out of the foil or parchment and pour the extra sauce on top.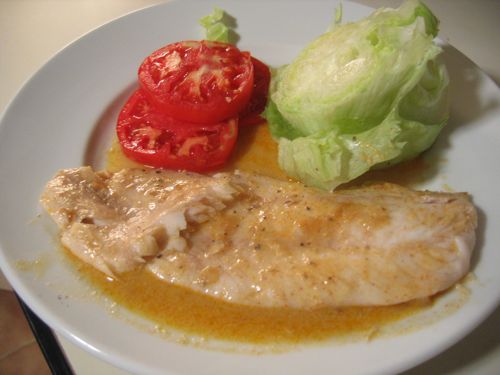 Easy. And hardly any clean up.

Hereís the recipe, from Food&Wine, Feb. 2003.

Papillotes of Sea Bass in Red Curry Sauce
1 tablespoon unsalted butter
2 medium shallots, finely chopped
1/2 cup dry white wine
3/4 cup unsweetened coconut milk
1 tablespoon Asian fish sauce
2 teaspoons fresh lime juice
1 1/2 teaspoons Thai red curry paste
1 teaspoon sugar
4 (6-ounce) skinless white-fleshed fish fillets, such as sea bass, grouper or halibut
Salt and freshly ground pepper
4 sprigs of basil

Preheat the oven to 450 degrees. Melt the butter in a medium saucepan. Add the shallots and cook over low heat, stirring occasionally until soft and golden, about 5 minutes. Add the wine and simmer until almost evaporated, about 3 minutes. Whisk in the coconut milk, fish sauce, lime juice, red curry paste and sugar and simmer until slightly thickened, about 5 minutes. You should have about 3/4 cup of sauce. Remove from heat.

Cut four 20-inch sheets of heavy duty aluminium foil or parchment paper. Set 1 sheet on a work surface and turn up the edges slightly to make a shallow bowl so the curry sauce wonít leak out. Spoon 1 tablespoon of the sauce on 1 side of the sheet and set a fish fillet on top. Season with salt and pepper and spoon 2 more tablespoons of the sauce on top. Top with a basil sprig. Fold the foil over the fish and, starting at one corner, fold the edge over itself in neat pleats so it slightly overlaps the previous one to make a tight seal. Repeat with the remaining curry sauce, fish fillets and basil.

Slide the papillotes onto a cookie sheet and bake them on the bottom rack of the oven for 12 to 14 minutes or until puffed. Remove from the oven and let stand 2 minutes.

Food&Wine says to put the papillotes in a bowl and open them up so people can eat the fish right out of their packages. But I made mine in foil and I donít want my fork scraping against foil as Iím eating, so I used a spatula to transfer the fish onto a plate. Then I made a spout out of the foil and poured the extra sauce on top. However you want to do it: it tastes great.

Yield: 4 servings.

To drink: Food&Wine recommends drinking a pinot blanc or chenin blanc from the Loire Valley.




Comments
Add Comments