Jump to navigation
The First Chilly Night of Fall
Talk about timing. Tropical Storm Ernesto brought chilly, rainy and windy weather to the Farm right smack during the last week of summer. We had to batten down the bunkhouse and don sweaters (though light ones), so we thought it'd be a good night for chili. Or rather, the very autumn-sounding Venison Chili with Apples.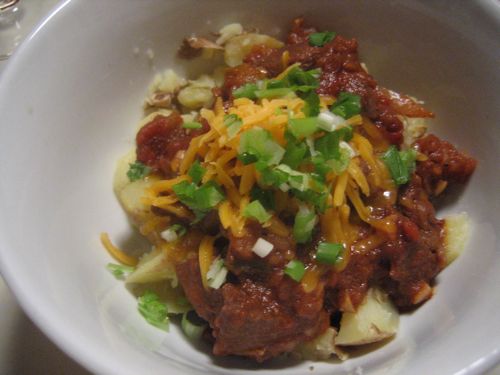 We started by pulling onions from the fields —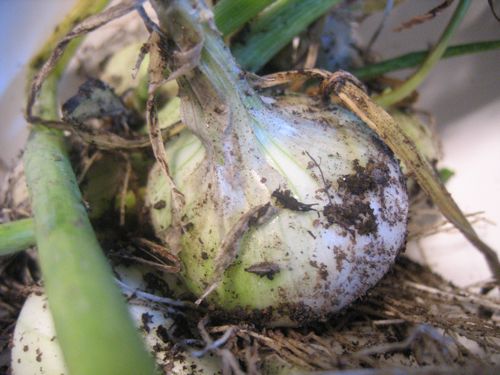 — and harvesting two jalapenos from the plants.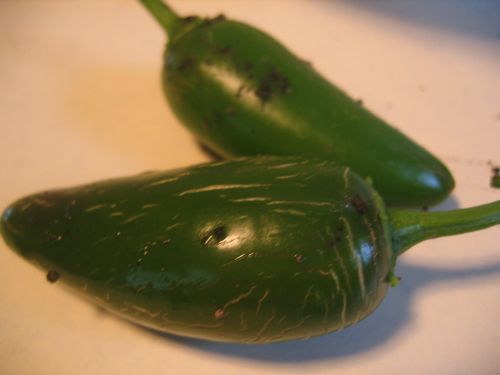 Then I defrosted some chicken stock I had in the freezer.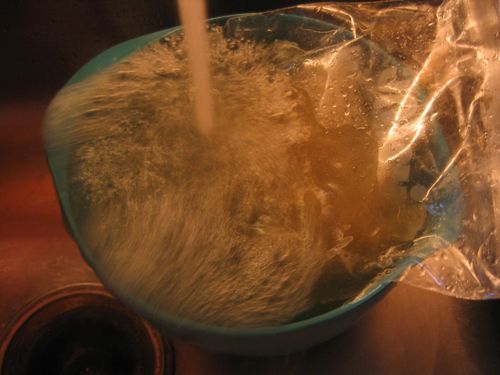 And gathered the rest of the ingredients.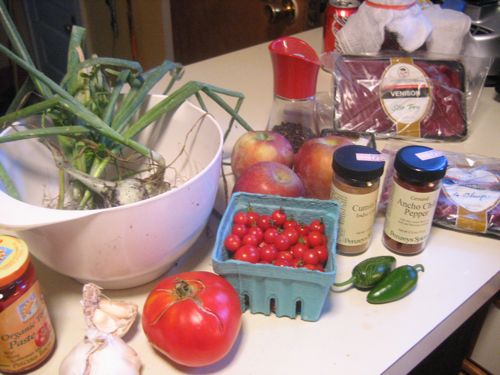 I had some venison in the freezer from D'Artagnan. It's a little hard to come by in the regular grocery store, but if you have a fancy butcher, he can order it, or you can get it online here. Of course, it's better if you can find locally raised venison, especially here in the Hudson Valley. (Here's one source I found online, though I've never purchased from them. Supposedly they are free-range, organically fed deer: Highland Premium Venison 518-537-6397.)

Anyway, back to the recipe:

Chop up the meat into 1-inch pieces: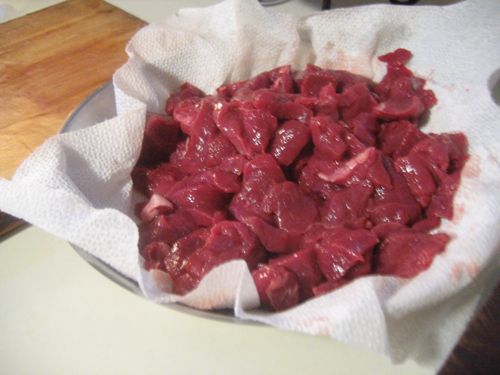 Measure out your garlic, jalapenos, cumn and chili powder.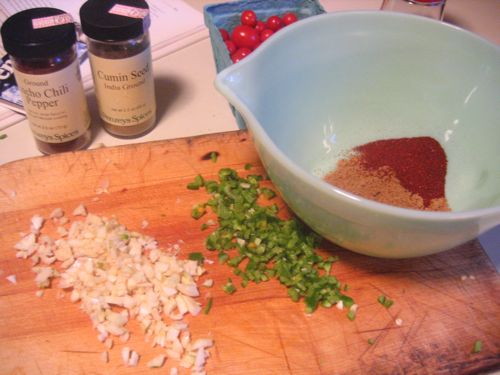 Saute the onions.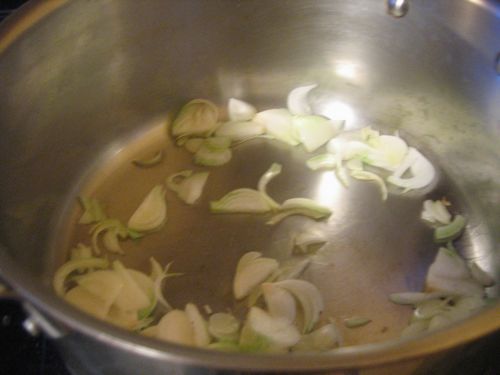 And add the meat.

While it's browning, peel, core and chop three apples. These are early McInstosh. (Aren't they gorgeous?!)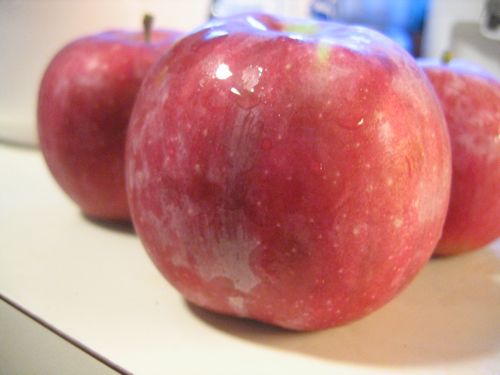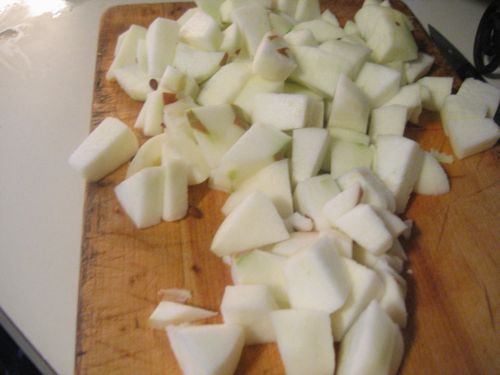 Throw the apples in as soon as you're done chopping them so they don't brown. Then add the garlic, jalapeno, chil, cumin, salt and pepper.

Give it a good stir and let it cook a bit.

While it's cooking, measure out your tomatoes, tomato paste, wine and chicken stock.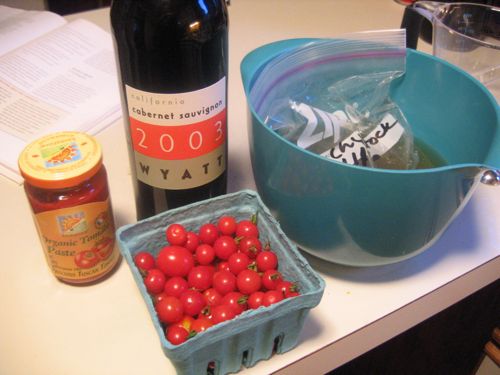 I was going to use fresh Matt's tomatoes from the garden, but at the last minute I decided to go with canned, diced tomatoes for the juice factor.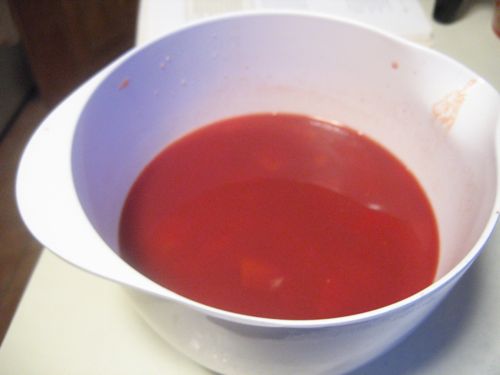 Add the liquid ingredients to the chili.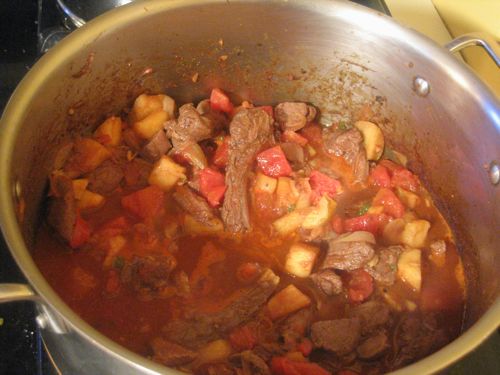 Give it another good stir and bring it to a boil. Lower the heat to simmer and set the timer for 2 hours. Serve with scallions and New York state cheddar cheese and a glass of the same wine from the recipe.

I put mine over leftover salt potatoes from Friday night's dance party.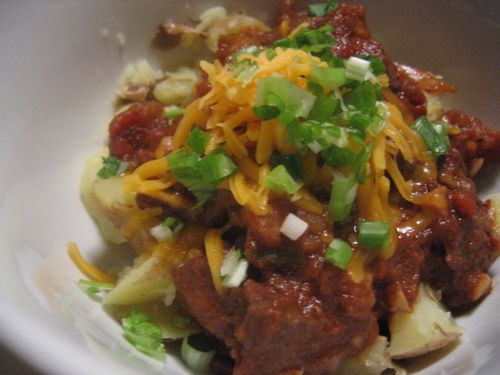 Here's the recipe. It originally appeared in Waldy Malouf's "The Hudson River Valley Cookbook," but the version I used was adapted from Waldy in "D'Artagnan's Glorious Game Cookbook." I liked the D'Artagnan one better because it used a little less of the ingredients and I didn't need a huge batch.

Venison Chili with Apples

2 tablespoons olive oil
1 1/4 pounds venison stew meat, trimmed, roughly ground or cut into small dice
2 medium yellow onions
3 Granny Smith (or other tart) apples
2 tablespoons ground cumin
2 teaspoons chili powder
2 tablespoons chopped garlic
2 jalapenos, seeded and finely chopped
Salt to taste
1 teaspoon freshly ground black pepper
1 1/2 cups chopped canned tomatoes in juice
1/4 cup tomato paste
1 cup or more chicken broth
1/2 cup red wine
Grated cheddar cheese
Chopped scallions

Heat oil over medium-high heat in a stockpot large enough to hold all the ingredients. Add onions, sweat a few minutes, then add venison. Brown about 5 minutes.

While the meat is browning, peel, core and cut apples into 1/2-inch dice. Add the apples, cumin, chili powder, garlic, jalapenos, salt and pepper to the pot. Cook for about 5 minutes longer.

Stir in tomatoes, tomato paste, chicken stock and red wine. Bring to a boil. Simmer, partially covered, for 2 hours, stirring occasionally, adding more broth if the mixture becomes dry. Taste to adjust seasonings and serve, garnishing with cheddar cheese and scallions.

(The cookbook also suggests putting a slice of cheddar on a sourdough baguette and melting it under the broiler, then topping with chili as an hors d'oeuvre.)

Yield: 4 servings.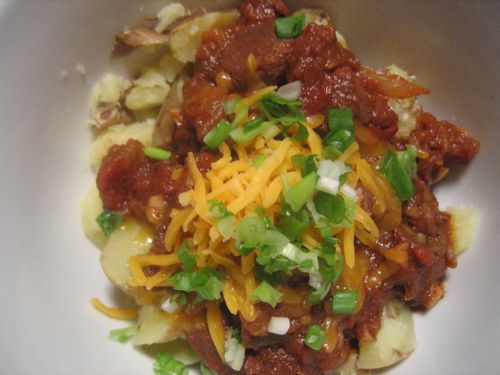 Comments
Bob wrote:
Add Comments