Jump to navigation
No, This Is Not A Fried Egg
Until last week, I was not fond of puns on my menu. But a meal with Irene at
WD-50 in Manhattan
made me laugh at the jokes and swoon over the food. This photo, for example, is of a course called carrot-coconut ďsunny-side-up.Ē Itís coconut milk and carrot juice mixed with industrial gums like agar to change their textures to that of a tight flan. A sight gag, yes. But also very good indeed. Itís got a tiny hint of cardamom that really made it shine. Now, for the fried mayonnaise.
You read that right: Fried mayonnaise. WD-50 ó named for the initials of the chef, Wylie Dufresne, and the restaurantís address, 50 Clinton St. ó is known for what some people are calling molecular gastronomy, but what I prefer to call hypermodern cooking. (Others call it progressive American, but it has its roots in Spain, so I donít think thatís appropriate either.)

But let me take you through the tasting menu in chronological order. It really didnít start off very well.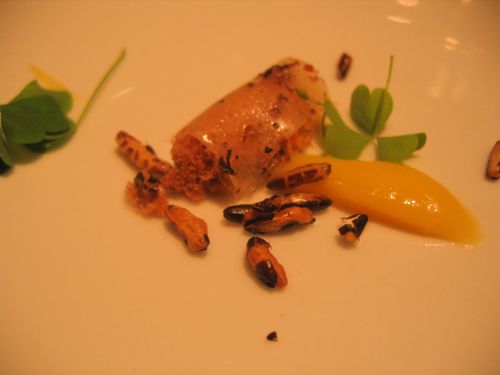 This is salmon threads, wild rice, jackfruit and wood sorrel. The little yellow creamy thing was the dish's only redeeming quality. You know how some Asian dishes use dried fish like salt? They just add a little crunch and flavor to an otherwise spicy or chewy dish? Not here: It was like taking a big bite of dry, dusty fish. Yuck.

Luckily, I had a glass of 2005 Palmina Tocai Fruiliano to wash it down, and I was still working on my cocktail.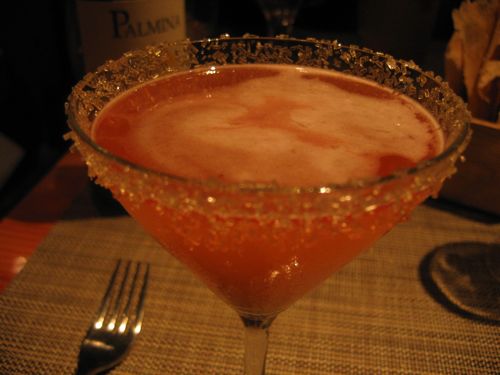 Unfortunately, I didnít write the name of it down, and I canít find it with a cursory glance online, so Iíll have to come back and fill you in on that later. The base spirit was cognac, though, and it was very very good. It was the name of a woman, I think. Anyone?

The next course was the egg. Which I loved. And I loved the next course: foie gras, candied olives, green peas, beet juice.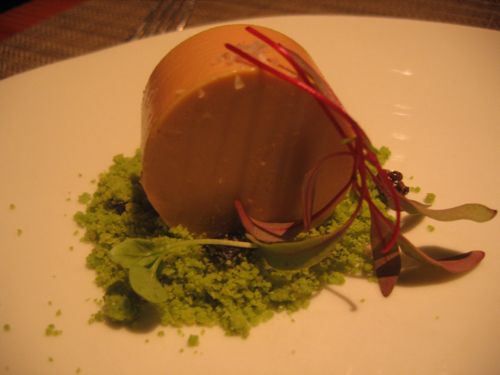 Beet juice, you say? Where?




Inside. Yes. As we cut the terrine open ó I vertically, Irene horizontally ó beet juice came oozing out. We giggled uncontrollably. It was hilarious. And I never expected it to taste so good. Iíve been complaining a bit about foie gras lately. Maybe my taste buds are changing, but the only was I like it lately is in a terrine. (Maybe because if itís not seared perfectly it can be really gross.) So even though this was a terrine, I didnít expect to enjoy it as much as I did. It was an eyes-roll-back-in-the-head good. The beet juice mixed with the peas ó like so: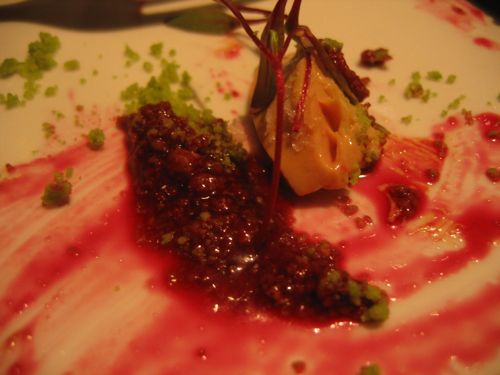 ó was delicious, and the dehydrated olives were like candy. (They even stuck in my molars.) Irene and I plotted to make them at home.

Things were looking up.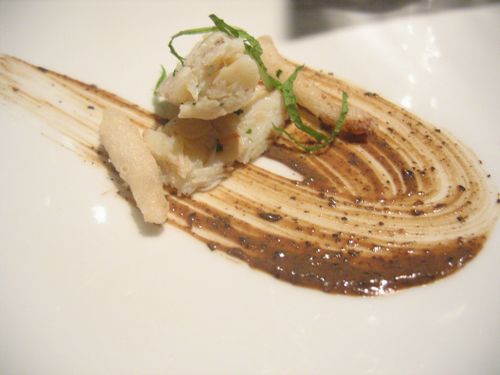 Now. Iím not too fond of the color of this sauce. (And I think I mentioned that to Irene a couple of times.) But this dish ó crab ďroll,Ē black bean, mint, pickled ginger ó tasted like the sea. And the ginger tempura (see the little sticks on either side of the crab?) was like a French fry, except industrialized. Remember Potato Stix? The little thin ones that came in a can? Like that.

OK. Hereís my other favorite dish of the night: Beef tongue, fried mayo, tomato molasses.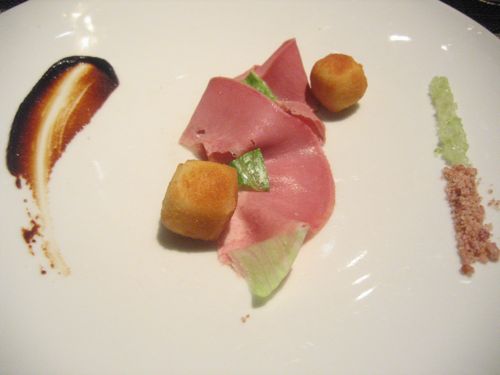 It was like an amazing hamburger. The beefy flavor was undeniable, and the crisp crunch of breadcrumbs around the mayonnaise was like a toasted bun.

I did the fold-up method: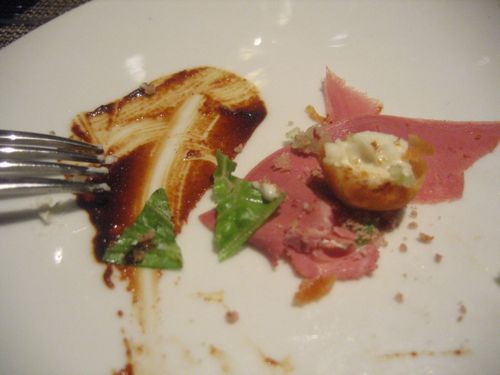 Dip it in tomato molasses (ketchup, anyone?) and swirl around the lettuce and youíve got yourself a burger. Though here, Wylie says he was inspired more by a tongue sandwich. (Also click there if you want to see the recipe; it explains how the hell you fry mayonnaise.)

The next course ó miso soup, sesame ďnoodlesĒ ó was interactive. You got your bowl of soup and a plastic bottle.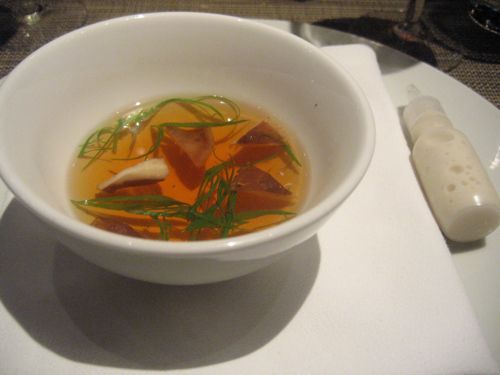 Then you squeeze the bottle into the bowl, like so: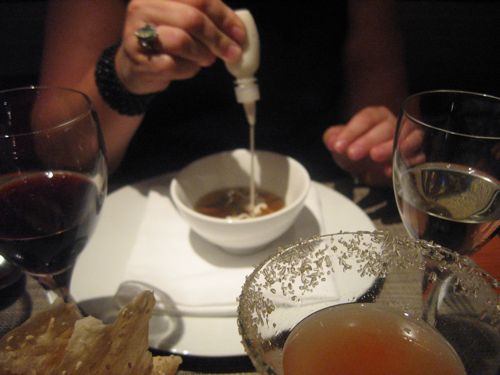 When you start, you have liquid. When youíre done, you have noodles. It tasted like a really good miso soup: meaty and smoky.

Irene liked the next course much better than I.

Smoked eel, peanuts, snow peas, whipped caramel: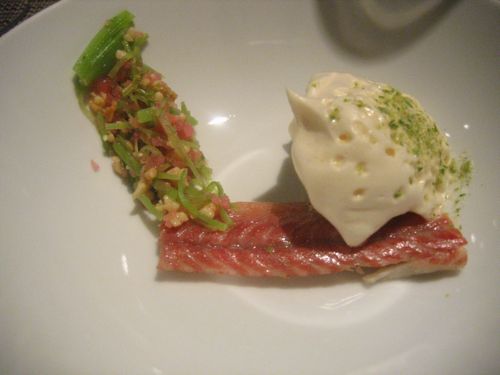 The foam tasted like cotton candy. I just wasnít such a fan of the flavors of the rest of the dish. Irene can weigh in, though, with a different opinion.

Spring lamb, carob, honeydew, fava beans: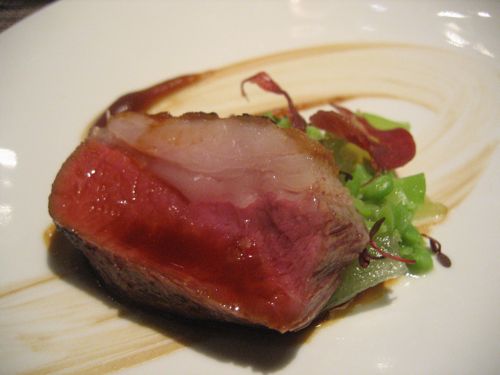 Just terrific. The melon flavor was like itíd been under pressure and exploded. And the little crispies on the top were a great texture. Amazing combination.

I didnít know what to think when I read the next course on the menu: Eggplant, cinnamon, Thai basil. Plus, I was getting really full and I wasnít sure if I could handle another big course.

But hereís how it came: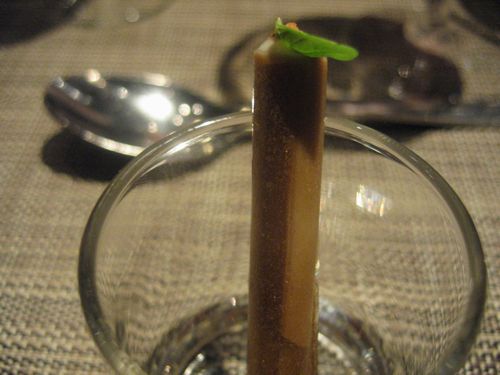 Like a cigar! The eggplant was the wrapper and the filler. You canít see from this angle, but it was hollowed out like a marrow spoon. It was the perfect way to move from savory ó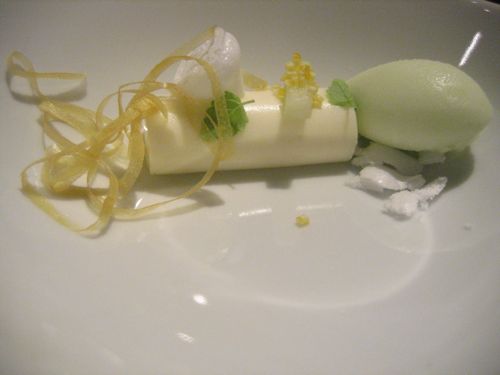 ó to sweet.

This is menthol mousse, lemon balm, chartreuse.

WD-50 just got a new pastry chef named Alex Stupak. He comes from Alinea, the hypermodern restaurant in Chicago that even went so far as to design its own serviceware for this new style of cuisine. Check out that web site for some far-out stuff.

The dish was a nice palate cleanser without being too cloying. I really liked the ďLeatherĒ ó see the ribbony yellow? ó which is like dried fruit. Remember roll-ups? Eso. Wine was a problem with this dish, though.

Last course: soft chocolate, avocado, licorice, lime.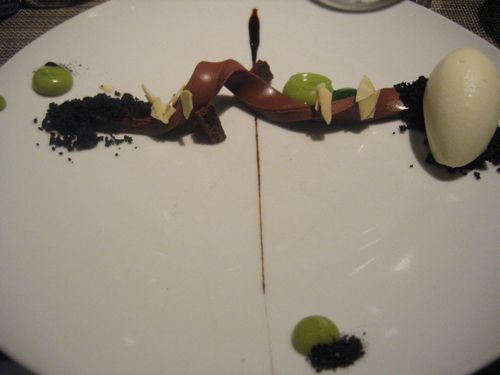 I donít usually go crazy over chocolate, but I wanted to pick up my plate and lick it. Who would think avocado would go so well with chocolate? The dish was a big, big winner. In fact, WD-50 has a three-course dessert tasting, and I would go back and sit at the bar and order it based on this dish.

A few gratuitous atmosphere shots;

The art: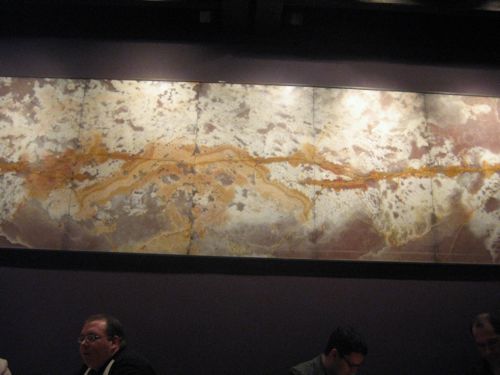 The people: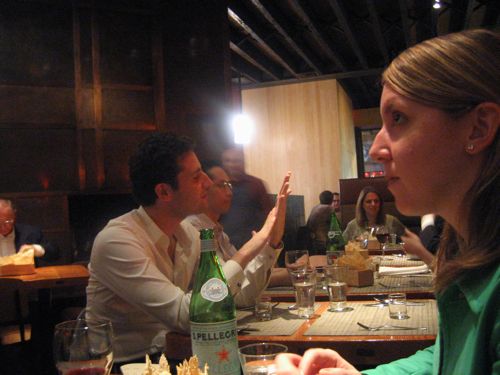 The corn caramel, which you eat: Wrapper and all.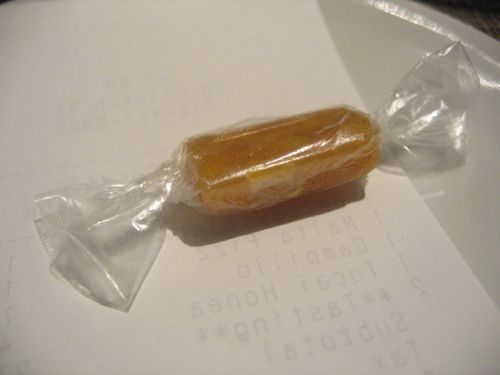 Comments
liz wrote:
Add Comments