Jump to navigation
Cooking with 'Arabesque'
After a
long week of dining out for Hudson Valley Restaurant Week,
the Farm was way-ready to have a night by the fire with a cocktail, Garrison Kiellor and some roast chicken. I was excited about trying out a new recipe Iíd found in
Arabesque: A Taste of Morocco, Turkey & Lebanon,
a new cookbook by Claudia Roden.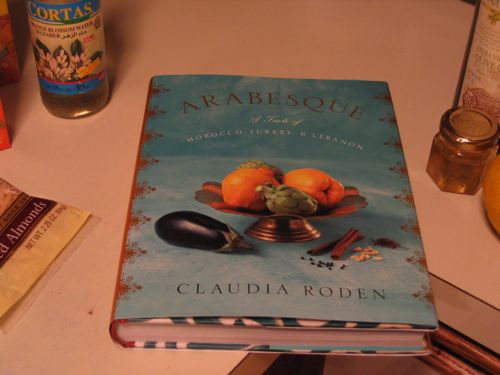 Ladies and gents: To your left, youíll find the makings for Couscous, Raisin and Almond Stuffing, including a sometimes-hard-to-find ingredient: Orange Blossom Water.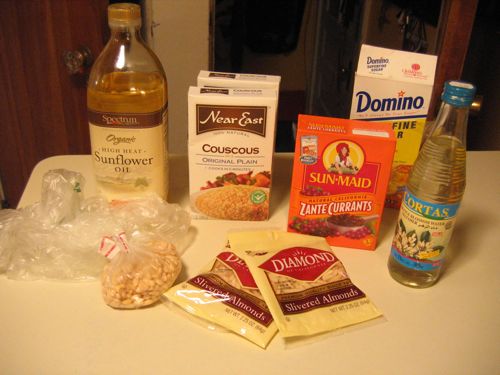 To your right, you will see the makings for roast chicken, including our Dines Farms chickens in a brining bucket: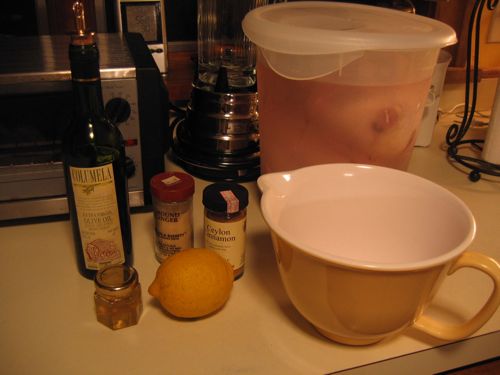 Together, they make for a delicious supper.

First, make the rub for the chicken: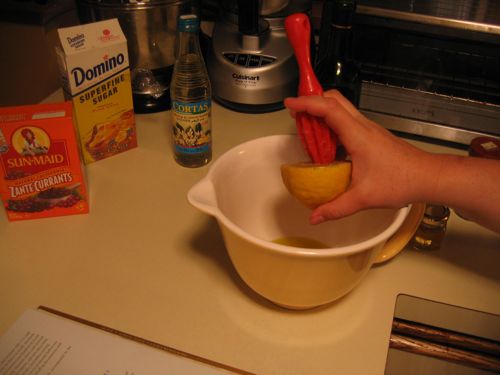 It includes olive oil, lemon juice, ginger, cinnamon, pepper and honey. I used local honey that Jon Pratt, the chef-owner from Peter Prattís Inn in Yorktown Heights gave me a little of. He collected it on the Innís property.

Whisk together.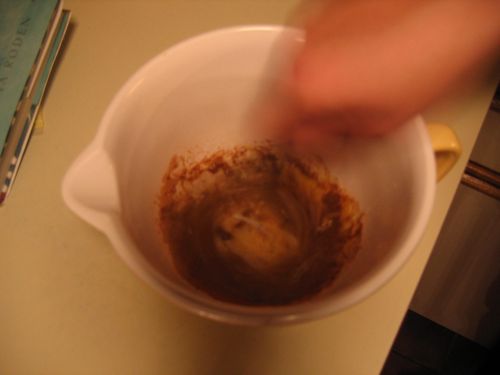 Then, pat the mixture all over the birds with your clean hands.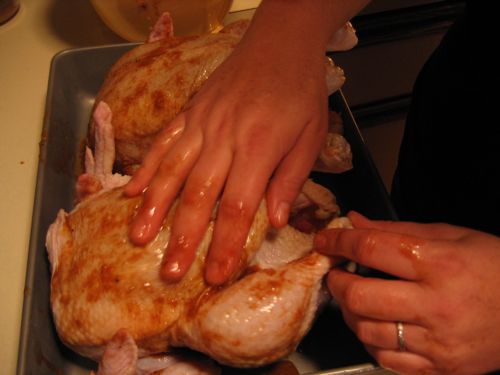 Play bongo on the chickens, if you like: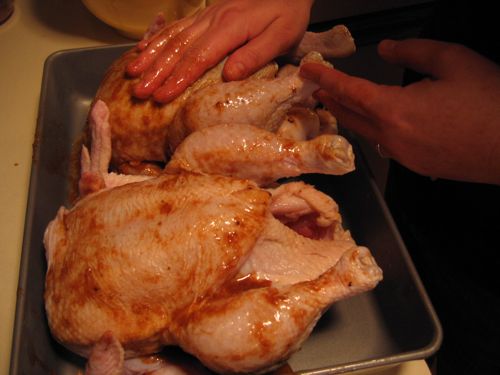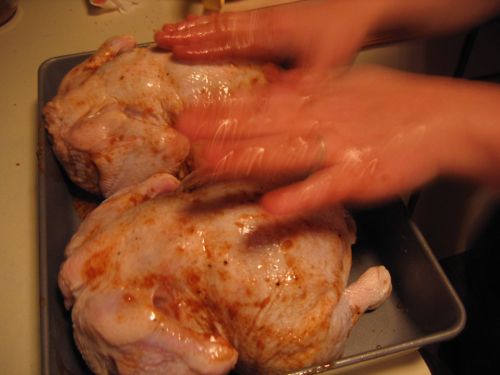 Then, make the stuffing. Claudia asks that we use fine couscous, but I had instant in the larder, so I used that and improvised. I also didn't have raisins, so I used currants. Instead of following her recipe, I made my couscous stove top and then added the mix-ins.

Hereís the mise en place: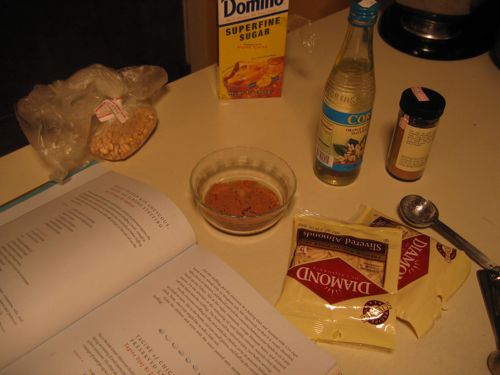 To go alongside, we also roasted squash from the farmers market. This is an interesting variety that keeps its really hard shell even after a couple of hours or roasting, which makes it really easy to scrape out. We cooked it with brown sugar and butter and then added some maple syrup infused with chai spices. Really good.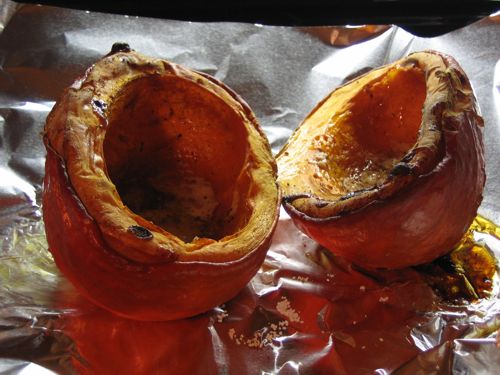 Hereís the dinner: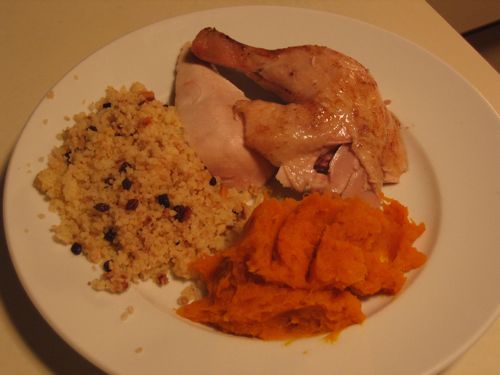 And, as a bonus, afterward. It was so rare to see Greg doing KP that I had to document.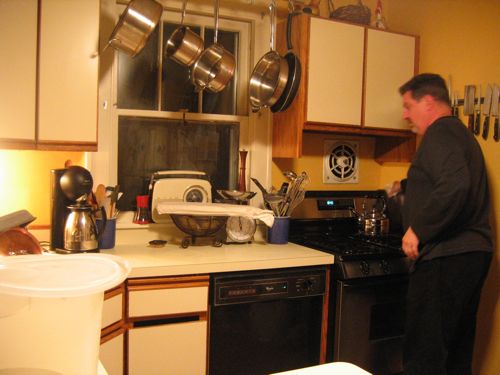 Hereís the recipe. I highly recommend it:

Roast Chicken with Couscous, Raisin and Almond Stuffing
From: Arabesque: A Taste of Morocco, Turkey & Lebanon, (Knopf) by Claudia Roden.

1 chicken (about 3 to 3 1/2 pounds)
1 1/2 tablespoons extra virgin olive oil
Juice of 1/2 lemon
1/2 teaspoon ground ginger
1/2 teaspoon ground cinnamon
Salt and black pepper
2 tablespoons clear honey

For the stuffing
1 1/4 cups fine couscous
1 1/4 cups warm water
Salt
2 tablespoons sunflower oil
1 tablespoon superfine sugar
1 teaspoon ground cinnamon
1 tablespoon orange blossom water
2 tablespoons raisins, soaked in water for 10 minutes
1/2 cup blanched almonds
1/2 stick (4 tablespoons) butter

Rub the chicken with a mixture of olive oil, lemon juice, ginger, cinnamon, salt and pepper. Put it breast side down in a roasting dish so the fat runs down and prevents the breasts from drying out. Pour about 4 to 5 tablespoons water into the dish.

Cook in an oven preheated to 400 degrees for about 1 1/2 hours. Turn the chicken breast side up after about 50 minutes, brush it with the honey and continue to cook until it is well done and brown. Test that it is ready by cutting into a thigh with a pointed knife. The juices should run clear, not pink. You will find that most of the honey will have slid down the chicken to mix with the juices and make a delicious honey sauce.

For the stuffing, put the couscous in a baking dish and moisten it with 1 1/4 cups warm water mixed with 1/2 teaspoon salt. Stir vigorously so that it is evenly absorbed. After about 10 minutes, add the oil and rub the couscous between your hands to air it and break up any lumps. Stir in the sugar, cinnamon, orange blossom water and drained raisins. Fry the almonds in the remaining oil until lightly colored, coarsely chop them and mix them into the stuffing. The butter will be stirred in later, just before serving.

Put the couscous stuffing in the oven with the chicken 20 to 30 minutes before you are ready to serve. Stir in the butter, cut into small pieces, and fluff up the couscous with a fork. Taste in case it needs salt.

Carve the chicken and serve with the sauce poured over, accompanied by the stuffing.

Yield: 4 servings.



Comments
Add Comments