Jump to navigation
Pigskin Punch
For the recipe, click the red "more."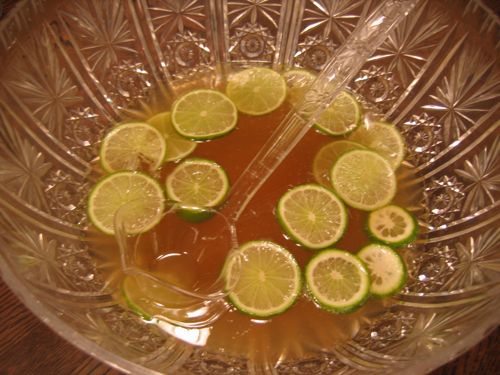 Pigskin Punch

1 (3-inch) piece of ginger root, peeled and roughly chopped
1/4 cup sugar
2 cups bourbon or spiced rum
1/2 cup freshly squeezed lime juice
3 cups (two 12-ounce bottles) ginger beer (available at Whole Foods Market and at Caribbean grocers)
3 cups (two 12-ounce bottles) ginger ale
Two limes
Kumquats for garnish

Refrigerate all the ingredients before using so the punch will be cold.
Muddle the ginger and the sugar together in a large bowl. Add the bourbon and allow to sit for at least 10 minutes and up to 3 hours (for longer times, return to the refrigerator). Strain the ginger out of the bourbon.
Pour the bourbon into a punch bowl and add the lime juice, ginger beer and ginger ale.
Slice the kumquats halfway so they will stand up on the rim of a glass.
Slice the limes into rounds and float them on top of the punch.
Set out glasses, ice and the kumquats, and print out the list of rules:

How To Enjoy Pigskin Punch
1. Fill a glass with ice and punch.
2. Garnish with a "football."
3. Find a comrade with whom to toast.
4. Raising your glasses, look each other straight in the eye.
5. Locking your gaze, declare, with conviction, "Lombardi!"
6. Enjoy responsibly.

Yield: 16 (4-ounce) servings.

Variation: To make a virgin punch, omit the liquor, use a 4-inch piece of ginger and use only half the sugar. You will have 12 servings.
Comments
Add Comments