Jump to navigation
Thai Curry with Shrimp
You can substitute chicken or beef, but you'll have to simmer that longer than shrimp.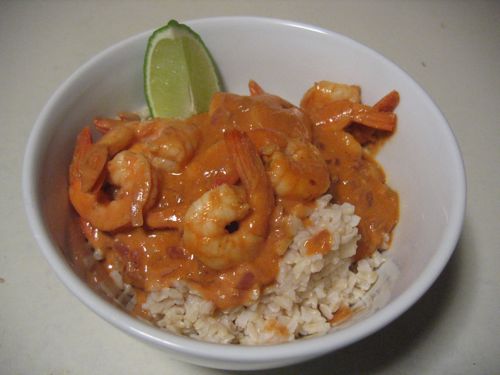 1/2 red onion, chopped finely
1-inch piece ginger root, peeled and chopped finely
Salt and pepper
2 cloves garlic, chopped or put through a press
1 tablespoon sunflower or other high temp oil
1 pound shrimp
1 tablespoon red or green curry paste
1 teaspoon ground coriander
1/2 teaspoon curry powder
1/4 teaspoon cumin
3/4 cup coconut milk
2 tablespoons tomato paste
1 tablespoon fish sauce
2 teaspoons light brown sugar

First, make your rice.
While it's cooking, chop everything and measure everything out.
Place the onions and ginger together in a bowl. Have the garlic in the press or keep it separate.
Place the curry paste, coriander, curry and cumin in a bowl.
Place the coconut milk, tomato paste, fish sauce and brown sugar in a bowl.
Heat your oil over medium heat and then saute the onions and garlic, sprinkling salt and pepper over them. Cook for about 10 minutes. Add your garlic and saute 1 to 2 minutes more.
Add your shrimp. Saute for 1 minute, then dump the bowl of curry paste, coriander, curry powder and cumin on them. Stir to coat and watch the shrimp turn just slightly pink.

Yield: 3 to 4 servings.
Dump the bowl with the coconut milk, tomato paste, fish sauce and brown sugar and simmer for 5 to 10 minutes until the shrimp is done but not overcooked.
Serve over brown rice.

Comments
Add Comments