Jump to navigation
A Big Bowl of Rabbit Ragu
Wait! Did I lose you? But rabbit is a great stewing meat! And this is a traditional Tuscan dish! I hope youíll follow along, because itís one of Sour Cherry Farm specialties, discovered in Italy and perfected back on Burd Street before the move to the farm. Itís delicious, and great comfort food. We made a big batch on Sunday.
You start with a rabbit. I get mine from Dines Farm, and they donít butcher it. I explain how to slice it up, but on a different post in case itís too graphic for some peeps.Don't click here unless you want to see the butchering. If you do, please click through. Iíve seen rabbit (in pieces) at Stew Leonardís around here, so it canít be that hard to find. Ask you butcher to order you one ó and ask him to cut it in six to eight pieces.

One thing I love about making this dish is that itís a chance to use my very favorite pot.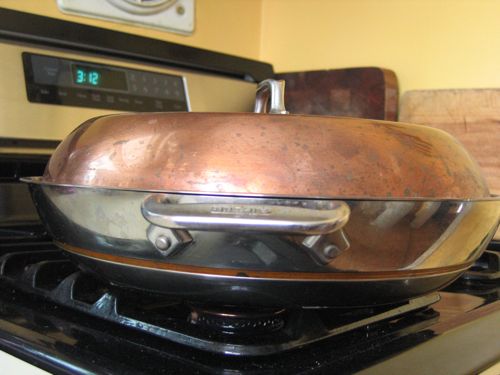 See, when Greg and I got married, we didnít ask for pots and pans on our registry, because Greg already had some really good ones from Macyís ó Tools of the Trade. They were three-ply, aluminium in the center and stainless on each side, just like All Clad. Aluminium is a great heat conductor, but itís a little dangerous to cook with every day, and also kind of hard to keep clean. So this is why these three-ply pots are so desirable.

But hereís what happened: We got gifts from Williams-Sonoma that we didnít need, or that we already had. When we went to return them, we realized they were discontinuing the copper core All Clad sets ó and so they were blowing them out on sale.

Copper is even more responsive to heat ó it conducts well and responds quickly to changes in temperature. Plus, this is five-ply: Copper in the center, then aluminium around that, then stainless on the outside. They come with copper lids. We decided weíd better get them. By the time we returned all our gifts for a modest credit, we only had to spend about $100 to get all new pots and pans, including this gorgeous braiser, which on its own costs $175.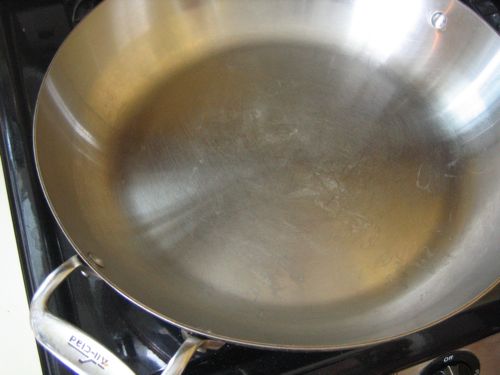 It was quite a coup. Williams-Sonoma has since brought the copper-core All Clad back, but it costs $2,000 and doesnít even come with copper lids anymore.

But I digress. You brown the rabbit pieces in oil in batches so to not overcrowd: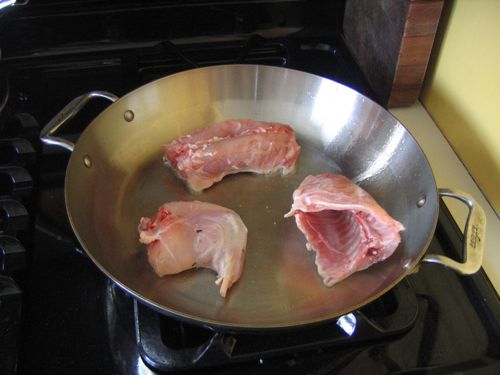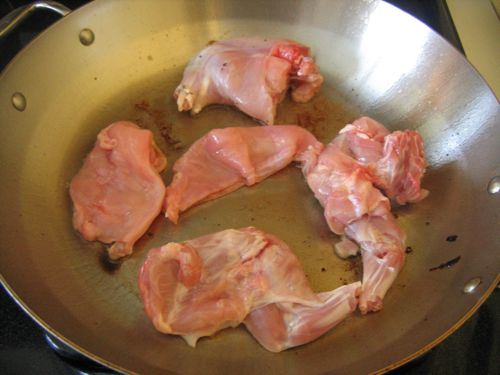 Then you remove them to a paper towel-lined plate.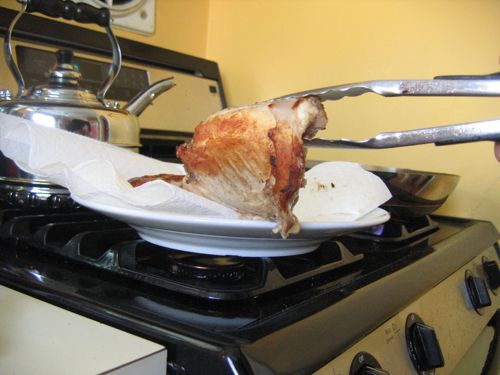 Salt and pepper them generously. I mean it. Donít skimp.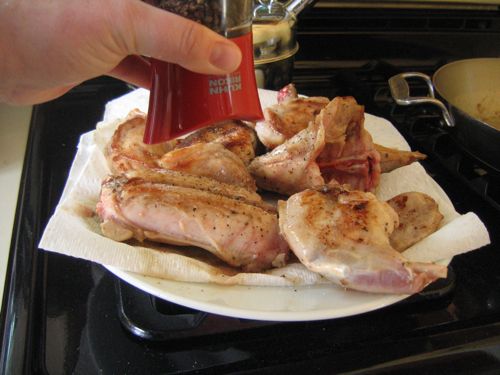 Then you add chopped onions, carrots and celery to the pan over medium heat.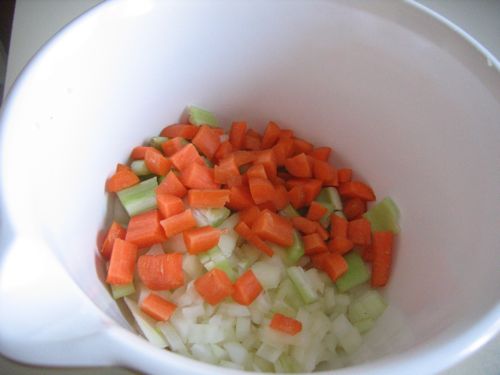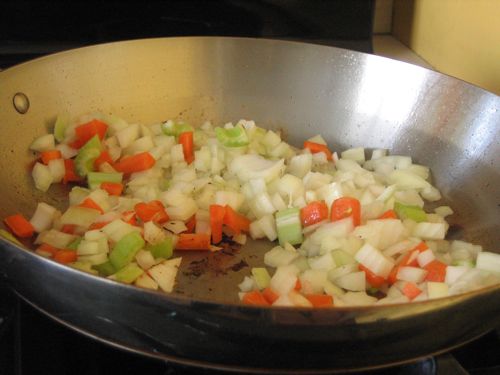 And once theyíve started to sweat, add a bunch of garlic. This was three cloves: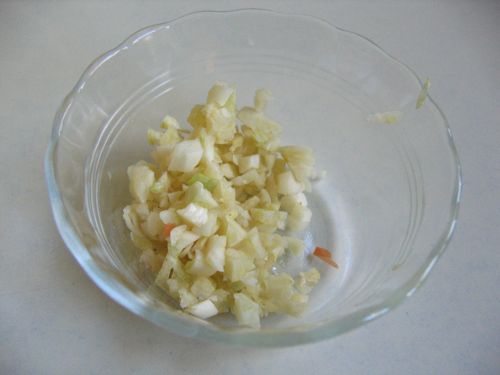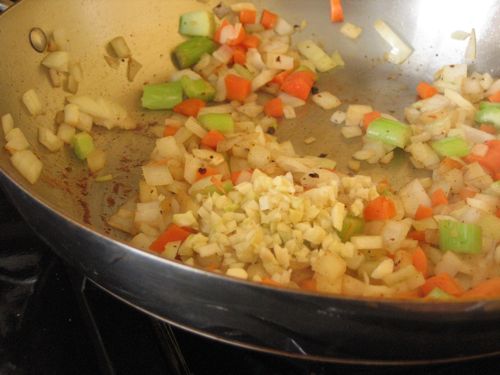 While thatís cooking, chop up a bunch of parsley: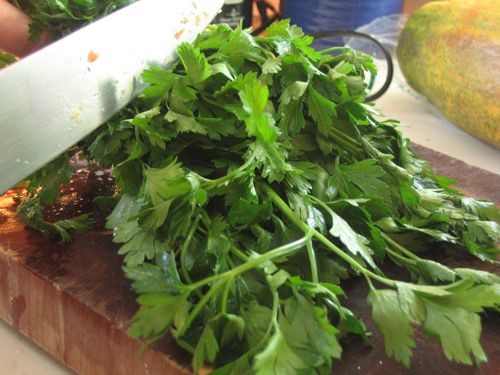 And 4 ounces of cured pork ó not smoked. The recipe calls for prosciutto, but today Iím using capocollo.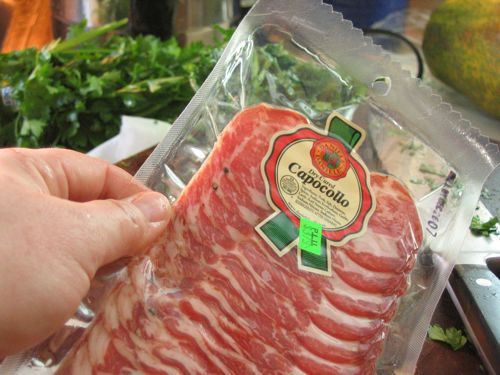 Just chop it into managable pieces.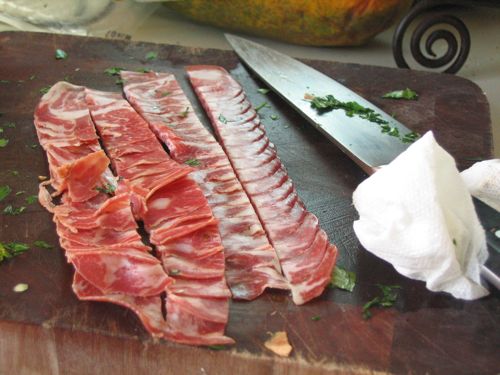 (See the paper towel on the knife? Sometimes when Iím using pork or bacon or something fatty, the knife gets slippery. To make sure itís safe, I hold the handle in a paper towel.)

By now your vegetables should be translucent. Add the pork ó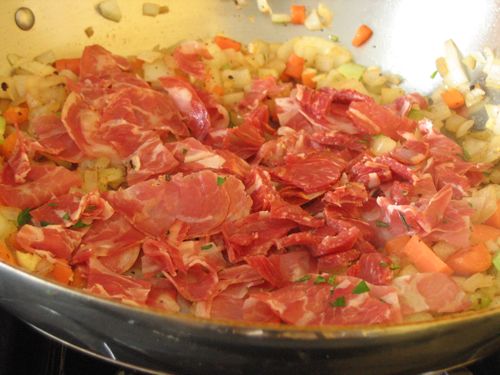 and the parsley ó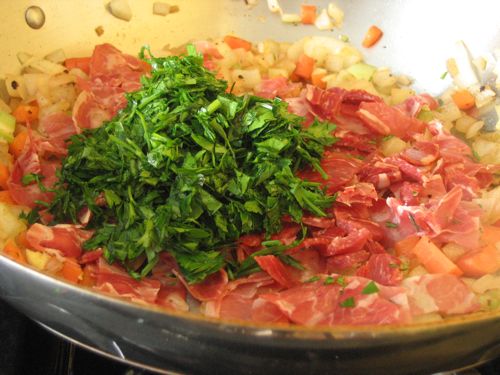 and tear up a few leaves of basil ó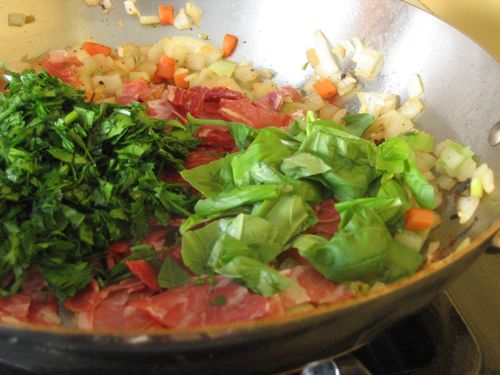 ó and give it all a good stir. Then add 1 (28-ounce) can of crushed plum tomatoes and their juice: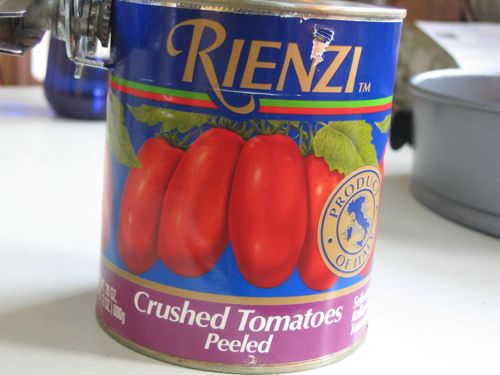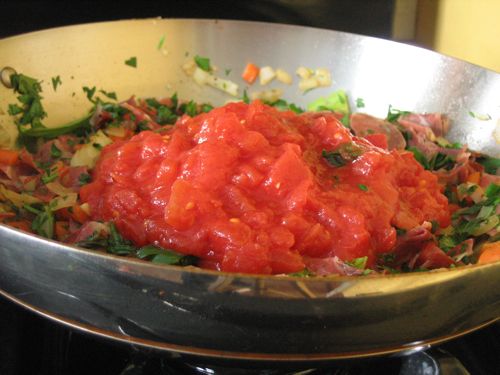 Mix it all up, giving it a good stir to make sure all the browned bits on the bottom come up: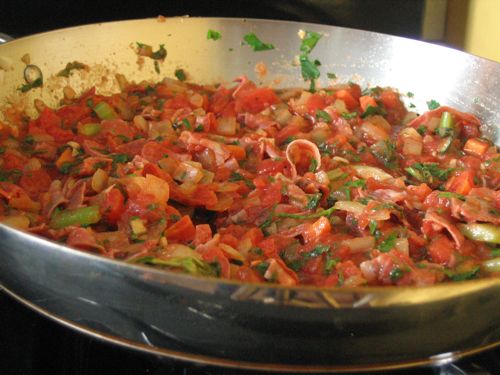 Then add 1/2 cup of chicken or beef stock. (I accidentally added 1 cup, but itís really no problem. I just let it reduce a little longer.)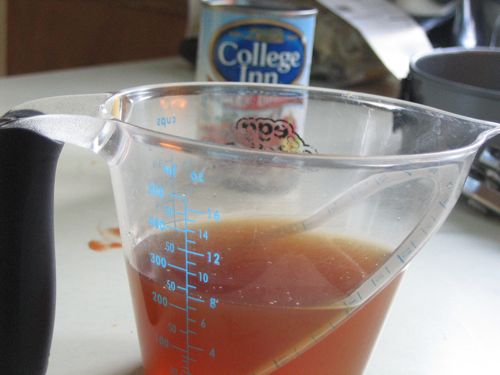 And a cup of hearty red wine. (Iím using a little less since I messed up with the stock.)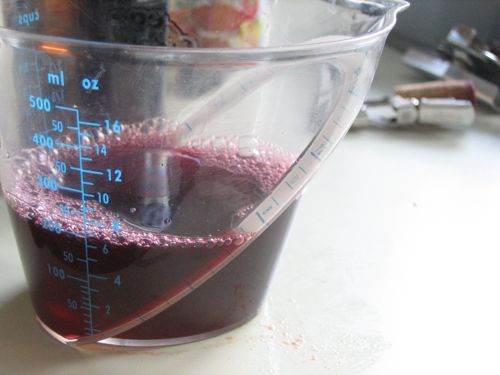 Looks soupy, huh?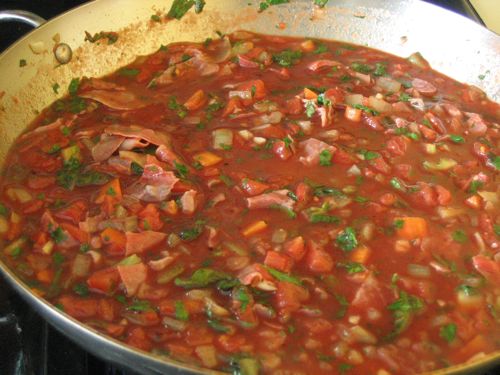 Let it come to a boil ó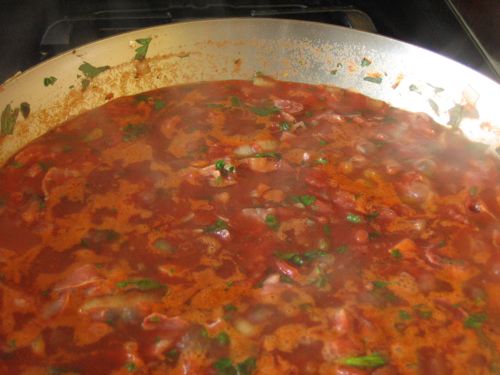 ó and then add your rabbit pieces back in: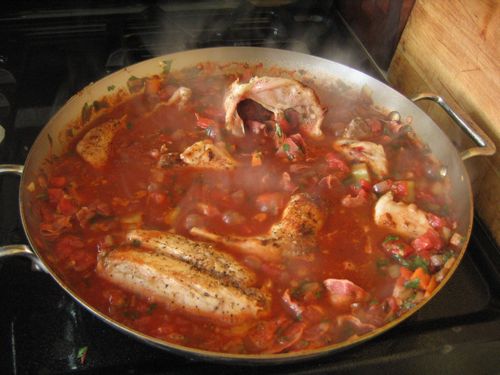 Then stick it in the oven at 350 ó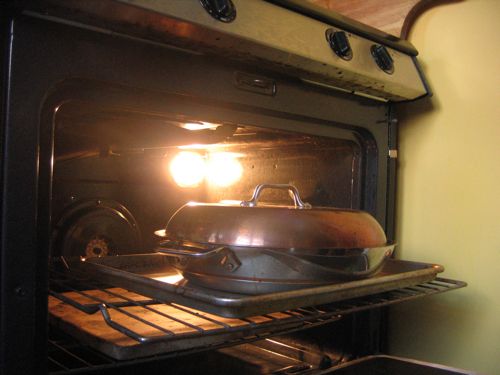 ó and let it bake for 1 1/2 to 2 hours: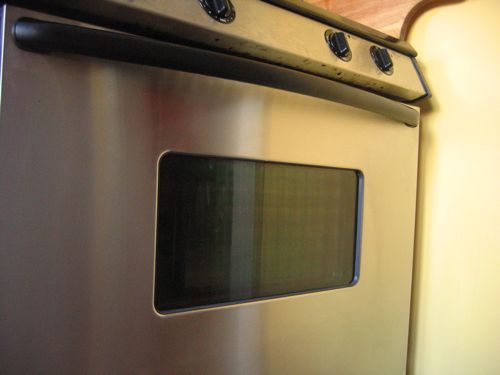 Brr! Nice to have the oven going on a cold winterís day!




Remember when the farm was eating outside, barefoot?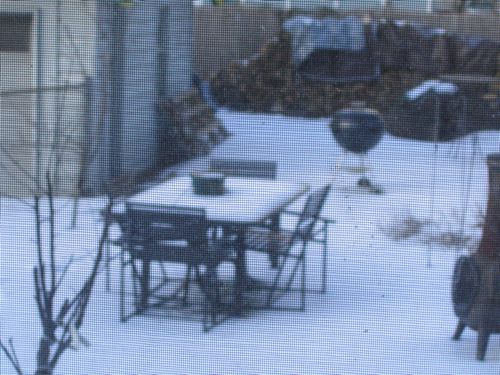 When the stew comes out, it should have reduced significantly. If it hasnít (perhaps because you added too much stock), I have a solution.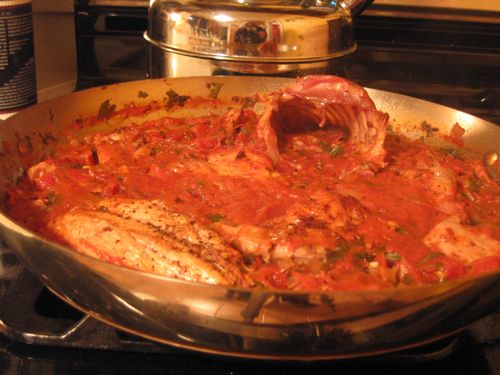 But first, take the rabbit out. Use tongs or a slotted spoon ó itíll be hot!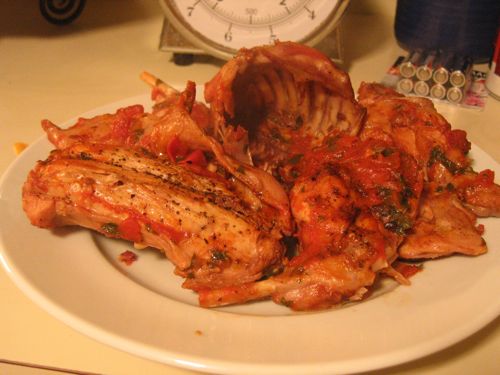 Let the rabbit cool. If you want your sauce thicker, now is the time to turn the heat up and let it bubble to reduce more.

Then, when the rabbit is cool enough to handle, pull the meat off the bones with your fingers.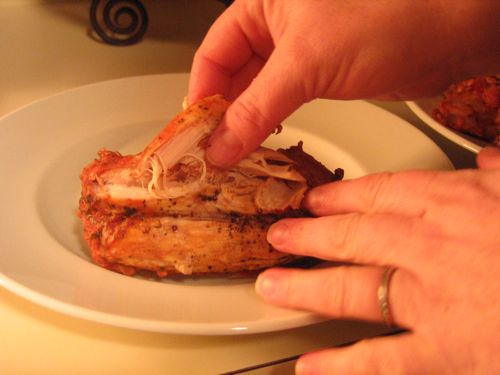 Or use a fork. Shred it.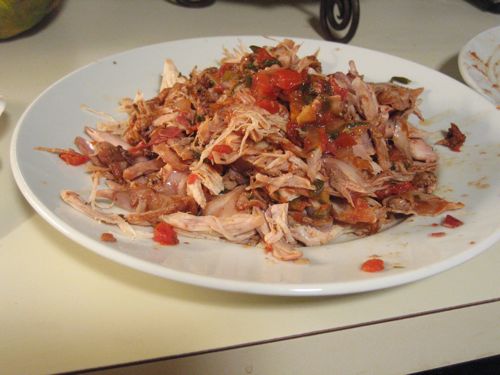 You can save the bones to add to chicken stock ó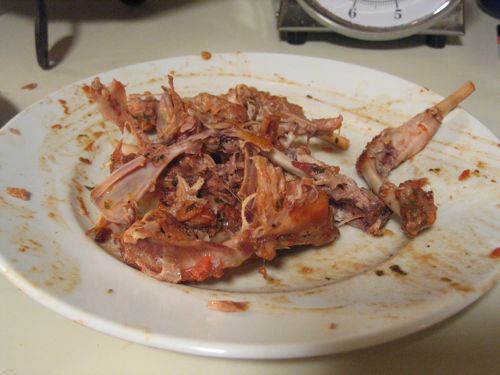 ó or just throw them out.

Add the meat back to the pan: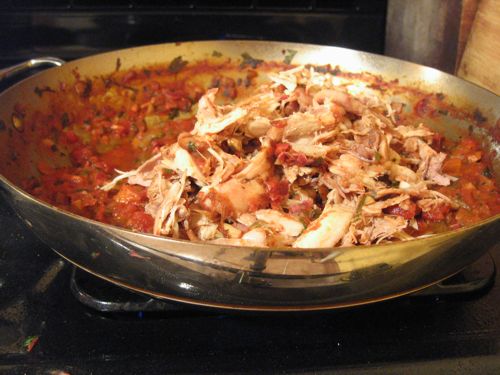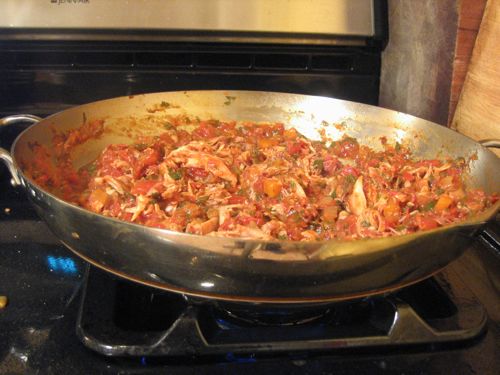 You can now stop if you like. You can freeze this, or put it in the fridge, or just keep it on a low simmer for a couple hours while you have guests over for drinks. Thatís what makes this a really good dish for entertaining.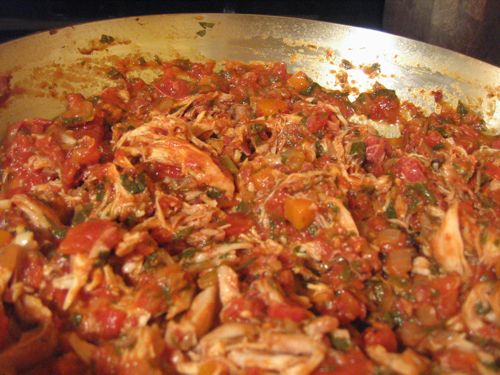 When youíre getting ready to eat, put your pasta on to boil, and add some frozen peas to the sauce: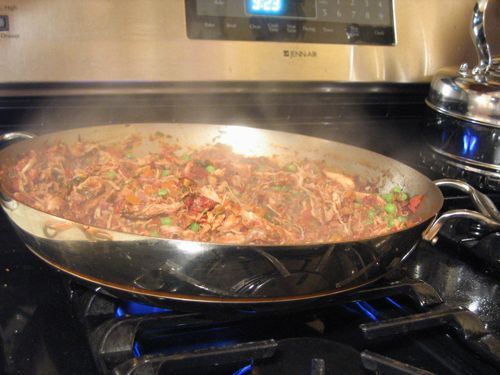 I like parpardelle for this, but use as wide a noodle you can find. Just before the pasta is done cooking, drain it. I like to drain the pasta water into the bowls Iíll be serving in.... it warms them up.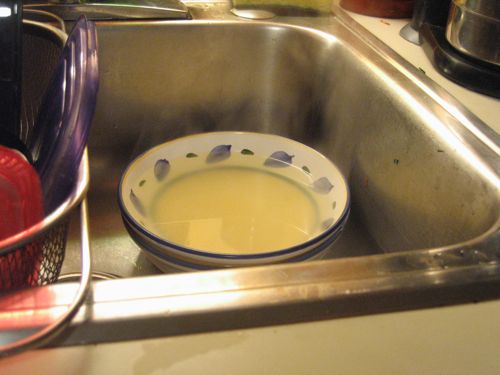 Then add the pasta to the sauce ó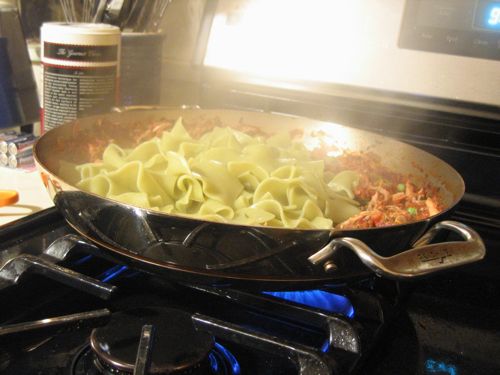 ó and stir: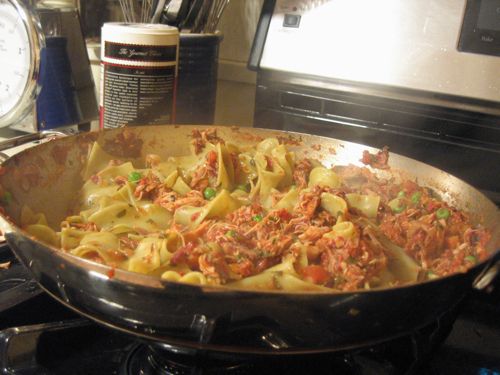 Top with a little chopped basil and some parmesan cheese, and youíve got yourself a warming, comforting and delicious meal ó straight from Italy:




Here's the recipe. You may substitute chicken ó if you must.

Rabbit Ragu
"D'Artagnan's Glorious Game Coobook"
4 tablespoons sunflower oil
1 rabbit, cut into 6 or 8 pieces
Salt and pepper
1 onion, chopped
1 rib celery, chopped
2 small carrots, chopped
3 cloves garlic, minced
4 ounces thickly sliced prosciutto or other unsmoked, dry cured pork
3/4 cup chopped flat-leaf parsley
5 to 6 basil leaves, torn, plus extra chopped basil for garnish
1 (28-ounce) can crushed plum tomatoes
1 cup hearty red wine
1/2 cup chicken or beef stock
1 cup frozen peas
1 pound parpardelle
Parmesan for garnish

Preheat the oven to 350.
Heat oil in a large heavy pot over medium high heat until hot but not smoking. Add rabbit and brown on both sides, about four minutes each side. Do not crowd ó do it in batches. Remove pieces to a paper-towel lined plate. Season with salt and a lot of pepper.
Add onion, celery and carrots to the pot and saute, stirring, until wilted, about 5 minutes. Add garlic and cook 1 to 2 minutes more. Stir in prosciutto, parsley, basil leaves and tomatoes, scraping up all the browned bits on the bottom of the pot. Pour in wine and stock and bring to a boil. Return rabbit to the pot, cover and braise in the oven until tender, about 1 1/2 to 2 hours.
Remove rabbit from the sauce with tongs or a slotted spoon and rest on a platter until cool enough to handle. Shred meat from bones, pulling into small pieces. (You can use a fork if it's still too hot.) Return the meat to the pot. (You can make the recipe to this point and refrigerate for several days.)
Pot a pot of heavily salted water on to boil and cook pasta two minutes shy of package directions. While pasta is cooking, add the peas to the sauce. Drain the pasta water into your bowls to warm them, then add the pasta and a couple tablespoons of cooking water to the sauce. Stir to combine. Drain your serving bowls.
Using tongs, twist the pasta and its sauce into the bowls. Garnish with chopped basil and grated Parmesan cheese.
Yield: 4 servings.
Comments
Add Comments