Jump to navigation
Chicken Pot Pie, The Recipe
I think you might know by now that
the farm's freezer is on the fritz.
To salvage the shredded chicken, the frozen peas and the frozen corn, we're making chicken pot pie.
Here's how.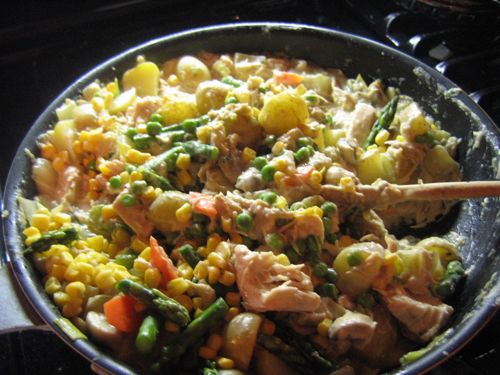 As I mentioned in this post here, I used a recipe from a blog called Chez Megane for my pie crust. I also riffed on her recipe to create my own pot pie. She gives credit to The Silver Palate Good Times cookbook. I was just happy to find a recipe that didn't call for cream of chicken soup.

As you know, I already had shredded chicken. But I also had a package of chicken breast in the freezer.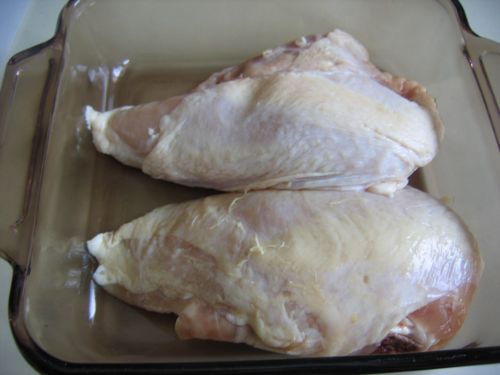 So I took the Silver Palate's advice and cooked them in cream.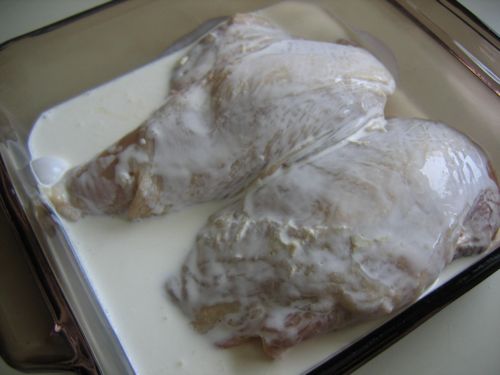 Not only does this make the chicken creamy, it also puts a chicken flavor in the cream — which you'll need later for the sauce.

So put that in the oven for about 40 minutes. Meanwhile, prep your other stuff.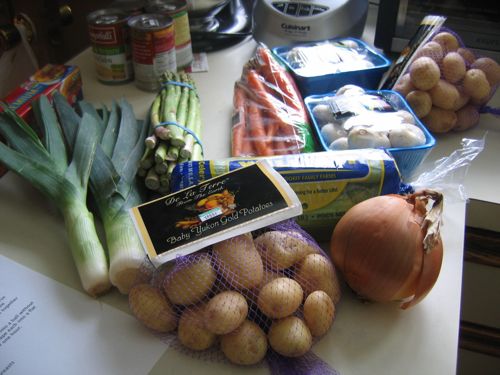 Clean your leeks and slice them.

Slice your carrots.

Blanch your asparagus.

(Phew, this chicken pot pie thing is a lot of work, huh?)

You'll also need to dice two onions and cut four ribs of celery on the bias, just like the carrots.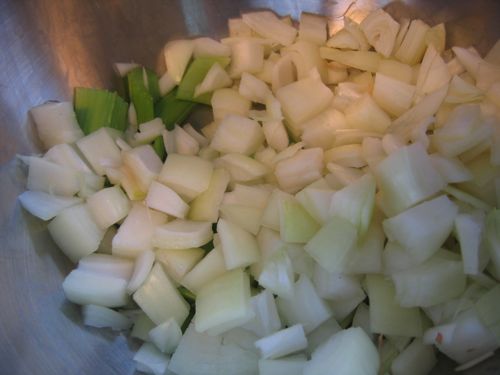 Quarter two packages of mushrooms: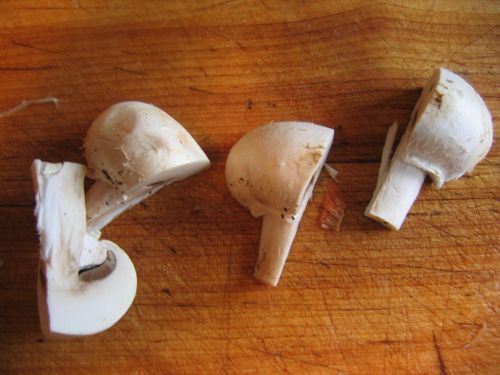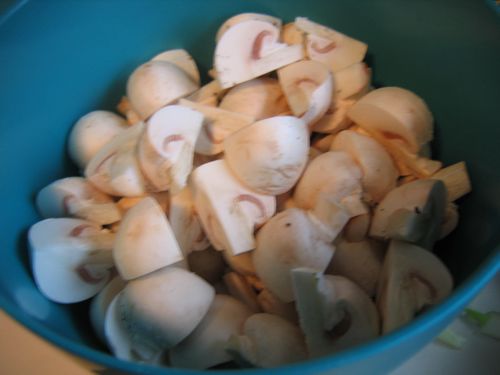 Quarter some tiny Yukon Gold potatoes: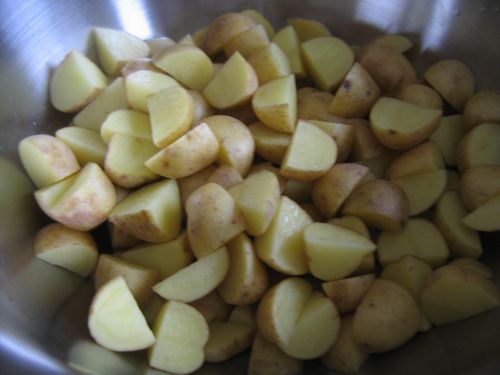 And chop some thyme and tarragon: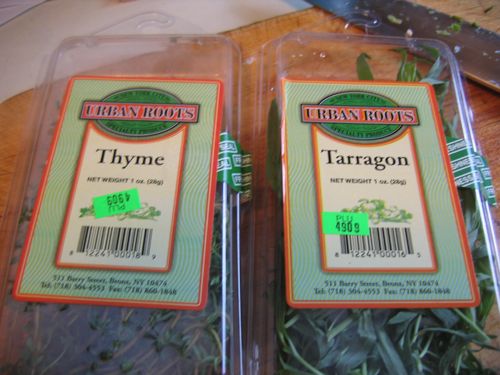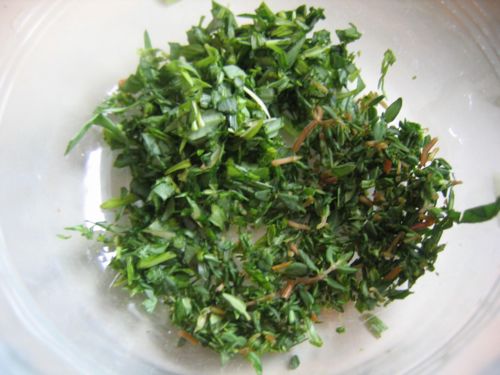 When you're done with all this, you can cook your potatoes and carrots. Keep that same water you used to blanch your asparagus boiling. Add the potatoes and cook for about 10 minutes.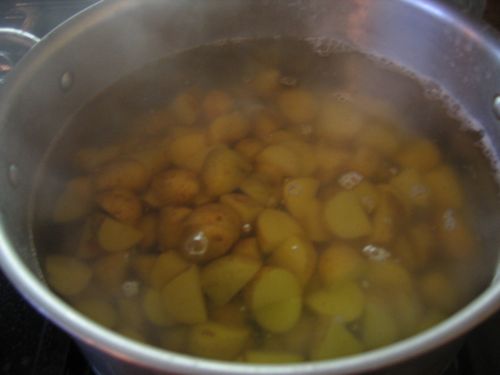 Then add your carrots. and cook for another 5 to 10 minutes until everything is fork-tender.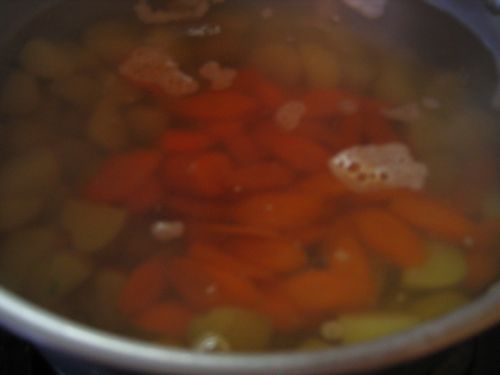 Now you are about ready to cook.

You've got your onions and leeks sliced and you've got your chicken stock ready.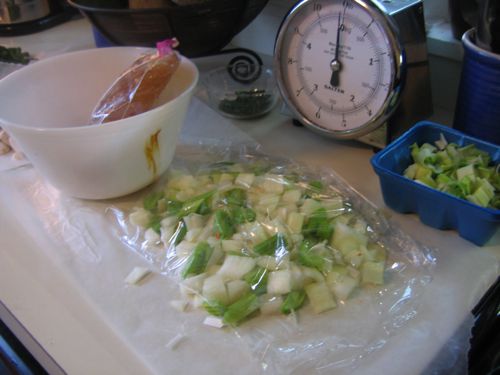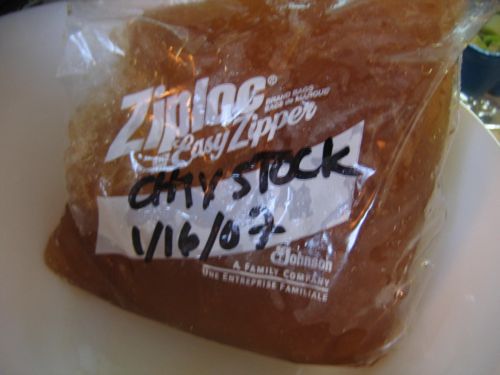 You've got your mushrooms quartered and your asparagus blanched and quartered.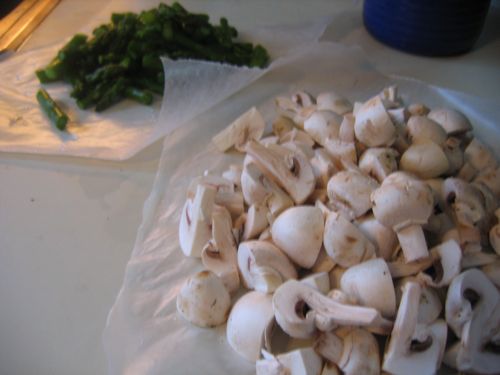 You've got your chicken breast cooked in cream, and any extra chicken you had lying around in your now-dying freezer.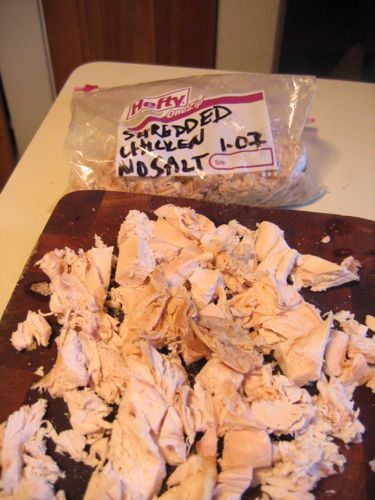 You've got your peas and corn in the freezer.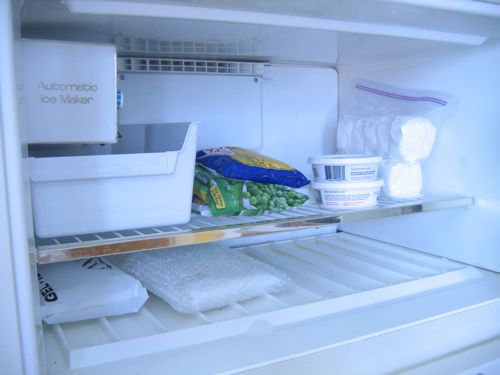 (Mine are defrosted. You can keep yours frozen.)

You've got your pie crust made.

First, melt some butter. Then add your onions and celery. After they become translucent, add your mushrooms and your leeks.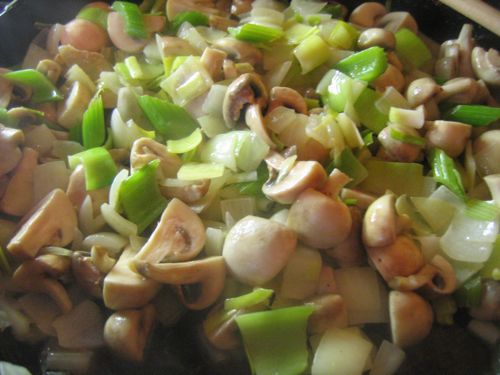 I am using two pans for this because I'm making a shitload. I would suggest that you, too, make a shitload all at once because then you — you who have a working freezer — can freeze individual pot pies to use for dinners when you don't have time to cook.

After that stuff is cooked, you're going to add 2 1/2 tablespoons flour.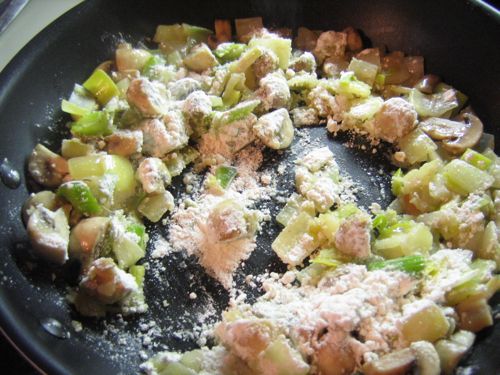 Cook that for a little bit — like five minutes — but don't let it brown.

Add one cup of chicken broth and stir. Let it make a little sauce together. Then add the cream you cooked the chicken in, a splash of wine or brandy, the tarragon, thyme, salt and pepper. Let that cook a couple minutes.

Then add all the rest of the stuff: chicken, potatoes, carrots, asparagus, corn and peas.




Give it a good stir and let it cook about five more minutes.

Check it!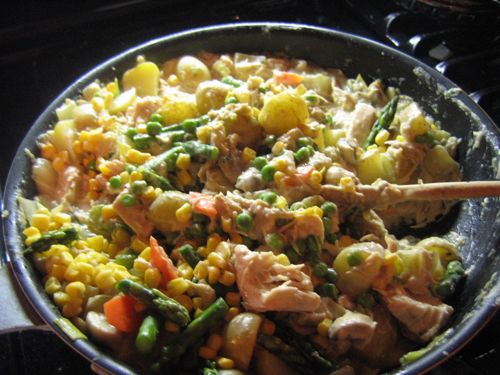 When that's all done, roll out your dough.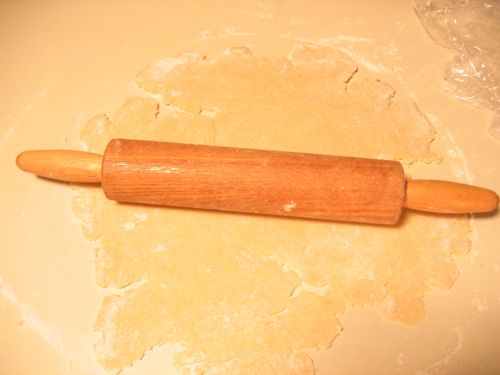 See how the cracks come back to haunt you?

Pour your chicken filling into the dish of choice and lay the crust over it: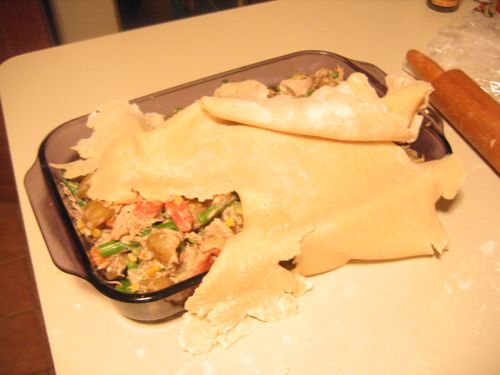 Just pick up the pieces of the broken crust and mend them by pressing together with moistened fingers: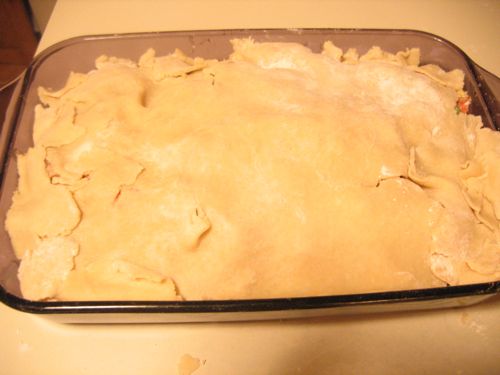 Make some slits to allow air to escape.

Let it bake about 40 to 45 minutes and you'll have a very delicious dinner: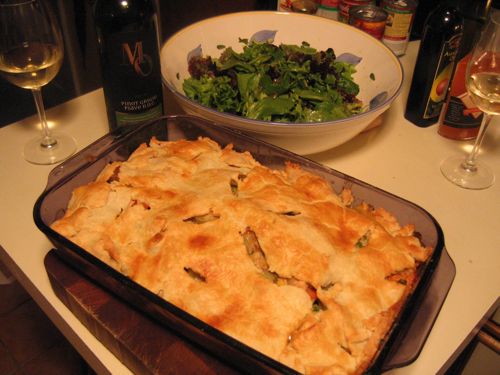 First, make the
Savory Pie Crust :
2 sticks unsalted butter
2 1⁄2 cup all-purpose flour
1 teaspoons salt
1 teaspoons sugar
3 to 6 tablespoons ice water

Cut up the butter into very small pieces and place in the refrigerator or freezer while you work with the other ingredients.
Place the flour, salt and sugar in a food processor and pulse to combine. Add the butter pieces and pulse until mixture forms coarse small crumbs, about 10 to 15 seconds. Add 3 tablespoons ice water to the mixture and pulse. See if until dough comes together a bit and holds together when you pinch the dough between your fingers. If not, add up to 6 tablespoons. (It took me 5 this time.)
Dump the dough onto the counter and shape into a ball without over working the dough. Divide into 2 pieces and shape each into a flat round disc. Wrap in plastic wrap and refrigerate for one hour.
Yield: 2 savory pie crusts.

For the Pot Pie:
2 chicken breasts, bone on
1 to 2 pounds leftover shredded chicken
1 1/2 cups heavy cream
1 pound asparagus, woody ends removed
3 pounds baby Yukon Gold potatoes, quartered
8 carrots, peeled and sliced on the bias
2 onions, diced
4 ribs celery, cleaned and sliced on the bias
2 leeks, cleaned and diced
1 pound mushrooms, quartered
5 tablespoons unsalted butter, plus more if necessary
5 tablespoons flour, divided
Salt
Pepper
2 cups chicken broth, divided
1/4 cup brandy or dry white wine
3/4 cup frozen peas
3/4 cup frozen corn
2 tablespoons fresh tarragon, chopped
1 tablespoon fresh thyme, chopped
1 egg
1 teaspoon water

Preheat the oven to 350 degrees. Place the chicken in a baking dish in a single layer. Pour the cream over the chicken and bake for 40 to 45 minutes, depending on the size of the chicken breasts.

Remove the chicken from the cream, reserving the cream for the sauce. Once the chicken has cooled, cut it into 1-inch pieces.

Bring a large pot of heavily salted water to a boil and prepare a bowl of ice water. Cook the asparagus for 2 to 3 minutes until it is bright green. Using tongs, carefully remove the asparagus and place in the ice water. When it is cool, chop into bite-sized pieces.

Bring the asparagus water back to a boil and add a little more salt. Add the potatoes and cook for 5 to 10 minutes. Then add a carrots and cook 5 to 10 minutes more, until both are fork tender. Drain and place in a bowl. You may discard the water.

Be sure all the rest of the ingredients are prepped: onions, celery, leeks, mushrooms and herbs are chopped.

Prepare two large saute pans. In one of them, melt the butter, then add the onions and the celery, salt them, and cook until translucent. Add the leeks and mushrooms, salt them, and cook until the mushrooms are darker in color.

Divide the onion mixture between the two pans. Add more butter to the second pan if necessary. Add half the flour to each pan (2 1/2 tablespoons each), stir and cook 5 minutes, but do not brown. Slowly add 1 cup of broth to each pan, whisking until the sauce smoothes out and thickens. Between the two pans, divide the cream, cognac, tarragon, thyme, salt and pepper and cook 5 more minutes.

Between the two pans, divide the chicken breast meat, the shredded chicken, potatoes, carrots, asparagus, peas and corn and mix gently into the sauce. Pour mixture into a two 2 quart casseroles, a large soufflé dish, or large ramekins for individual pot pies.

Only bake one pie at a time.

Preheat the oven to 425 degrees.

Roll out the pastry to fit and place over the dish or cut the pastry to fit the ramekins. Press down the pastry edges, folding them as necessary. Beat together the egg and water and brush over the top of the pastry to give a nice glossy finish to the crust. Cut a few steam vents in the pastry and bake for 30 to 40 minutes until golden brown.

Yield: 2 large pies or 12 individual pot pies.







Comments
Add Comments