Jump to navigation
Lemon Tart Surprise
The recipe, from
Sunday Suppers at Lucques.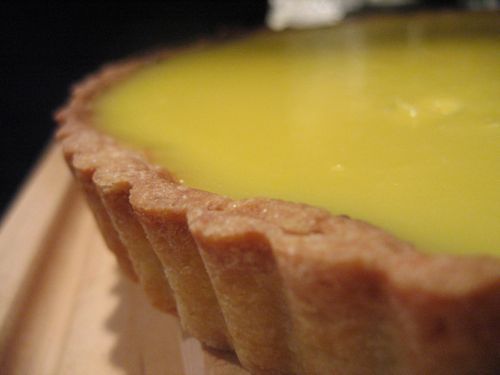 1 recipe of pate sucree.
2 ounces bittersweet chocolate
4 extra-large eggs
3 extra-large egg yolks
1 cup plus 1 tablespoon granulated sugar
1 cup Meyer lemon juice
10 tablespoons cold unsalted butter, cut into small pieces
A pinch of kosher salt

Preheat the oven to 375.

Line the tart pan with the pate sucree. Prick the bottom with a fork, and line it with a few opened and fanned-out coffee filters or a piece of parchment paper. Fill the lined tart shell with beans or pie weights and bake 15 minutes, until set. Take the tart out of the oven and carefully lift out the paper and the beans. Return the tart to the oven and bake another 10 to 15 minutes, until the crust is an even golden brown. Set aside on a rack to cool completely.

Melt the chocolate in a double boiler over medium-low heat. Spread the chocolate evenly on the crust, and chill in the refrigerator for at least 15 minutes, until the chocolate has solidified completely.

While the crust is chilling, make the curd. Whisk the eggs, egg yolks, sugar and lemon juice together in a heavy-bottom saucepan. Cook over medium heat, stirring continuously, alternating between a whisk and a rubber spatula until the lemon curd has thickened to a consistency of pastry cream and coats the back of the spatula.

Remove the lemon curd from the heat. Add the butter a little at a time, stirring to incorporate completely. Season with the salt.

Let the curd cool about 8 minutes, then strain it into the prepared tart shell. Chill the tart in the refrigerator.

Yield: 8 servings.

Comments
Add Comments