Jump to navigation
White Bean Gratin
Suzanne Goin calls this recipe "Flageolet Gratin," but I wasn't able to find flageolets easily, so I did it with white beans. It was very delicious. From the
Sunday Suppers at Lucques
cookbook.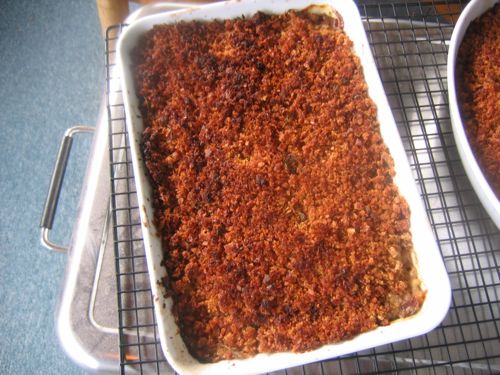 14 tablespoons evoo
2 small sprigs rosemary
2 chile de arbol, crumbled
1 cup diced onion, plus 5 cups thinly sliced onion
1 cup diced fennel
6 cloves garlic, smashed
4 tablespoons thyme
2 bay leaves
3 cups dried flageolets
10 tablespoons unsalted butter
4 cups fresh breadcrumbs
4 teaspoons chopped parsley

Heat a large pot over high heat for 2 minutes. Pour in 1/2 cup olive oil and add the rosemary sprig and crumbled chile. Let them sizzle in the oil a minute. Add the diced onion, fennel, garlic, 2 tablespoons thyme, and the bay leaf, stirring a minute or two until the onion is wilted. Add the flageolets and cook a few more minutes, stirring to coat the beans with oil.

Cover with water by 3 inches and bring to boil over high heat. Turn the heat down to low and place a paper towel over the beans to keep the under the surface.

Simmer for 30 minutes and then add 5 teaspoons salt to the beans. Continue cooking on a low simmer about 1 hour, until the beans are tender. As the beans cook, add water as necessary (but don't add too much — you want these juices to be rich and a little starchy, since they will be an important part of the finished gratin). Remove the beans from the heat and let them cool in their juices. Taste for seasoning.

While the beans cook, caramelize the sliced onions. Heat a large saute pan or Dutch oven over high heat for a minute. Swirl in the remaining 3 tablespoons evoo, add the sliced onions, 4 teaspoons thyme, 2 teaspoons salt and some freshly ground pepper. Cook 6 minutes, stirring often. Turn down the heat to medium and stir in 2 tablespoons butter. Cook 15 minutes, sitrring often and scraping with a wooden spoon, until the onions start to caramelize. Turn the heat down to low and continue to cook about 10 minutes, stirring often, until the onions are a deep golden brown.

Spread the onions on the bottom of a two 9-by-9 gratin dishes (or the equivalent) Spoon the flageolets into the grain dish with a good amount of their cooking juices. The beans will expand a bit as they bake, so fill the gratin dish only 3/4 full (reserve any beans for another dish).

Preheat the oven to 425.

Toss the breadcrumbs in a bowl with the reamining thyme and chopped parsley. Melt the remaining butter in a small saucepan over medium heat. Cook about 3 minutes, swirling the pan occasionally, until the butter browns and smells nutty. Pour the brown butter over the breadcrumbs (make sure to scrape up all the brown bits), let cool a minute or two and toss to combine.

Sprinkle the brown butter breadcrumbs over the beans and bake 1 1/4 hours until the gratin is bubbling, nicely browned and crispy on top.
Comments
Add Comments