Jump to navigation
Proscuitto and Grilled Asapragus with Whole Grain Mustard
What's better with ham than mustard?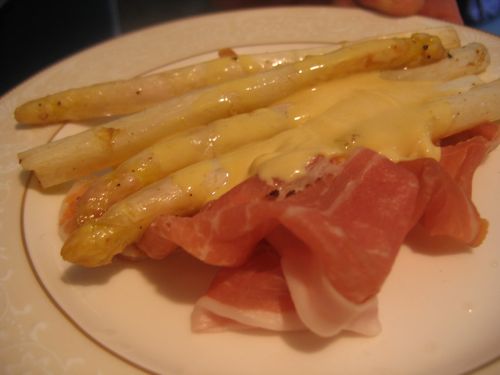 1 1/4 pounds asparagus, pencil thin
2 tablespoons extra virgin olive oil
3 tablespoons whole grain mustard
1/2 cup creme fraiche
12 thin slices proscuitto di Parma or San Daniele
1/2 lemon
Kosher salt and pepper.

Light the grill or preheat the oven to 400 degrees.

Snap the ends off the asparagus to remove the tough, woody ends. Toss the aparagus on a baking sheet with the olive oil, salt and pepper.

Stir the mustard and creme fraiche together in a small bowl and set aside.

Drape the proscuitto over a platter. Grill or roast the asparagus between 2 and 6 minutes, until it is slightly charred and tender.

Arrange the asparagus on the prosciutto and drizzle the mustard sauce over it.

Squeeze a lemon over the top and serve.
Comments
joep wrote:
Add Comments