Jump to navigation
Herb-Roasted Rack of Lamb with Tapenade
This was the sweetest, most delicious and satisfying lamb we've had in a very long time.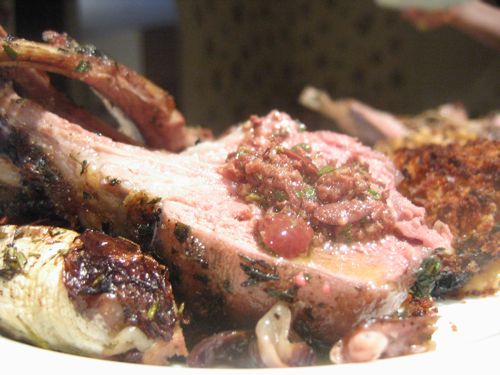 3 racks of lamb, trimmed
2 tablespoons thyme plus 12 whole sprigs thyme
2 tablespoons rosemary leaves plus 12 whole sprigs rosemary
6 cloves garlic, smashed
1 tablespoon black pepper
3 tablespoons evoo
1/4 cup flat leaf parsely leaves

Season the lamb with thyme, rosemary, garlic and black pepper. Cover and refrigerate at least 4 hours, preferably overnight.

Take the lamb out of the refrigerator 1 hour before cooking to bring it to room temperature. After 30 minutes, season the lamb generously on all sides with salt. Reserve the garlic and herb sprigs.

Preheat the oven to 325.

Preheat the grill to medium or a large saute pan over medium high heat. Sear the lamb on all sides until the racks are brown and caramelized, but do not cook through.

Transfer the seared lamb to a roasting rack set in a roasting pan. Top with the seared herbs and reserved garlic. Roast in the oven 20 to 25 minutes, until the lamb is medium rare; a meat thermometer inserted into the center of the eye will register 120. Let the lamb rest 8 minutes (enough time to heat gratin and radicchio). Slice the lamb between the bones into chops and top with tapenade.

Tapenade
3/4 cups pitted Nicoise olives
1 small clove garlic
1 anchovy
2 teaspoons capers, rinsed drained and chopped
1 tablespoon chopped flat leaf parsley
1/4 cup evoo
1 lemon

Chop 2/3 of the olives coarsely. Put the remaining 1/3 olives, garlic, anchovy and half the capers into the food processor and pulse until the mixture is fine. Stir in the remaining olives, capers, parsley and olive oil. Season with a squeeze or two of lemon.

Yield: about 1 cup.
Comments
liz wrote:
Add Comments