Jump to navigation
The Farm Officially Becomes A Wine Geek
Some of you may noticed on the post about Easter supper that the Farm's friend Trae turned us on to a Web site called
Cellar Tracker.
Well we just couldn't wait to start playing around with it, so on Monday night, Greg pulled a chair up to our wine shelving in the basement and I sat at the table with the laptop. We
entered all of the farm's wines into the database.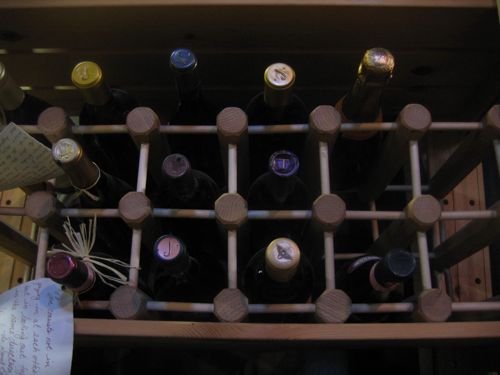 We don't have an extensive collection, but we have about a case that can sit and age for a while —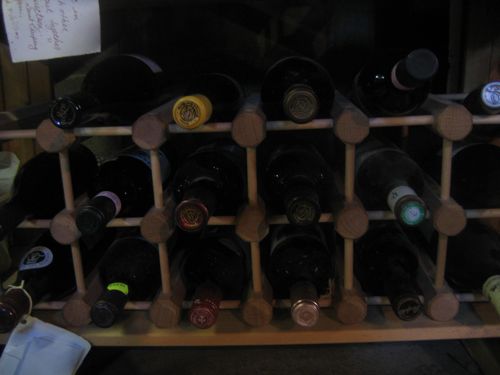 — and a little less than a case that's ready to drink right now: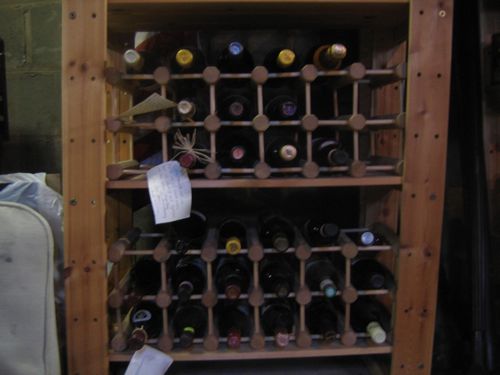 We keep those on the bottom two shelves.

That's on top of the maintenence wine we keep on the top and middle shelves:




The other shelf holds extra bottles of booze, for those times when we feel like making a special cocktail and it has a weird ingredient that we don't use very often, like, say, banana liqueur. (That's been hanging around since 1999.)

Our discovery of cellar tracker came at an opportune time, because I also went on a clean-the-basement tear over Easter weekend, and we threw out enough stuff that I was able to have a clean table to sit at with the laptop while Greg called out hard-to-pronounce regions from France and Italy: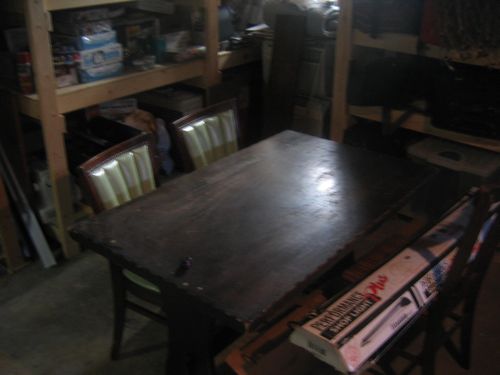 We have about 50 bottles total — some really cheap. Some kind of cool. Here's the 411 on the cool:

We have two wines that will age for quite a bit longer if we store them properly (which we are). These both came from our "Wine, Wit and Wisdom" wedding shower, a Jack-and-Jill party where people gave us bottles of wine to start our cellar and included a card where they wrote wit or wisdom about us and our pending marriage. (You can see a couple of those cards hanging from the bottles in the photos above.) I highly recommend this party to any couple interested in wine. In fact, I'm thinking of throwing myself another one just because.

A gift that our friend Karen Middleton lugged here from Australia — a 1998 Penfolds Cabernet Sauvignon Bin 707 — should be good through 2014.

And a Bordeaux from Kelli and Partrick — a 1996 Château Lynch-Bages — will last through 2023.

We've also got a number of years on a bottle we recently procured at the Westchester Wine Warehouse. We paid about $35 for a 2001 Fattoria Selvapiana Chianti Rufina Riserva Bucerchiale because it is made in the very region where we vacationed on a vineyard in 1999. The wine should be good through 2013.

One wine I can't seem to find anything about is a 1996 Louis Latour Volnay 1er Cru Santenots. This is a Burgundy (pinot noir), but I don't know whether it's over-the-hill or still has a while to go. I don't think I entered anything wrong, but maybe — because I can't even find anything out on google.

A wine we've been hanging on to way too long is a 1997 Antinori Chianti Classico Riserva Villa Antinori. It was supposed to be drunk by last year. We'll let you know when we crack that baby — and it'll be soon.

We've also got to get busy on some wines from our 2003 visit to the J winery in Sonoma are about to be over the hill. We need to plan a "J" wine dinner to go with these wines:

2002 J Vineyards & Winery Viognier Hoot Owl Vineyard (we have two of those)
2000 J Vineyards & Winery Pinot Noir Robert Thomas
2003 J Vineyards & Winery Pinot Gris

Suggestions for a menu are gladly accepted.




Comments
liz wrote:
Add Comments