Jump to navigation
Making Pho on a Rainy Day
The big rainstorm kept us in the house all day. But we were prepared. No, we didnít run out and strip the store shelves of its last loaf of bread and quart of milk. We bought marrow bones. And oxtails. And we made a batch of the most delicious soup youíll ever taste: Pho.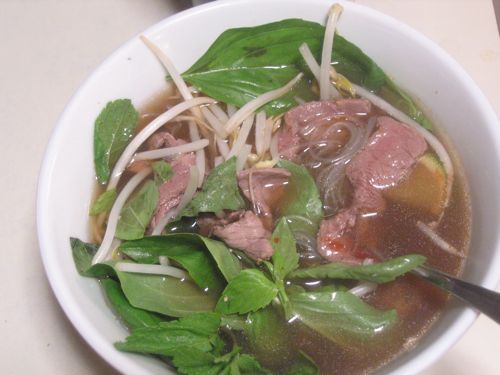 I was inspired by a cookbook that I came across recently: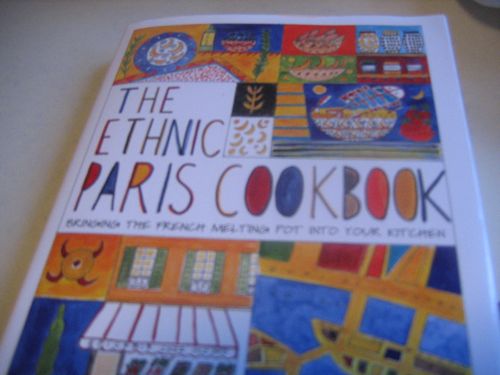 Itís called the Ethnic Paris Cookbook. It takes recipes from the different immigrant groups in Paree ó including Moroccan, African, Caribbean, and the countries from Indochine, like Laos, Cambodia and Vietnam. Pho is a Vietnamese recipe.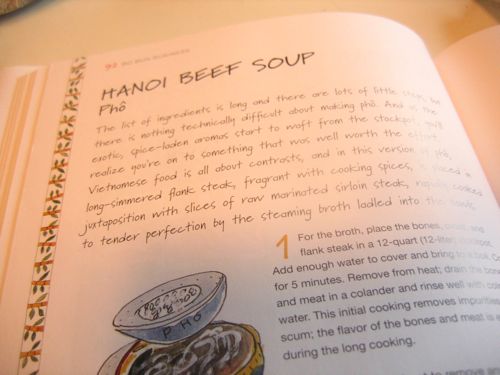 Apparently, in Vietnam, itís eaten for breakfast. Pho vendors come around in the mornings, calling out, and you go out and fill your bowl. I think I would like that.

We donít have any street vendors at the farm (except for that parasitic ice cream truck guy), so we took to making our own pho.

You start with a big stockpot. We keep ours in the basement.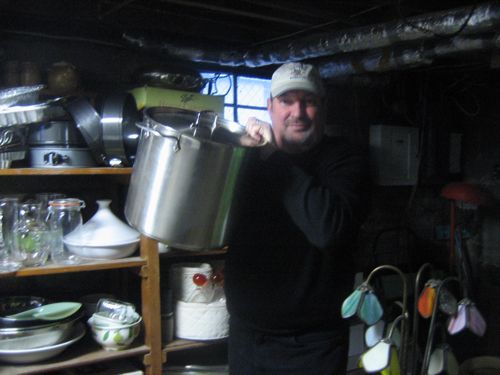 And then you get out your bones. It calls for 4 pounds marrow bones and 2 pounds oxtail: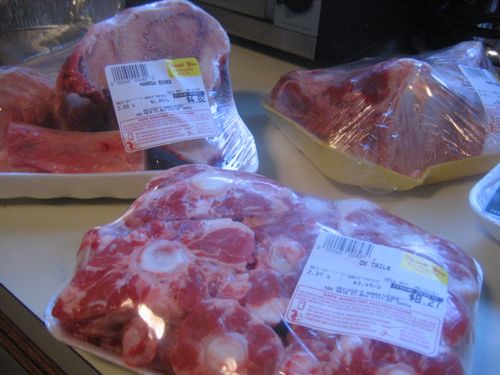 You put them in water and bring it to a boil.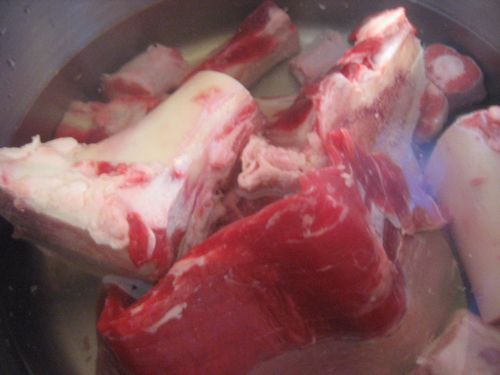 Youíre going to throw that water out. See what itís doing is removing the impurities, and youíll get a whole lot less of that grey scum that comes to the top of beef stock. (Maybe none at all.)

In the meantime, get your other ingredients ready. There are a lot of them.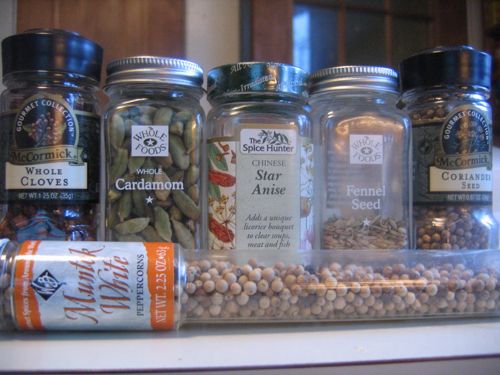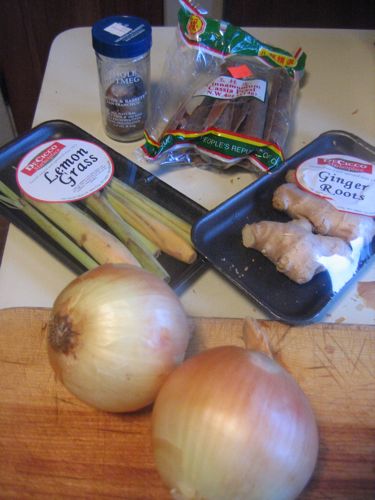 Youíll notice the instructions call for crushing the cardamom pod: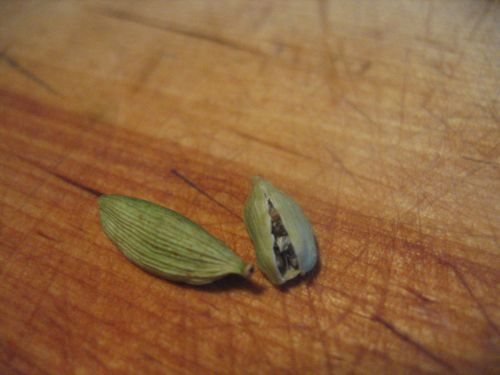 So you put all your spices in a cast iron pan and toast them: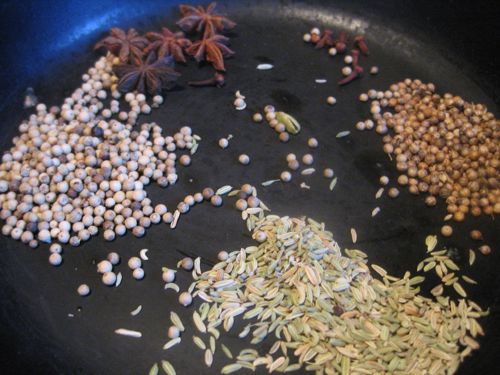 Arenít these star anise gorgeous?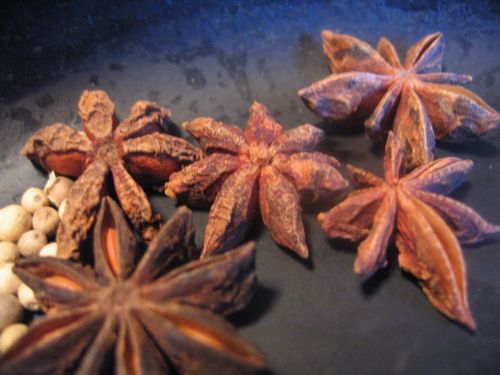 Meanwhile, take a gander at the fields. Ugh. Will the rain ever stop?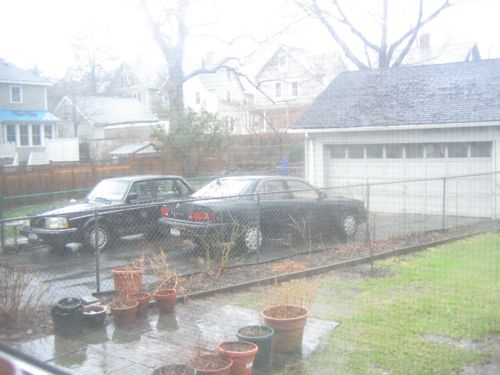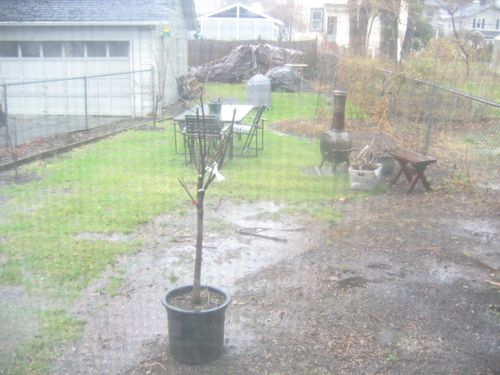 OK looks like the bones have been boiling long enough. See all the gross?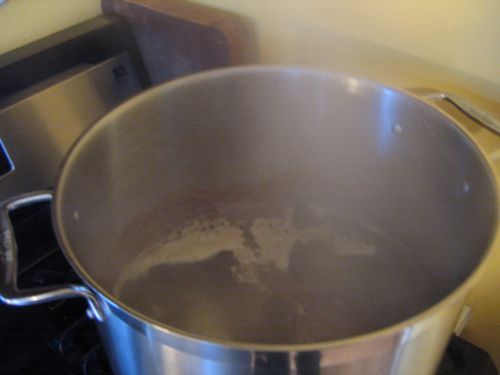 So you (carefully!) drain the stock pot, letting the bones fall into a colander.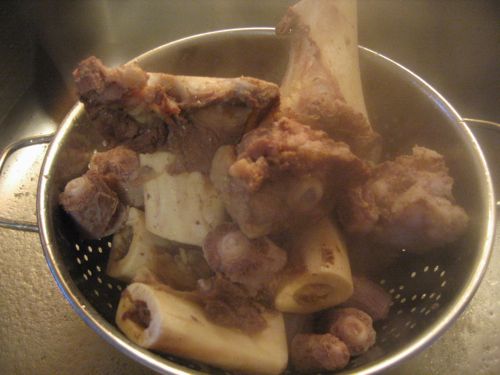 Thereís lots of icky stuff in this part ó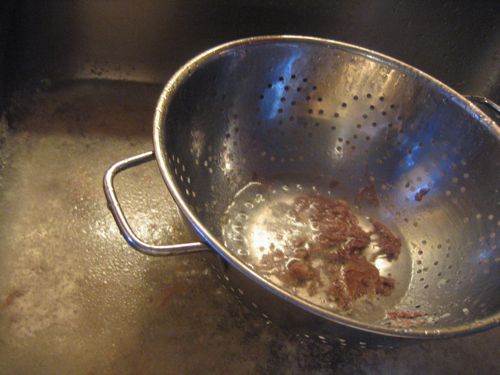 ó so what I did was stick a paper towel in the drain so all the scum and fat wonít clog my pipes: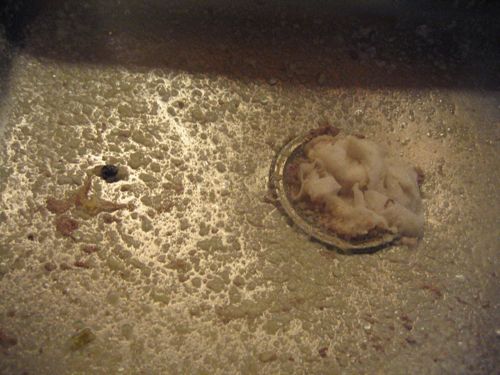 So wipe all that out and clean your sink. And then clean your stock pot: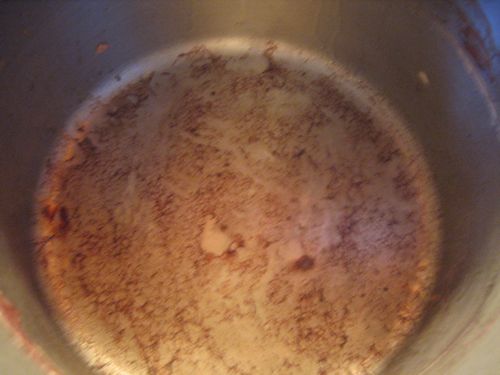 This sounds like a lot of work (and it kind of is) but itís really worth it. Youíll get a clean, clear stock that will taste so good and wonít be marred with impurities.

Look! Clean pot: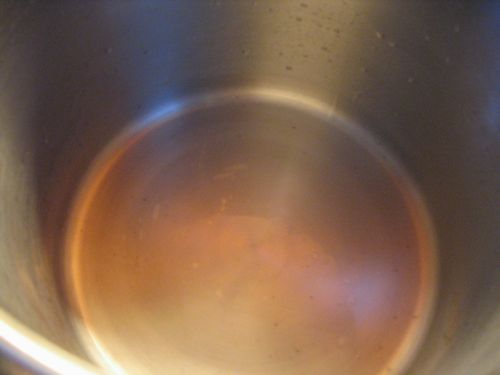 You also want to rinse the bones and oxtail: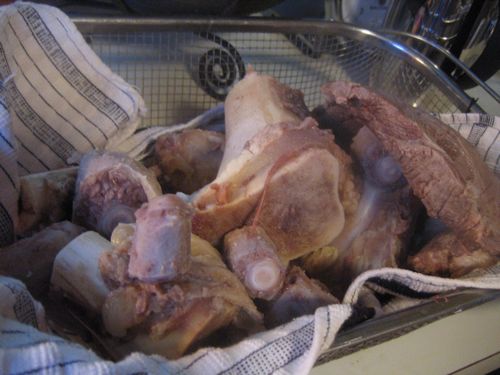 Thereís also a flank steak in the recipe, but Iím leaning toward replacing that with chuck the next time I make this soup. (The steak gets really dried out and youíre supposed to put it back in the soup to eat. Iíd rather let chuck dry out and then put a flank or skirt steak in later.)

I digress. Back in bowl: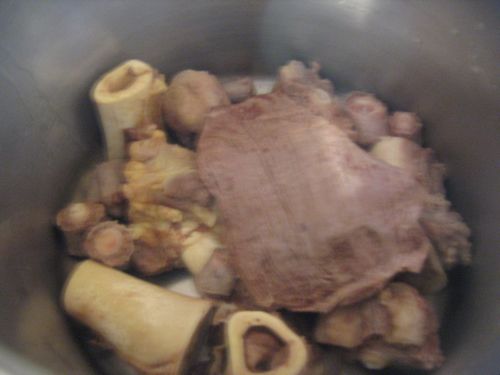 Fill with water. This is purified water coming out of my new fridge. Neat angle, huh?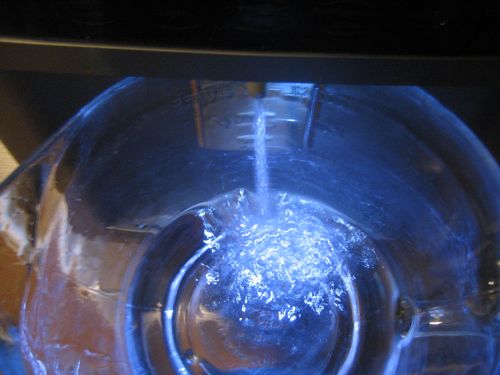 Now youíre really cooking. Youíre going to let the new stock come to a boil ó but only for a second. As soon as itís boiling ó I mean it! ó turn it down to a simmer. That will keep the broth clear. (You donít want to have wasted all that time with the first boil to ruin your clear broth, do you?)

Meantime, get the additions ready. Cut the onions into quarters: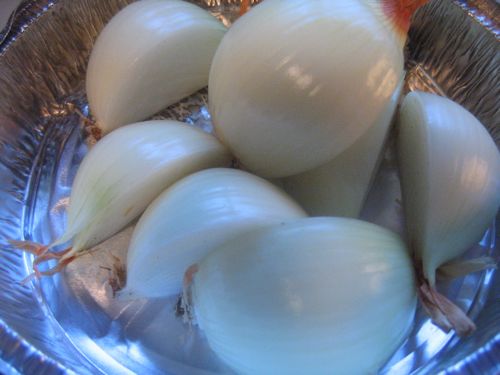 Cut the ginger in half lengthwise: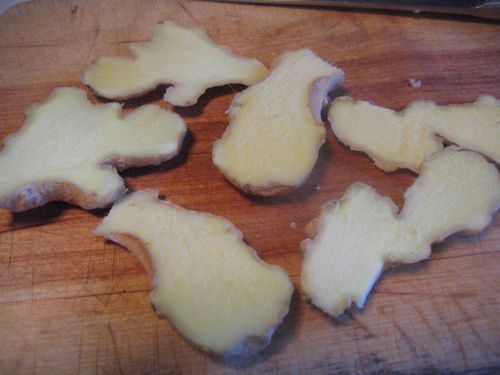 Toast the spices. See how they give off their oils?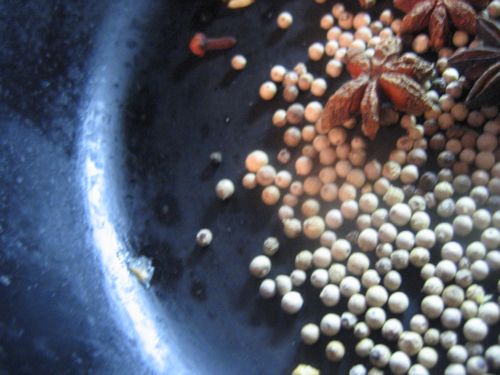 Then blacken both the ginger ó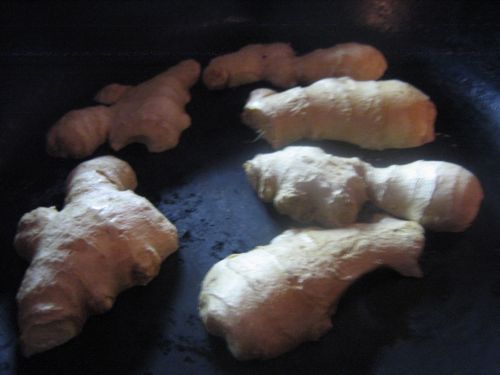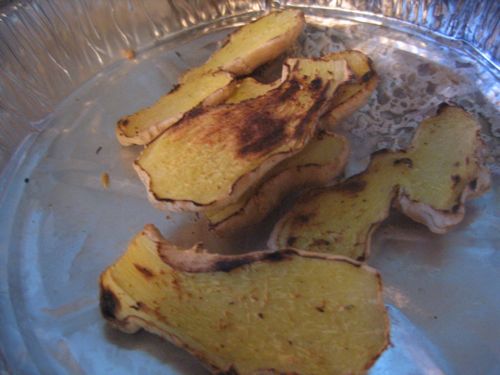 ó and the onions: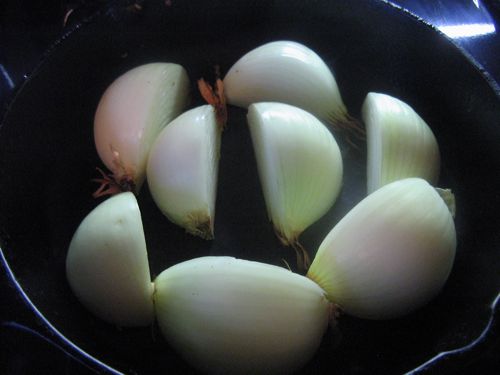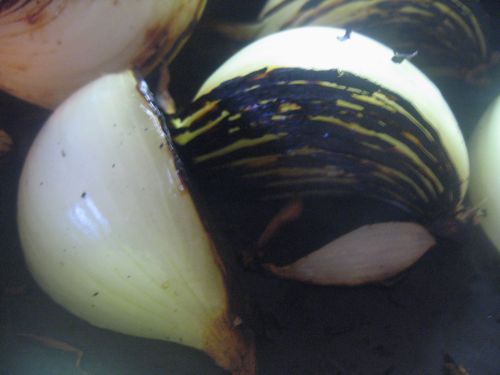 You may have to do that in batches. My suggestion is to get the biggest cast iron pan you can so you donít have to. While theyíre blackening, get yourself a big-ass piece of cheesecloth: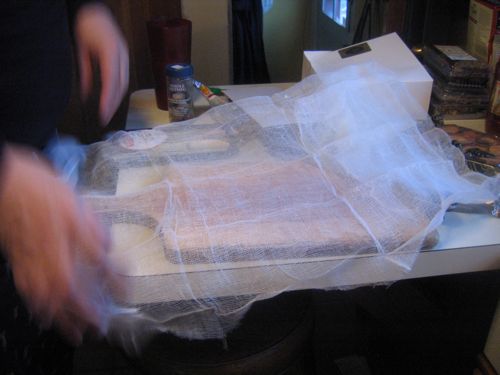 And put your spices in the middle of it. (Youíre supposed to crush them with the side of a knife, but I forgot. It was still delicious.)

Grate your nutmeg on top: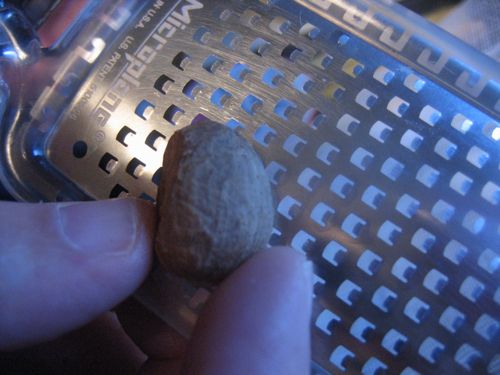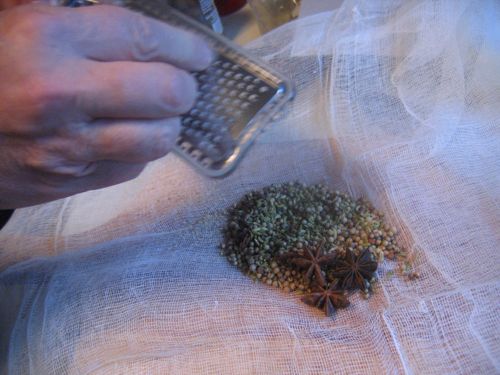 Smash the lemongrass: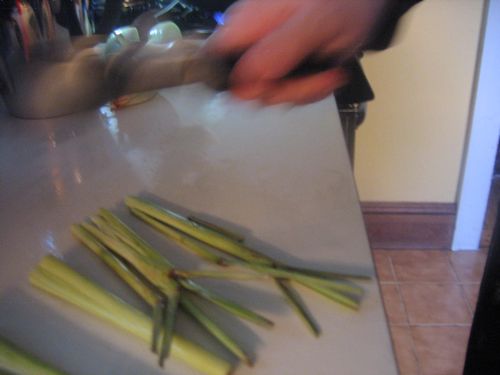 When your onions and ginger are done blackening ó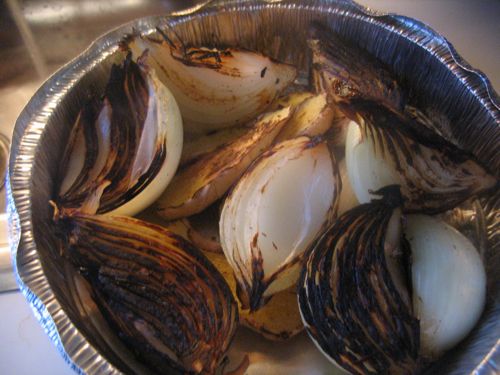 ó rinse them: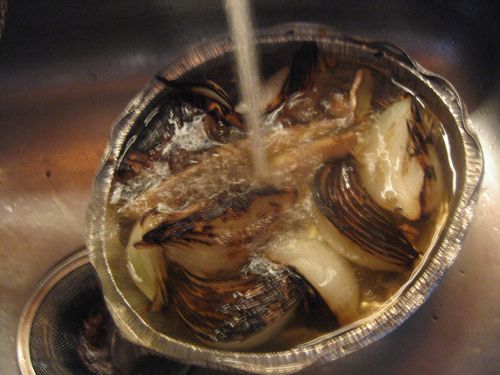 And add them to the cheesecloth: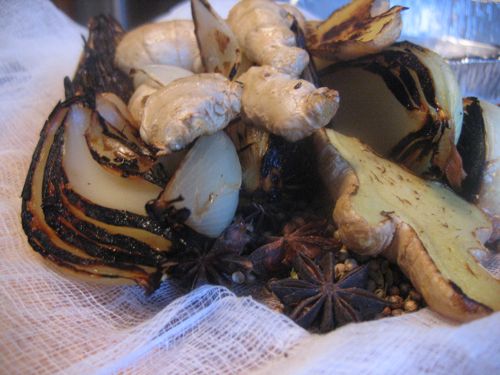 And tie them whole thing a big bundle: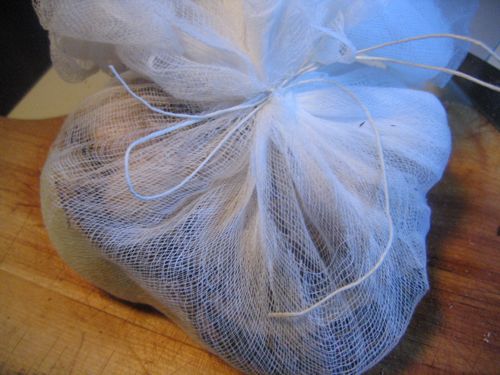 Add the bundle to the stock. Also add your lemongrass, cinnamon, fish sauce and some sugar and salt.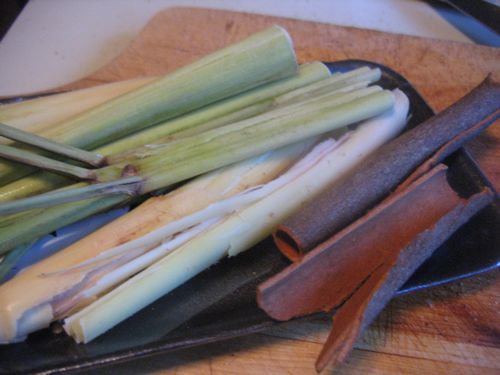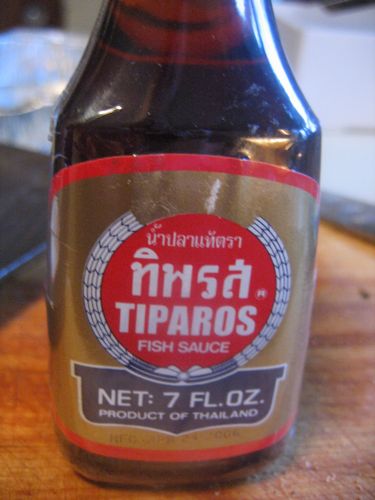 Youíre going to let that simmer for one hour.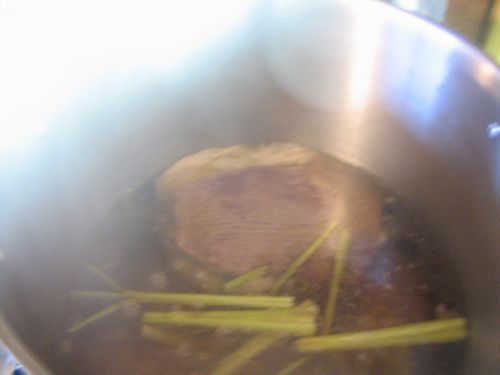 While I was waiting, I checked on the crops. Obviously it was too wet to get the papers.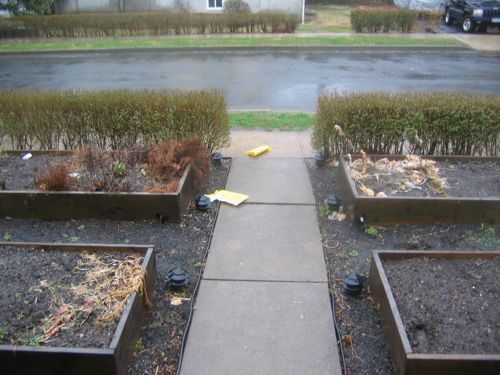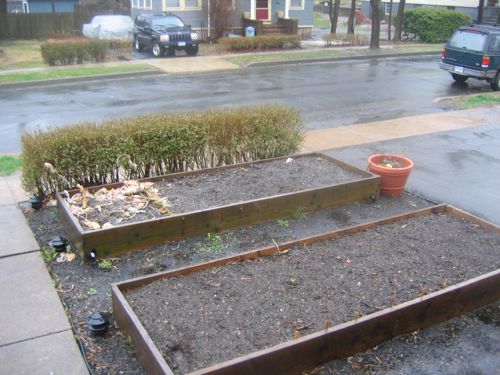 Oh my goodness, look at this mess: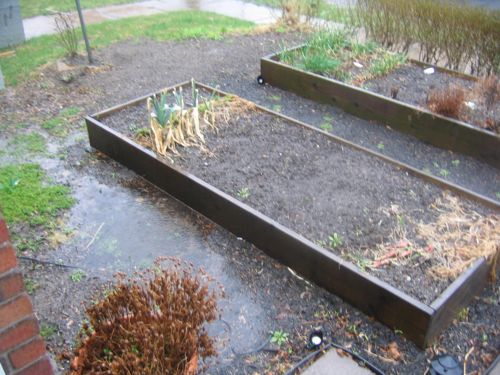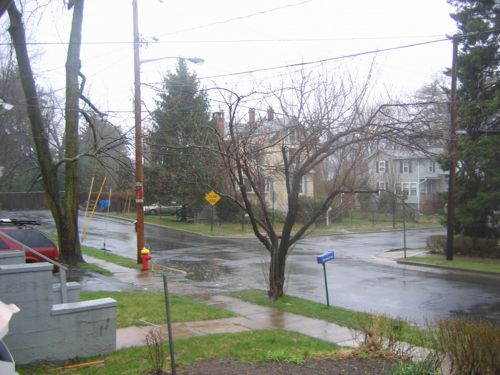 The porchít was not yet ready for primetime. It was serving as a weigh station for the basement clean-up: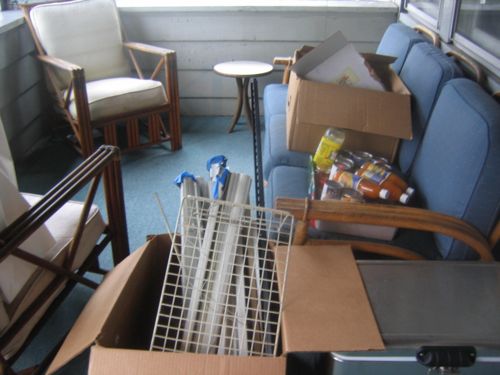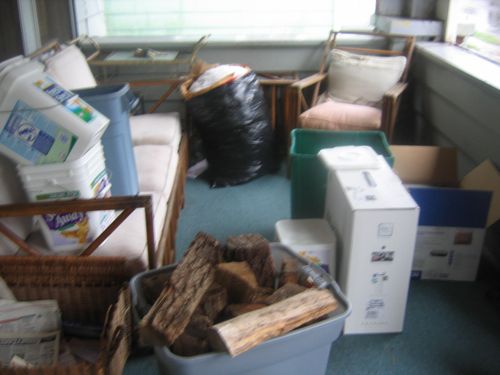 So after an hour, youíre supposed to take out the flank steak. My inclination would be to use chuck, which would negate this step. Youíre supposed to let the stock cook three to four more hours.

My advice would be to do all of this the day before you want to cook and let it cool so you can skim the fat easily. If you have time, great. Do that. I think next time, Iíll even make a double batch and freeze it. That way, all I have to do is get the garnishes ready and Iím set for a pho party.

The garnishes are vermicelli ó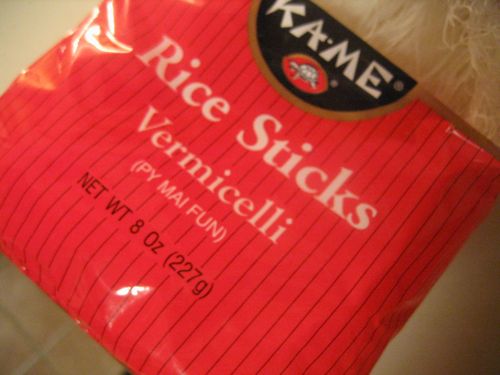 ó cilantro ó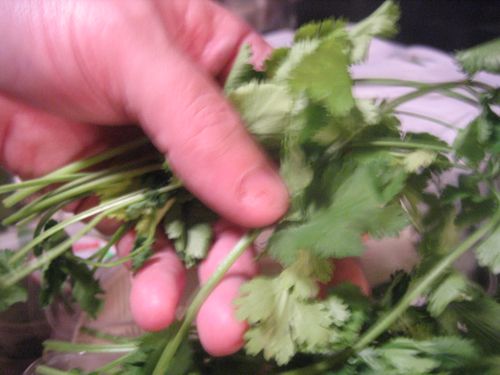 chilies, bean sprouts, basil, mint and limes.

Thereís one step we forgot to photograph. You take a boneless rib eye and put it in the freezer for an hour. Then you slice it real, real thin. You toss that with some ginger and let it sit in the fridge till almost time to eat.

When itís getting close to time to eat, bring some water to a boil and pour it over the vermicelli. Let that get pliable, then put some into each bowl.

Then bring the soup up to a boil. You put the raw steak in the bottom of the bowl and ladel the broth over it. Then you garnish with all the yummy herbs and other stuff.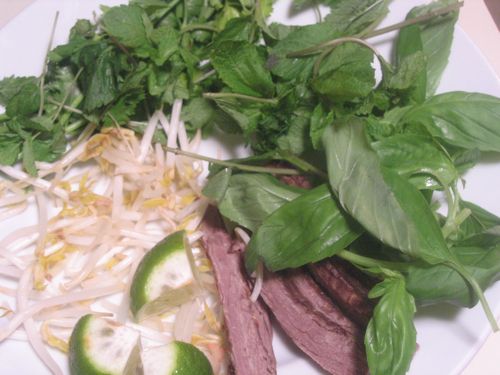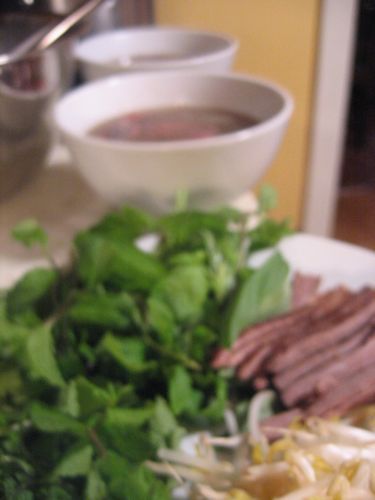 Fan-freakiní-tastic: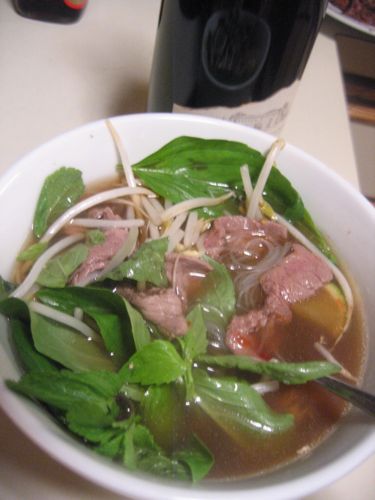 Pho
4 pounds beef marrow bones
2 pounds oxtail, cut into 4-inch pieces
1 pound flank steak
6 quarts water
8 whole cloves
5 whole star anise
1 tablespoon fennel seeds
2 tablespoons coriander seeds
2 tablespoons white peppercorns
1 whole cardamom pod, slightly crushed
2 medium onions, peeled, cut into quarters
2 (4-inch) pieces of ginger, sliced lengthwise in half
1 whole nutmeg, grated
2 cinnamon sticks
2 stalks lemongrass, bulb end bruised with the back of a heavy knife
2 to 5 tablespoons nuoc mam (fish sauce)
2 tablespoons sugar
2 teaspoons salt

For the Bowl
1 pound boneless sirloin
1 (1-inch) piece of ginger, grated
1 pound rice vermicelli
1/4 cup sliced scallions
1/4 cup fresh cilantro leaves

For garnish:
Mint
Basil
Mung bean sprouts
Lime quarters
Sliced jalapenos

First you make the broth. Place the bones, oxtail and flank steak in a 12-quart stockpot and cover with water. Bring to a boil and cook for 5 minutes. Remove from heat, drain the bones and meat into a colander and rinse well with cold water. This initial cooking removes impurities and scum; the flavor of the meat and bones is extracted in the long cooking.

Wash the stockpot to remove any residue. Return the bones and the meat to the pot, add the 6 quarts of water and bring to a boil. Immediately lower the heat and let simmer, skimming the surface of any fat or scum. The stock should not boil again or it will become cloudy.

Dry roast the cloves, star anise, cardamom, fennel, coriander seeds and white peppercorns in a large skillet until they begin to release their fragrance. Remove from the heat and lightly crush with the side of a heavy knife or using a mortar and pestle. Set aside.

Place the onion quarters and ginger cut side down in the same skillet, set over high heat, and leave to blacken, about 10 minutes. Remove the ginger and set aside. Turn the onions and blacken the other cut surfaces. Remove from heat. Rinse both the onions and ginger under cool water.

Place onion and ginger with crushed spices and grated nutmeg in a cheesecloth and tie up into a bundle. Add to the simmering stock, along with cinnamon sticks, bruised lemongrass, 2 tablespoons of nuoc nam, sugar and salt. Let the broth simmer for 1 hour.

Test the flank steak. As soon as it is fork tender, remove and let it cool. Continue simmering the broth for 3 to 4 more hours. If the liquid falls below the bones, add more water.

Meanwhile, thinly slice the uncooked beef sirloin. To get really thin slices, put the meat into the freezer for 1 hour. Partially frozen, it will be much easier to cut. Rub beef slices with the grated ginger and reserve in the refrigerator until needed.

Slice the flank steak into thin-bite sized pieces. In a bowl, cover the rice vermicelli with boiling water and let soak 10 minutes, or until soft. Drain, then add a little cold water to keep them from sticking.

Strain the broth through a fine sieve lined with a double layer of cheesecloth into a clean pot. Adjust the seasoning with additional nuoc mam, salt and sugar as needed and return to a simmer. Keep in mind that the garnishes are not seasoned, so the broth should be boldly flavored.

To serve, set out 6 to 8 large soup bowls. Brush the ginger off the beef sirloin and divide the meat and the cooked flank steak among the bowls. Top with sliced scallions and coriander leaves. Bring the broth up to a rolling boil, then ladle into the bowls. Guests should garnish their own bowls with fresh herbs, bean sprouts, chilies and lime juice to taste.

Yield: 6 to 8 servings.



Comments
kko wrote:
liz wrote:
mothergoose wrote:
Add Comments