Jump to navigation
Brekky at the Farm, and the Makings of Ice Cream
When we have overnight guests, I'll often set out a little mini buffet breakfast after making coffee. Boo is visiting this weekend, so I put together some strawberries and some melon with prosciutto. I also took advantage of the lazy morning to putter in the kitchen, making ice cream for dinner later.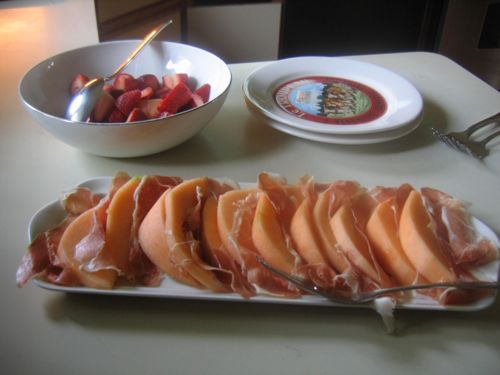 We sipped our coffee and snacked on our fruit in the living room because it was so cold this weekend.

After we'd woken up a bit, Boo and Greg started workshopping Greg's life, and I moved into the kitchen to start preparing for dinner.

I wanted to serve homemade strawberry ice cream for dessert. (You may recognize this recipe from such meals as "Patrick's Birthday" and "Farmers Market Loot, June 8.")

It's from Gourmet mag, June 2001.

First you put zest a lemon into strips.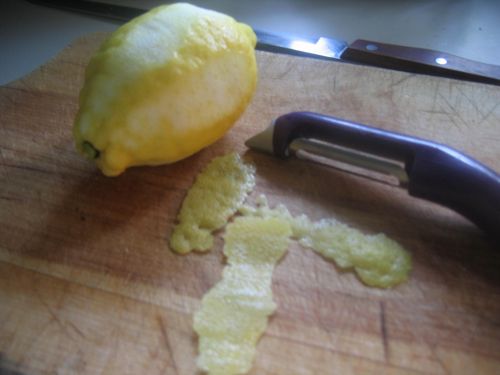 Then you set a bowl in an ice bath.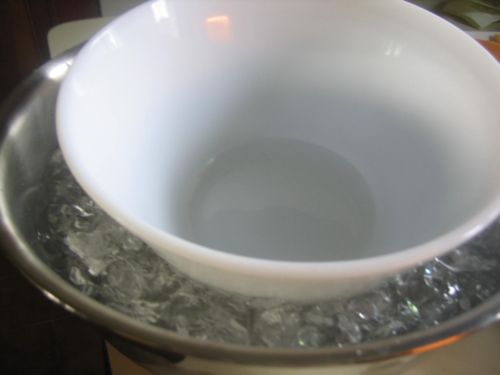 Then you whisk together eggs and sugar.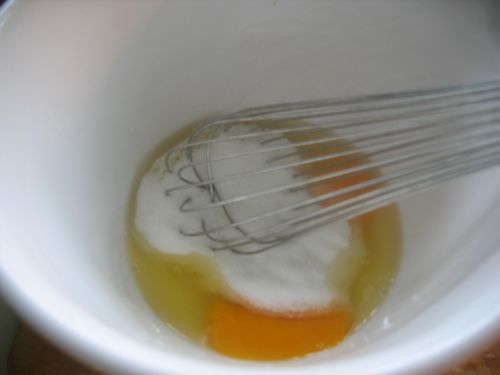 You heat some cream, the zest and some salt in a pot, then slowly pour the hot cream into the eggs and sugar.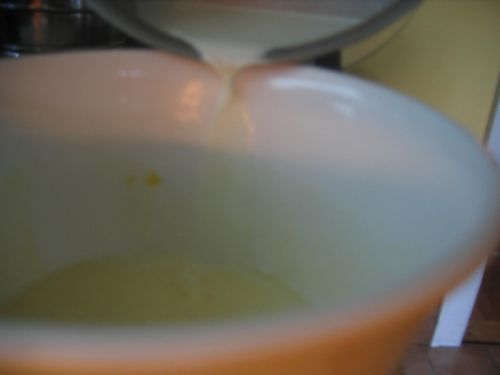 Then you put that whole mixture back in the pot and whisk until it reaches 180 degrees. Then immediately (this is why you set that ice bath up before hand) strain into your chilled bowl.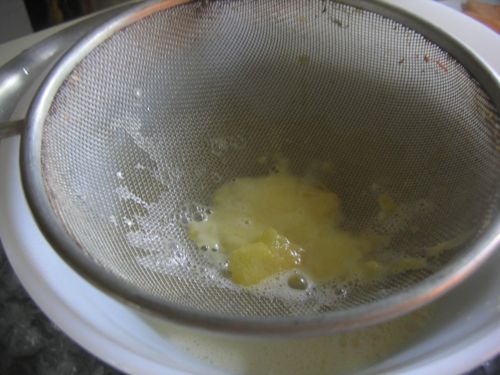 I like to stir that up and let the heat come off it. Then I put it in the fridge to cool down even more.

Once it's chilling, make the strawberry part.

Take a pound of strawberries.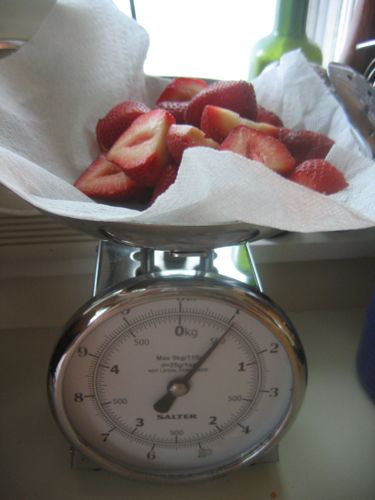 And put them in the blender with sugar and lemon juice.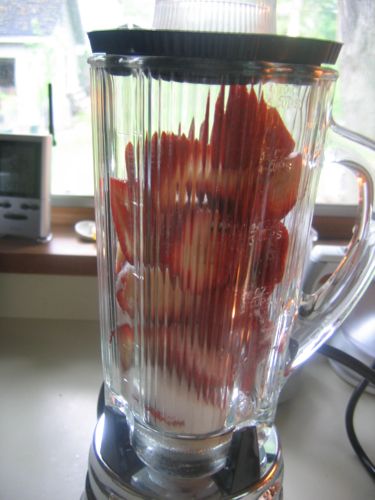 Blend.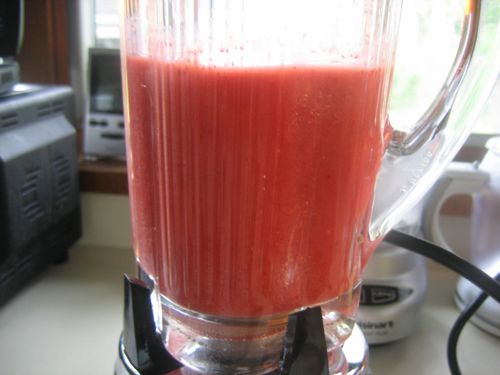 Strain out the seeds.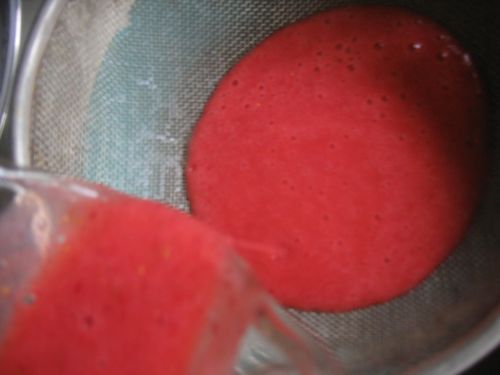 Chill that strawberry puree, too.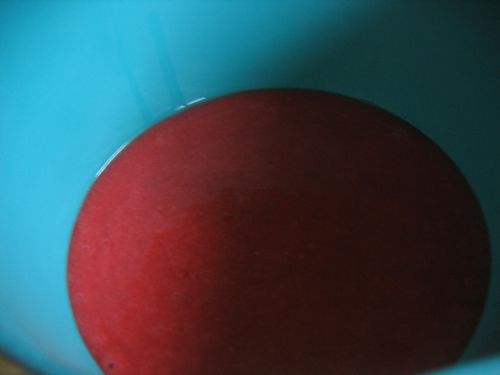 Later, after lunch, the ice cream was cold enough to put in the machine.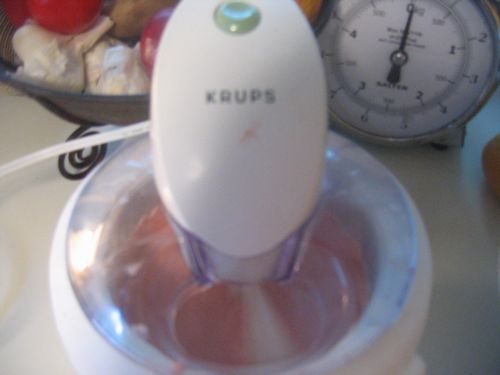 You stir the puree and the ice cream base together, then put it in and snap the lid on. I usually like to curse and scream while I do this because I'm not at all graceful and you have to move quickly or the ice cream base freezes inside the canister. In fact, this time, I was lucky I had two canisters. I could not get the lid on the the first one quick enough and once I did the paddle wouldn't turn. Ah, the troubles of pastry.

It worked out it in the end.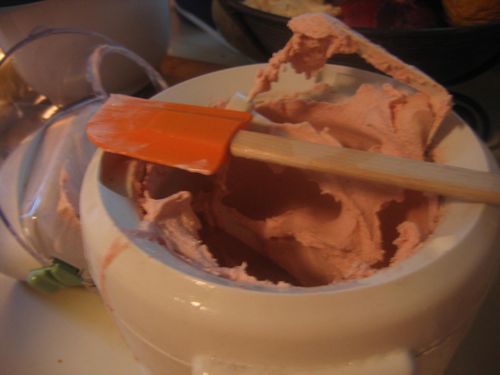 You let it churn for about half an hour, or until the paddle sounds like it's wheezing. Then you pack it in a container to put in the freezer so it gets a hard freeze.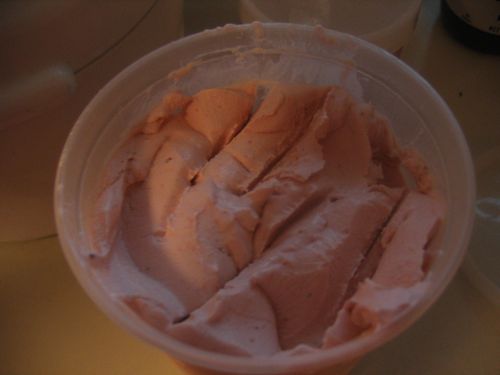 Strawberry Ice Cream

1 3/4 cups heavy cream
3 (3- by 1-inch) strips fresh lemon zest
1/8 teaspoon salt
2 large eggs
3/4 cup sugar, divided
1 pound strawberries (3 cups), trimmed and quartered
1 tablespoon fresh lemon juice

Prepare a large bowl with water and ice and set another bowl inside it.

Combine cream, zest, and salt in a heavy saucepan and bring just to a boil. Remove from heat and discard zest.

Whisk eggs with 1/2 cup sugar in a bowl, then add hot cream in a slow stream, whisking. Pour back into saucepan and cook over moderately low heat, stirring constantly, until slightly thickened and an instant-read thermometer registers 180°F (do not let boil).

Immediately pour custard through a fine sieve into a metal bowl, then cool to room temperature, stirring occasionally. Chill, covered, at least until cold, about 2 hours, and up to 1 day.

While custard is chilling, purée strawberries with remaining 1/4 cup sugar and lemon juice in a blender until smooth, then force through fine sieve (to remove seeds) into chilled custard. Stir purée into custard.

Freeze in ice-cream maker, then transfer to an airtight container and put in freezer to harden.

Yield: about 5 cups.

Gourmet, June 2001

Comments
Add Comments