Jump to navigation
Orange-Basil Mojitos
Since chores have been extra heavy the last couple of weeks, I havenít been as vigilant at the farm. Let me give you a hint of whatís to come. The girls came over, and the night ended in a riotous rendition of Saturday Night Dance Party USA. The evening began with orange-basil mojitos.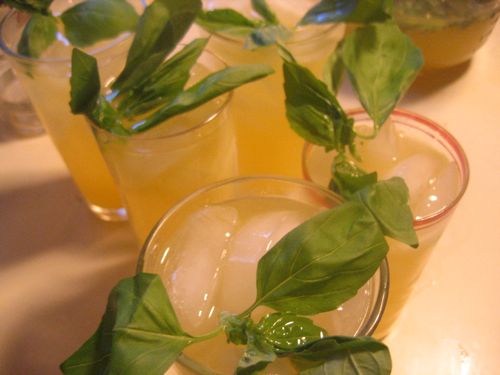 Mojitos were among the first recipes posted on Sour Cherry Farm, so click here to see the original. (Never mind all those nasty spam comments... I gotta get in there and clean them out.)

I got the idea from a cocktail recipe book, but I didnít follow that recipe. I used mine, replacing mint with basil and coming down on the simple syrup so when I added the OJ the sugar wouldnít overwhelm. Iím skipping off to more chores this morning, but later on, IĒll give you precise measurements. Meanwhile, start buying your rum, mint and club soda. Ladies and gents ó summer is here.
Comments
liz wrote:
kko wrote:
Add Comments