Jump to navigation
Dinner at Blue Moon
Wine tasting weekend continued Friday evening with dinner at
Blue Moon.
SCF fans will remember this is the same restaurant where we had
drinks the year before.
This time, we had food, too, including Laurelís fried green tomatoes with balsamic reduction.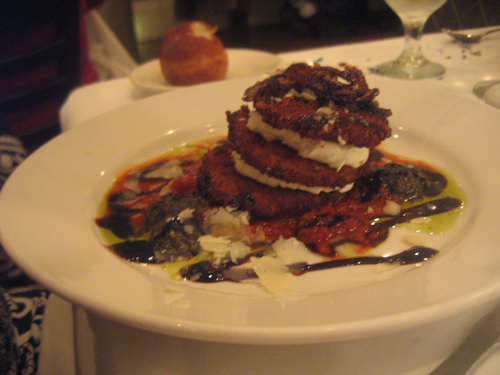 We started, naturally, with wine.




Jayne pointed out that we were the only ones with glitter on the table.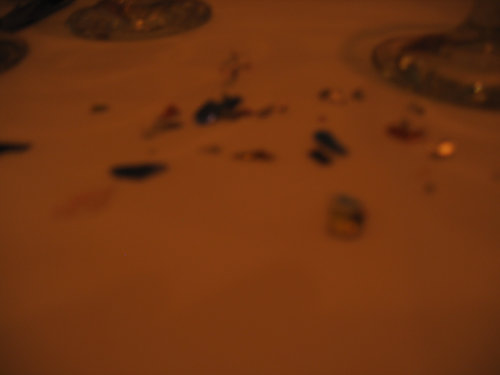 Really, there can be only one explanation for that. Joe Hill.

Jayne watches the waitress.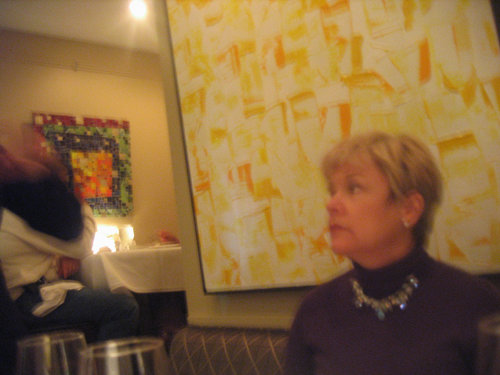 OK. Iím warning you. The photos did not come out very well.

Poached escargot sauteed with leeks, wild mushrooms and herbs in a hazelnut beurre díescargot, served in a mini brioche loaf.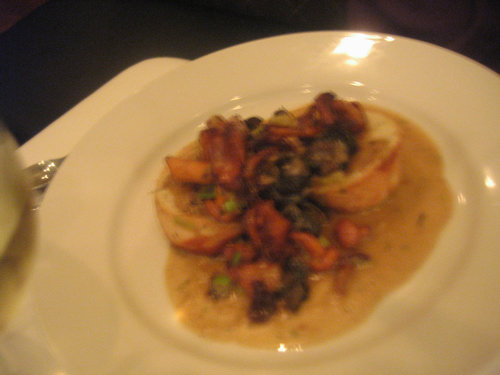 Fried green tomatoes, stacked with boursin cheese, roasted tomato marinara, topped with onion confit, pesto and balsamic drizzle.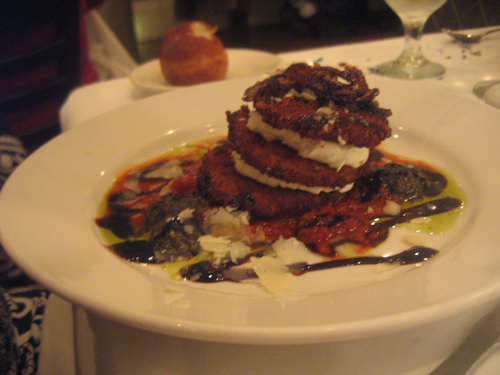 Baked Oysters. Stuffed Chincoteagues with fennel, bacon and asiago cheese: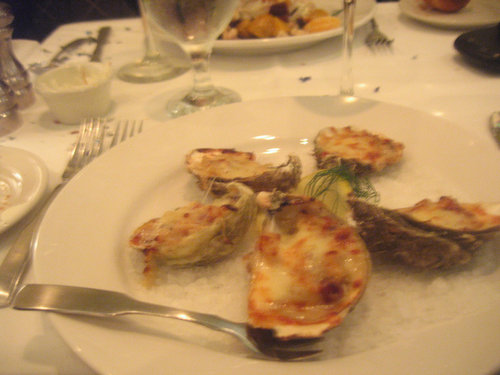 CynDee got the beet salad, but I donít see any photos of it.

Veal chop saltimbocca.
Pan-seared with prosciutto, sage and parmesan cheese ove black truffle potatoes, sauteed broccoli rabe and oven-roasted tomatoes.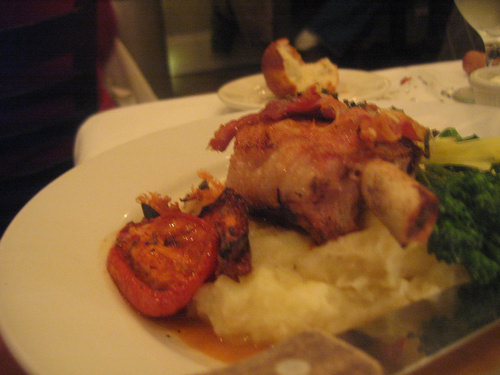 Pan-seared halibut. over a sweet corn and lump crab ragout with pancetta, baby tomatoes, shallots and snap peas, topped with balsamic reduction.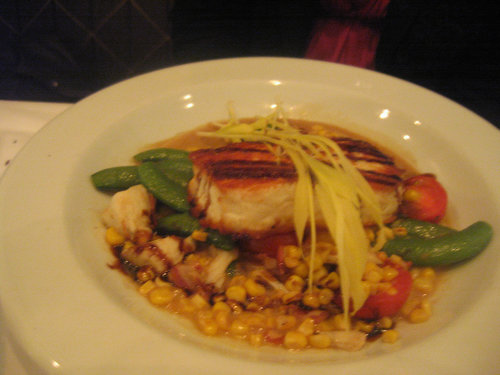 Seared Jumbo Scallops over bacon risotto with wild chanterelle mushrooms, roasted tomatoes and a sherry-thyme cream sauce.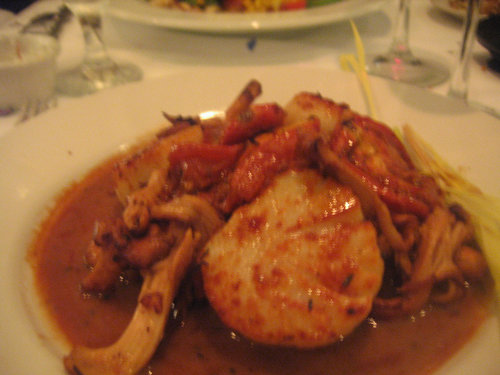 The tops, in my opinion, were the oysters and the veal chop.

Laurel and Jayne certainly enjoyed their veal chops: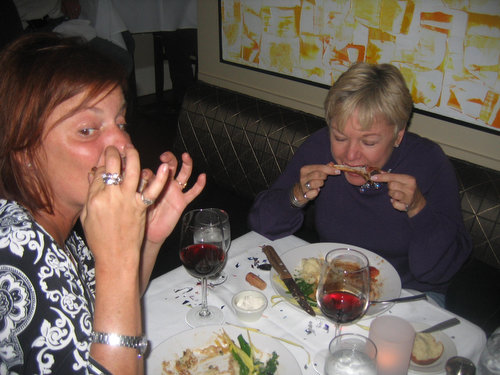 And I have a theory about why we liked those best. Those two dishes are time-tested classics. Putting fennel and bacon with oysters is nothing new ó and it works. Veal saltimbocca is an old-fashioned Italian-American dish.

Both of those worked out great, and were delicious.

But in some of the other dishes, the flavors sound appealing on their own, yet there are just too many of them. My scallops were overwhelmed by the (very salty) bacon in the risotto. Laurelís tomatoes were masked by the bitter breading and the sweet balsamic. CynDeeís corn and crab ragout was muddy ó not clear.

Afterwards, we got to thinking: Blue Moon has been around a while. It was definitely a ground-breaking restaurant when it opened many years ago ó one of the first fine dining establishments, and among the first to welcome the burgeoning gay population of Rehoboth. But the food we had there was the sort that I enjoyed 5 or 10 years ago. Itís simply not modern anymore. Black Truffle potatoes? Thatís very late 90s. These days, I find myself drawn to clean, simple preparations that let ingredients shine; not luxury ingredients that try to wow you with their assertiveness.

Just my two cents. Doesnít mean I didnít have a blast at dinner. Especially when CynDee brought Mitch over.

SCF, meet Mitch: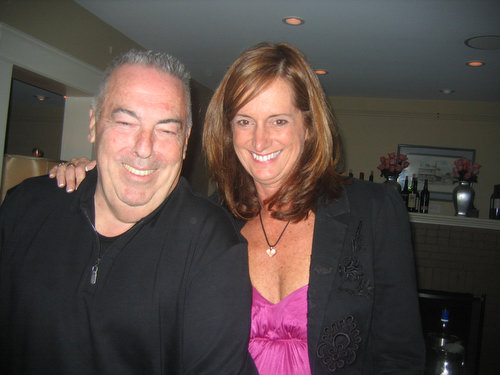 He works at Bin 66, a local wine shop. Heís been all over the world, but never to New York. Iím not sure, but I think CynDee invited him up for Christmas.

See the woman in the black shirt in the background? She did a spitton so far ó laughing at something at the table ó that her drink ended up all over Laurelís shoulder. Swear to God.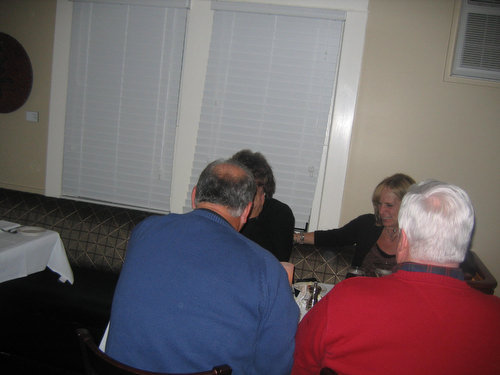 I mean ó look how far away they are from us? How did that even happen?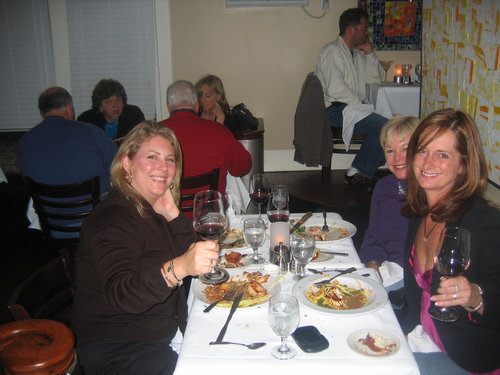 Hereís a better look at her: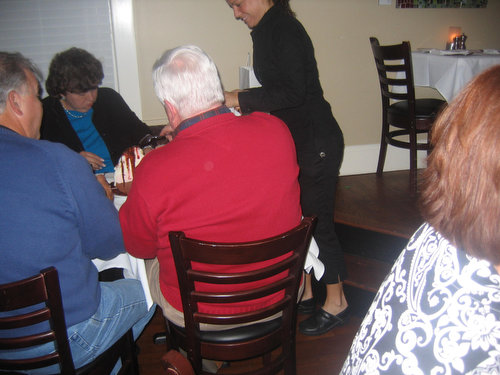 Laurel thought the waitress spilled wine on her there was so much liquid. Really.

For dessert, we had moon pie. It was an ice creamy thing, and it was delicious ó and a lot of fun.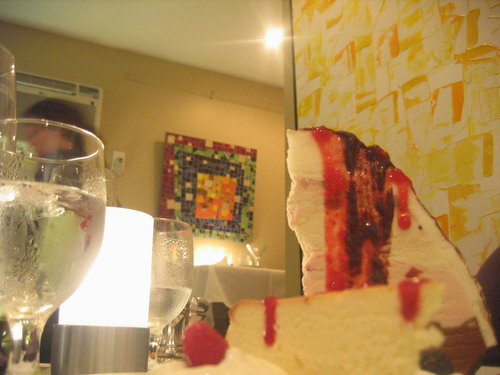 Right Jayne?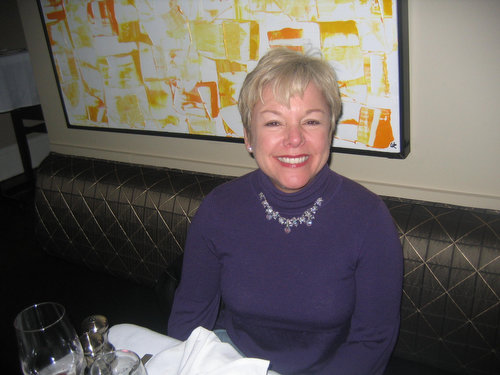 Comments
Add Comments