Jump to navigation
Tandoori Chicken
A recipe, inspired by
the one seen here.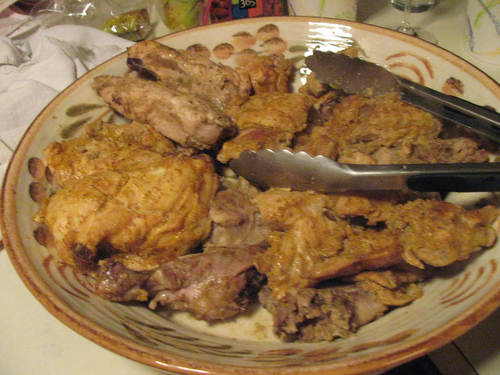 Mix spices, yogurt, olive oil and lemon juice in a bowl.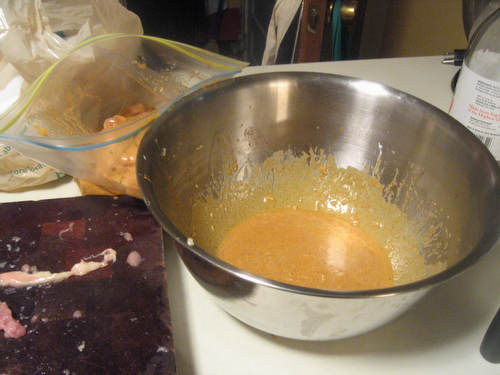 Score the chicken so it soaks up the marinade.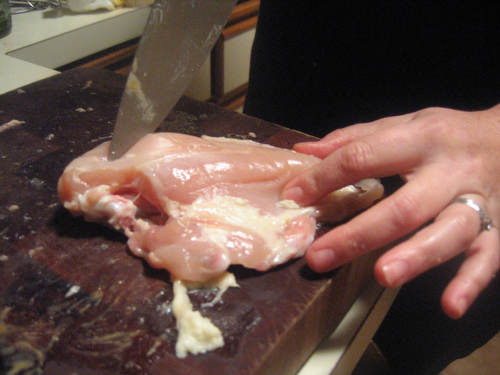 First, dip it in the marinade to ensure full coverage.




Then put it in the bag —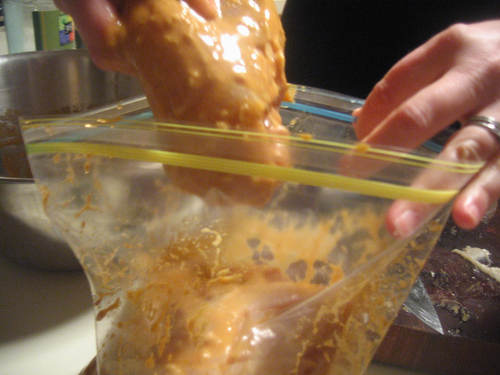 — and pour the rest of the marinade over it.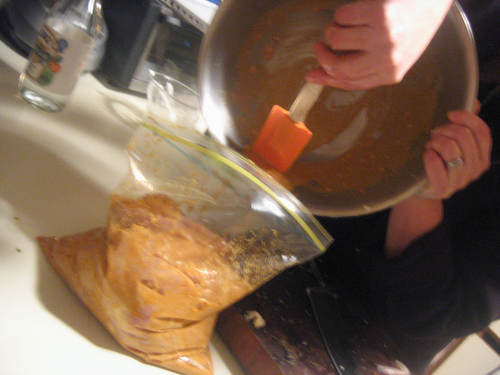 You can cook the chicken several ways. In the summer, why not put it on the grill? But this being winter, and because I didn't want to spend the time with a grill pan when I had guests over, I wrapped it in foil and steamed it. (This means it's not going to have the same texture like tandoori chicken in the Indian restaurant, but that's OK.)

I made a bag out of foil and cooked it for about 45 minutes to an hour at 375. It was great.

Tandoori Chicken

1 teaspoon ground ginger
1 teaspoon ground cumin
1 teaspoon red chili powder
1 teaspoon paprika
1 teaspoon garam masala
1 teaspoon salt
1/2 teaspoon turmeric
1/2 teaspoon ground cardamom
2 cloves garlic
1/2 cup lemon juice or white vinegar or a mixture of both
1/2 cup olive oil
1/2 cup plain yogurt
8 to 12 pieces chicken (thighs, breast, drumsticks or any combination), trimmed of all skin and fat


Combine ginger, cumin, red chili powder, paprika, garam masala, salt, turmeric and cardamom in a bowl. Stir to blend. Use a garlic press to add garlic to bowl (or chop finely).
Whisk in lemon juice, then olive oil, then yogurt.
Score each piece of chicken both ways to make slits in the meat.
Dip each chicken piece into the bowl and then place in a freezer bag. Once all the chicken is in the bag, pour the remaining marinade into the bag.
Marinate 4 to 24 hours.

Cook as described above.




Comments
Add Comments