Jump to navigation
Curry-Roasted Butternut Squash and Chickpeas
A recipe from the November, 2007 issue of
Food & Wine.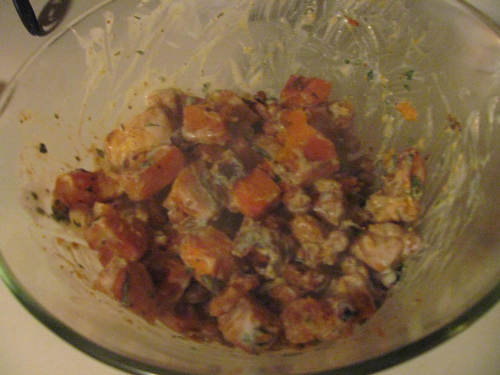 2 large butternut squash (5 1/2 pounds)—peeled, seeded and cut into 1-inch dice
One 19-ounce can chickpeas— drained, rinsed and dried
1/4 cup extra-virgin olive oil
1 tablespoon mild curry powder
1/4 teaspoon cayenne pepper
Kosher salt and freshly ground pepper
3 cups plain whole-milk yogurt
3/4 cup finely chopped cilantro
3 tablespoons fresh lemon juice

Preheat the oven to 375 degrees. In a large bowl, toss the butternut squash with the chickpeas, olive oil, curry and cayenne and season with salt and pepper. Spread the squash cubes on a large rimmed baking sheet and roast for 1 hour, or until tender.
Meanwhile, in a medium bowl, stir the yogurt with the cilantro and lemon juice and season with salt and pepper.
Spoon the roasted butternut squash and chickpeas onto a platter and drizzle with 1/2 cup of the yogurt sauce. Serve the remaining yogurt sauce on the side.

Yield: 12 servings.
Comments
Add Comments