Jump to navigation
Green Beans with Sage and Pancetta
It was quite the Bon Appetit Christmas this year. This is the recipe we tried to make at the lake a few weeks back, but burned it to a crisp. Luckily, everything turned out just fine here.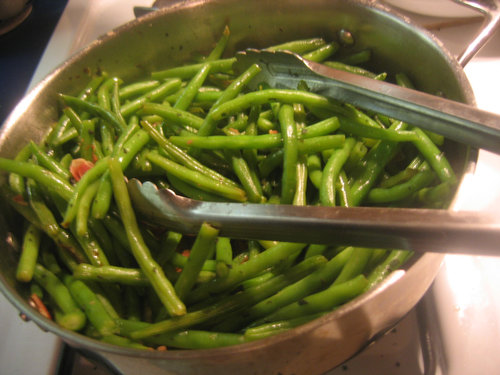 From Bon Appetit, Dec. 2007.

2 1/2 pounds green beans, trimmed
8 ounces thinly sliced pancetta, coarsely chopped
2 tablespoons extra-virgin olive oil, divided
3 tablespoons coarsely chopped fresh sage
Fleur de sel* or other medium-grain sea salt for serving (optional)
Preparation
Line baking sheet with several layers of paper towels. Cook beans in large pot of boiling salted water until crisp-tender, 4 to 6 minutes depending on size of beans. Drain. Spread beans out on paper towels. DO AHEAD: Can be made 2 hours ahead. Let stand at room temperature.

Combine pancetta and 1 tablespoon oil in large nonstick skillet. Sauté over medium heat until pancetta is crisp, separating pieces with 2 forks, about 10 minutes. Add sage and stir until fragrant, about 1 minute. Transfer to plate.

Heat remaining 1 tablespoon oil in same skillet over medium-high heat. Add beans and sauté until heated through, about 5 minutes. Add pancetta mixture and toss to blend. Season to taste with freshly ground black pepper. Transfer to large bowl; sprinkle with fleur de sel, if desired, and serve.

*A sea salt with especially subtle, complex flavor; sold at specialty foods stores and online at chefshop.com.
Comments
Add Comments