Jump to navigation
Lemon Garlic Gravy
Another winner, though a bit salty because of the brine. I'd pour off the juices, use fresh turkey stock and scrape the brown bits into that.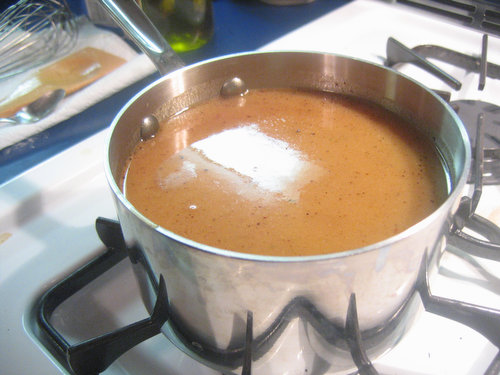 2 cups (or more) turkey stock
3 garlic cloves, chopped
1 small shallot, chopped
1/4 cup all purpose flour
1 teaspoon finely grated lemon peel
1/2 teaspoon sugar
1/4 cup chopped fresh Italian parsley
1 tablespoon chopped fennel fronds
2 teaspoons chopped fresh sage
1/2 cup crème fraîche* (optional)

Scrape juices and browned bits from reserved roasting pan into large glass measuring cup. Spoon off fat, reserving 2 tablespoons. Add enough stock to juices to measure 1 2/3 cups.

Heat reserved 2 tablespoons fat in heavy large saucepan over medium-high heat. Add garlic and shallot; sauté 2 minutes. Add flour; whisk until golden, about 4 minutes. Add degreased pan juices and 2 cups stock. Bring to boil, whisking until smooth. Reduce heat and simmer until gravy is reduced to desired consistency, about 4 minutes. Whisk in 2 tablespoons reserved lemon butter, 2 tablespoons reserved lemon juice, lemon peel, and sugar, then herbs. Whisk in crème fraîche, if desired. Season to taste with salt and pepper.
Comments
Add Comments