Jump to navigation
Friday Night at Lilette
Lilette
is one of the more modern restaurants in NOLA. You'll find oysters on the menu, but that's about the only indigenous food. (And those were actully from Alaska.) The menu would be at home in any cosmopolitan city — it's a mix of Italian and French with a healthy dose of American.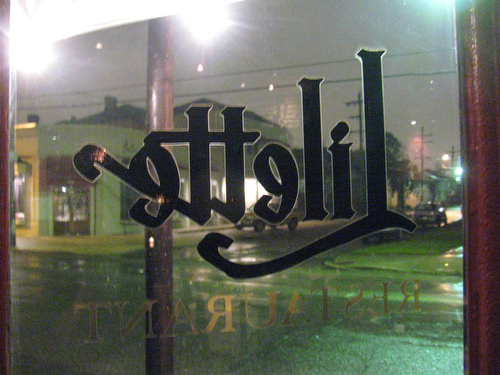 We arrived to a crush at the door. While we were waiting, I snapped these: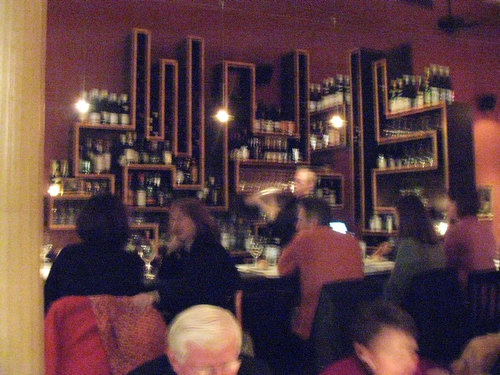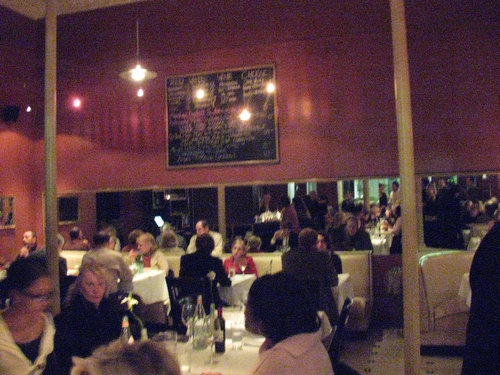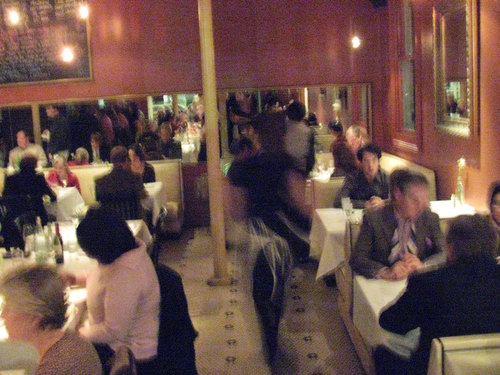 Some people who came in after us were seated before us, and they got the good table. I was bitter.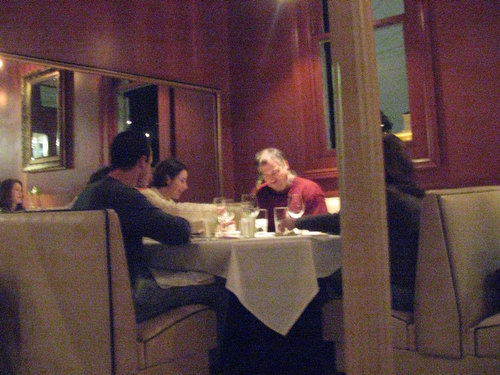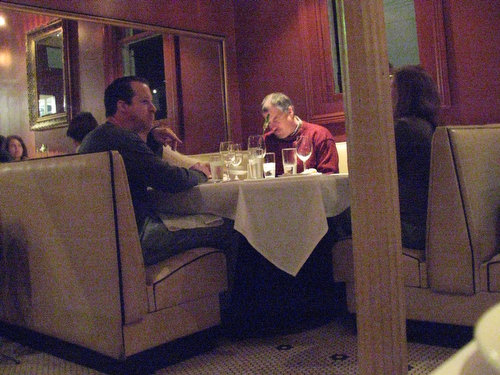 We sat in the center row. Boo and H: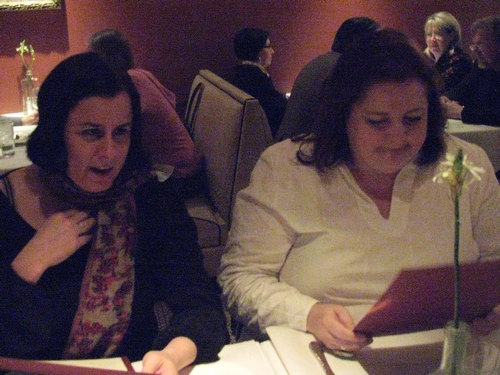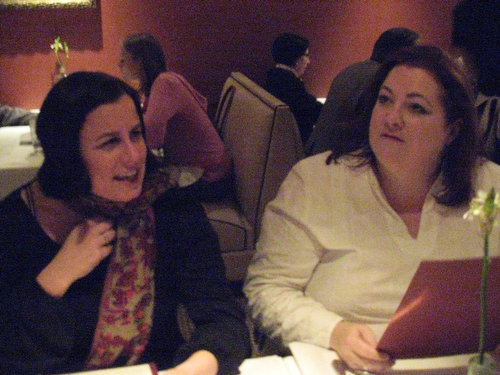 The "Greg and Liz at the table" shot: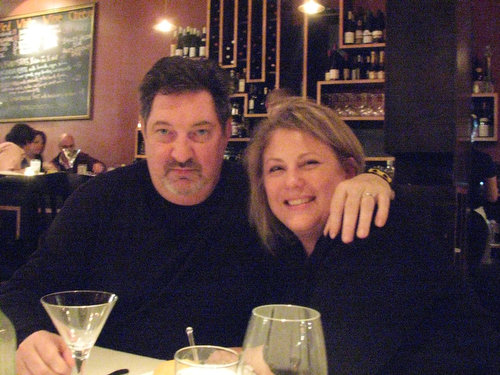 Hmm. What shall we order?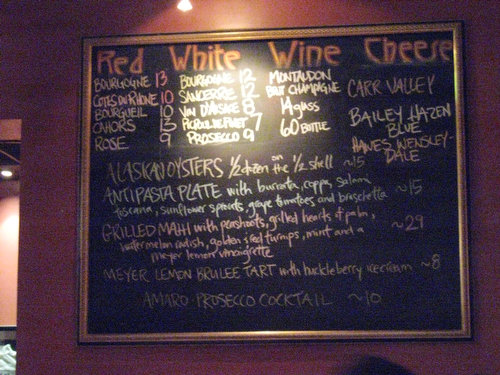 Greg got a cucumber martini: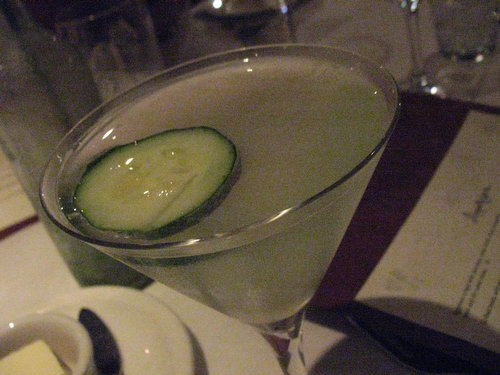 I got a Ward Eight.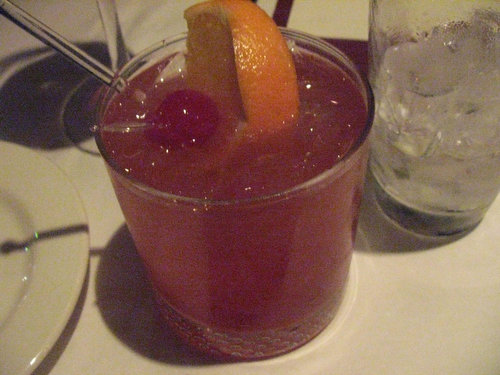 The table shared two dishes for the first course.

Tuna Carpaccio with orange, Nicoise olives, mint and olive oil: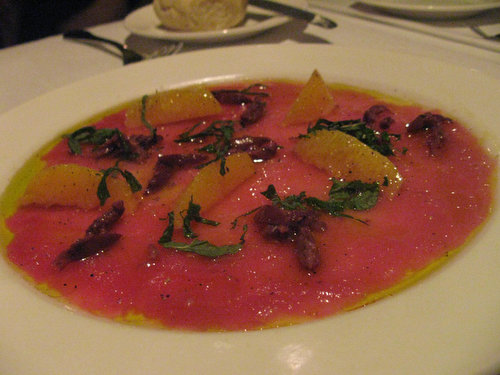 It doesn't sound like it would a great combination, but it truly was delicious.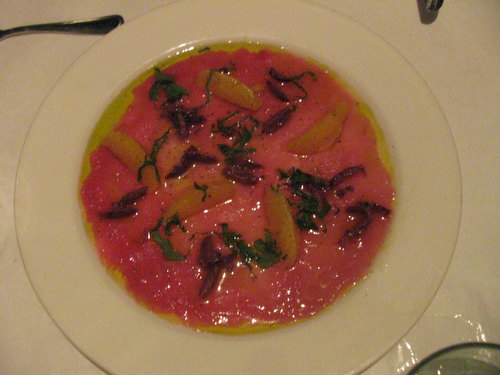 We also had oysters from Alaska.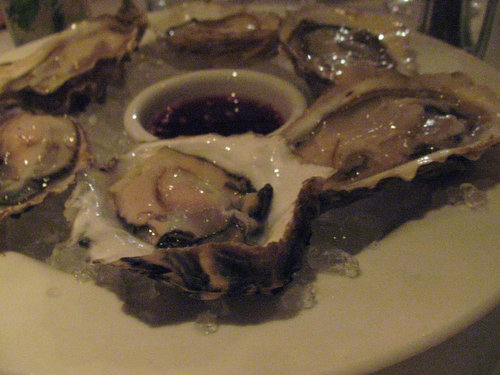 Delishy.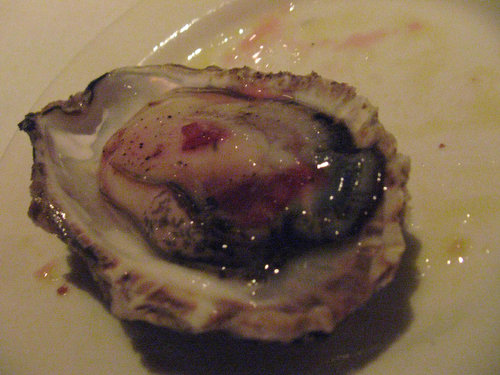 Boo always gets beets. Here, they are grilled and served with goat cheese and walnuts: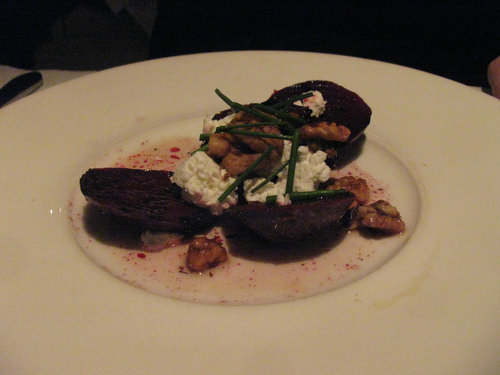 H and Greg each got soups.

Greg's was shelled mussels in brodo with tomato, oregano and bruschetta: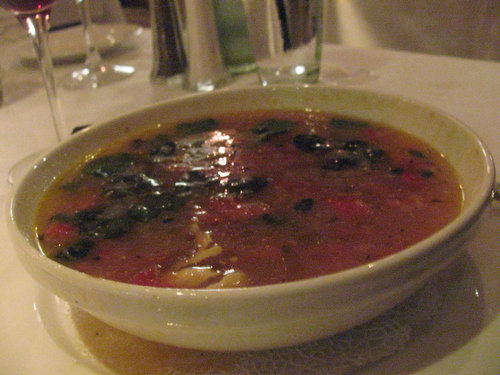 H had chicken broth with leeks, tomato, parmigiano and a soft poached egg: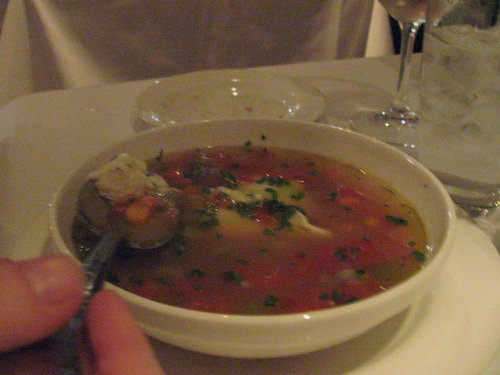 I got steamed little necks with onions, bacon, white wine broth and ricotta bruschetta: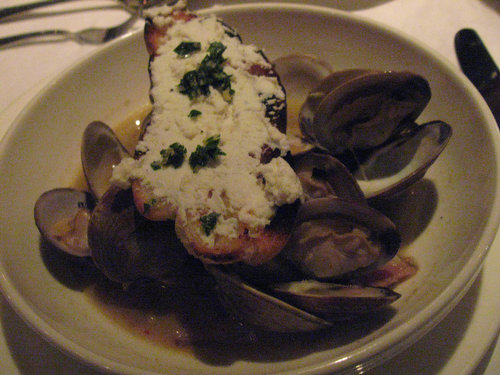 Mine was good but toward the end it was getting a little too rich. I think H had the best dish. Nice mix of flavors.

For the mains....

H and I each got braised veal cheeks with baby greens and horseradish vinaigrette: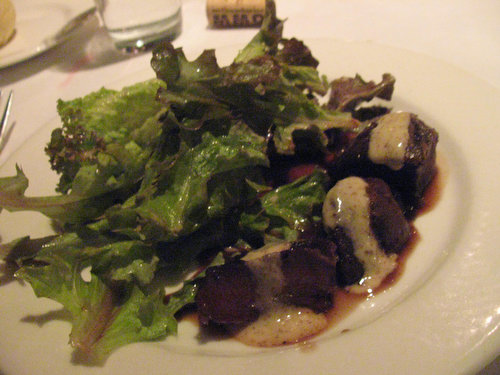 This was also a little rich for my blood.

Boo got duck confit with arugula and Banyuls vinaigrette: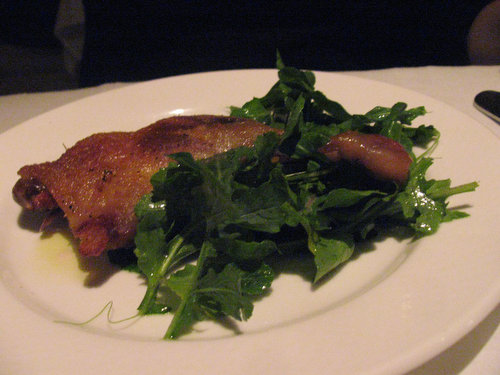 And Greg got roasted poulet breast with brussels sprouts, balsamic glazed oions and mushroom vinaigrette: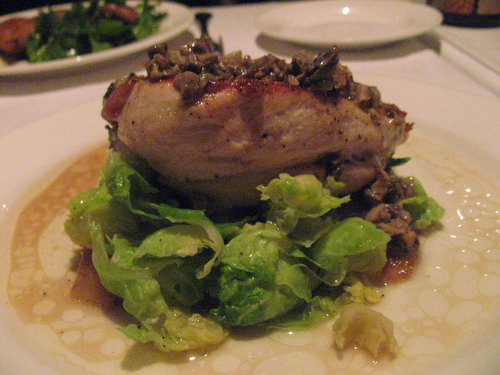 Wine cork: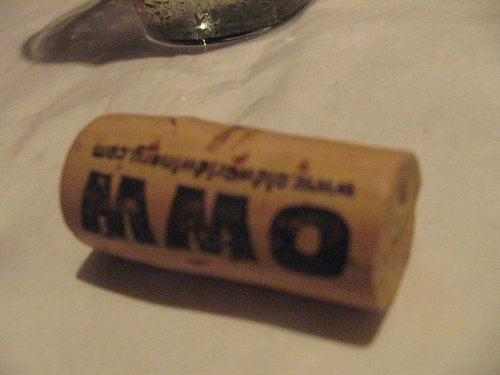 And after dinner drinks?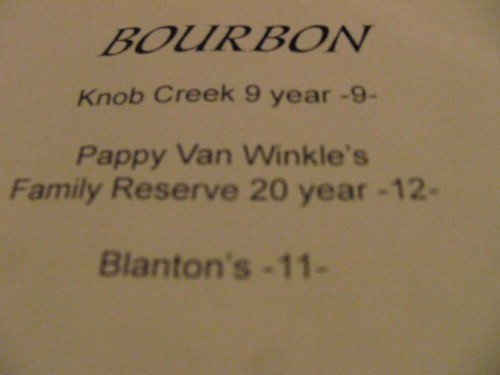 Boo says why not?




For dessert:

Quenelles of goat cheese creme fraiche with poatched pears, pistachios and lavender honey.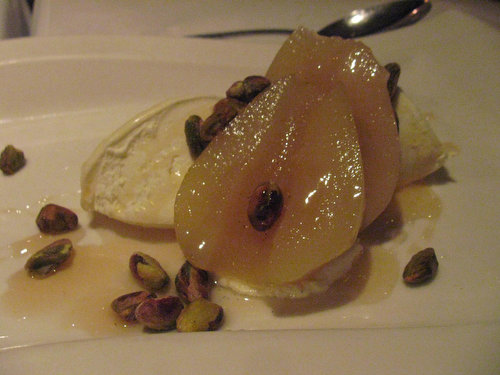 Totally and completely fabulous. The goat cheese quenelles were amazing.

And mascarpone panna cotta with red grapefruit sorbet, anise shortbread, citrus salad and candied fennel: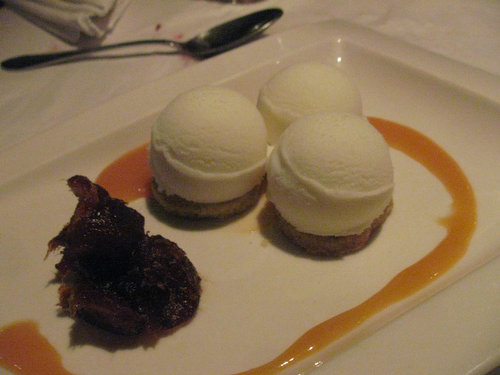 Loved. The desserts were very creative and very delicious.

Dinner is winding down: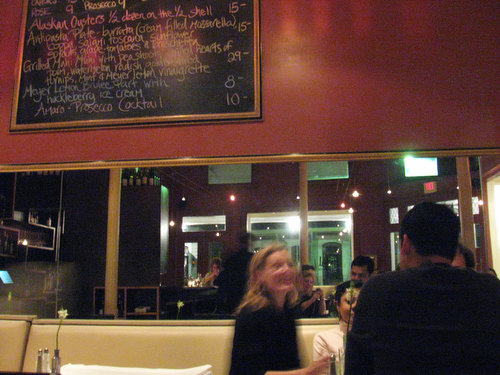 Time to go!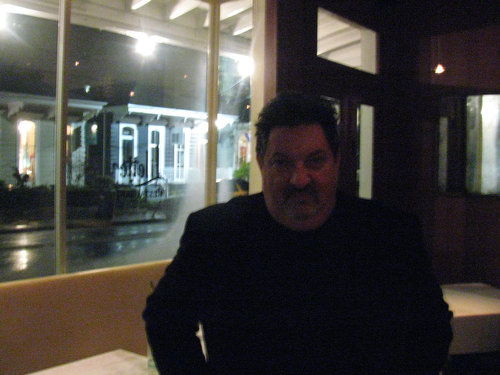 Lovely Lilette.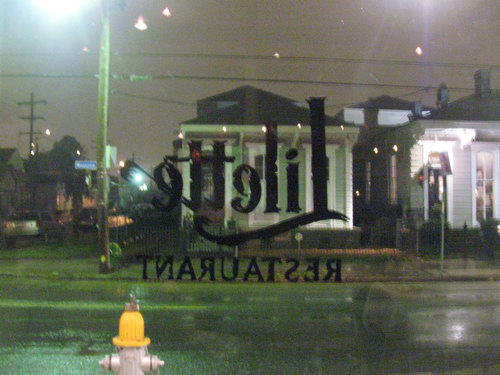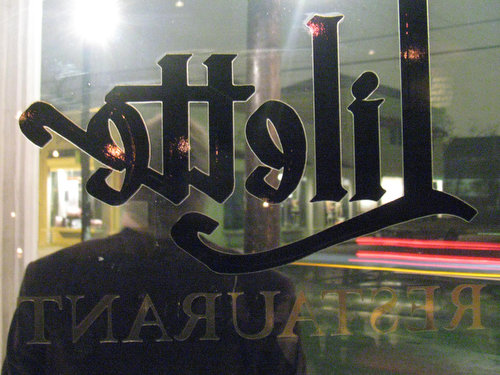 Comments
liz wrote:
joe wine wrote:
Add Comments