Jump to navigation
Short Ribs on Super Bowl Sunday
After a simple pizza (and salad!) dinner at Mountain House Saturday, we decided to cook in for the Super Bowl. I was editing a recipe from a
story about creating a dinner party out of the signature dishes of local chefs,
and though I'd actually quite like to make it. That is how we ended up with
Laurent Tourondel's
Braised Short Ribs for Sundee suppa.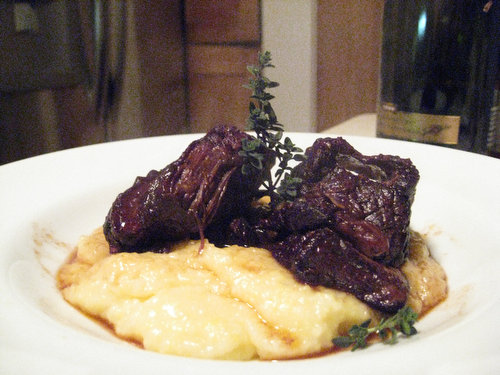 It's not a complicated recipe, just a long one. Here are all the ingredients: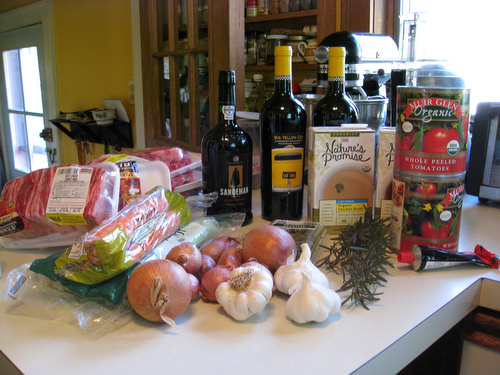 You start by chopping your carrots, onions, garlic and shallot: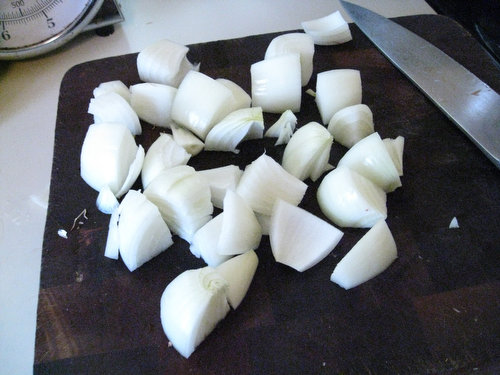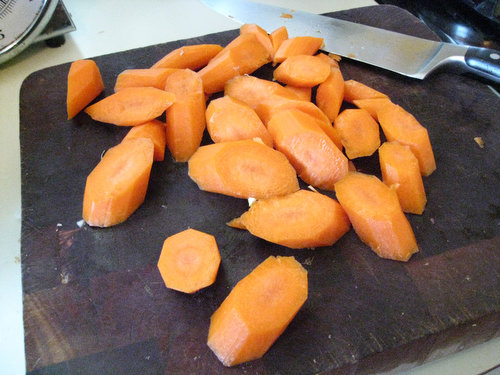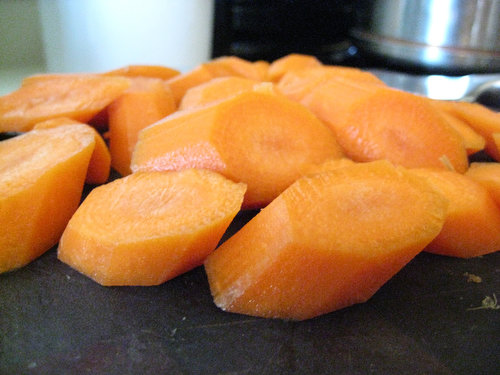 15 cloves!




Tons o' shallots: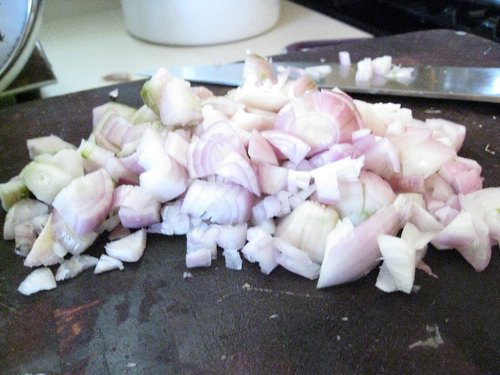 Then I prepped the rest of my ingredients. Flour and tomato paste: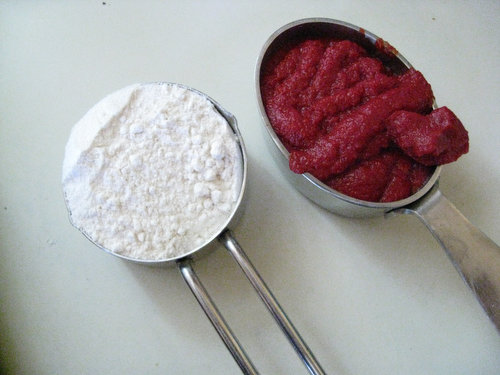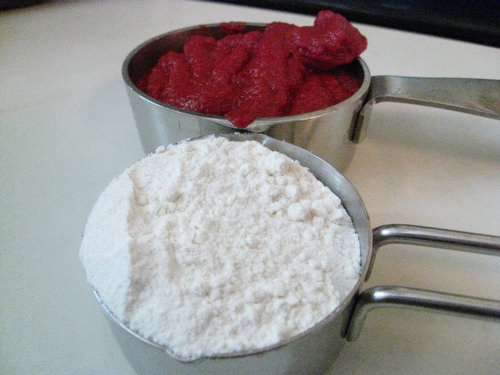 A bouqet garni of celery, bay leaf, rosemary and thyme wrapped in bacon: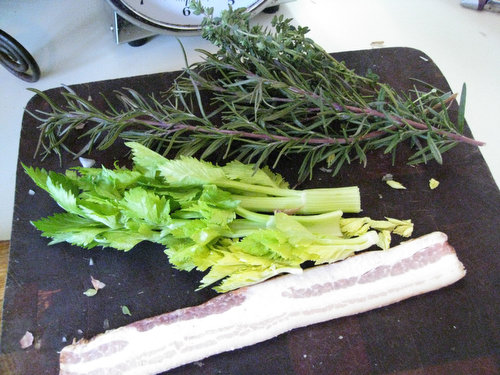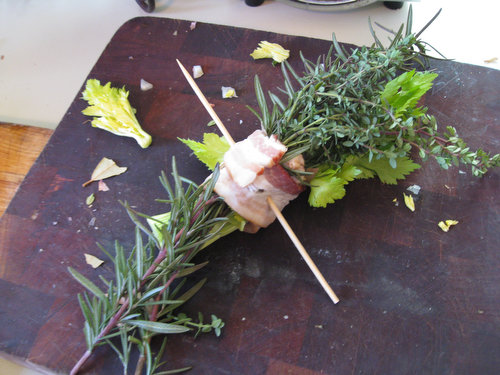 Tomatoes. He called for plum but they looked like crap in the grocery so I used canned whole: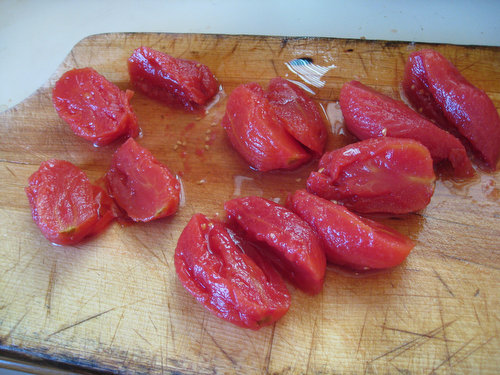 Chicken broth: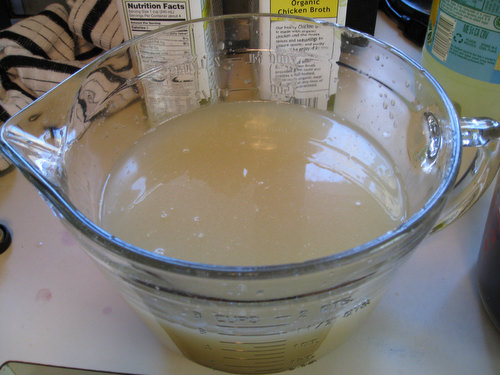 Beef broth: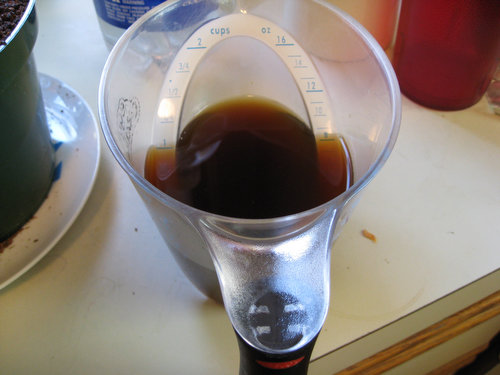 Wine: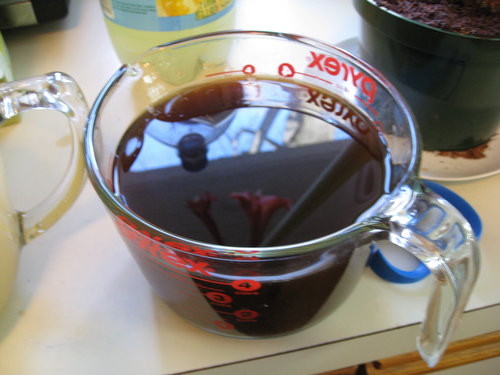 So you start by browning the short ribs on all sides: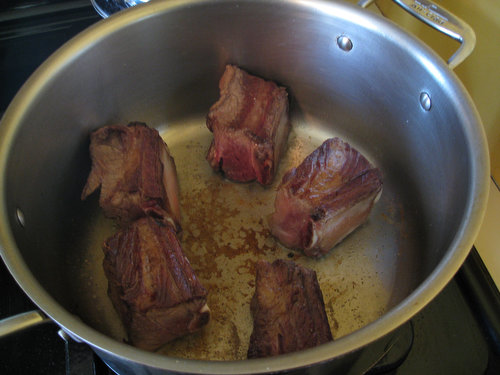 Pull them out and you've got all that delishy brown gook on the bottom. You add a little oil and saute your veg: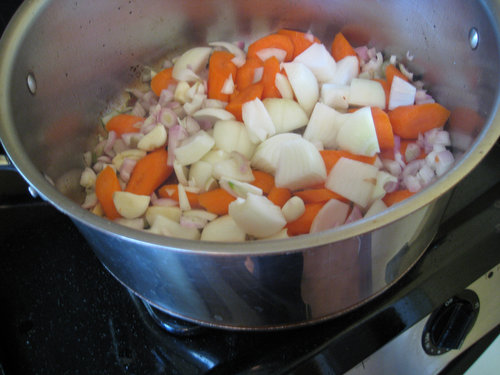 Then you add your tomato paste —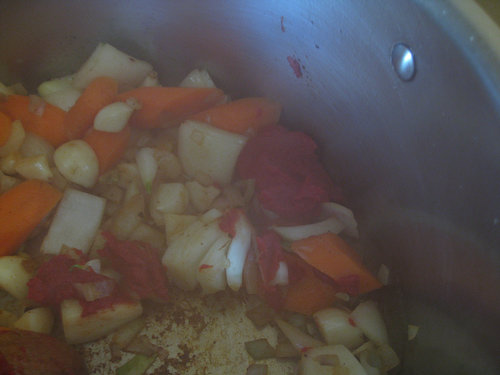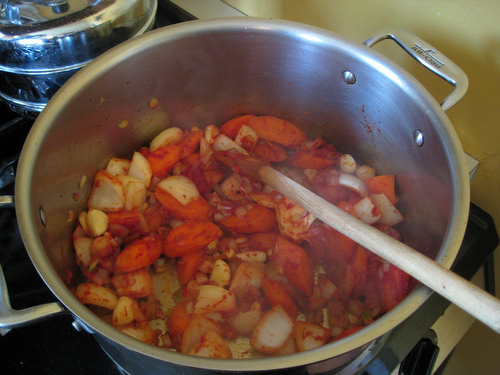 — and your flour: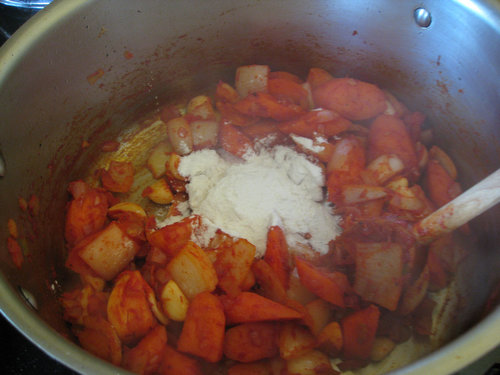 You cook the flour down and add your wine. Tons of it: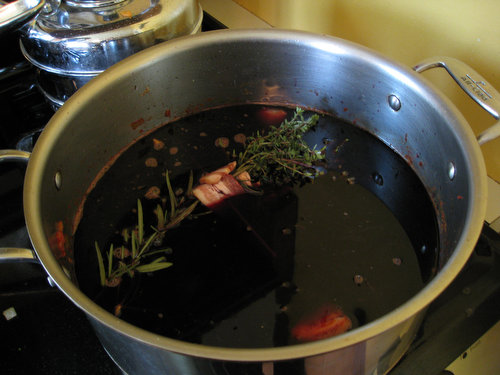 Cook the wine down for like an hour, until it looks like motor oil: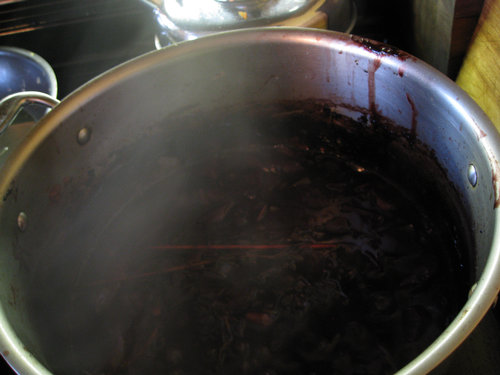 Now you add your ribs back, along with the broth, the tomatoes and the bouqet.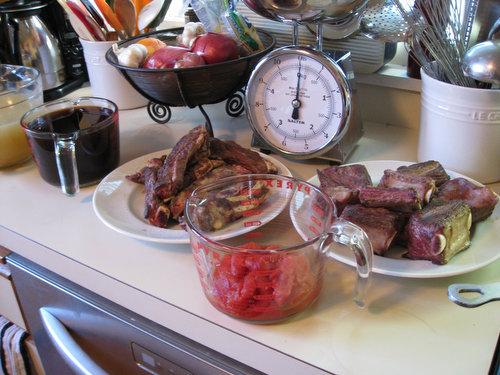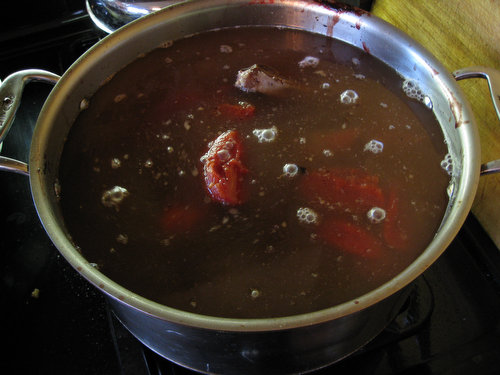 You cook that for 4 hours on the stovetop. When it's done, your pot looks like this: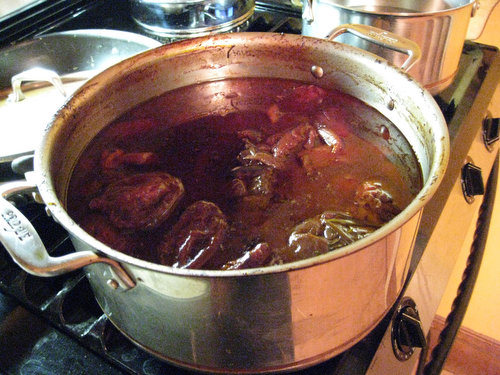 And your ribs look like this:




I pulled out all the meat and reduced the sauce down further.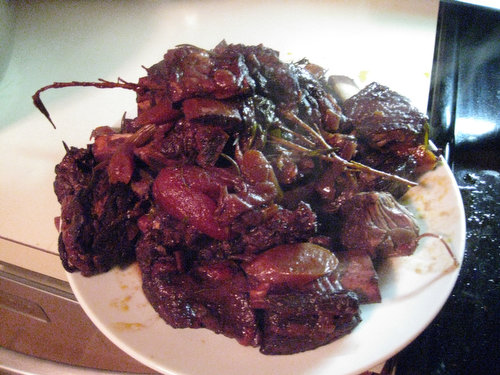 Meanwhile, I made some polenta and opened this lovely bottle of fat cab that Christi gave us forever ago for helping her with her wedding planning.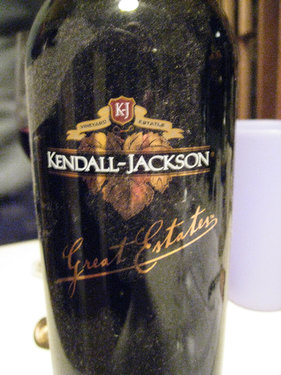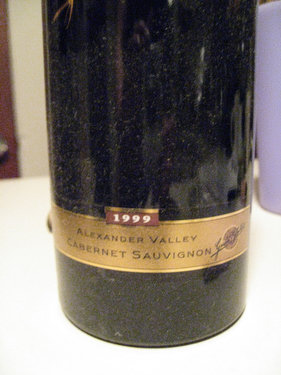 We'd been saving it for a special occasion and tonight was just that.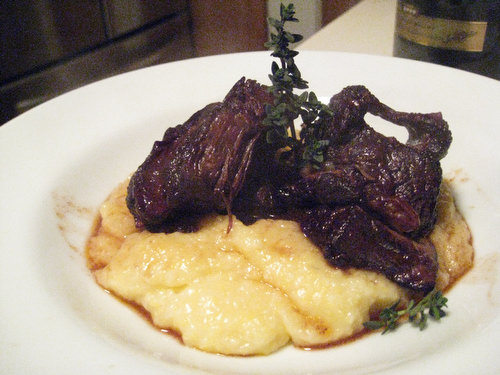 Braised Short Ribs

For the bouquet garni:
1 large slice of bacon
2 sprigs rosemary
6 sprigs of thyme
2 bay leaves
2 celery stalks, trimmed

For the ribs:
6 Beef Short Ribs (8 to 9 pounds)
Fine sea salt and freshly ground pepper to taste
1/4 cup vegetable oil
3 carrots, peeled and cut into1-inch pieces
1 large onion cut 1-inch pieces
15 garlic cloves, peeled and halved
6 shallots, peeled and diced
15 cracked black peppercorns
1/4 cup tomato paste
1/4 cup all-purpose flour
4 cups ruby port
2 bottles of dry red wine, such as Cabernet Sauvignon
5 cups beef stock or low sodium beef broth
6 cups chicken stock or low sodium chicken broth
5 or 6 plum tomatoes, halved

To make the bouquet garni, lay the bacon on a flat surface. Roll rosemary, thyme, bay leaf and celery stalk into bacon and tie to keep closed.
Season the ribs with salt and pepper, and sear them on the stovetop in an ovenproof pot, turning them until all sides are golden brown. Set aside. Remove all but 1/4 cup of the fat from the pan.
Add the carrots, onion, garlic, shallots and black peppercorns and sauté until light brown.
Stir in tomato paste, cooking for 2 minutes. Then add the flour, stirring well. Then add the bouquet garni, port and wine, and reduce by 1/3, about 45 minutes.
Return the ribs to the pot, add the stock, halved tomatoes and salt. Bring to a simmer, and cook in 350-degree oven for about 4 hours or until tender.
Remove the ribs from the pot, reserve the liquid, skim the fat off the top, and discard the vegetables. Cook the liquid over medium heat until the liquid is reduced to one quart. Return the ribs to the pot and reheat.
In a small saucepan heat the butter and garlic over medium heat, swirling until golden brown. Add the thyme at the end. Pour over the meat and serve in the cooking pot.

Yield: 6 servings.





Comments
Sue Feind wrote:
Add Comments