Jump to navigation
The Grilling Season Opens
The fire at Sour Cherry Farm this weekend wasn't in the fireplace. It was in the Weber (no relation) grill.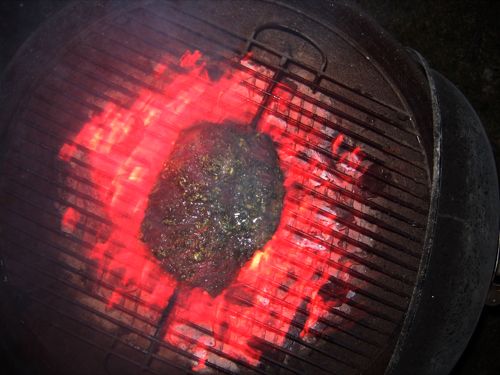 With the warm weather this weekend, we naturally gravitated toward our two favorite summer grilling dishes: butterflied — aka spatchcocked — chicken and herbed flank steak.

We discovered the recipe in one of Mark Bittman's cookbooks and love it because it's so easy.

Get yourself a regular-sized flank steak — they're usually about 1 1/2 pounds each.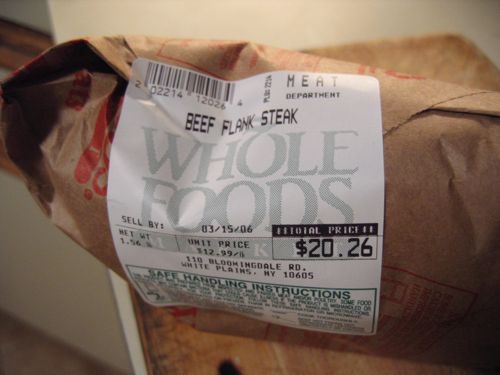 Just take about half a head of garlic, about a tablespoon each of rosemary, thyme and fennel seeds and about 5 glugs of olive oil and throw it in a food processor.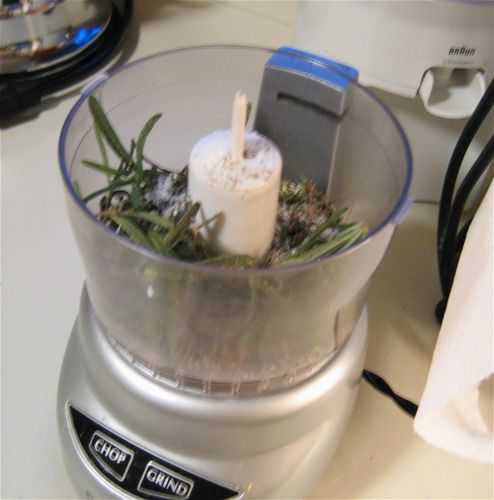 Spread the mixture all over your flank steak.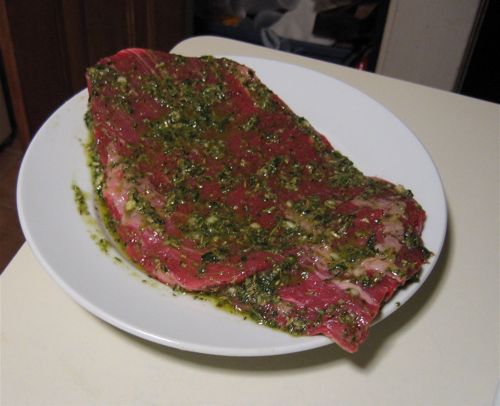 Cook for 4 minutes per side over a hot grill. Let rest for 10 minutes and cut on the bias to serve. Easy, right? I prepped while Greg was taking a shower. I also cut potatoes and cleaned asapargus for the other parts of the meal. We shook up some Hemmingway Daiquiris and invited Glenn to join us for dinner.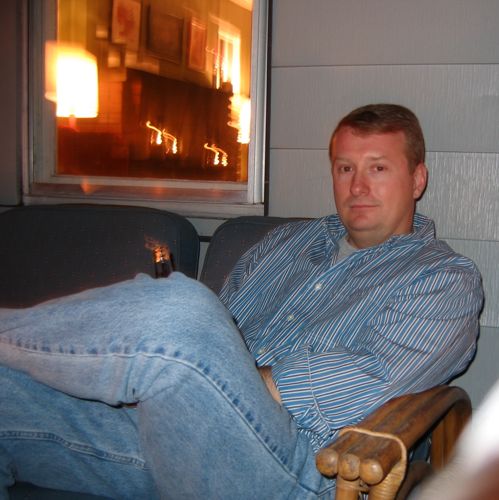 It was the first cocktail hour of 2006 we spent on the porch. We began with a nibble of cheese. Cool plate, right? It's part of a set of four that was a gift from Joe and Alex a couple Christmases ago. We use them all the time.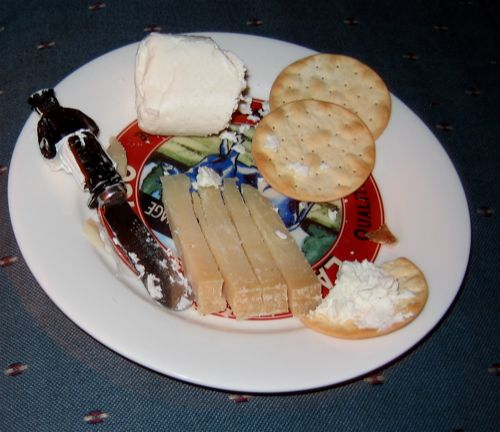 The goat cheese is from Coach Farm in the Hudson Valley. The other cheese I got at Mint in Tarrytown (scroll down to see a photo). I can't remember the type or the name of it, but it was Italian and the rind was soaked in Chianti. It had a unique flavor — kind of plummy, kind of grape-y. But still cheese. Very nice.

After I started the potatoes, Greg and Glenn went out to the grill. (Fire. Good.) They did the meat — 4 minutes a side, folks — and asparagus.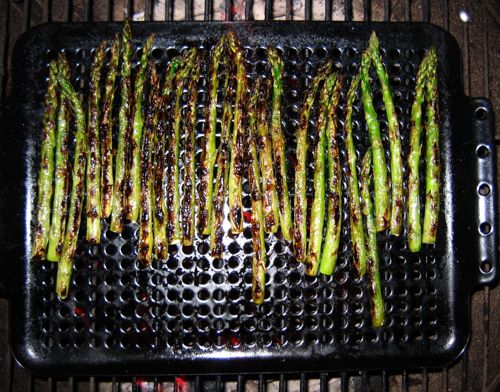 We let the meat rest — 10 minutes, folks — and dinner was ready.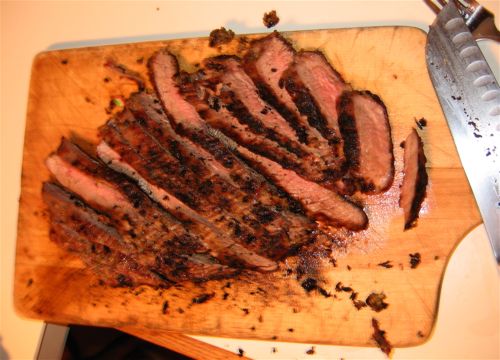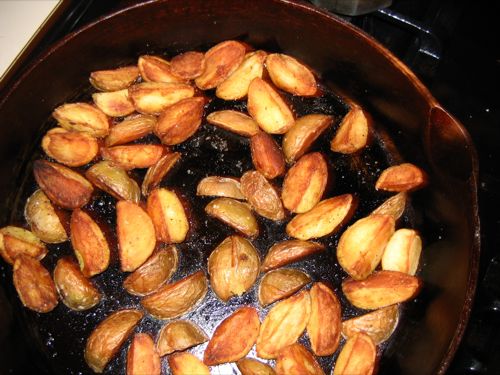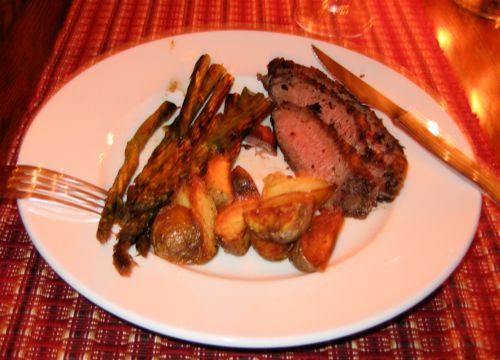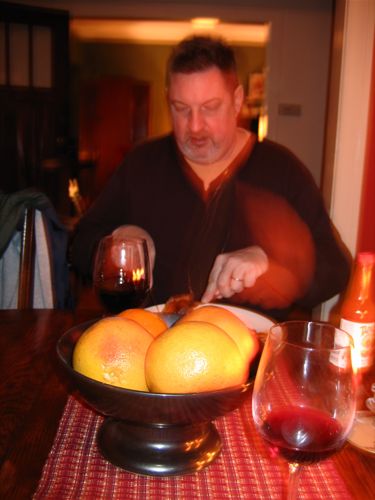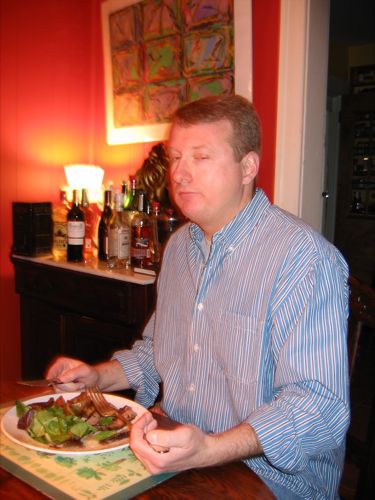 Sorry 'bout those closed eyes, but it was the best one I had.

This being March, the boys — and Cassie — went upstairs to catch the basketball game. Syracuse beat Pitt — S.U., the underdog, has been stomping its way into this tournament.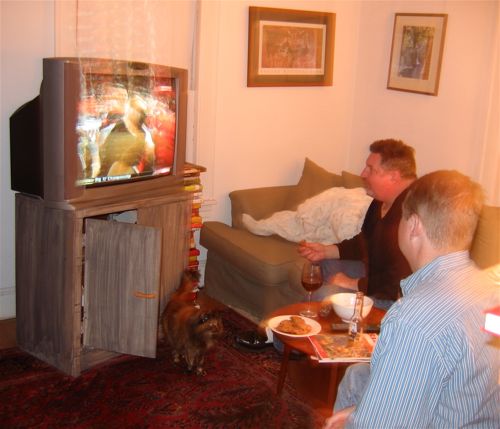 I cleaned up the kitchen and took out a couple-somethings for dessert: oatmeal-raisin cookies from Whole Foods (oatmeal cookies aren't my favorite, but they're much better than the chocolate chip ones at Whole Foods); and strawberries that I sprinkled with a little bit of Splenda and a capful of balsamic vinegar. mmm.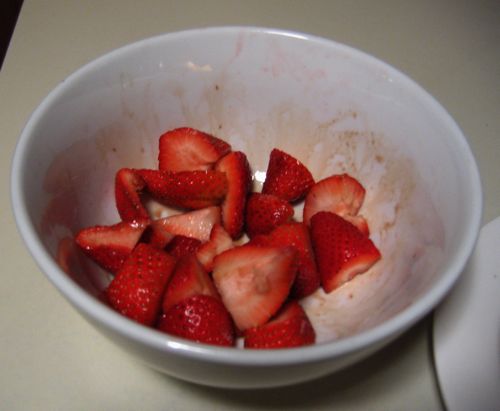 I know that the forecast for next week includes "a wintry mix" but here at the Farm, spring has arrived.

Comments
lbabs wrote:
Add Comments