Jump to navigation
Clams in Olive Oil with Jamon and Pine Nuts
This recipe comes from chef Quim Marques of the Barcelona seafood restaurant El Suquet de l'Almirall, who prepared it as a guest chef at Solera restaurant in Manhattan.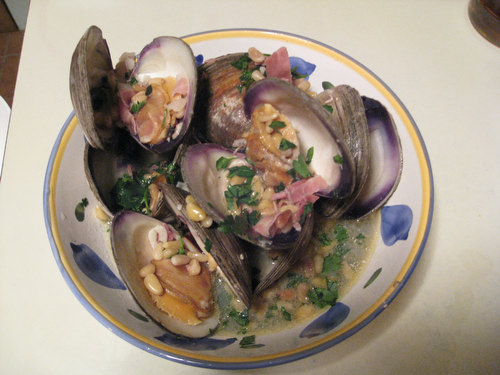 1 1/4 cups fragrant extra-virgin olive oil
2 small garlic cloves, sliced
2/3 cup pine nuts
3 ounces serrano ham or prosciutto, finely diced
2 pounds small clams such as Manilas, littlenecks or cockles, scrubbed
2 to 3 tablespoons minced flat-leaf parsley
Crusty bread

Heat the olive oil and garlic in a wide earthenware cazuela, a very large, heavy skillet or a wide casserole over medium heat. Add the pine nuts and ham and cook, stirring until the nuts just begin to color, about 2 minutes. Add the clams, cover the cazuela, and cook until the clams open, about 4 to 7 minutes depending on their size, shaking the pan occasionally. Discard any clams that do not open. Serve the clams directly from the cazuela or spoon them into bowls, adding plenty of cooking liquid to each bowl. Sprinkle the parsley on top and serve with plenty of bread.

Yield: 4 servings as a first course.

From "The New Spanish Table" by Anya von Bremzen (Workman).
Comments
Add Comments