Jump to navigation
Pastela Moruna (Moorish Chicken and Nut Pie)
This is one of author Anya von Bremzen's favorite recipes of all time and it soon will be one of yours, too. It's great for company because you can make the filling a day ahead, and it's OK to serve it at room temperature, so you can even bake this before anyone arrives.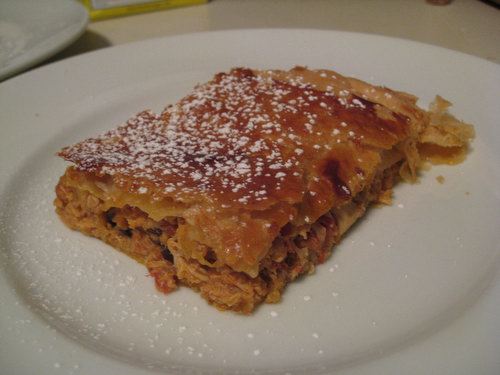 3 tablespoons olive oil, or more if needed
1 large onion, quartered and thinly sliced
1/2 cup chicken stock, plus more if needed
3 cups cooked, skinned chicken, torn into bite-sized pieces (from 1 medium rotisserie chicken)
1 tablespoons sweet (not smoked) paprika
1/2 teaspoon ground cumin
3/4 teaspoon ground ginger
1/4 teaspoon ground cinnamon
1/8 teaspoon cayenne
2 plum tomatoes, chopped (in winter used canned)
1/3 cup dark raisins or currants
Coarse salt
All-purpose flour for dusting
2 sheets frozen puff pasty, thawed
1/4 cup lightly toasted pine nuts
1/4 cup lightly toasted slivered almonds
1 large egg yolk
1 1/2 teaspoons milk
Confectioner' sugar for dusting

Heat the olive oil in a large skillet over medium-high heat. Add the oion and cook until it begins to soften, 3 to 5 minutes. Reduce the heat to low and cook until the onion is very soft but barely browned, about 15 minutes, stirring occasionally and adding a little more olive oil and 1 to 2 teaspoons of the chicken stock if the skillet looks dry. Stir in the chicken and cook for 1 minute. Add the paprika, cumin, ginger, cinnamon and cayenne and stir for a few seconds. Add the 1/2 cup chicken stock, the tomatoes and raisins, covering the skillet, and cook for 12 to 15 minutes. The filling should be soft and moise; if it seems a little too wet, increase the heat to high for a few seconds so the liquid reduces. Seasons the filling with salt to taste and let it cool completely. The filling can be prepared up to a day ahead and refrigerated, covered.

Place an oven rack int he center of the oven and preheat to 375 degrees. Lightly brush a 17 by 11 inch baking sheet with olive oil.

Lightly flour a work surface. Using a floured rolling pin, roll out 1 sheet of puff pastry to a roughly 18- by 12-inch rectangle. Transfer it to the oiled baking sheet. Roll out the remaining sheet of puff pasty to a rectangle that is slightly smaller than the first. Spread the filling evenly over the pastry on the sheet, leaving about 1 inch bare along each of the 4 edges. Sprinkle the pine nuts and almonds evenly over the top.

Cover the filling with the second pastry rectangle. Fold the edges of the bottom crust up over the top and crimp them decoratively.

Place the egg yolk and milk in a small bowl and whisk to mix. Brush the top of the pie with this egg wash. Using a sharp knife, make slits all over the top crust to allow steam to escape.

Bake the pie on the center rack until golden brown and baked through, about 30 to 35 minutes. Let the pie cool until slightly warm or room temperature. Dust it very lightly with sugar, cut into squares and sere.

Yield: 12 servings as a tapa; 6 to 8 as a light main course.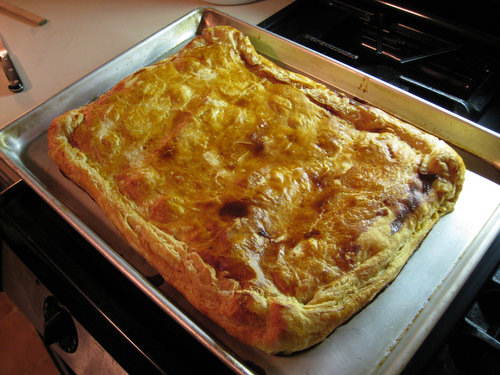 From "The New Spanish Table" by Anya von Bremzen (Workman).
Comments
liz wrote:
Add Comments