Jump to navigation
Hudson Valley Dining at Swoon Kitchenbar
Local ingredients. Casual but chic atmosphere. Friendly staff. Delicious food. Oh, and they love charcuterie. Do you think we might have been happy?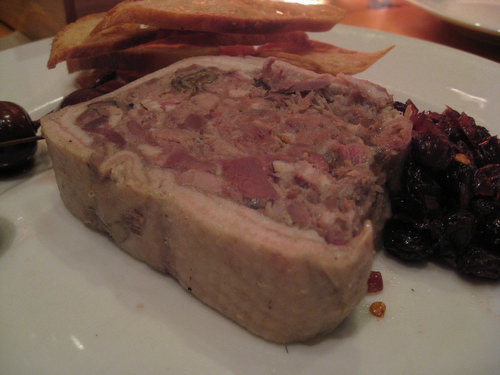 The name Swoon is a little precious, but that's the only cutsie-pie thing about the restaurant. It's serious — in a good way. The back of the menu lists the local farmers, growers and purveyors they use. You can also see a list on the web site. Sure, it attracts tourists and weekenders from the city. But it's also a local hangout.

We started with a lovely glass of wine.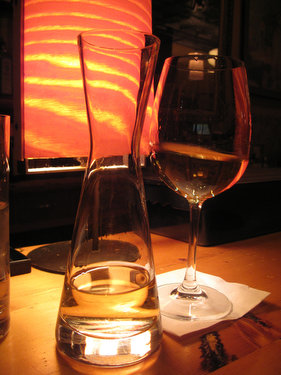 And we were brought a wooden box of warm bread and a plate with soft butter.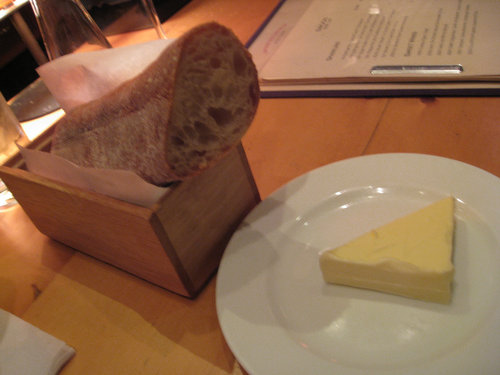 After seeing this book —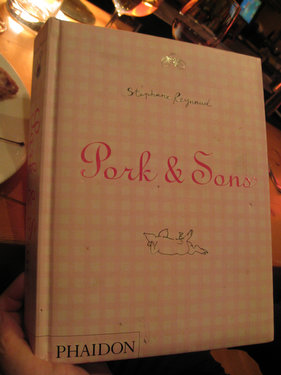 — on the bar, we knew we should order a terrine of some sort.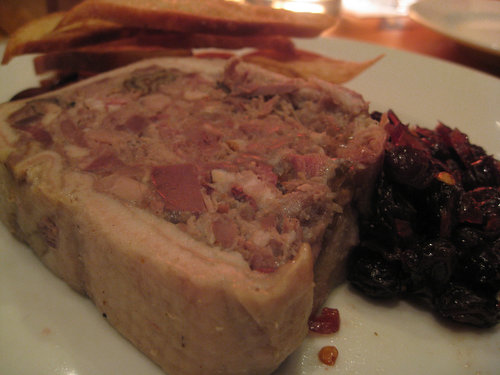 It's a duck neck confit terrine with raisin chutney and pickled cherries. Don't you love how you can see the duck skin as the wrapping? It was so well done. A punch of pepper here; a swath of fat there. We loved it.

The book is by Stephane Reynaud, a French chef, and it takes you through all the recipes he and his family made from one pig. It's on my Amazon wish list.

We were sitting at the bar with the lovely view of the wine collection. I've been noticing "a wall of wine" as a design element for quite some time now.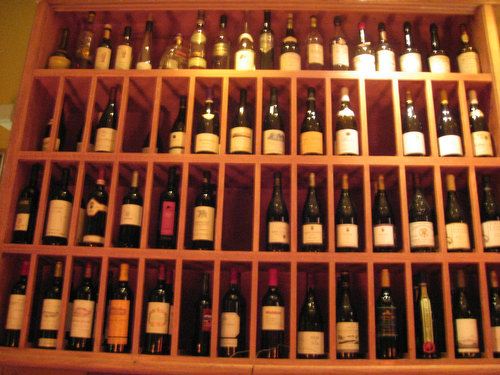 The restaurant wasn't busy, but there were a good number of people for 8:30 on a Monday night.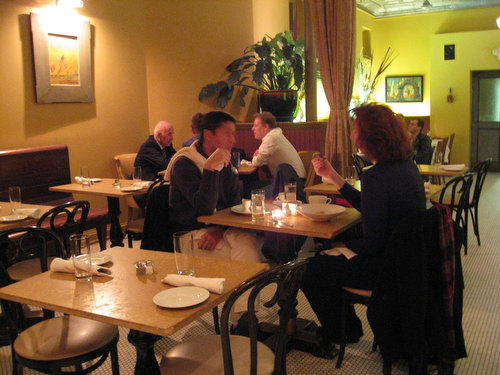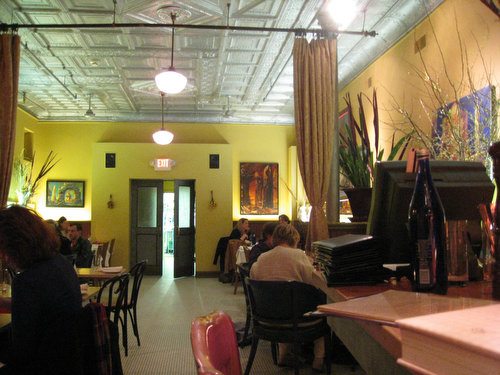 After sharing the terrine, we each ordered an appetizer. I had the watercress salad with chickpeas and butternut squash.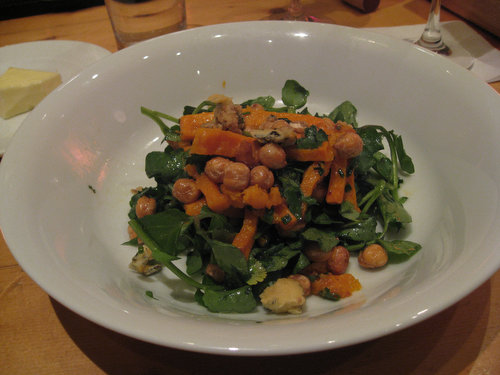 The dressing was lovely and the flavors were good, but the chickpeas were a little overdone. It came with a "berkshire blue" cheese that was sharp and delicous.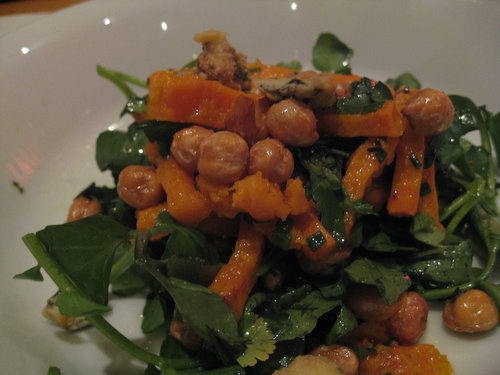 Greg got the grilled leeks vinaigrette with smoked tongue, fingerling potato chips and Dijon caper sauce.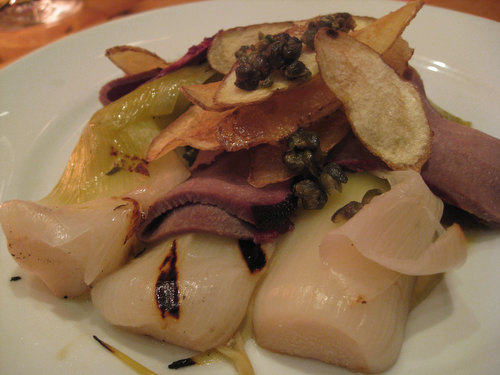 It was out of this world. Tongue was sliced thin, and so were the fingerlings. The leeks were a little hard to cut, but that's a minor complaint. The dressing was balanced but had a bite.

We tried this wine from Alison Vineyards:




The owner is a former JN reporter. I remember when I first started writing about food in 2000, he was starting his winery. He's now in his 6th vintage. Should I feel old?

I'm still eating French fries.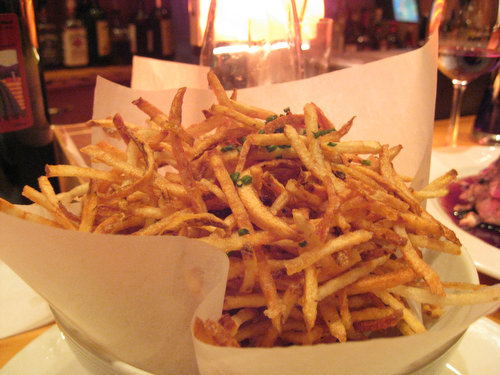 Speaking of French fries, my grandmother recently moved to New York after a lifetime of living in Texas. I love that nearly every time we go out to dinner she looks at the menu and says: "Hm. I haven't had a burger in a long time." And then she orders a burger. Of course, I've been with her since the last time she's ordered a burger so it can't be THAT long. But who am I to talk? The other day Greg called me the queen of the hamburger.

We didn't have hamburgers at Swoon. We had steak.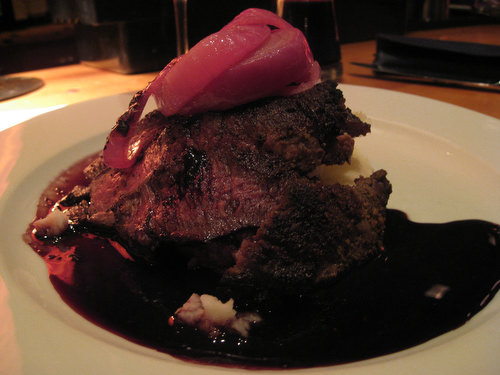 And duck.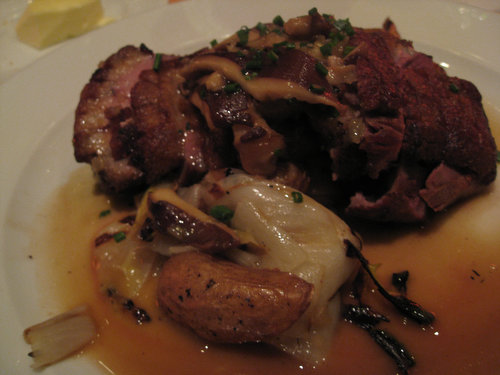 The steak was the Local Black Angus Flat Iron Steak with potato puree, grilled red onion and red wine jus.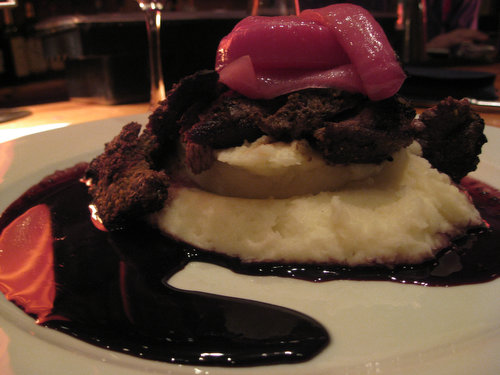 It had a very nice Eastern flavor: five spice, I thought.

The duck was right in my wheelhouse.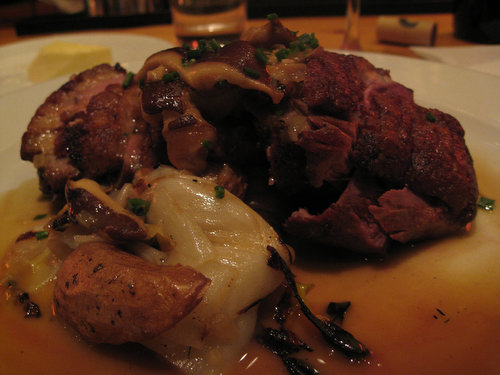 It was earthy and I loved the artichokes. But when don't I love artichokes. I think it was the best dish of the night.

Now. What to have next?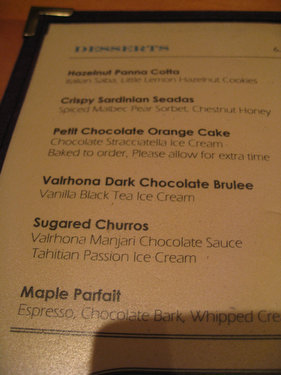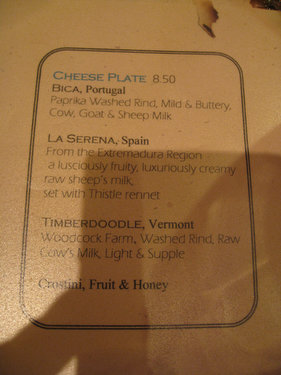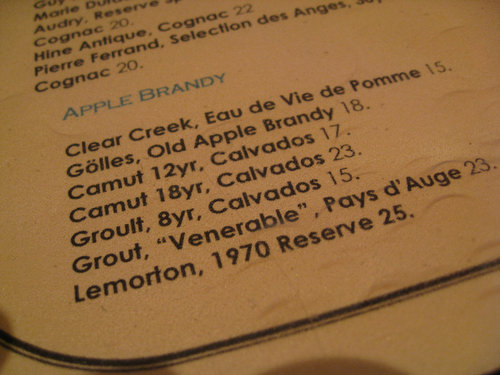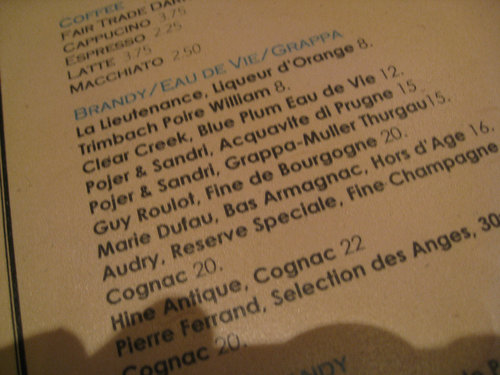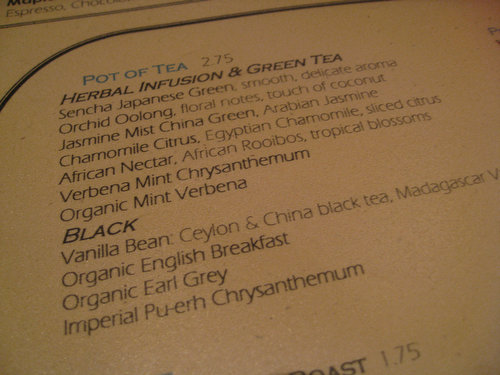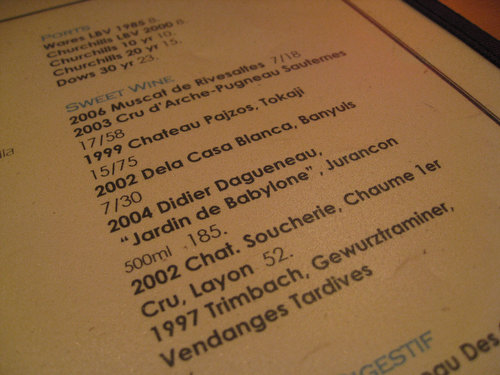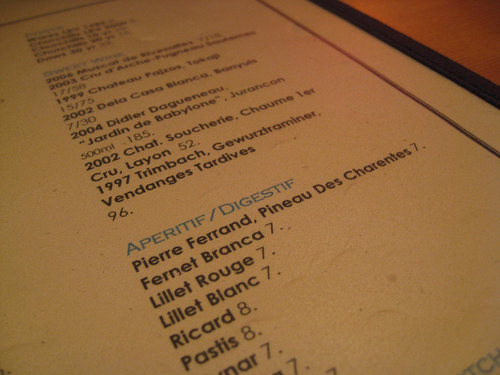 How could we choose? We did the cheese and dessert.

Cheese: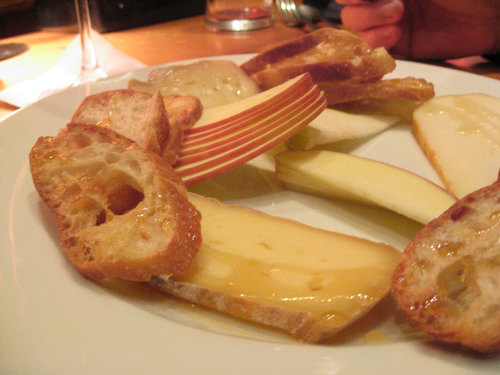 From the menu, and I quote; "

Bica, Portugal: Paprika-washed rind, mild and buttery; cow, goat and sheep mik.

La Serena, Spain: From the Extremadura region, a lusciously fruity, luxuriously creamy raw sheep's milk cheese, set with thistle rennet.

Woodcock Farm, Timberdoodle, Vermont: Cave-aged wild rind, raw goat and cow's milk, earthy and subtle.

"
And dessert. After hearing from David, the barkeep, that pastry chef-owner Nina Bachinsky–Gimmel and her husband, chef-owner Jeffrey Gimmel, came back from Italy with this lovely dessert, we had to try it: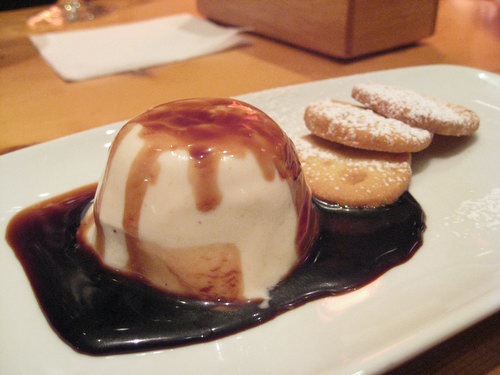 It had a balsmaic reduction that made the balance of the sweet wine reduction all the better. Bravo.

This was the first time I'd been to Swoon for dinner. It won't be the last.


Comments
Bill C. wrote:
Add Comments