Jump to navigation
Dinner at BLT Market
The theory behind
BLT Market
is that the menu is in tune with the season. The left column of the menu lists all the "Peak In Season" fish, vegetables, mushrooms, meats and fruits. For example, pea shoots. Like the ones that garnish this Morel & English Pea Risotto with 'Petit Gris' Snails and Coach Farm Goat Cheese.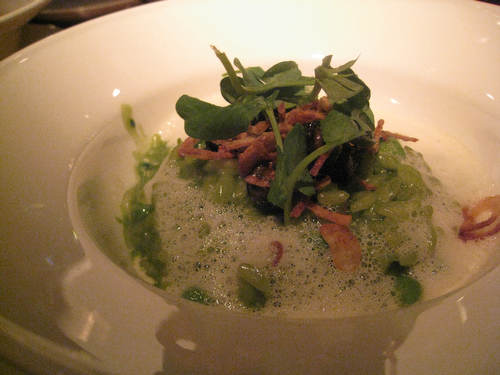 Part of the reason for the dinner was for research for the Hudson Valley article. One of the first plates to arrive at the table was a platter of proscuitto, including a wild boar one from the valley. I'll come back with details on that one, but unfortunately I don't have a photo of it. I can tell you one thing: it was like silky perfume.

We also got this fun little amuse, a pig in a blanket: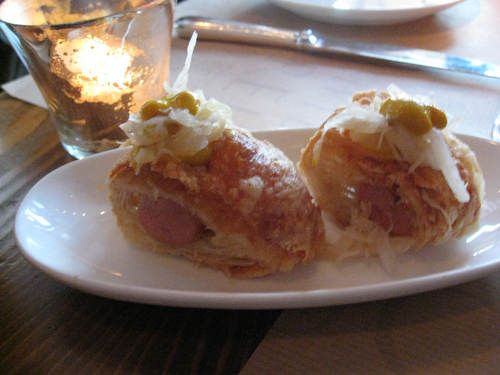 Greg started with a cockail. It had Hendricks Gin and was delishy.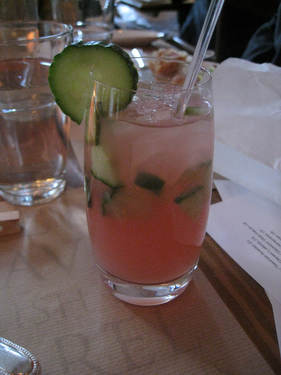 All the appetizers had elements of spring. See if you can match the in-season ingredients listed on the left side of the menu —

Macaeral
Trout
Skate
Maine Sea Scallops

Artichoke
Snow Peas
White Asparagus
Fava Beans
English Peas
Spring Garlic
Spring Onion
Red Orac
Nettles
Black Kale
Pea Shoots
Baby Lettuce
Fiddlehead Ferns
Sprouting Broccoli
Chive Flower
Fingerling Potatoes
Spinach

Morel
Hedgehog
Porcini
Yellow-Foot

Spring Lamb

Rhubarb
Mexican Mango
Kiwi

— with ingredients in these dishes:

Warm White Asparagus/Mustard Poached Egg Dressing/Toasted Almond: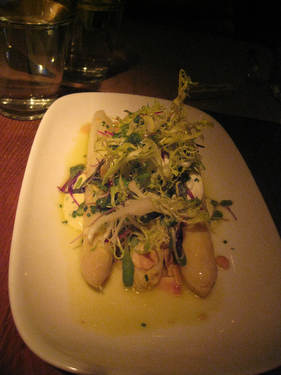 Mache Salad/Quail Deviled Eggs/Parmesan Cheese/Country Crouton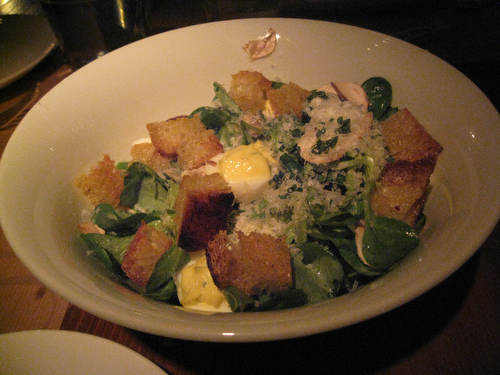 Maine DIver Sea Scallops/Old Bay Seasoning-Caper Brown Butter/Artichoke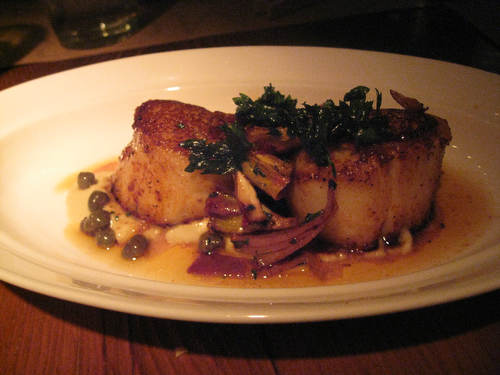 Marinated Beets/Warm Coach Farm Goat Cheese Crouton/Creamy Lardon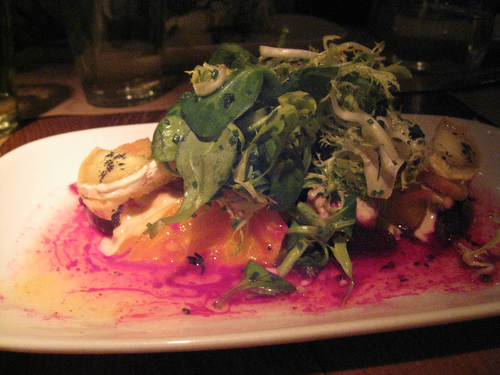 The dining room was full.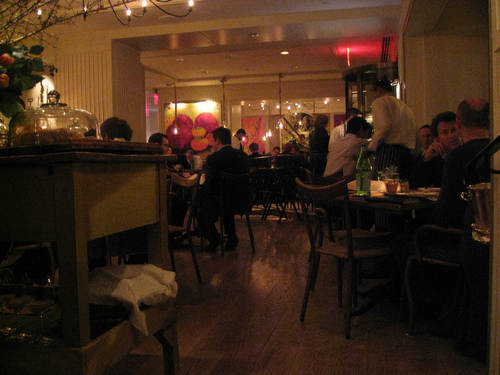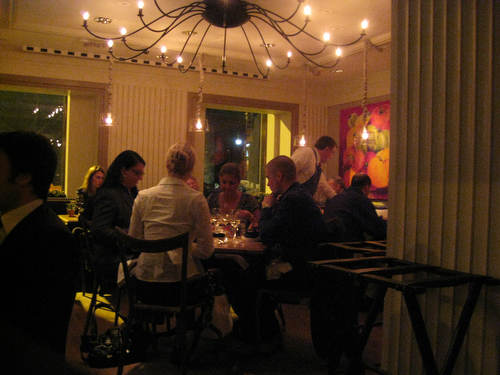 The chef picked out all the art.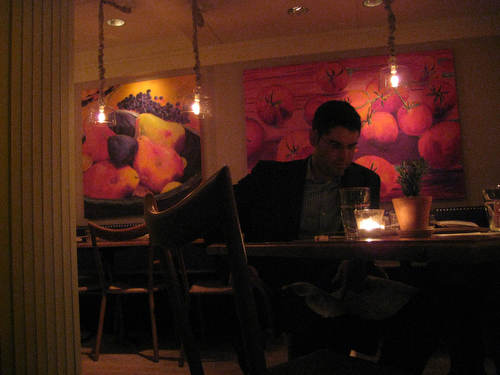 We had a mid-course of pasta.

The aforementioned risotto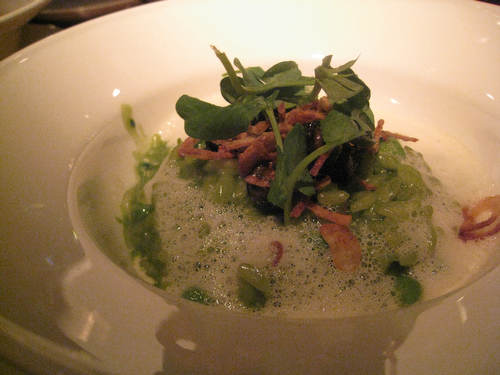 My personal craving of the menu, Fresh Tagliatelle/Braised Rabbit in Chablis/Tarragon-"Raye's" Mustard Sauce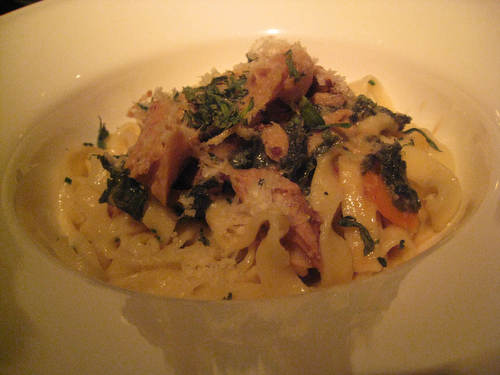 You won't be surprised to learn that we didn't eat much of our mains. Still, they were amazing.

Maple Leaf Duck Two Ways/Spring Onion/Red Currant Jus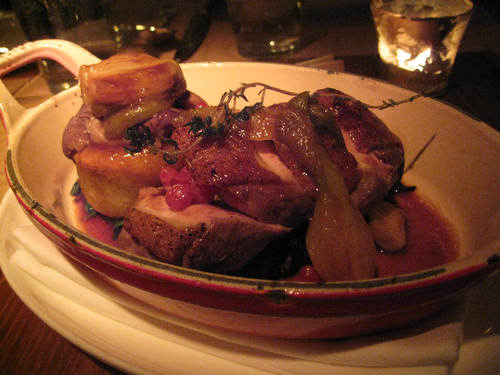 Acacia Marinated Alaskan Black Cod/Celeriac Puree/Wilted Spinach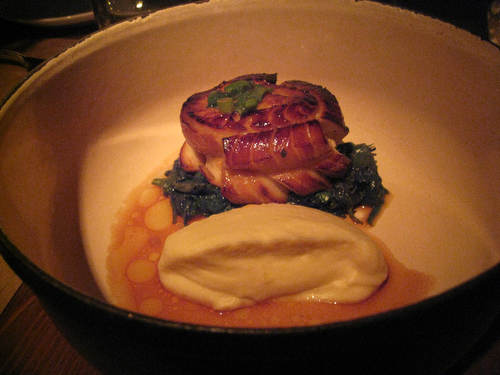 Grilled Berkshire Pork Chop/Vegetable Fricasse/Onion Soubise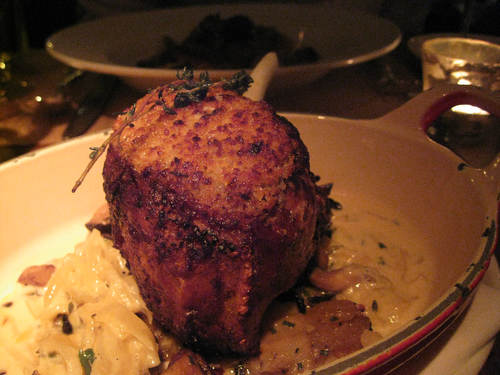 Look at the serving dishes: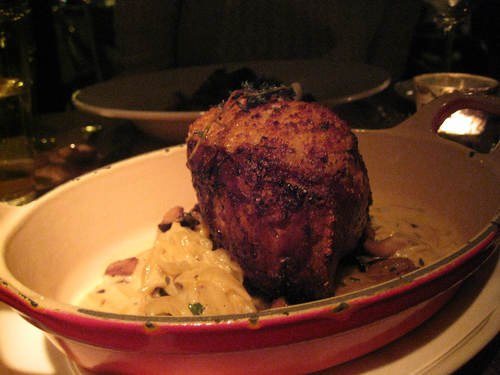 And the special, Pan Seared Brioche Halibut/Romanesco Cauliflower/Lobster Curry Emulsion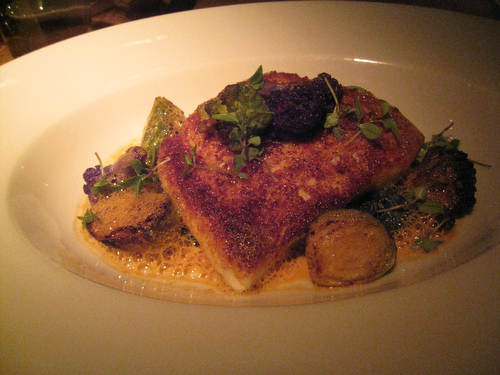 Yes, we were full. But dessert has a different compartment, right?

Coconut Pain Perdu/Macademia Crusted Ice Cream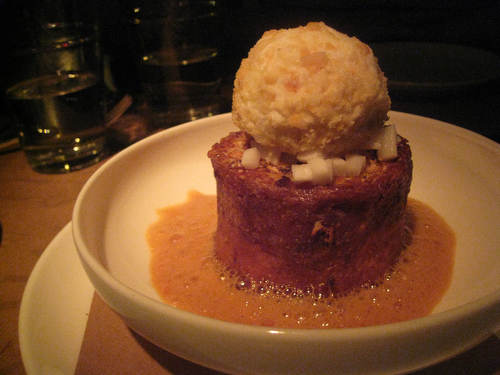 Not on the specials menu, but a chocolate cake with my favorite flavor of the night, beet ice cream: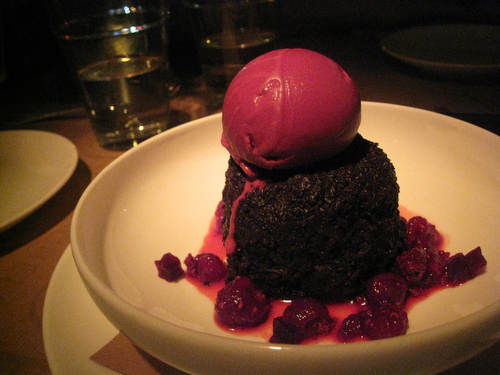 Beignets: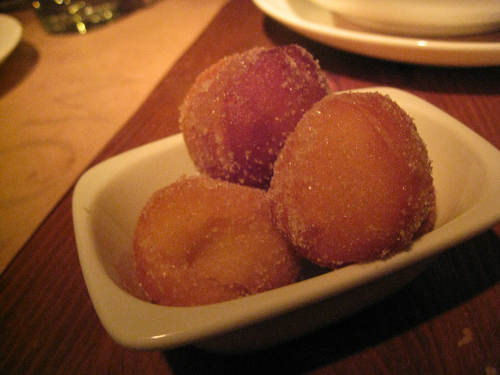 Our dining companions, Samatha and Jen: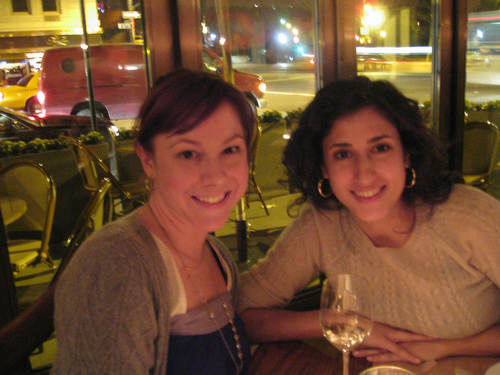 They said that BLT Market is Laurent Tourondel's favorite of his restaurants (he owns BLT Steak, BLT Fish and BLT Burger, too. BLT stands for Bistro Laurent Tourondel). I can see why. While you're staring out the huge windows onto Central Park, noticing the buds popping on the trees, you're looking at the menu with its proclamation of what's in season and tasting the first bright flavors of the season. It puts you in the present, and that makes you happy. I imagine it's like that no matter what the season.

BLT Market, 1430 Avenue of the Americas, (in The Ritz-Carlton New York) at Central Park South. 212-521-6125. bltmarket.com.
Comments
Add Comments