Jump to navigation
Almond-Lemon Torte with Fresh Strawberries (AKA How To Use Every Small Appliance and Bowl in Your Kitchen)
I made a dessert for Irene's Passover seder Sunday, and it was a big hit not only at the feast, but in my kitchen, where all my appliances got the chance to mix it up in the dishwasher together.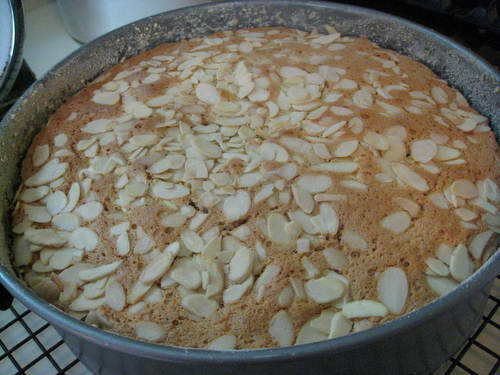 First, you use the food processor to grind up matzohs for matzoh meal and almonds for almond flour. Use a little of the matzo meal to line your pan. (There's also parchment paper underneath):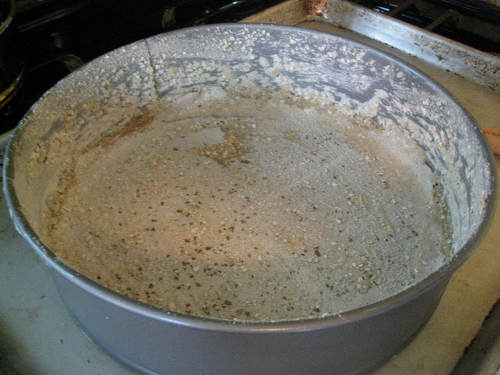 Whisk more matzo meal and the almond meal in a bowl together with some sugar.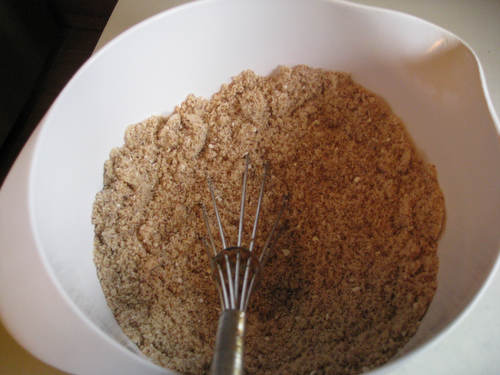 Separate six eggs. Put the yolks in the bowl of your standing mixer —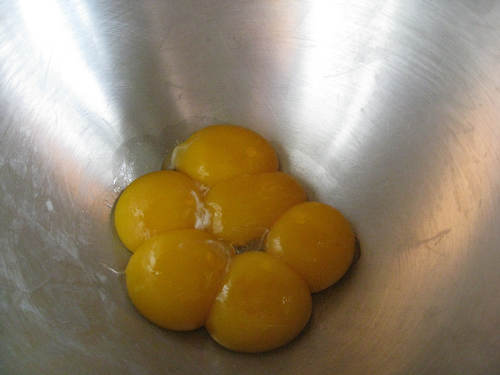 and the whites in another bowl.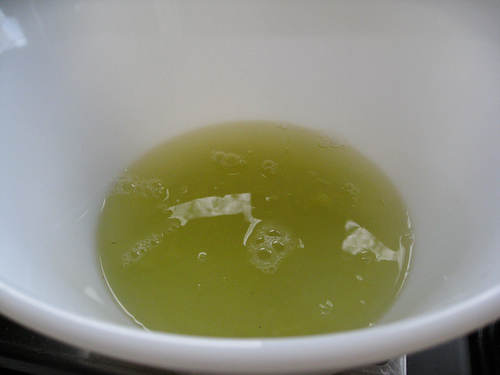 Use your electric juicer to make lemon juice and orange juice. Place them in a bowl.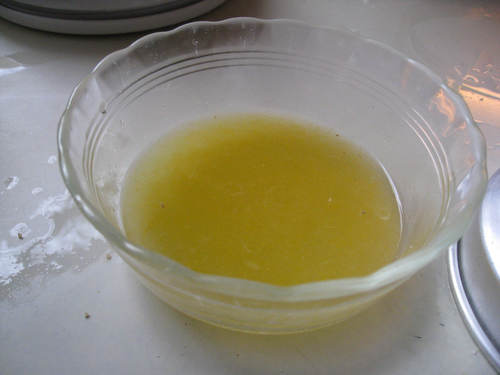 You'll also need some zest. Place that in a small bowl.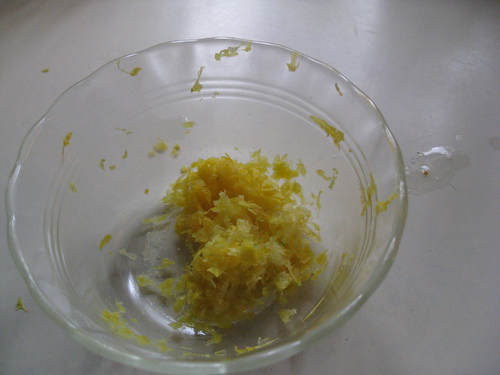 Use your stand mixer to beat the flour, oil, egg yolks, juices and zest together.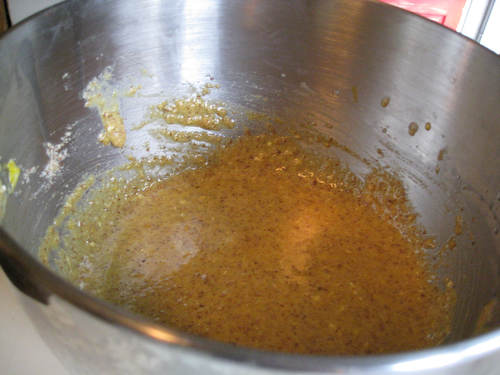 Use your hand beater to beat the egg whites and sugar together.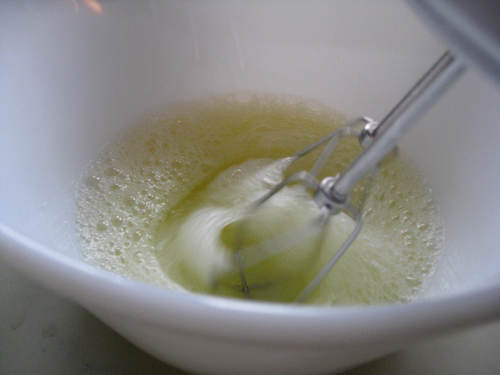 Fold the whites into the yolk mixture in three stages: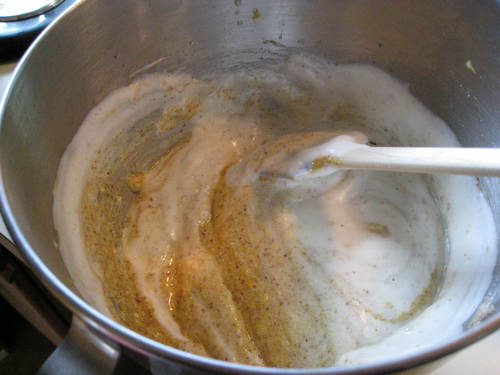 Until it's light and fluffy: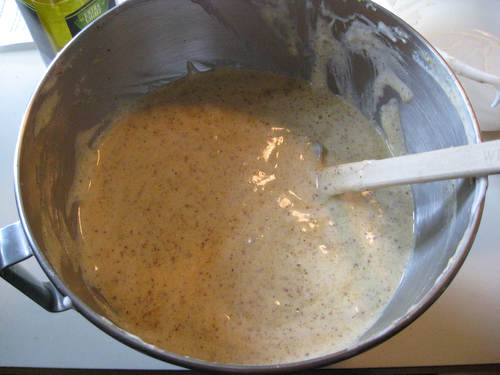 Then place the batter in the pan and bake.

Meanwhile, use your blender to puree strawberries to make a sauce.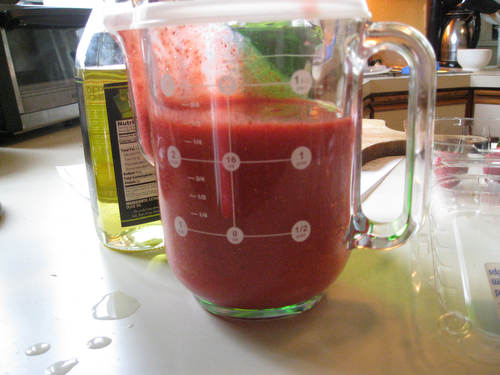 Place that in a bowl of some kind.

When you are finished, you should have used most every appliance you own, save the stick blender and the tiny prep food processor.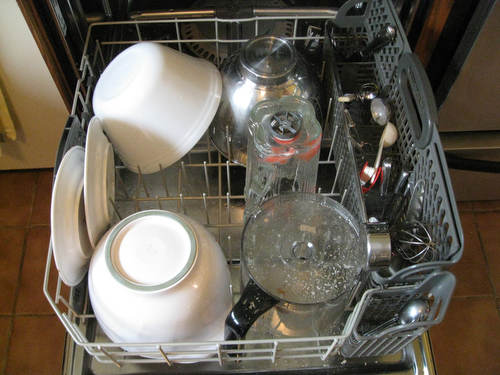 Also many bowls should be dirty.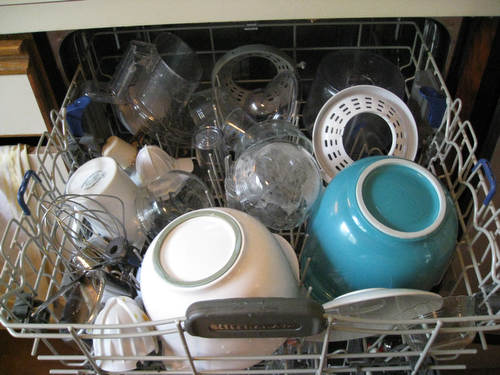 But it is all worth it: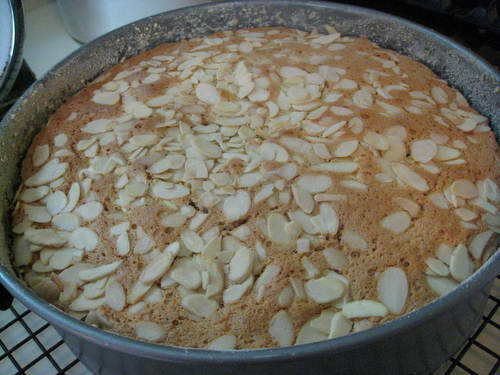 Almond-Lemon Torte with Fresh Strawberries
A little bit of olive oil makes this cake especially moist.
Servings: Makes 8 to 10.
Cake:
Mild olive oil (not extra-virgin) for brushing pan plus 6 tablespoons
4 tablespoons unsalted matzo meal, divided
2 cups almond flour or almond meal*
1 cup sugar, divided
6 large eggs, separated
2 tablespoons fresh lemon juice
1 tablespoon orange juice
2 teaspoons finely grated lemon peel
1/2 teaspoon salt
1/2 cup sliced almonds

Sauce and berries:
5 cups sliced stemmed strawberries
(about 2 pounds), divided
1 tablespoon (or more) sugar
Preparation

For cake:
Preheat oven to 350°F. Brush 10-inch-diameter springform pan with oil. Line bottom with parchment paper round. Brush paper with oil. Place 2 tablespoons matzo meal in pan and shake to coat; tap out excess.

Combine remaining 2 tablespoons matzo meal, almond flour, and 1/3 cup sugar in medium bowl; whisk to blend. Place egg yolks in large bowl; place egg whites in another large bowl. Add 1/3 cup sugar to yolks. Using electric mixer, beat yolk mixture until thick and fluffy. Beat in 6 tablespoons olive oil, then lemon juice, orange juice, and lemon peel. Mix in dry ingredients. Add 1/2 teaspoon salt to whites; using clean dry beaters, beat until soft peaks form. Gradually add 1/3 cup sugar and beat until stiff but not dry. Fold whites into yolk mixture in 3 additions. Transfer batter to prepared pan. Sprinkle almonds over.

Bake cake until golden brown and tester inserted into center comes out clean, about 40 minutes. Place pan on rack; cool cake completely in pan. DO AHEAD: Can be made 2 days ahead. Cover cake pan with foil and let stand at room temperature.

For sauce and berries:
Combine 2 cups sliced strawberries and 1 tablespoon sugar in processor; blend until smooth. Sweeten sauce with more sugar, if desired; transfer to small bowl. do ahead Can be made 1 day ahead. Cover and chill.

Cut around cake; release pan sides. Cut cake into wedges. Serve with sauce and remaining sliced strawberries.

* Sometimes labeled "ground almonds"; available at specialty foods stores and natural foods stores.

Test-kitchen tip: If you can't find almond flour in the market, make your own by grinding almonds in the processor to a fine powder.
Diane Rossen Worthington, Bon Appétit, April 2008.



Comments
liz wrote:
Pooks wrote:
Add Comments