Jump to navigation
Seder at Ireneís, 2008
Ireneís seder, like many, Iím sure, was full of friends old and new. What makes her night different from all others, though? Her farm-fresh ingredients, creative cooking and the sense of camaraderie. I mean, who else serves matzo ball soup with shiitake mushrooms and the first ramps of the season?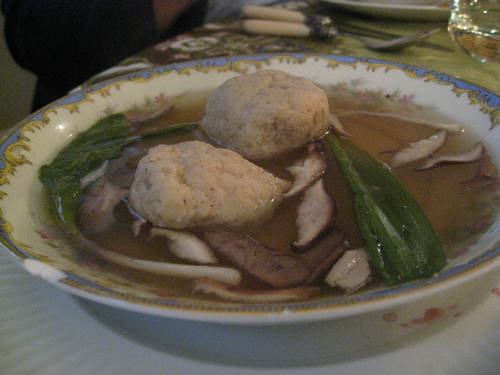 And who else gets fresh eggs dropped on her front porch at 6:30 a.m. by friends who wish they could have been there?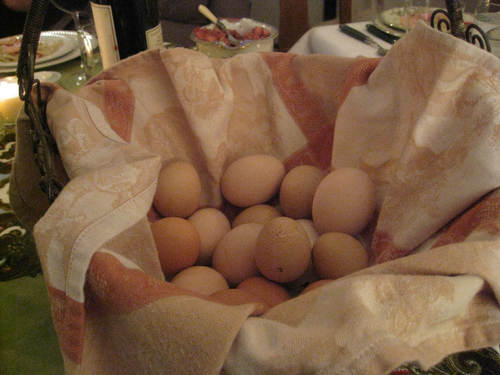 And who else welcomes you to a seder with a bottle of wine with a big pig on it?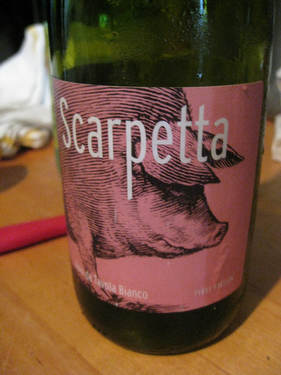 Irene does. Hereís Irene with her longtime friend Lynn.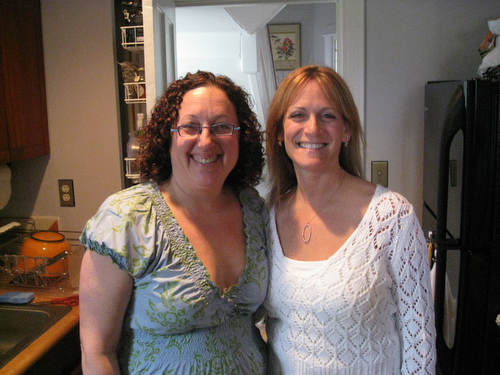 The seder table, ready: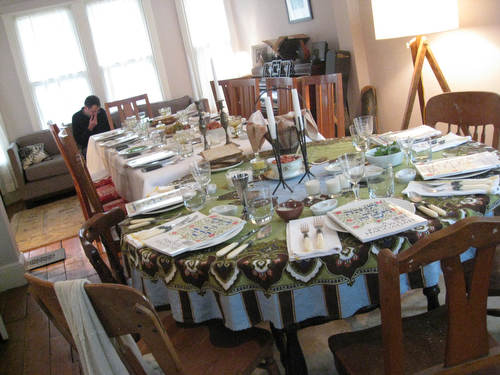 The Haggadah: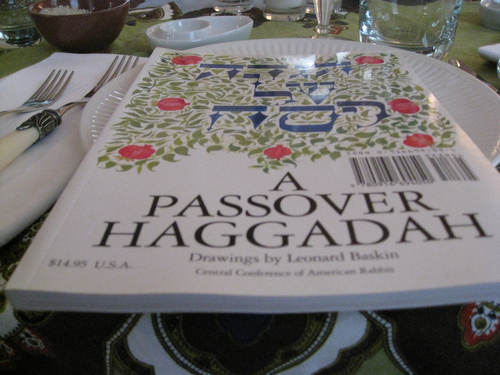 Andrea helps prepare the watercress: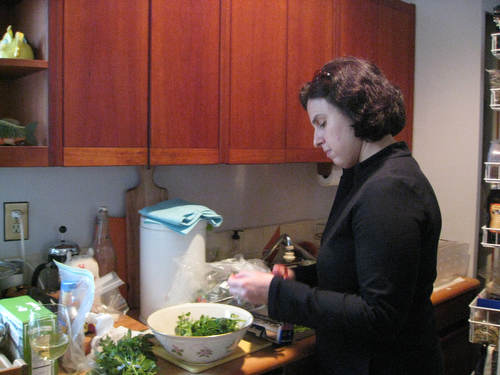 Irene has set out cheeses and snacks: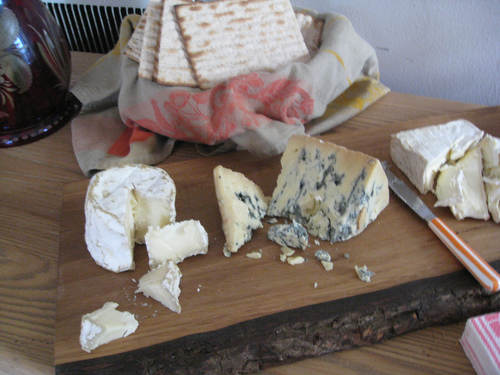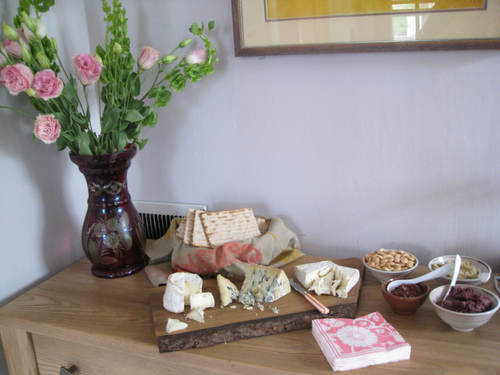 And here are pretty tulips: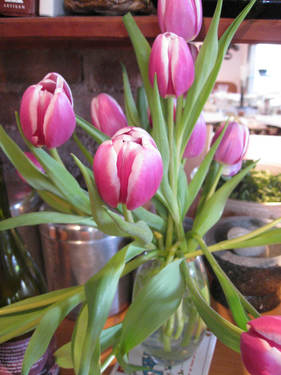 Nena brought homemade pickles. Here are the carrots:

Arty photo: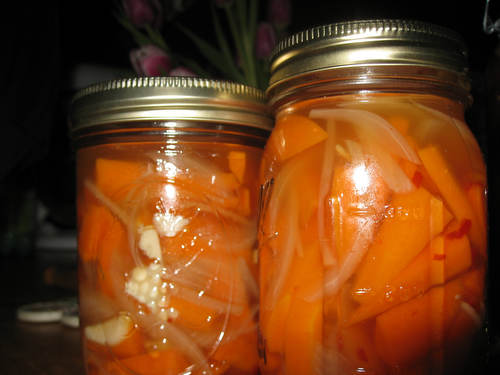 Normal photo: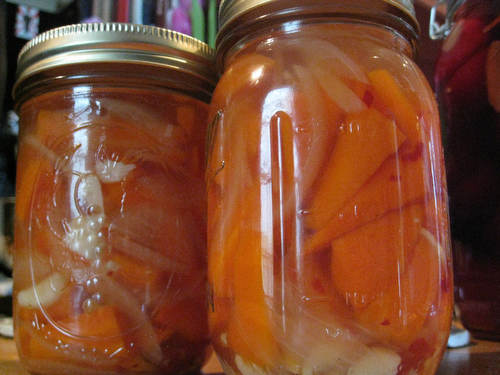 And here are the pickled plums.




Both delicious, but I need the recipe for the plums, pronto.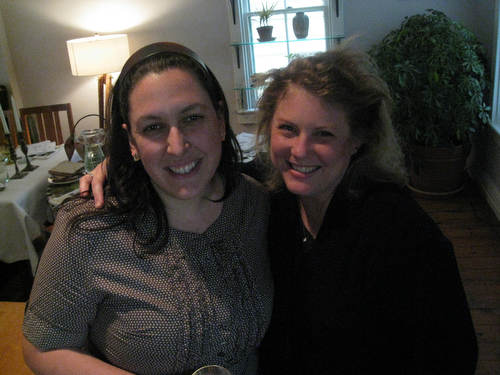 Drinks before dinner.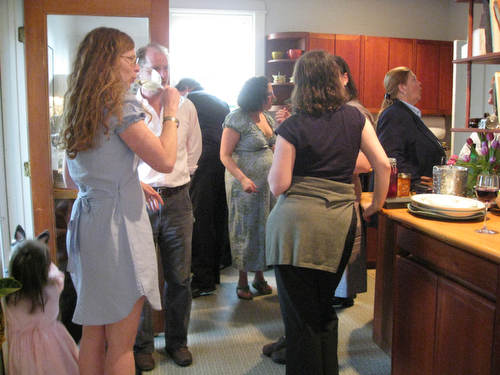 Here are the elements of the seder table. Egg, lamb, horseradish: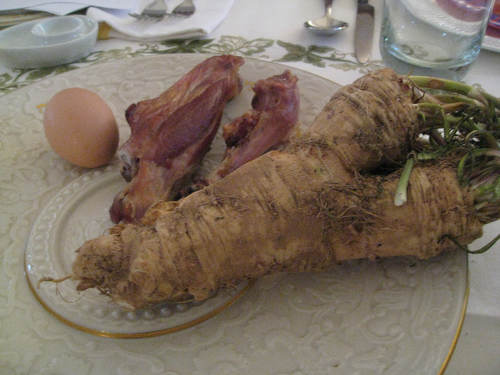 Parsley, matzo: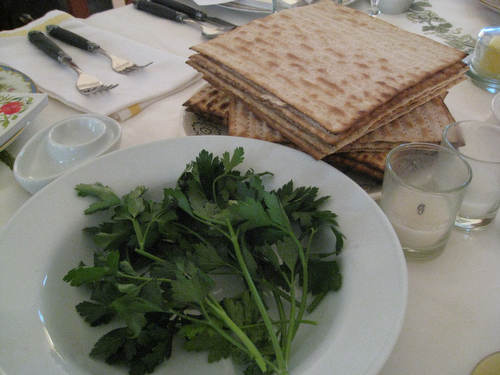 Haroset: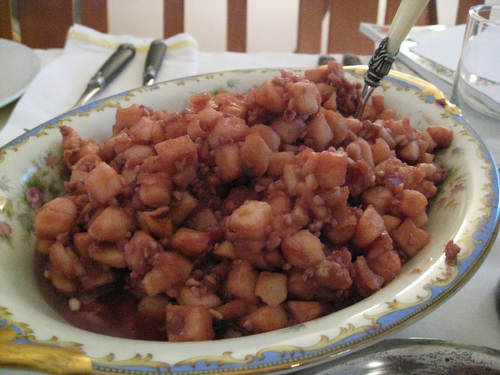 More elements: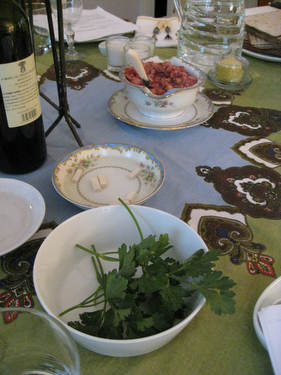 Other table photos....

A tiny egg cup.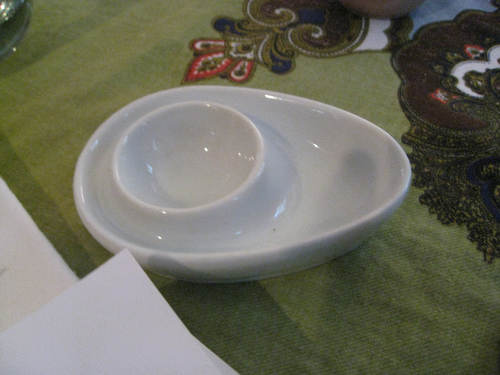 Salt for egg: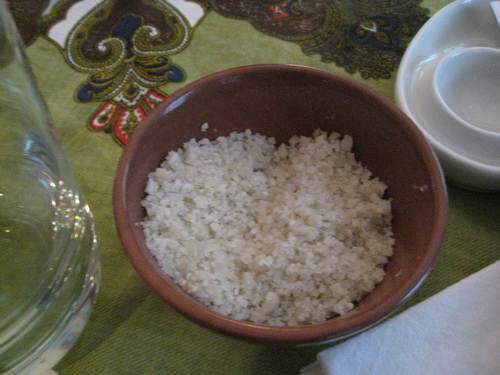 Manishevitz. Wow. (Tastes like grapes!)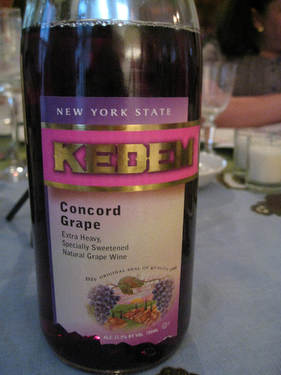 The seder begins. Joan and Irene.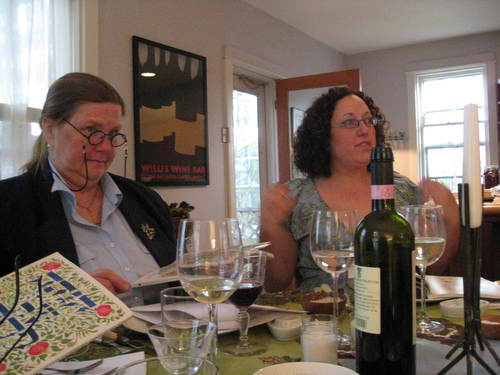 Andrea lights candles.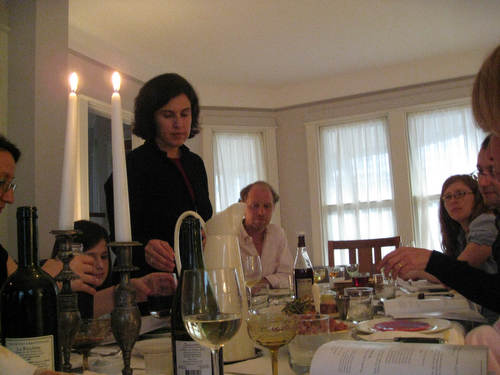 Irene.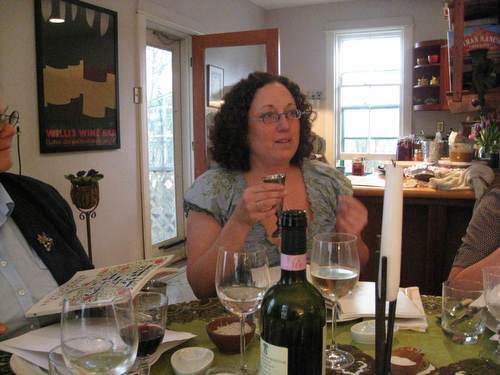 Greg reads from the Haggadah.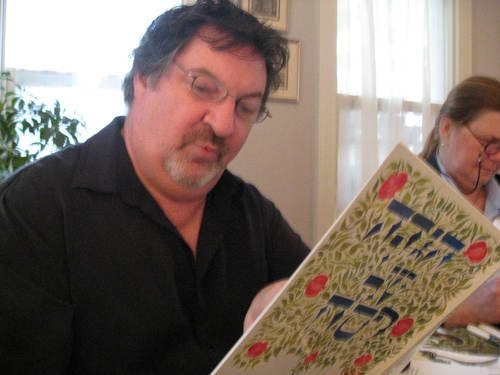 We eat horseradish.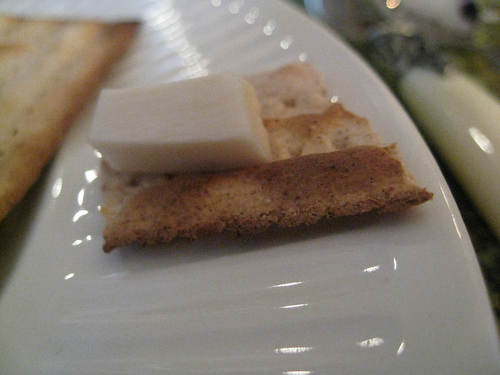 We eat haroset and horseradish between mazto.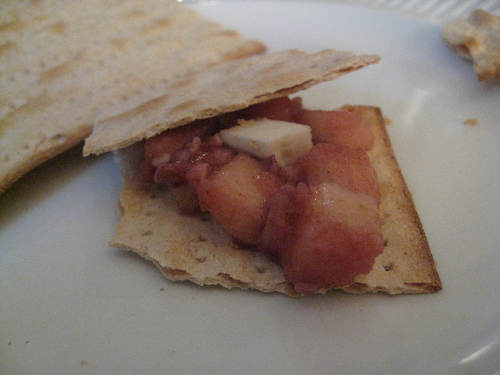 Irene gets the soup ready while Craig and Gabrielle share a moment: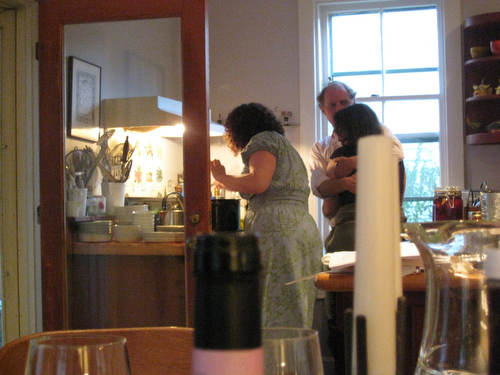 Nena lights candles: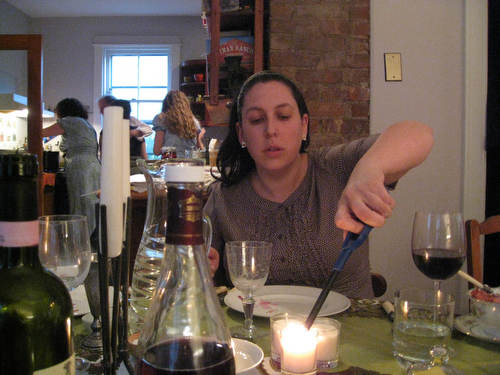 The soup, again: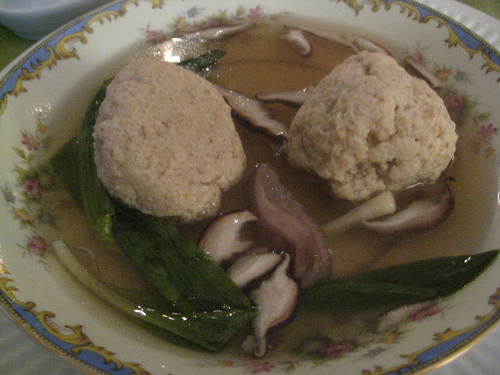 Next course is the trout salad: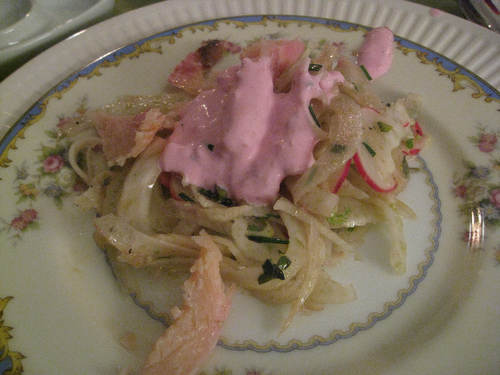 With eggs from Stone Barns and pullet eggs from Philippe and John.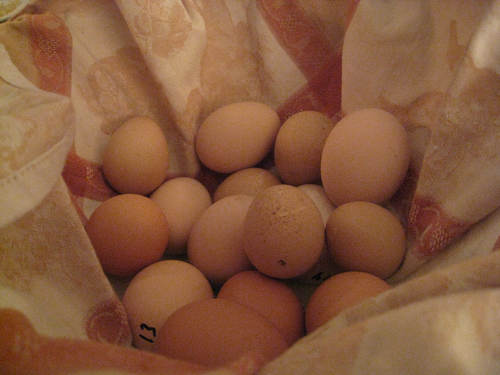 Amazing egg.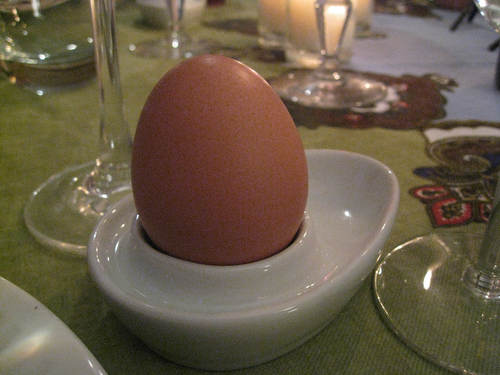 Glorious.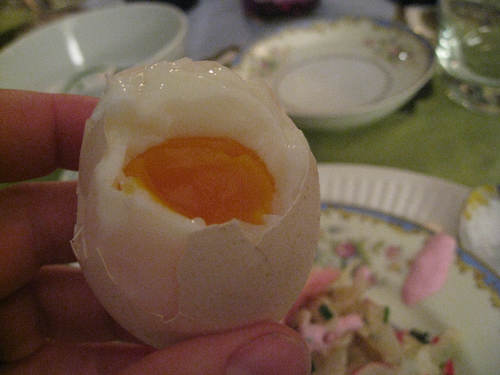 Andrea and Jeff do something:




Nena and Gabrielle chat: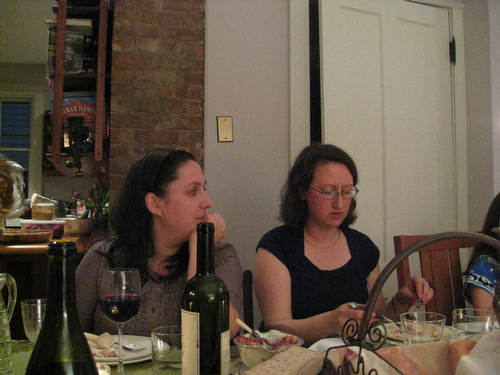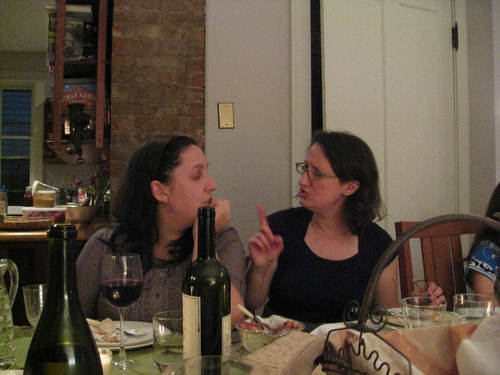 Self-service buffet: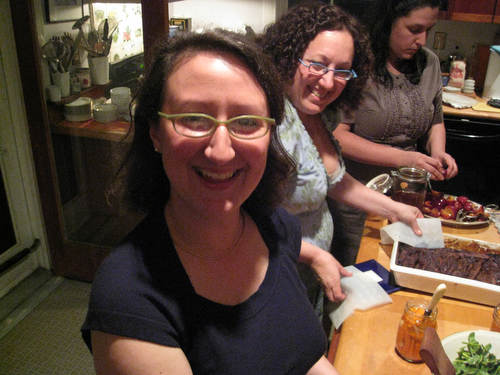 Gabrielleís amazing beets: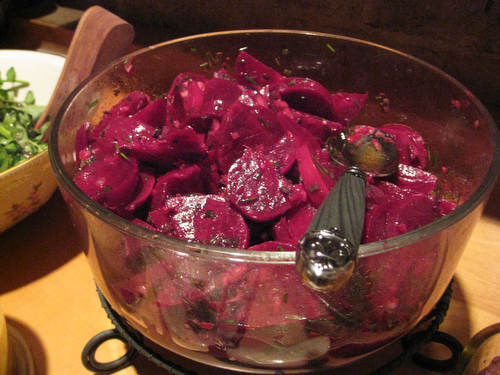 You spread almond sauce underneath the beets ó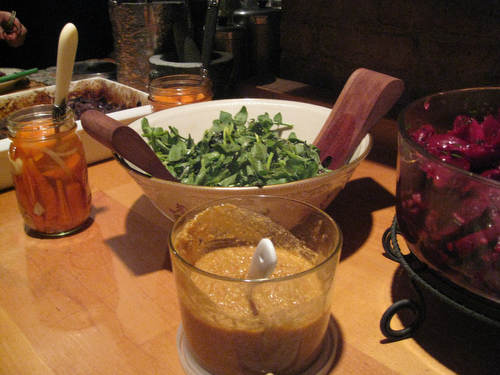 ó and then top with gorgonzola: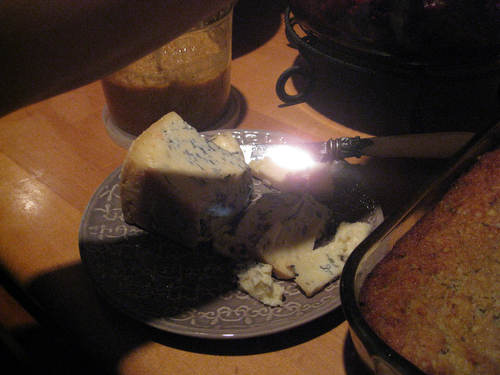 Rachelís delicious kugel.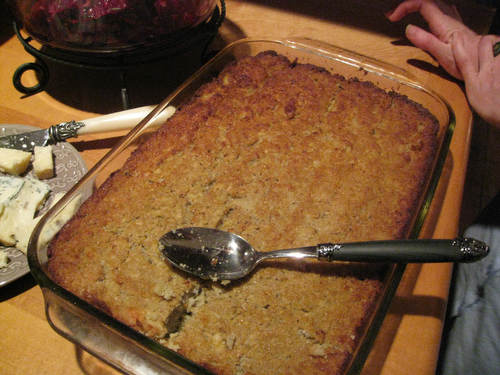 Ireneís terrific chicken: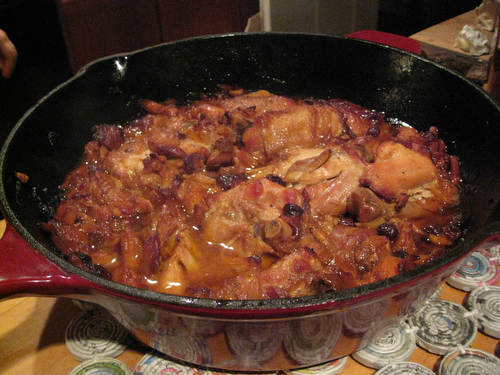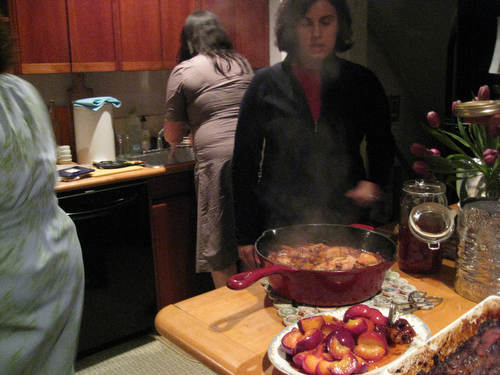 Steaming and delishy: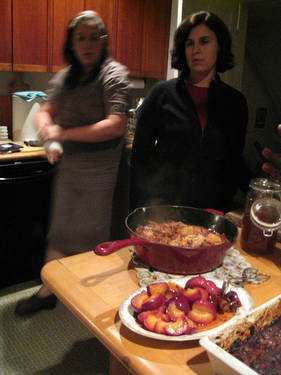 Another great dish, brisket: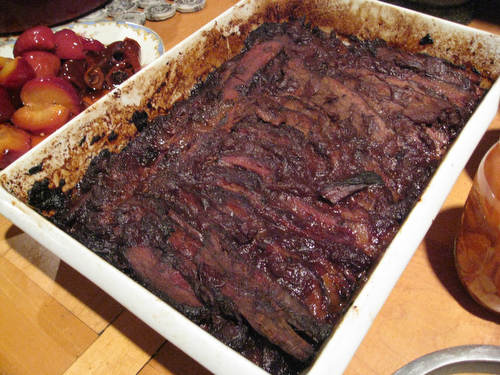 Nena and Irene, working the buffet: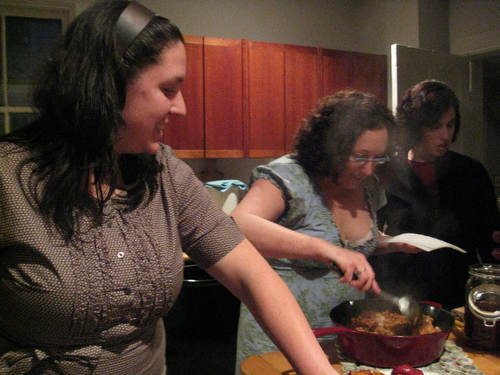 Greg and Joan: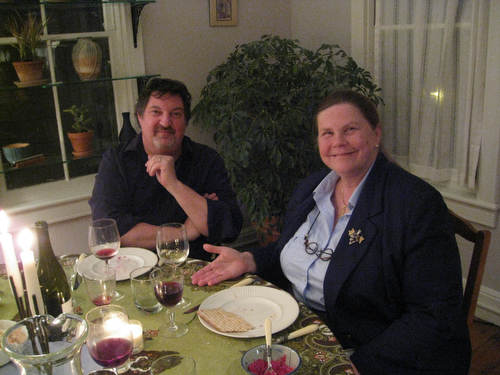 Rachel, Gabrielle and Craig: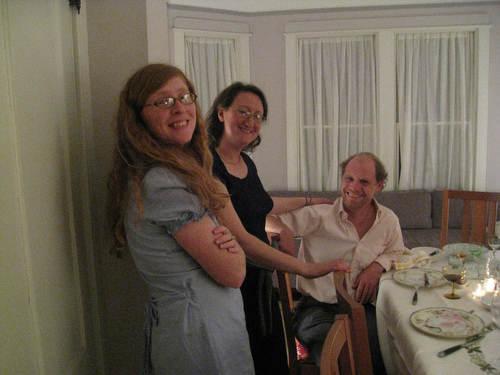 More buffet shots. The light was so good I couldnít resist: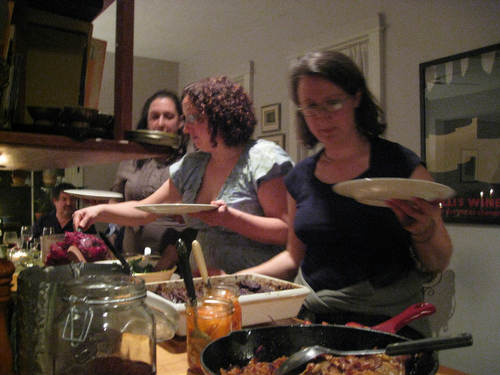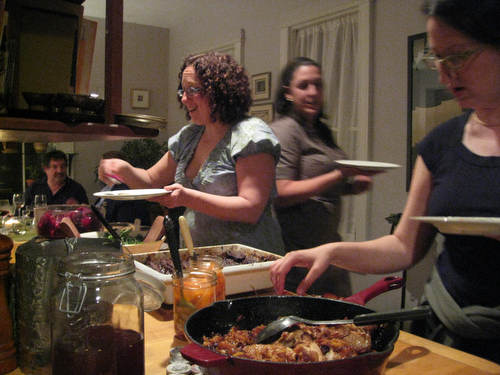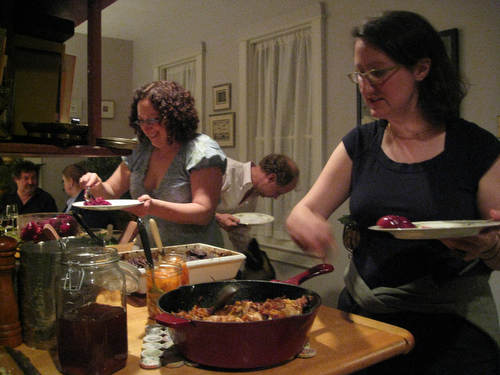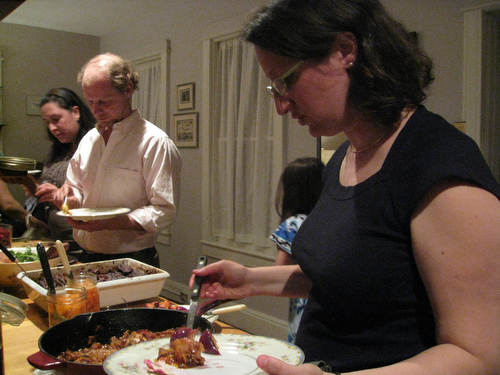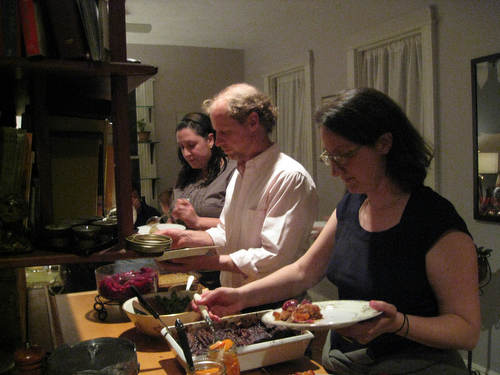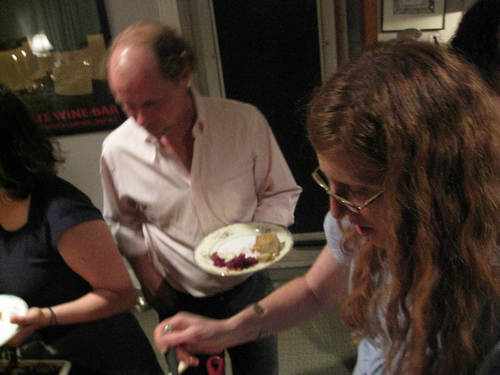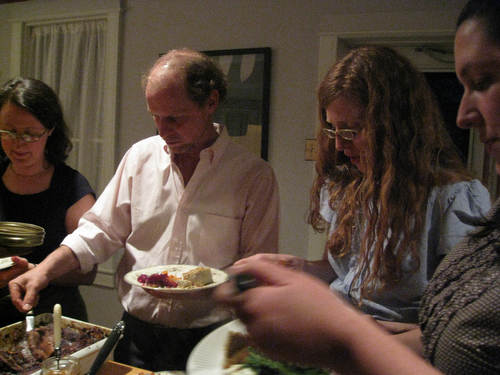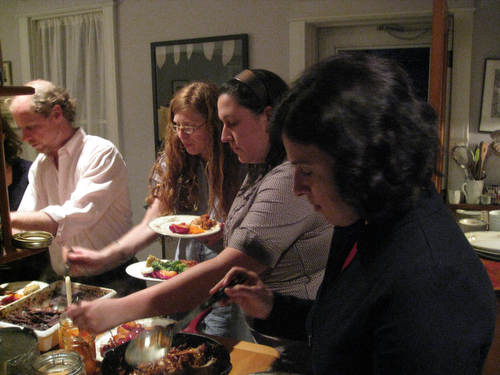 Elijahís chair: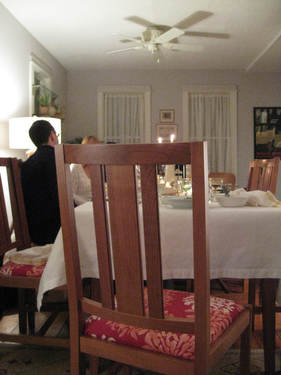 My plate: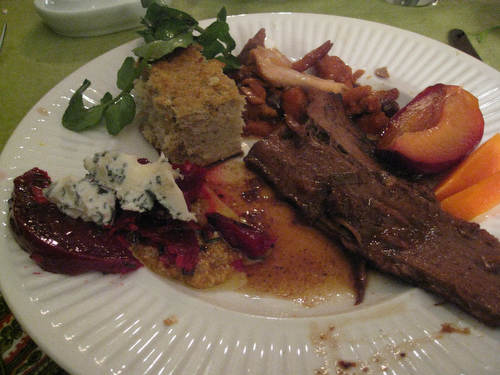 Everything was delicious.

Now, the afikoman, where children choose one adult (not their parents) to help them find the afikomen, a hidden piece of matzo. Whoever finds it, gets a prize.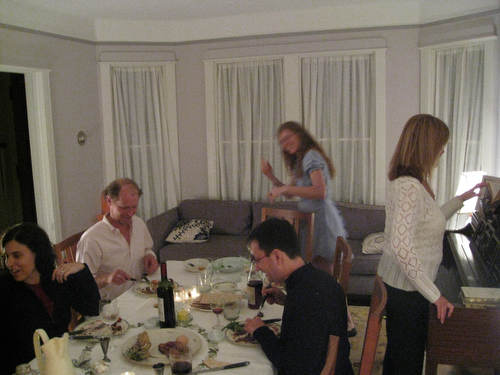 Here, from Wikipedia:

The afikoman custom is explained in various ways. Some say it commemorates the slave mentality of the Israelites in Ancient Egypt. Not knowing where his next meal will come from, a slave will hide away part of his food to eat later. Another interpretation is that the afikoman recalls the poverty of the Jews in Egypt. Like the poor, they always had only a piece of bread, never a whole loaf. According to one explanation, the middle matza is broken into two pieces to symbolize the bread of affliction that the Jews ate in Egypt versus the bread of freedom after the exodus. According to another, splitting the matza recalls the splitting of the Red Sea.

Where, oh where could it be?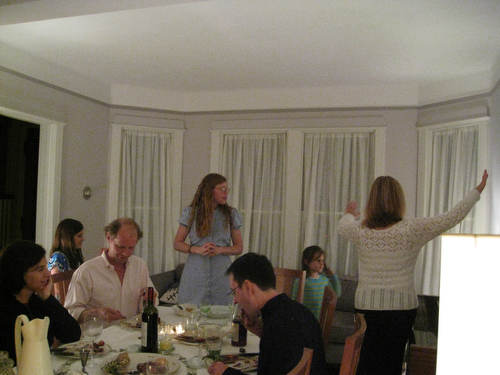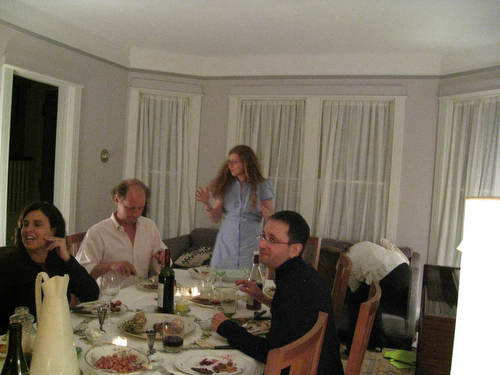 Is it under the couch cushions?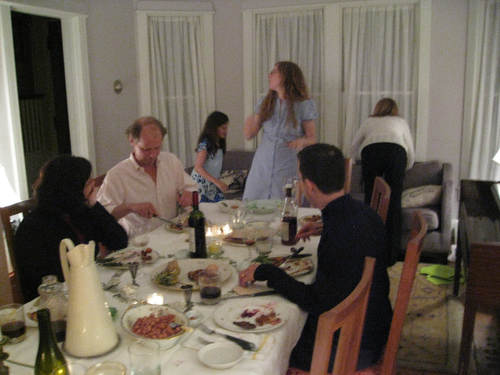 In the piano?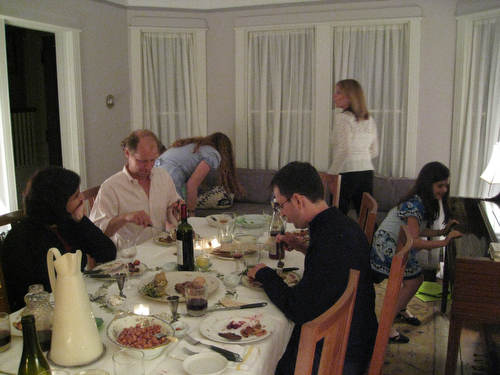 In the end, Sophie and Robin both get prizes: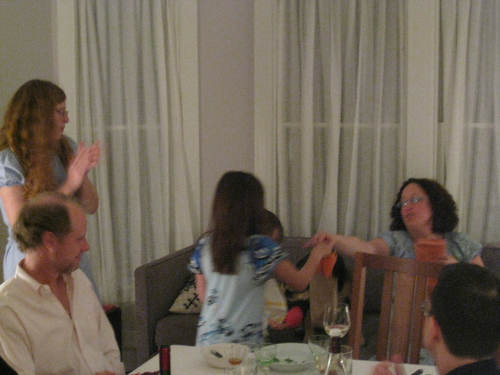 Dessert! Here is my contribution:




With strawberries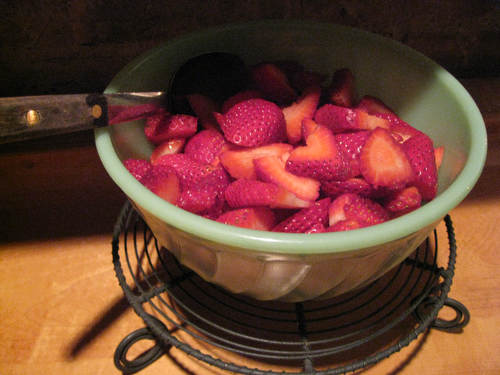 and sauce: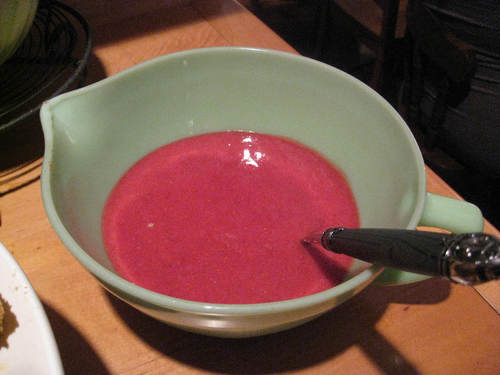 Brownies, sans flour: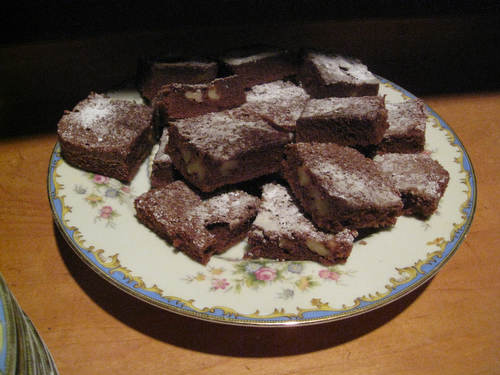 And Ireneís momís amazing lemon pudding, which is like a cake with lemon curd inside. Itís delicious.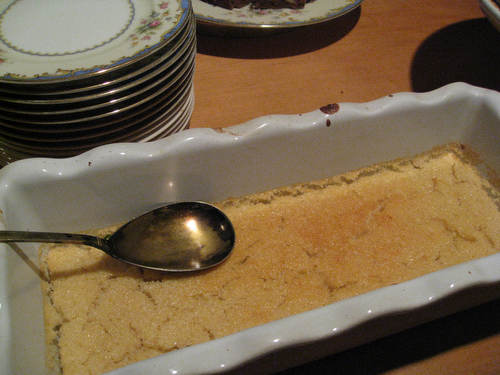 And, for our final photo of Passover, 2008, dessert!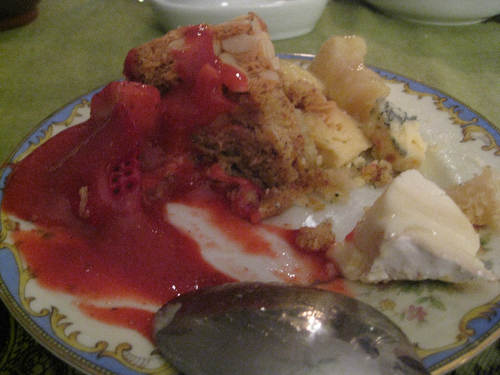 Irene had asked everyone to come prepared with a story about spring, and after dessert, we heard from everyone who hadnít already spoken during dinner. We sat around the end of the table, enjoying each otherís company and contemplating the new year ahead of us. A wonderful time was had by all.
Comments
wrote:
wrote:
wrote:
wrote:
wrote:
wrote:
wrote:
wrote:
wrote:
Add Comments