Jump to navigation
Oven-poached Fish in Olive Oil
Patrick has been making this recipe often, as the O'Donnells are on their own version of the fish mandate.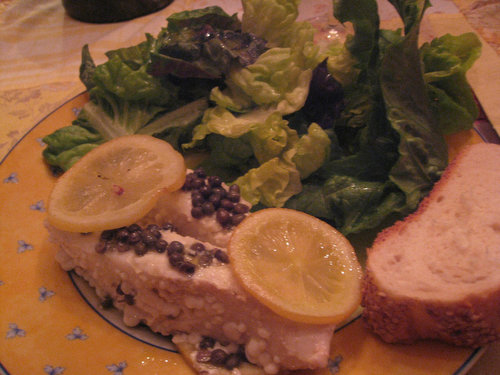 Oven-Poached Fish in Olive Oil

Active time: 15 min Start to finish: 1 1/2 hr

Makes 4 servings.

1/4 cup capers (preferably in salt), rinsed
2 1/2 lb (1-inch-thick) scrod or halibut fillets
1 1/2 large lemons, thinly sliced crosswise
1/4 cup fresh flat-leaf parsley
2 cups extra-virgin olive oil

Preheat oven to 250°F.

Chop half of capers and pat fish dry. Sprinkle fish with 1 1/2 teaspoons salt and 1/2 teaspoon pepper and let stand 10 minutes at room temperature. Arrange half of lemon slices in 1 layer in an 8-inch square glass baking dish and arrange fish in 1 layer over lemon. Top with all of capers, remaining lemon slices, and 3 tablespoons parsley, then pour oil over fish. Bake in middle of oven, uncovered, until fish just flakes and is cooked through, about 1 to 1 1/4 hours.

Serve fish with some of lemon slices, capers, and oil spooned over. Sprinkle with remaining tablespoon parsley.

Gourmet, March 2000.
Comments
Add Comments