Jump to navigation
Putting Sewing Skills to the Test
I know Iíve been talking about recovering couches. I even demonstrated quite a bit of sewing prowess by showing off the slipcovers in El Studio. But that was with the help of my good friend Kelli, who grew up with a grandmother that had a sewing table twice the size of a ping-pong table, covered with grids for measuring and cutting. Sunday, I found out that I could use some better tools.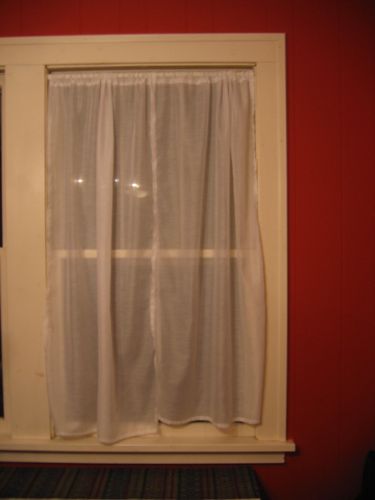 Yes. I see one is 2 inches shorter than the other. No laughing!
Actually, it only took me these two panels of curtains to get a hell of a lot better at sewing. You see, during the slipcover project, I was always the sous chef. Iíd measure, cut, press and pin. Then Kelli would run it through the machine.

The thing with that was ó it was a fabric with little tiny boxes all over it. It was easy to stay straight and measure right because all you had to do was cut along the line. For these curtains, I moved the foyer table, laid the fabric down on the hard wood floor, and used the lines between boards to cut straight. It really was hilarious. And not a good way to measure.

Finally, by the last hem on the second panel, I was doing something right. Look how straight!




Donít worry ó Iíll get better. Half the fun is learning.


Comments
KKO wrote:
Add Comments