Jump to navigation
Supper in the City with Boo and Jeff
Greg and I had two separate engagements in the city on Friday. He was heading to our friend Martini Pete's bachelor dinner at Keene's Steakhouse. I was on my way to supper at The Little Owl. Here's my half of the journey.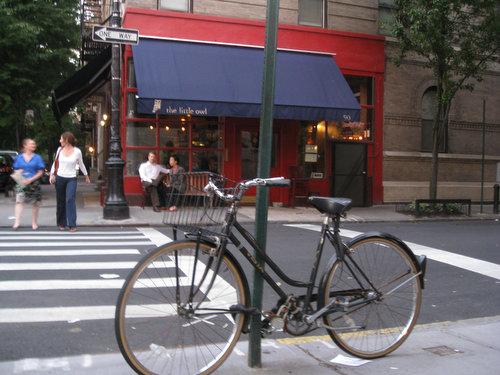 Greg was planning to meet Boo and Jeff for a pre-cocktail cocktail but we missed out train by two minutes and had to wait another half an hour. So G headed off and I made my way to Tabla, where they were waiting.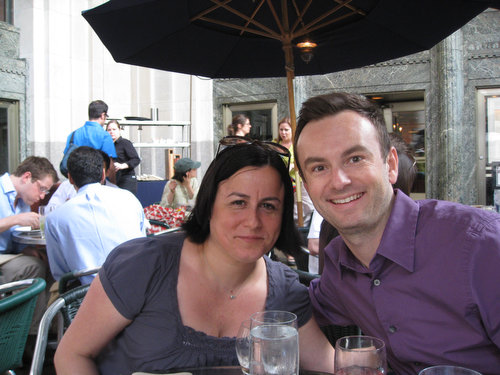 We immediately headed to The Little Owl to see if we could get our table any earlier than our 9:45 p.m. reservation. We cut through Madison Square Park where restaurants were setting up their booths for the Big Apple Barbecue Block Party.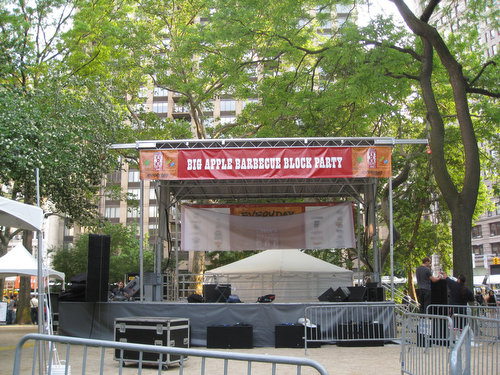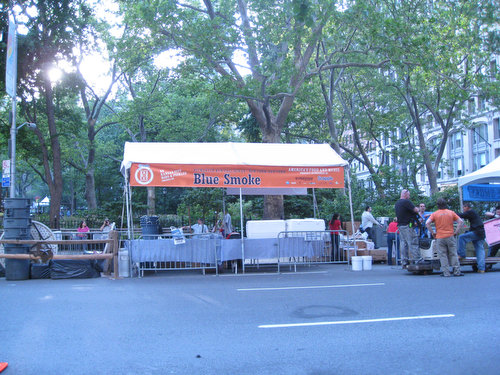 Protecting the marble walls on Madison: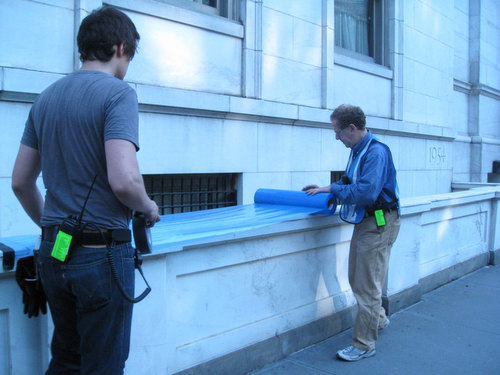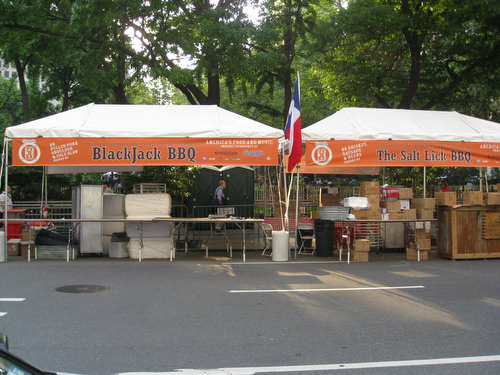 Already smokin':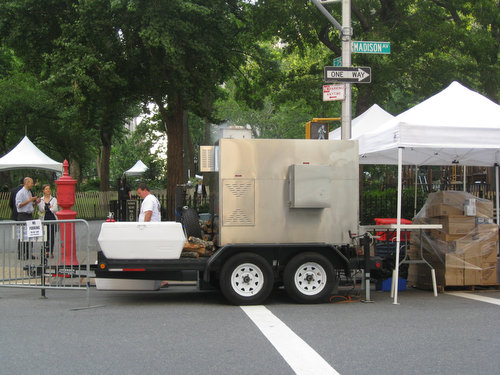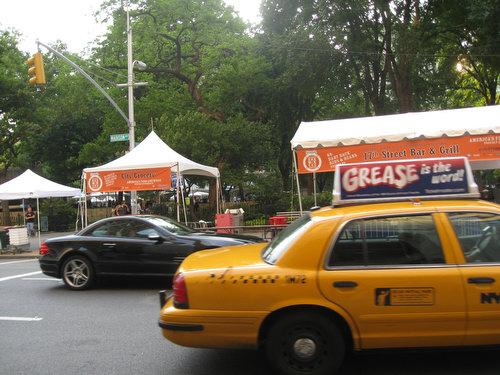 Jeff and Boo: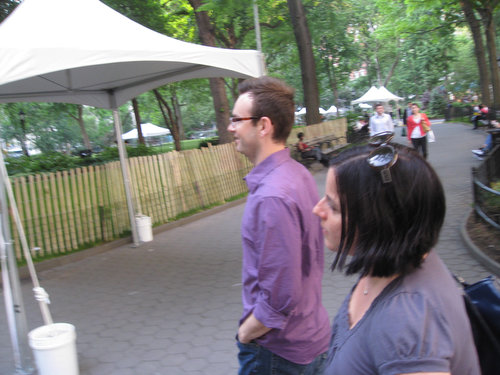 Shake Shake: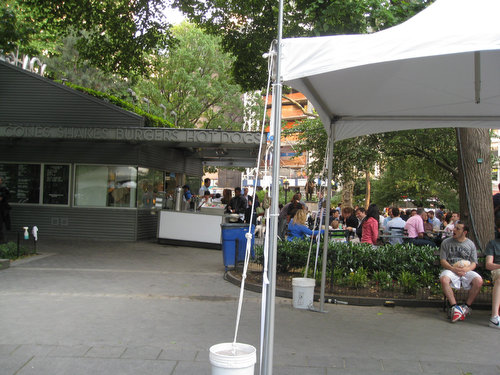 We made our way to the West Village. Our table wouldn't be ready until about 830 so we looked for a place to have a drinky drink first. We looked at several place and made some stops along the way —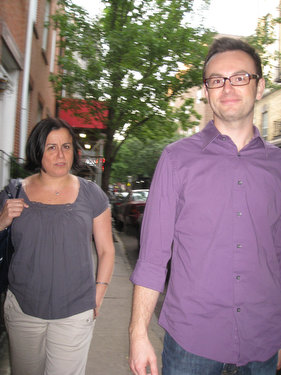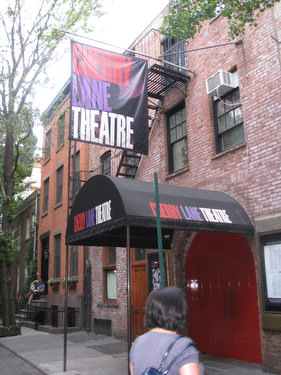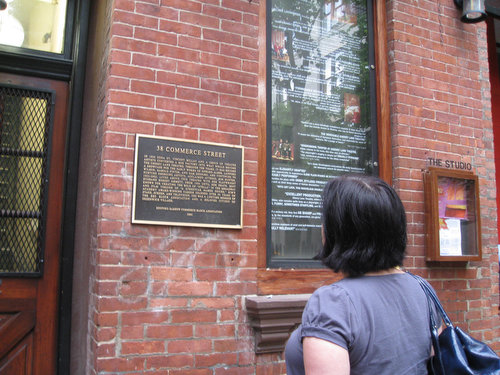 Before Jeff pulled the plug and announced we were going to 50 Commerce: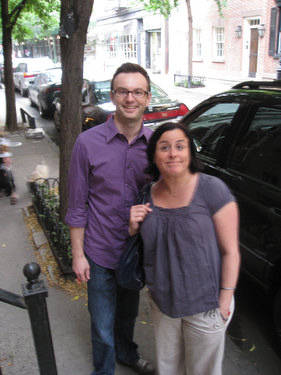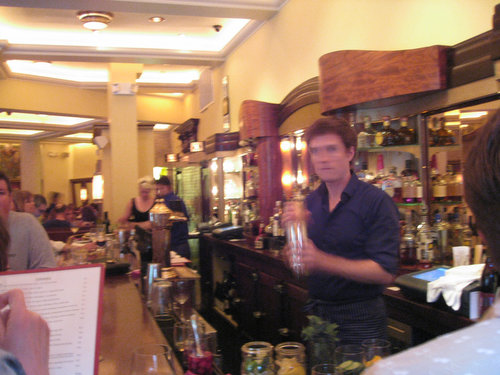 I ordered a drink with cherries (named for the Cherry Lane theater, not Sour Cherry Farm):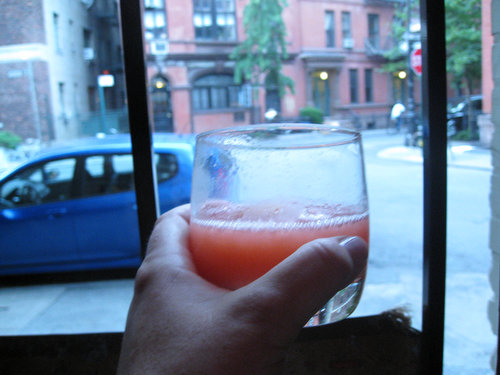 Jeff ordered something with rye.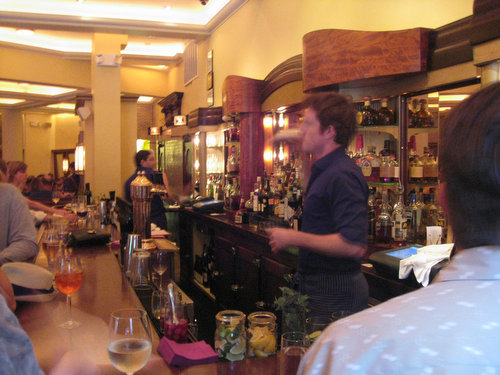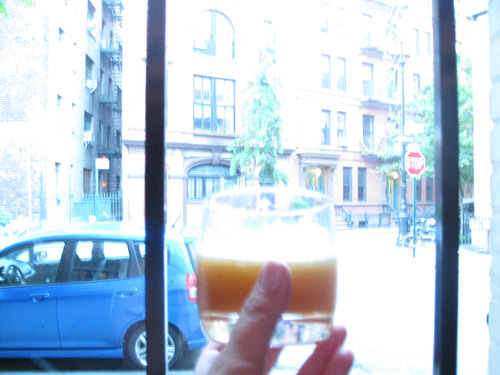 Boo didn't know what to order —




— so we ordered her a muscadet. (Yes, she's drinking white wine for the first time in her life.)

We didn't know exactly when our table would be ready, so we ordered some snacks:

Beau soleil oysters.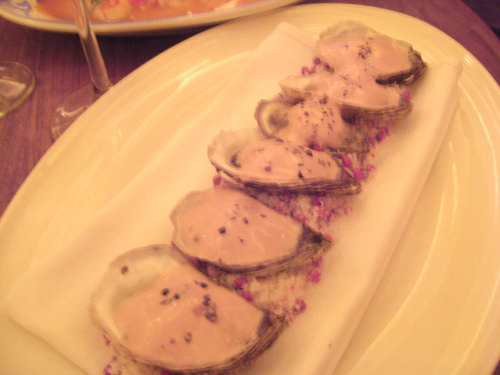 Ceviche: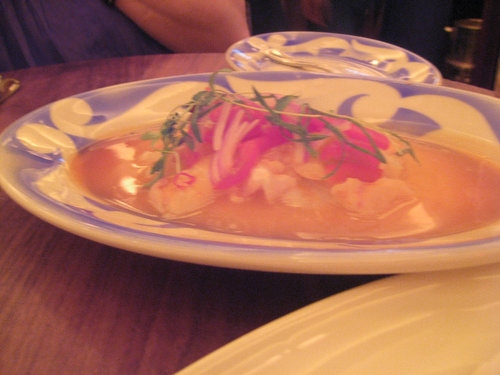 They were both OK but both a little to astringent/acidic for me.

We got the call and headed over to Little Owl: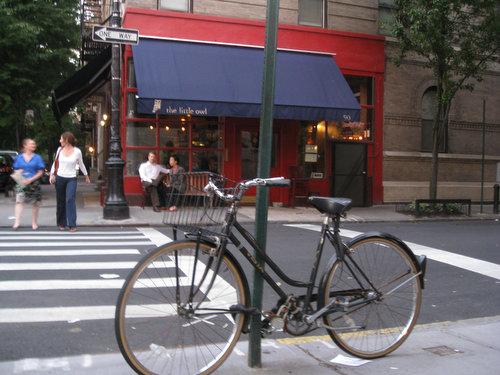 Cute as hell.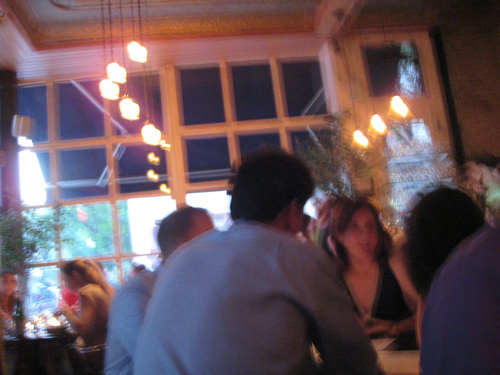 Jeff started with a ricotta cavatelli with favas, bacon and tomato broth: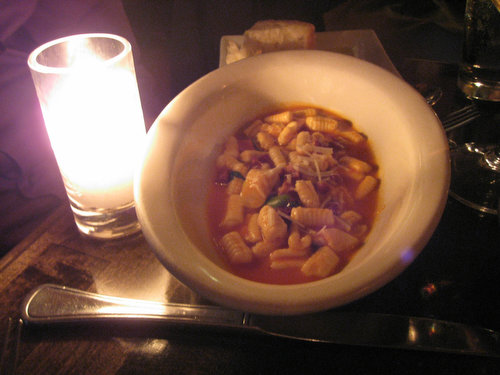 Smoky yet fresh. Very satisfying.

Boo got the soft shell crab with asparagus risotto and burst cherry tomatoes: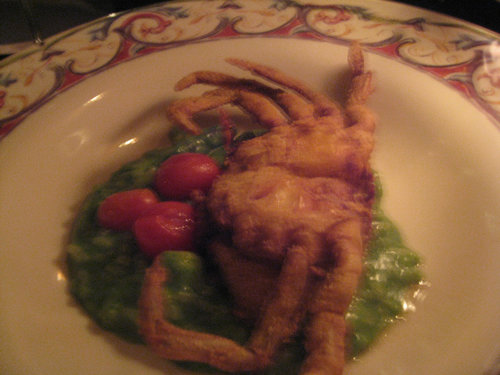 I loved it. It tasted green. The risotto was addctive and the crab was sweet and delicoius.

I got the beau soliel oysters, which were in a lettuce wrap with a piece of tuna, avocado and pickled cucumber.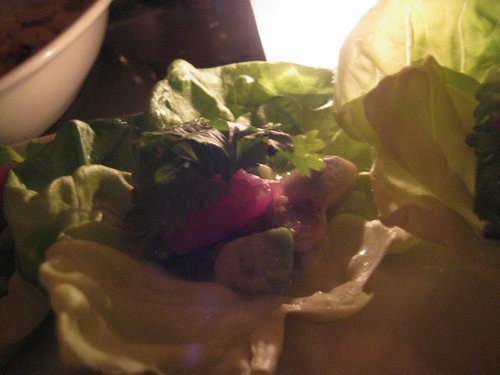 Also amazing and quite fun to eat.

Boo and Jeff each got the grilled scallops with parsnip mousse, escarole and calamari: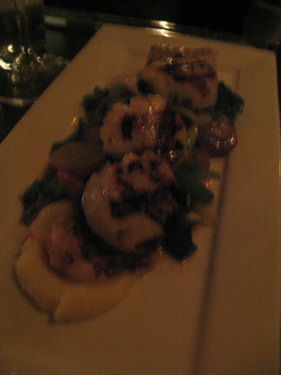 I liked the flavor but they both felt the dish was too rich.

I got "the pork chop," which came with parmesan butter beans and wild dandelion.

Excuse the dark photos: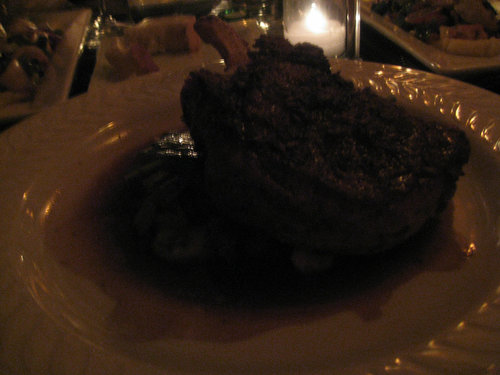 I loved it. The meat was crusted with fennel seeds and the beans were rich and creamy, which constrasted nicely with the bitter greens. A winner all around.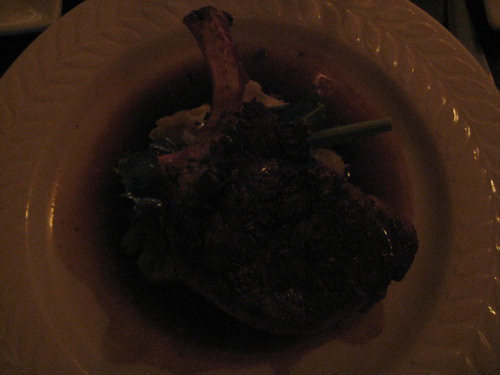 We had a nice table in the corner of the banquette:




Boo wanted me to take a photo of Bob Dylan in the bathroom: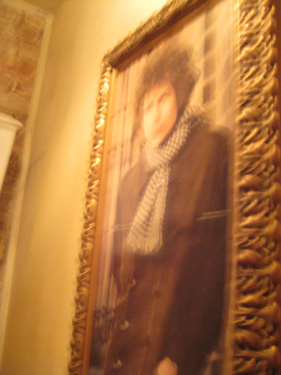 In the taxi on the way to Freemans: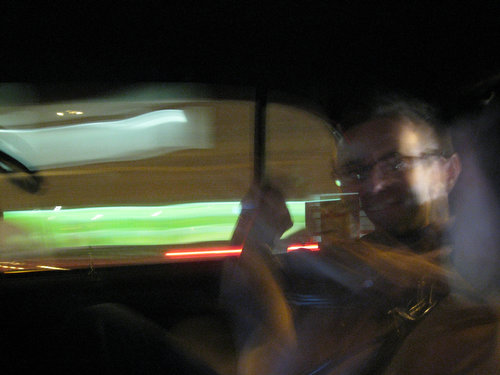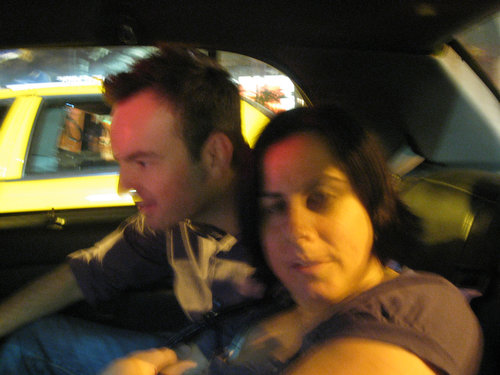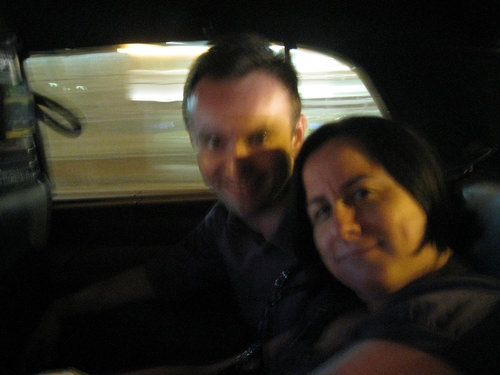 The bar at Freemans: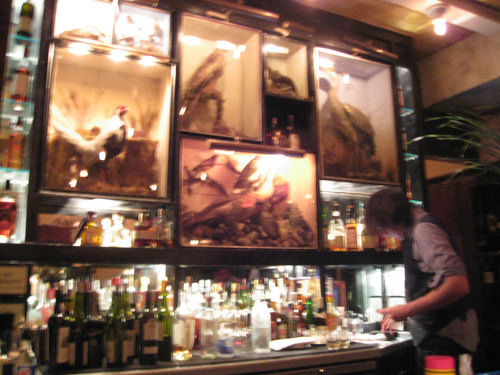 Those glass boxes hold taximdermy, Bob: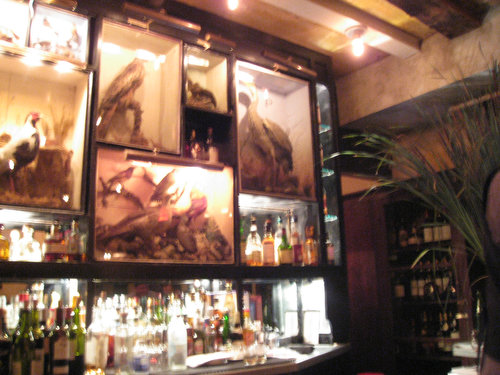 More bar shots: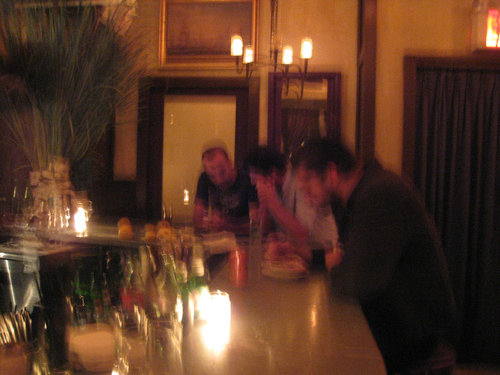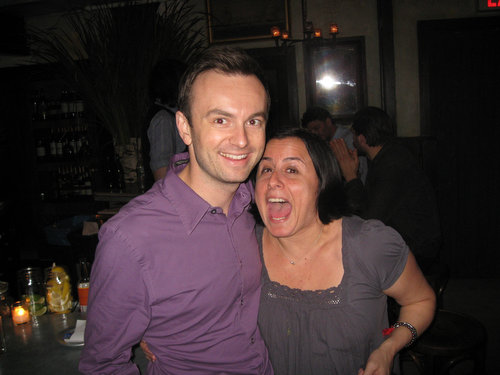 The restaurant is down an alley, which I shot as we were leaving: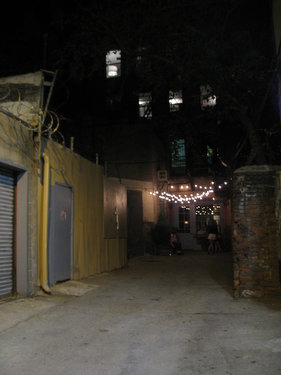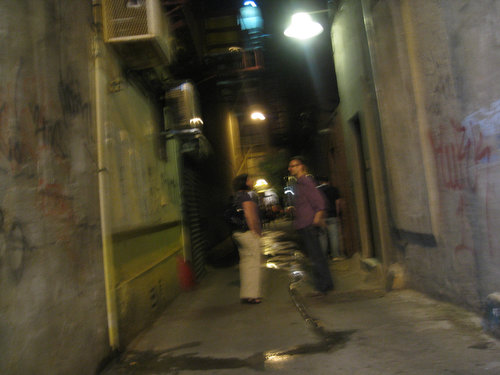 We headed back toward Boo's and Grand Central, hoping that Greg would be able to meet us for a nightcap. We went to Les Halles: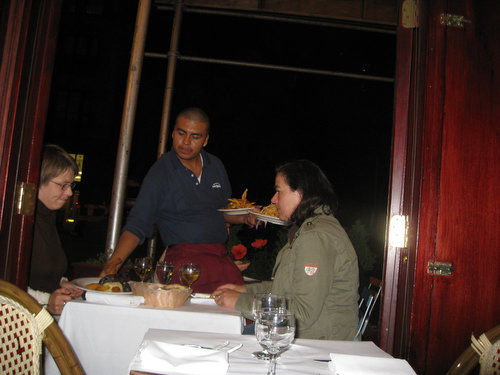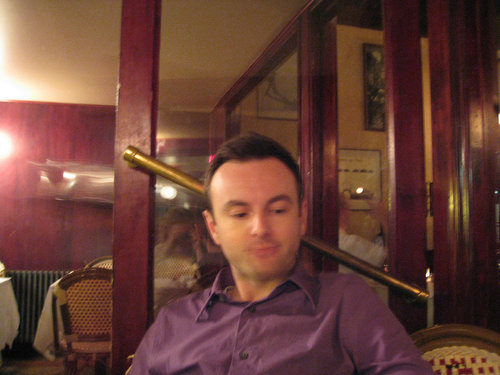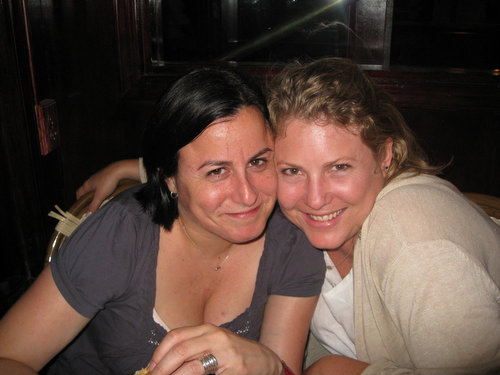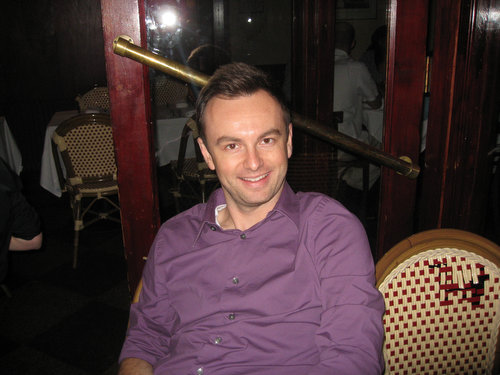 Alas, no Greg. So I headed back to GCT on the subway: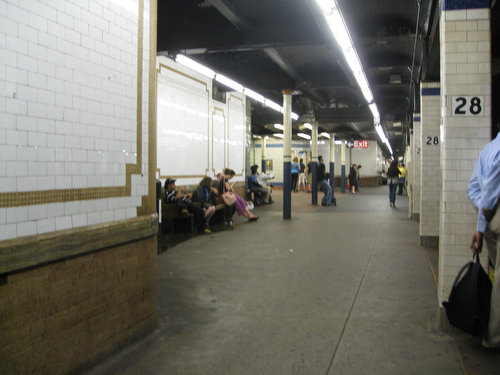 These funny people were enjoying their new chair: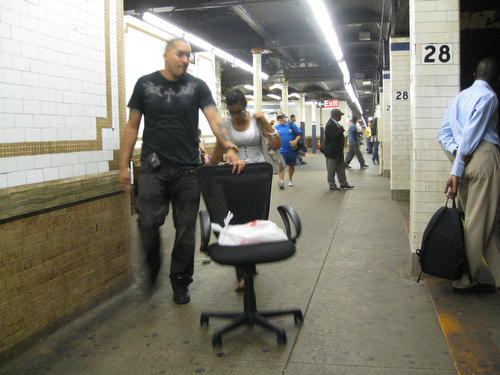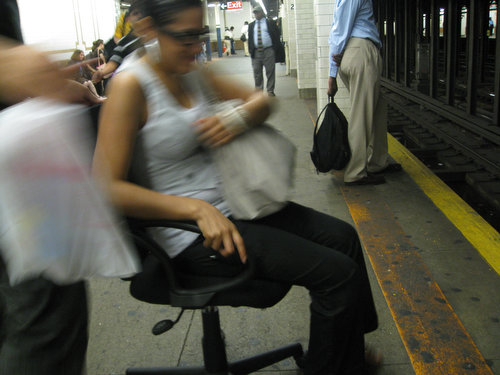 Fun city night!

Comments
Add Comments