Jump to navigation
Lake Livin' at Last
When Tessa bought her lake house back in August, 2003, nobody expected it would take three years and a lot of patience to have a place to go waterskiing. Unforeseeable circumstances held the project up for what seemed like forever, but this weekend, it's obvious that the waiting will be worth it. It's almost ready.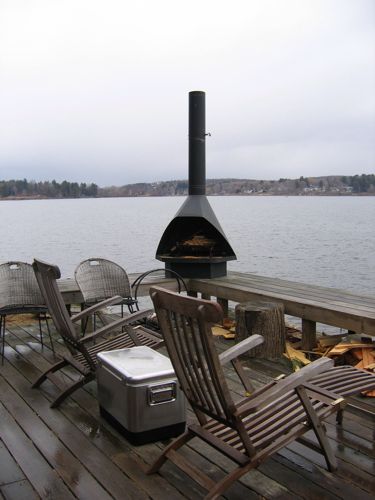 We went to Boston first on Friday, so arrived at the lake with Tessa's things around 5:30 on Saturday. As is typical, we had to spend the first hour or so cleaning up after the contruction crew. Even though she asked that the painters not leave anything in the living room, there were all the buckets, drop cloths and brushes — piled up next to the fireplace.

So we collected them and took them upstairs, rearranged the furniture and dusted the mantel. We lit some candles, set out some hors d'oeuvres and we were ready for dinner.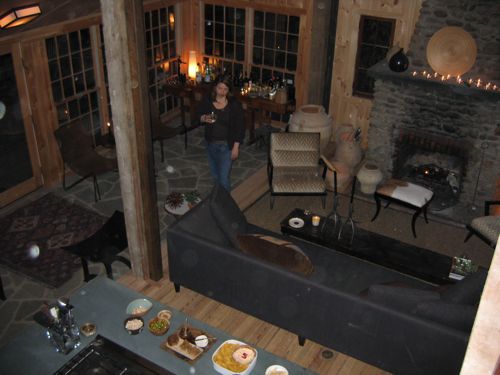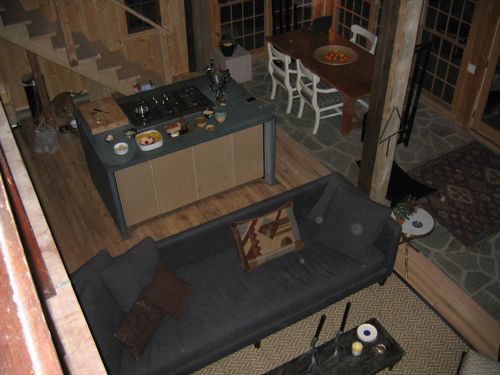 Tessa's friend Greg brought over the makings for arroz con pollo. He'd prepped at his house, but started searing chicken and sauteeing onions on cooktop on the new bluestone island. Here's Kelli standing near it before he arrived.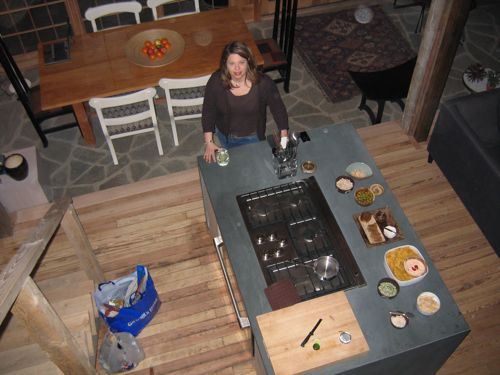 What a joy to cook on. I helped by sectioning grapefruit for a romaine salad he'd planned with grapefruit, avocado and onion. (I wasn't very good at it.) It's an amazing place to cook while you're having a party — you can stand behind the burners while a friend preps on the cutting board next to you. Someone else could be on the other side doing something else, and four more people could stand across from you. I never thought I'd like a great room, but really it is a luxury, instead of being holed up in the kitchen.

The friends came over and were cocktailing on the couch by the fire, until dinner was served. It was delicious. (He cooks the rice in beer!)

The buffet line: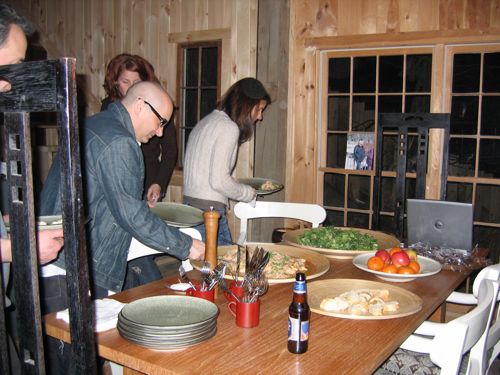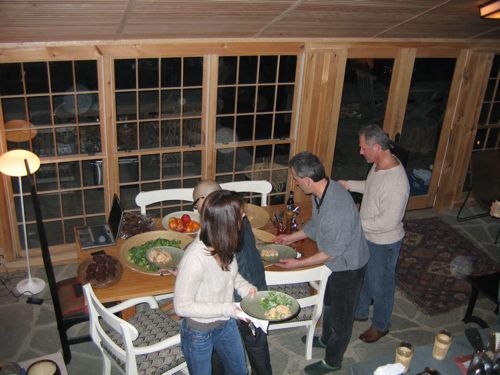 Dining on arroz con pollo: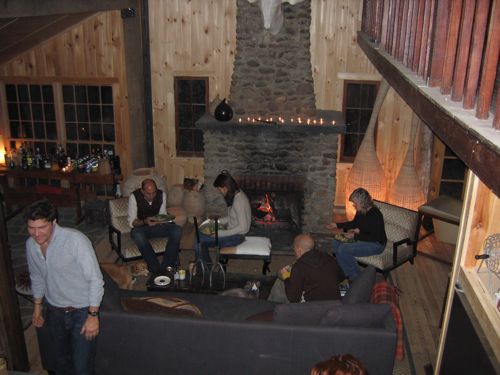 After supper, everyone was ancy to head over to The Loser Lounge. It sounds like a great name for a bar, I know, but it's actually Greg's unfinished basement. He threw an old plaid couch, a ping pong table and a karoke machine down there and it was instant fun. I felt like I was 15 again. What if our parents come home?!

Naturally I took immediately to the karaoke machine. I actually brought the house down with my "Hanky Panky" number. I mean, people stopped playing ping pong and were transfixed by the audacity of a woman who would, in front of a bunch of people she barely knows, sing:

(I) Like hanky panky [hanky panky],
Nothing like a good spanky [good spanky].
Don't take out your handkerchiefs,
I don't wanna cry, I just wanna hanky panky."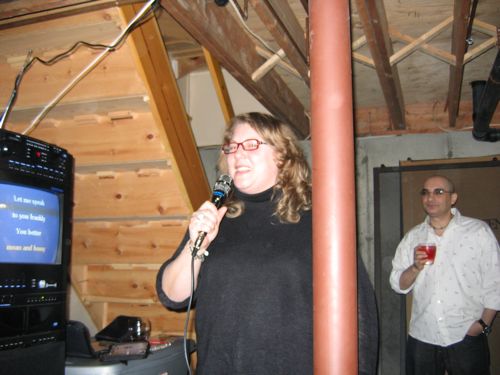 What can I say: I love show tunes.

And I'm not the only one. Denise and I sang "Oh What A Beautiful Morning" together. Greg got into it, too.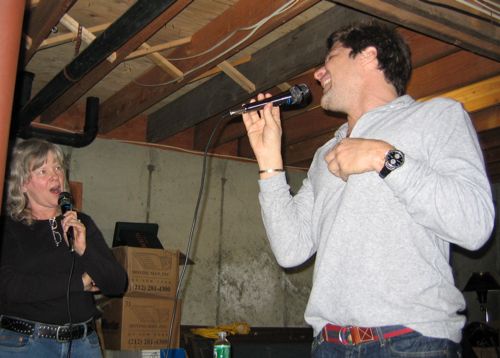 And here, the lyrics for "I Could Have Danced All Night."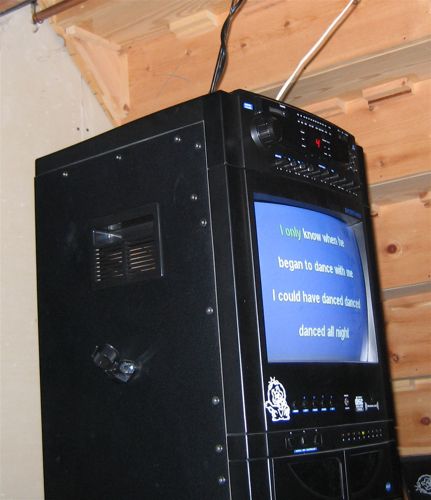 Well, I could have, almost. But about 12:30 (or was it 1?), we headed back to the lakehouse for some shut-eye.

In the morning, the light streamed in through the windows. (See the fireplace in the back right corner?) Honestly, it's like your sitting on a boat while you're in the living room, you're so close to the water.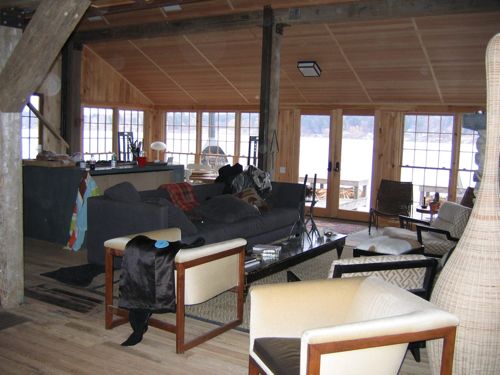 The clouds moved in and it rained a bit, but even then, the house is so cozy: you just feel like lighting a fire, putting a pot of soup on the stove and nestling in to the couch to read your book. It's really going to be a great summer up there.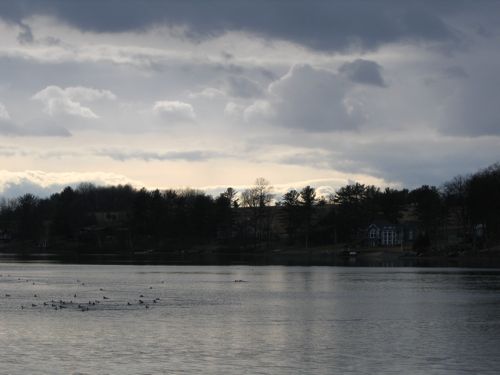 Comments
kko wrote:
liz wrote:
Stephanie Teuwen wrote:
Add Comments