Jump to navigation
Not Quite Niçoise Salad
A recipe for lunch with leftover tuna. This is a salad for company. Or if you just feel like having a civilized lunch one day at home. It's also great for supper on a hot day. Serve with hard apple or pear cider, champagne or sauvignon blanc.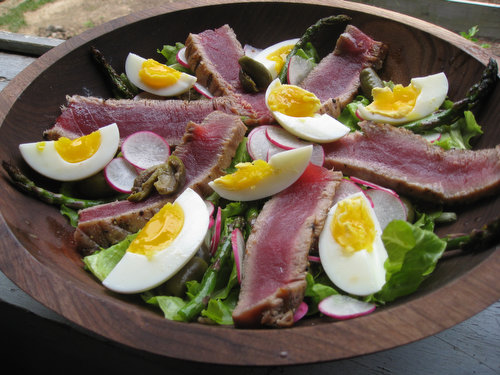 2 eggs
12-15 picholine olives
2 radishes
5-6 asparagus spears, trimmed
3 tablespoons lemon juice
1 teaspoon mustard
4 tablespoons extra virgin olive oil
Salt and pepper
2 to 4 cups leafy lettuce, washed and torn into bite-sized pieces
1/4 pound tuna, sauteed rare and sliced thinly

Put a pot of water on to boil and let the eggs sit on the counter. Pit the olives by lightly smashing them with the side of your chef's knife, blade pointed away from you. Then slide the pits out with your fingers.

When the water is boiling, slowly and carefully slide the eggs into it using a slotted metal spoon. Get a bowl of ice water ready. Cook for exactly 8 minutes, then remove with the slotted spoon to the ice water bath.

While the eggs are cooking, slice the radishes as thinly as possible, using a mandolin if you have one. Salt the radish slices.

When the eggs are done cooking, dump out the water and put the pot back on a medium-high flame. Heat a little olive oil until it's shimmering but not smoking, then add the asparagus. Saute, shaking the pot every once in a while, until they are bright green with golden brown saute marks but not caramelized, about 4 to 5 minutes.

While the asparagus is sauteeing, make your dressing. Put lemon juice and mustard in a bowl and whisk in olive oil until it is thick. Add salt and pepper.

Peel the eggs and cut them into quarters lengthwise. Lightly salt them.

Reserve a tablespoon or so of dressing, and lightly toss the salad greens with the rest as well as salt and pepper in a salad bowl. Place the tuna slices on top of the lettuce, alternating with the eggs and asparagaus. Scatter the radishes and the olives. Top with the remaining dressing and a scattering of salt.

Serves 2 to 4.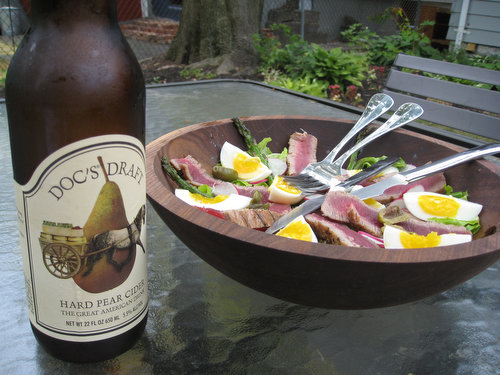 Comments
Add Comments