Jump to navigation
Fore Street Restaurant in Portland, Maine
If you are a serious food person, you can't go to Portland and not visit
Fore Street,
where Sam Hayward is chef-owner. He's known for two things: wood-fire cooking and local ingredients.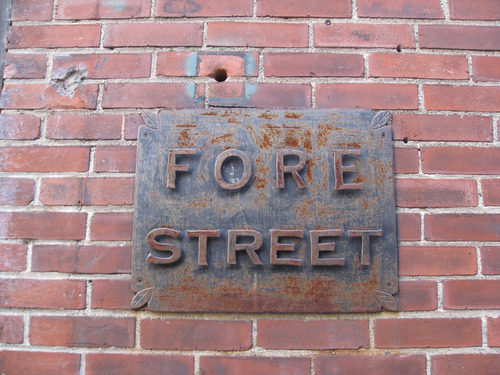 Boo is psyched for dinner,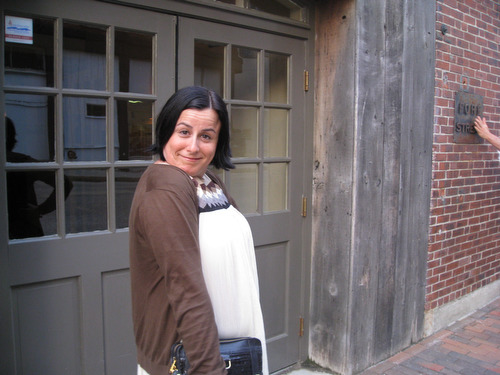 We arrived for our rez but our table was not yet ready, so we headed to the bar: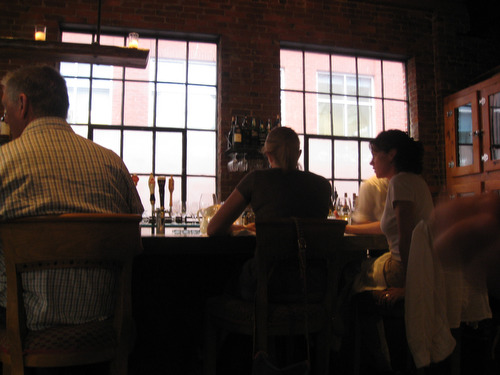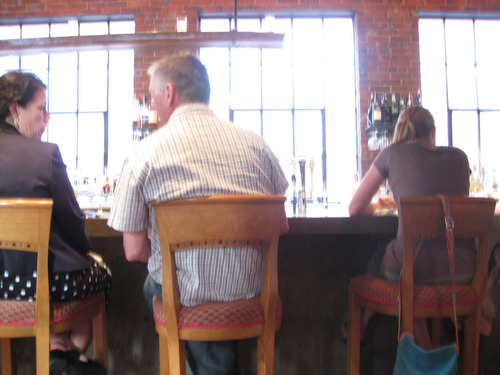 Lots of brick, wood and big picture windows. It's like an old factory warehouse.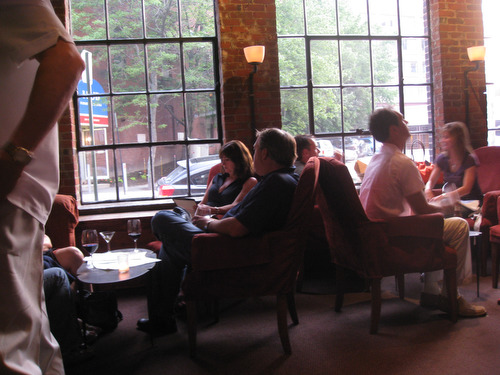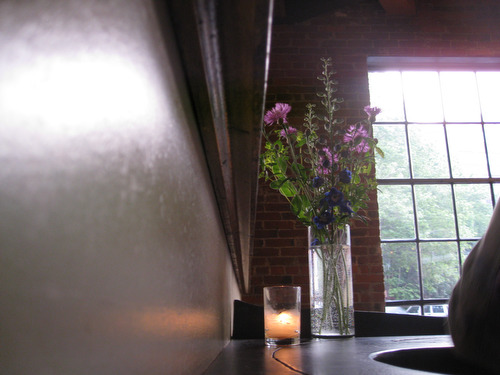 Pants over here on the right was name-dropping cities like nobody's business: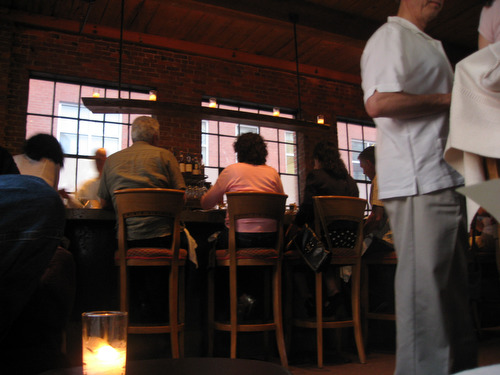 A peek into the dining room: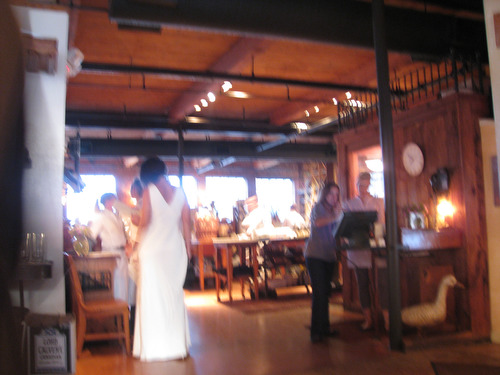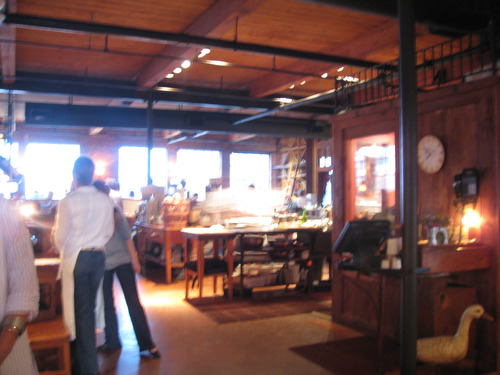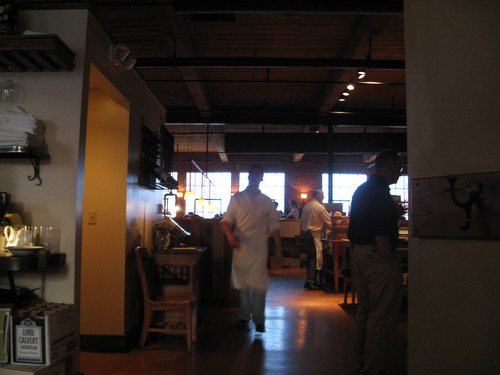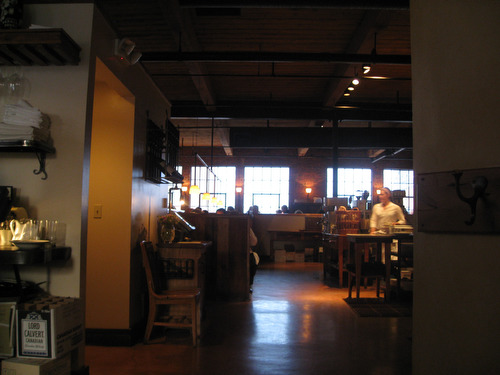 A seat opened up on the couches by the windows so we took it. The view from the couch: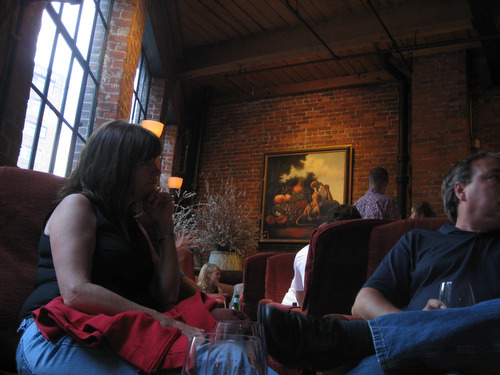 Then we moved to our table, which had a lovely view of the open kitchen, which is set in back of a huge butcher block along one side of the restaurant: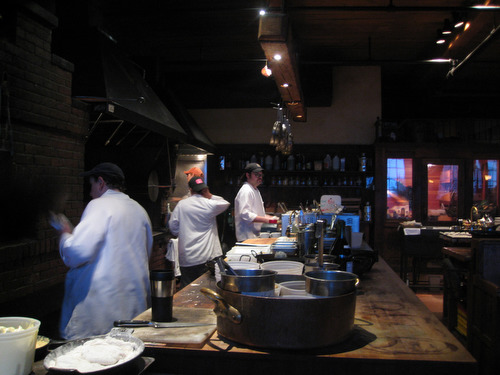 The view from our table: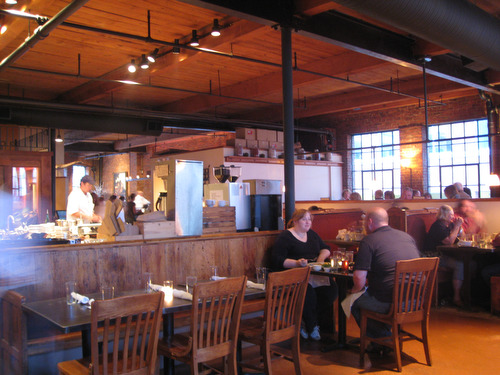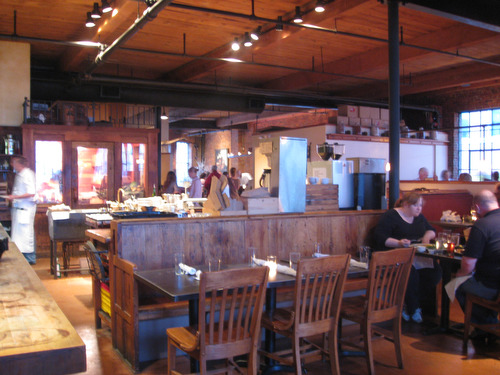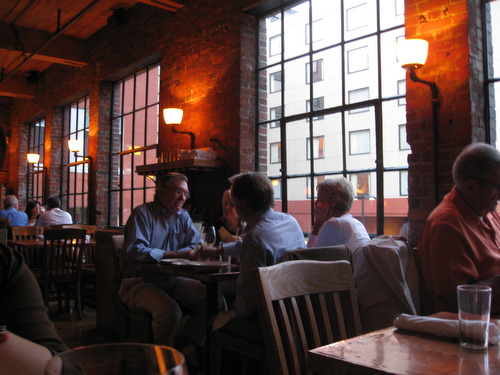 Boo is troubled by the menu.




There are five sections on the appetizer portion of the menu: garden; raw and chilled seafood; roasted and pan-fried seafood; chilled meats and grilled and pan-seared meats. Each of those has three, four or five choices (except the chilled meats, which is just pate).

Then there's the second page of the menu — the mains: pan-roasted seafood; wood-oven roasted sea food; wood grilled meats; turnspit roasted meats; vegetables and sides. And each of those has two, three, four, five and six choices.

It's a really big menu and very hard to decide what to get. You don't want to feel like you're missing out... especially if you, like us, are visiting from far away and aren't likely to be back anytime soon.

After much wrangling, we decided to split several things.

We started with the pate: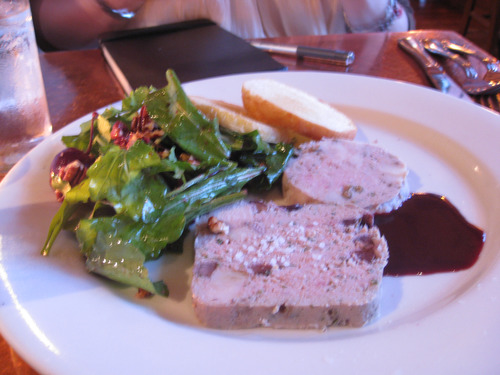 Country style pate and mortadella of natural Maine pork: Heritage bred Breezy Hill Farm, South Berwich; Rocket salad, toasted pecans, pickled cherries.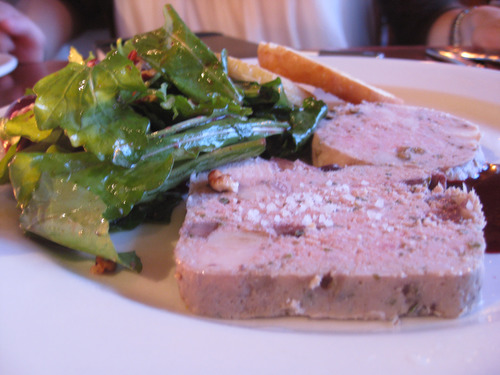 The pate was very very good; the mortadella was a little disappointing. It just lacked either subtlety or oomph. I think you gotta have one or the other.

The flurry in the kitchen: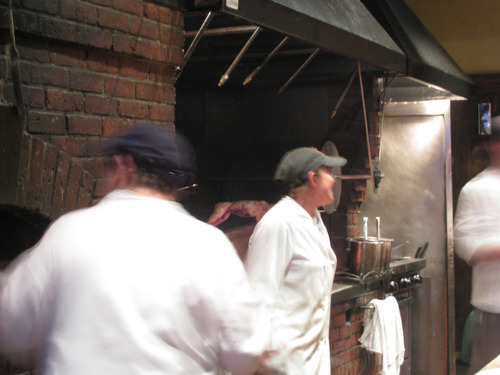 If you look closely at the middle of the photo you can see my rabbit on the spit: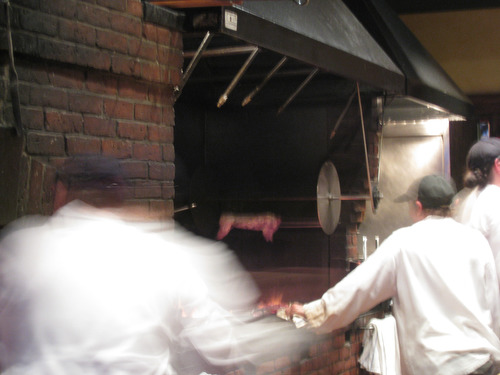 The butter was so tasty: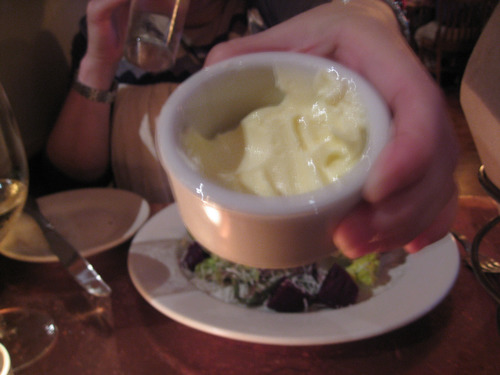 For our next course we had the baby beet and mixed garden lettuce salad with roasted fennel, reggiano and anchovy herb vinaigrette: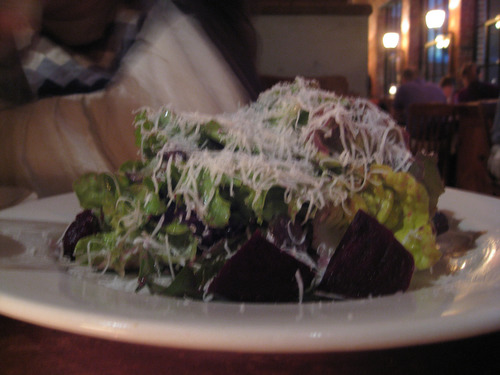 God it was good. Tender lettuces, sweet beets, nice kick from the anchovies, which you wouldn't know were there unless you were told... it was more for the salt and to give the dish depth:




My second helping of oysters for the day: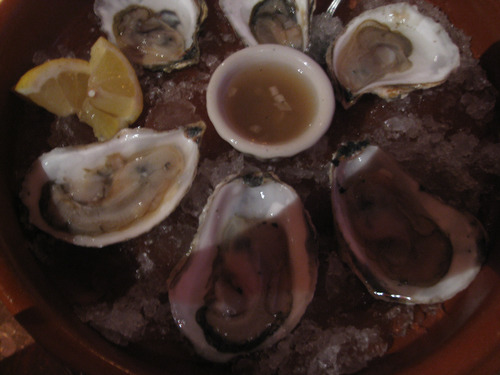 Chilled Mill Cove and Damairscotta Oysters (West Bath and Bristol Maine, Verjus mignonette and lemon)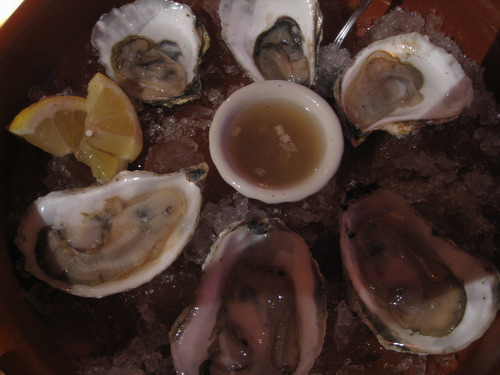 Fantastic. So of the ocean. And i'd never had either kind of oyster so it was a real treat.

Boo loves loves loves the salad, and has declared it in her pantheon: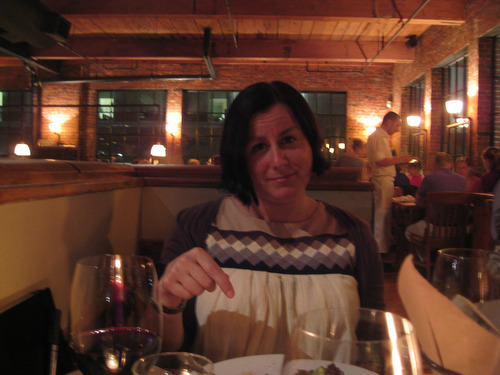 For our maines (yes that's on purpose), Boo had the wood grilled Harelquin Quail from Cavendish, Vermont, with corn, asparagus, sweet peppers and hyssop: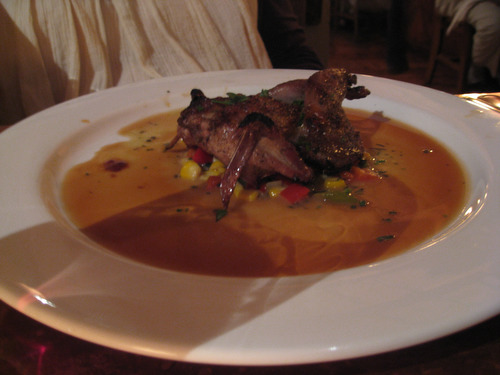 It was tasty. The wood grilled taste was nice. The sauce was rich and delicious.

We also shared roasted summer squash with reggiano garlic butter:




Very tasty, but one of those "I can make this at home" dishes.

And then here's my Marinated Maine Farm Rabbit from Warren, Maine with broccoli and gremolata.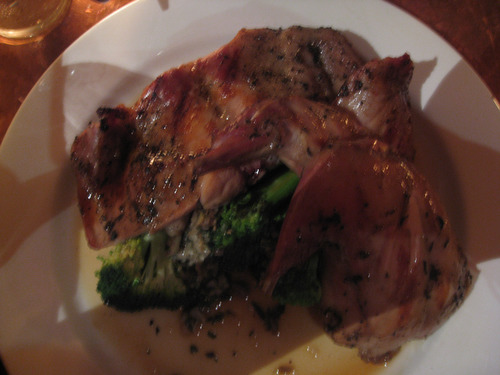 When I got a nice chunk, the rabbit was moist, flavorful and delicious.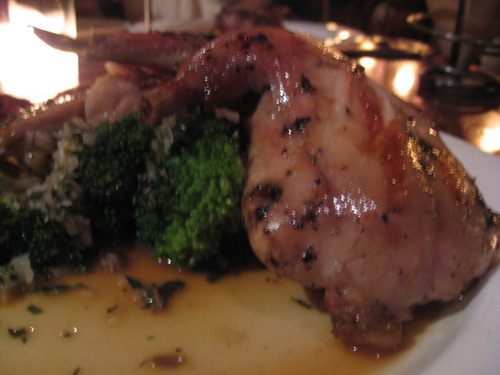 But it was such a bastard wrestling with that thing to get any meat off the bone that I became frustrated and a little angry with my dish.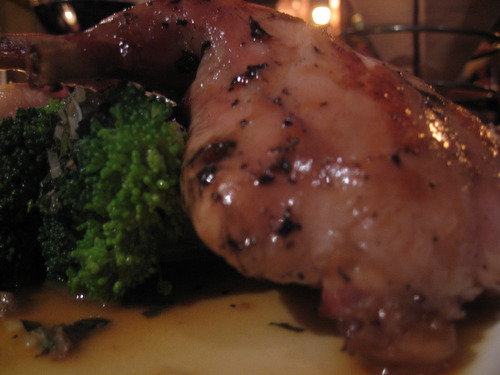 At one point I resorted to my fingers but even then it was hard to pull the meat off the bone, which shouldn't be. I wouldn't order that again.

After dinner we got to chatting with our next door table neighbors. They were from Michigan and have a stone house overlooking the coastline further north. They spend summers here and were in Portland to pick up their son from the airport.

Boo leans over to talk with them.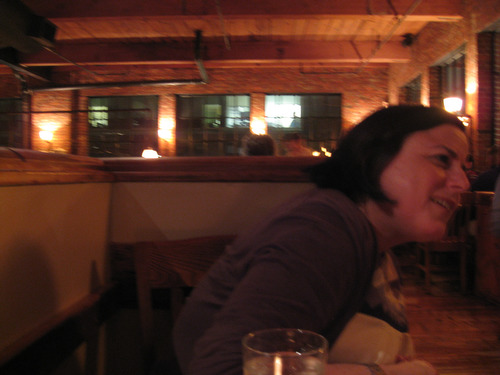 Sorry, no photo of them. I didn't want to intrude.

And for our final dish, a chocolate dessert. It was nice but didn't knock me down crying: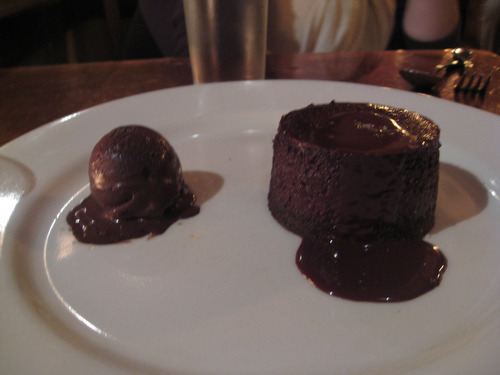 All in all, a nice showing. The salad was unbelievable, as were the oysters. The rest of the meal was pretty good too — and I love how the menu lists the provenance of the ingredients... you can tell that's not just for show. Next time I'll just order something that's a little easier to eat!

Comments
Add Comments