Jump to navigation
Dinner at Arrows
Arrows restaurant
in Ogunquit was definitely a leader in the eat-local movement, sourcing ingredients from the region and growing much of its produce in the gardens alongside the restaurant. In fact, the evening we visited, a tent was set up in the garden to accommodate the guests — food lovers, press and dignitaries — who were to celebrate the restaurant's 20th anniversary.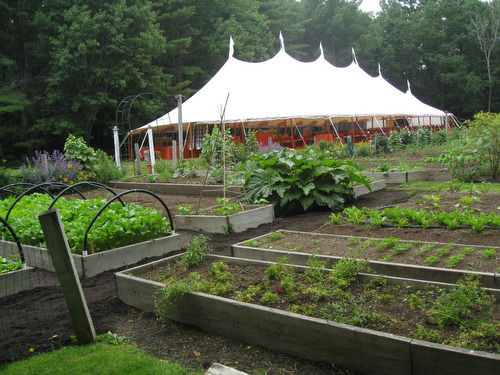 The restaurant is up the road just a bit from downtown Ogunquit in an old farmhouse.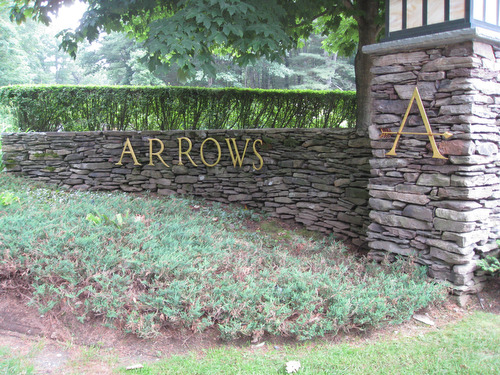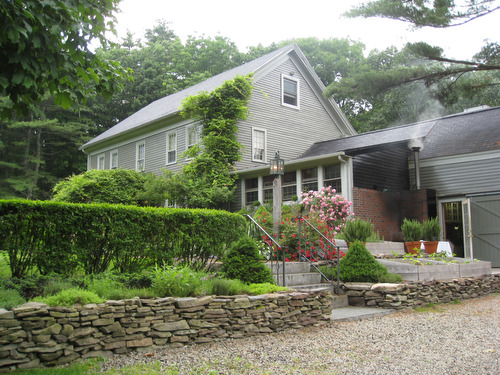 The chef-owners, Mark Gaier and Clark Frasier, worked for Jeremiah Tower at his Stars restaurant in San Francisco. Tower was for many years the chef at Alice Waters' Chez Panisse in Berkeley. At first you might say, "A ha! So that's where the local influence comes from!" But having recently read Alice Waters' authorized biography, it seems that when Tower was in the kitchen, the menus tended toward elaborate French cooking rather than the simple straightforward type meals you might find at Chez Panisse today. Keep that in mind as we move through our meal.

Even though we had a later reservation, we were in luck: the restaurant was able to seat us.

The bar area and the host podium: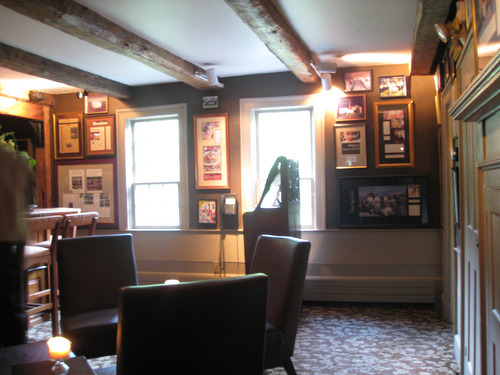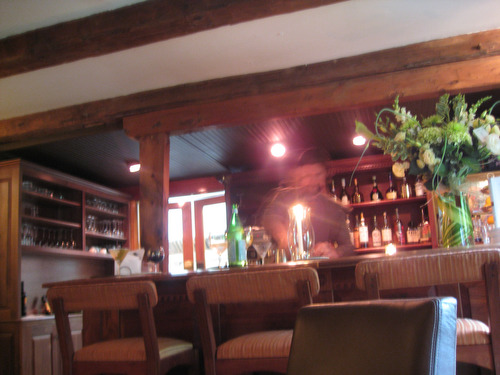 The restaurant is gorgeous. Arts and crafts style with big beams and lots of leaded glass windows.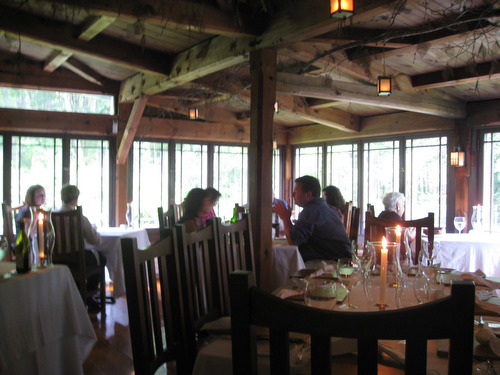 We probably got the worst table in the house, but that's OK considering we were able to score an earlier reservation.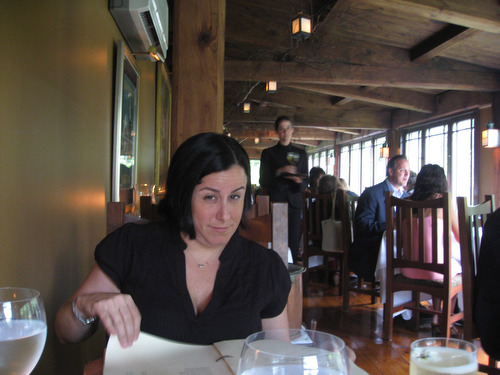 We ordered aperitifs — champange for me: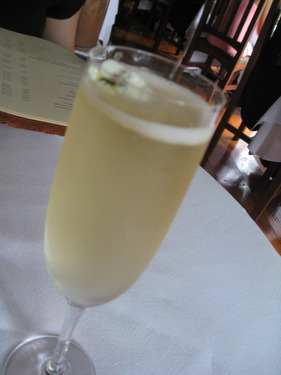 Then I snuck off for a quick tour of the garden: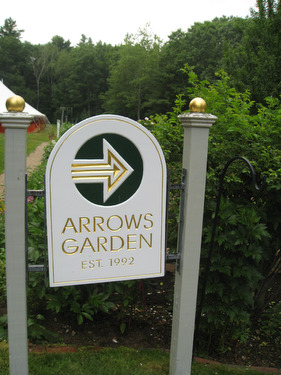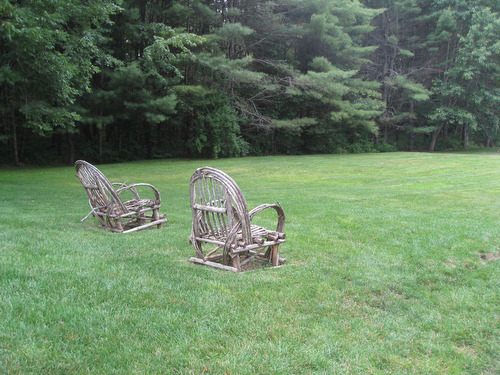 Lots and lots of raised vegetable beds, a la Sour Cherry Farm.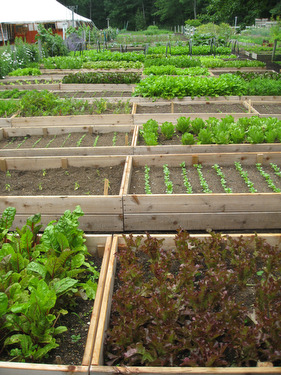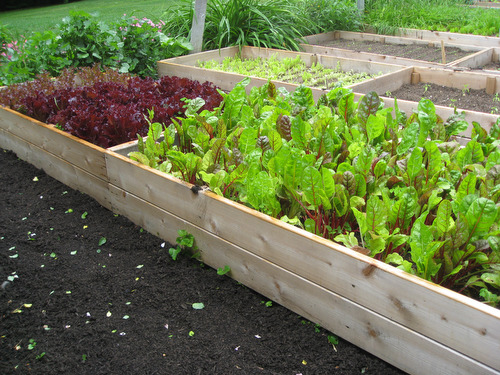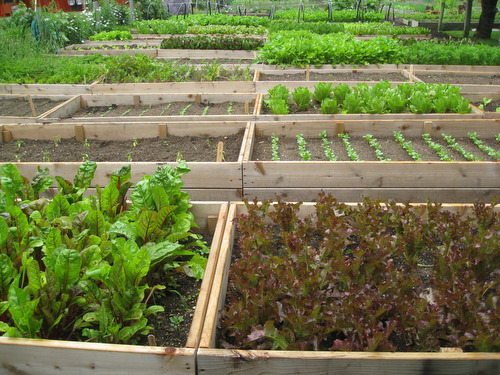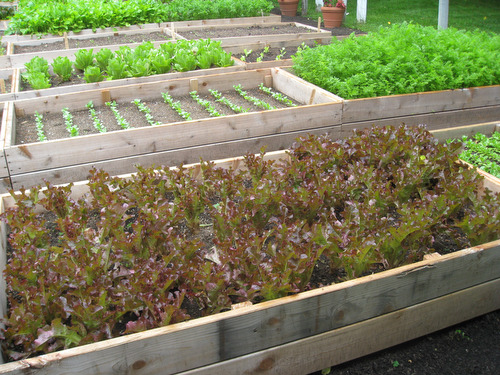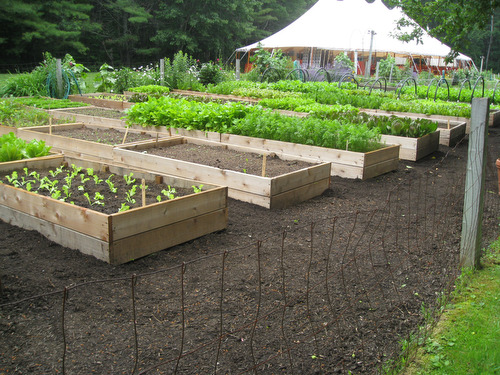 Cold frames so they can start their lettuces early: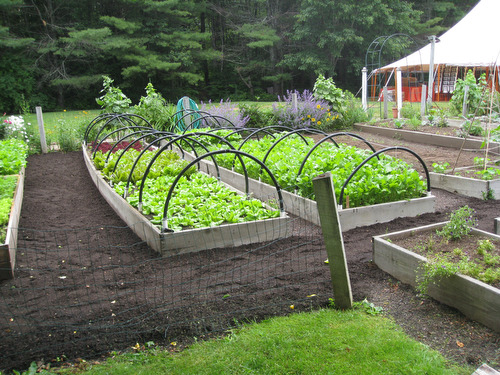 More jardin: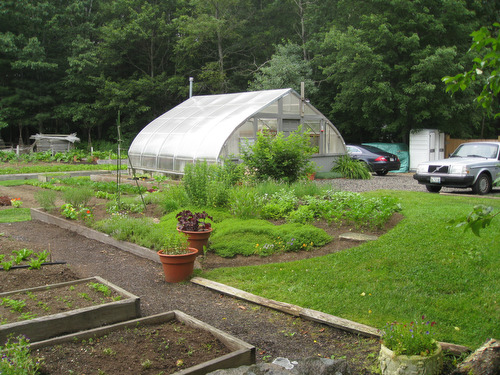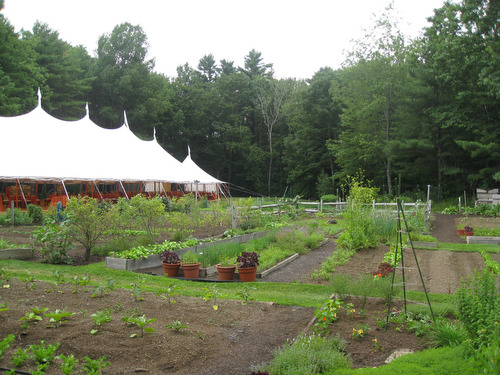 Celery: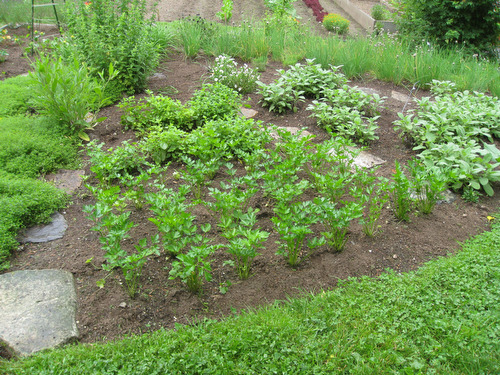 Beautiful landscaping with perennials and annuals: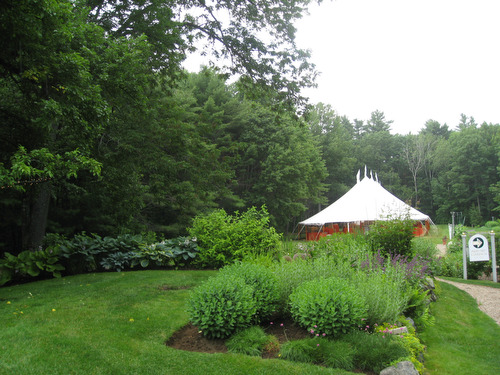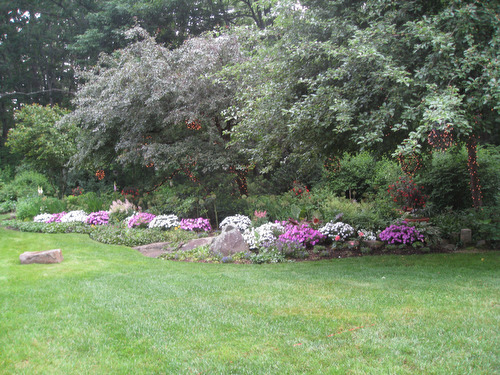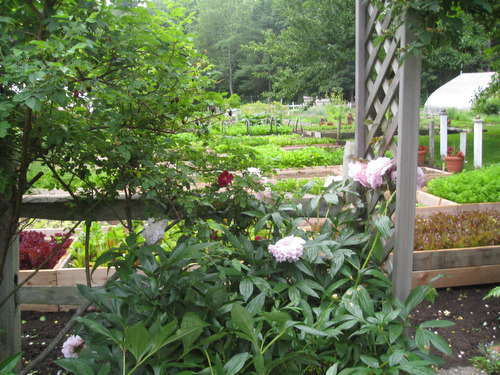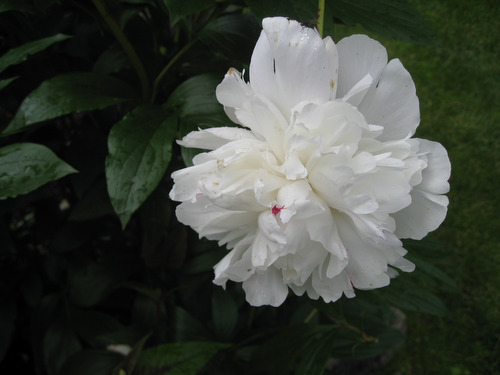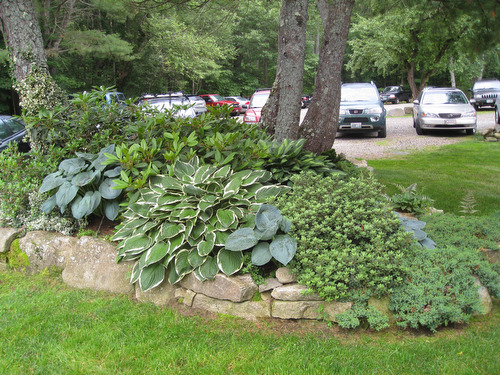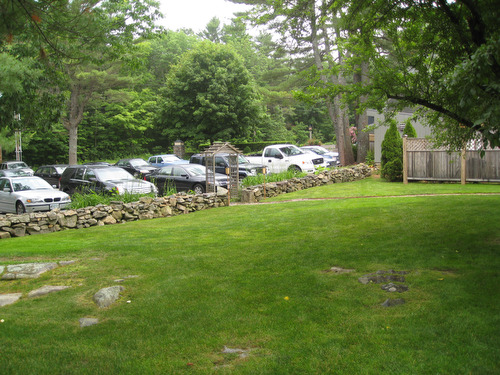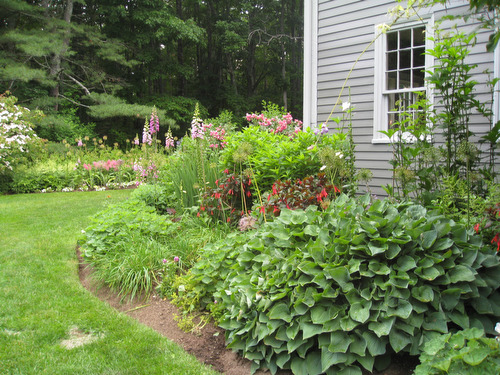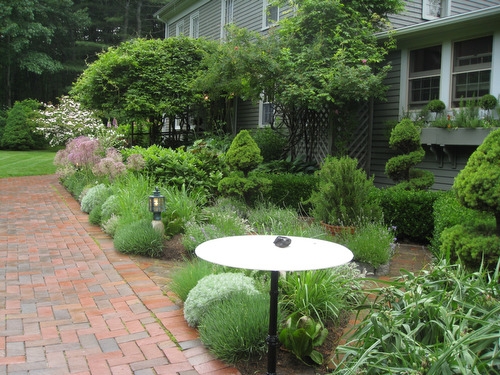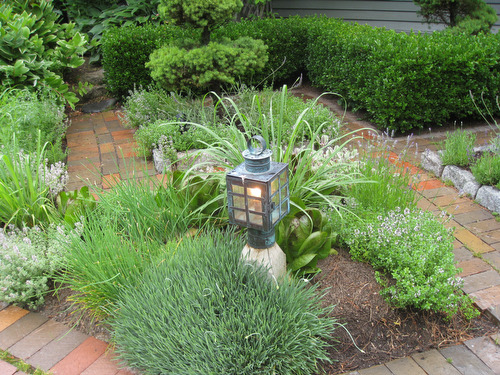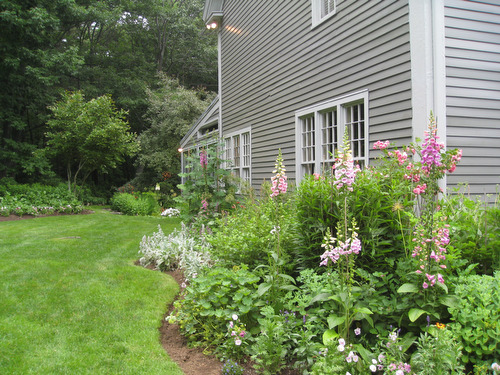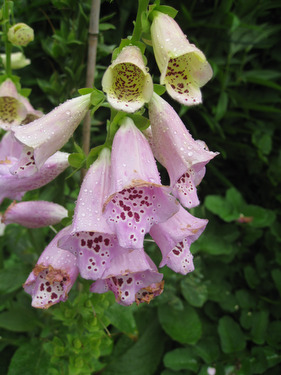 Back inside. There is a small dining room to the left of the entrance: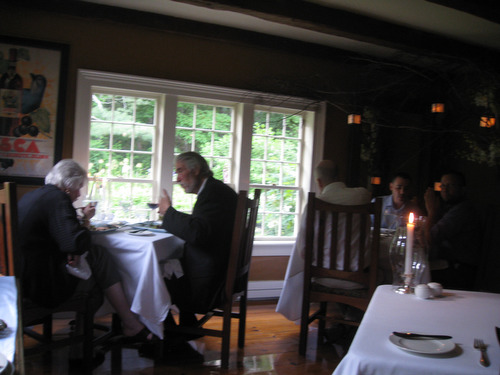 Otherwise, you walk from the bar —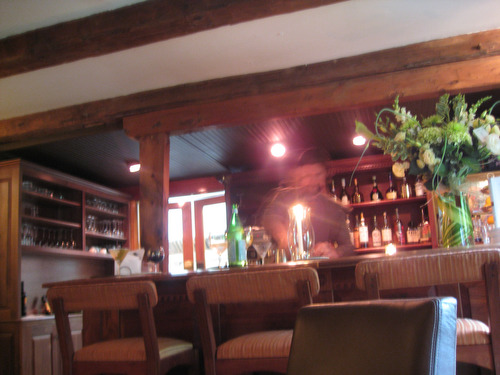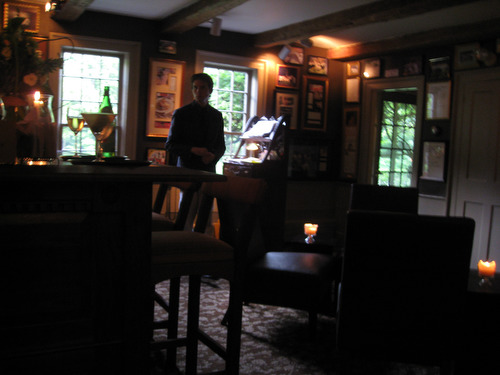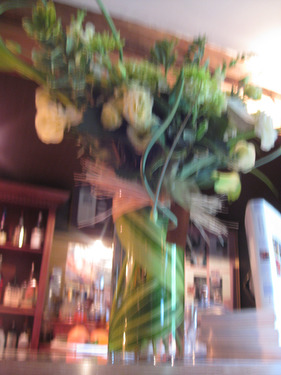 — through a vestibule where they display all their awards and press clippings: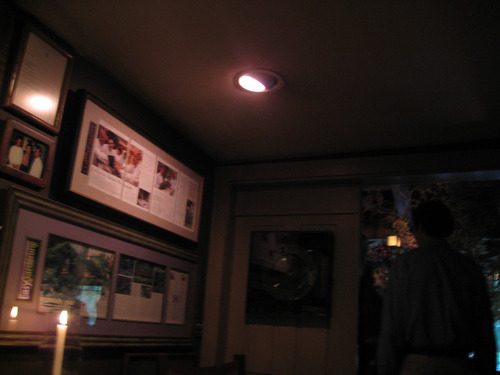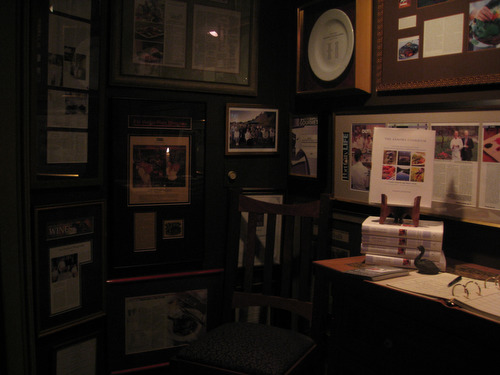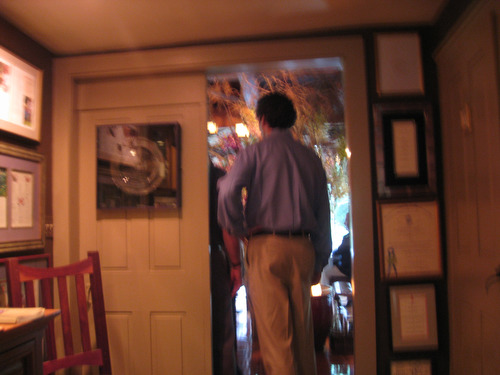 Then into the main dining room. There there is a huge floral display: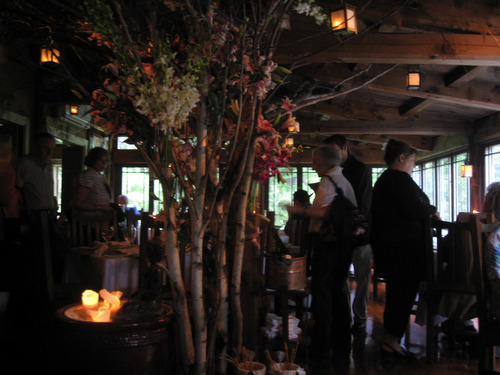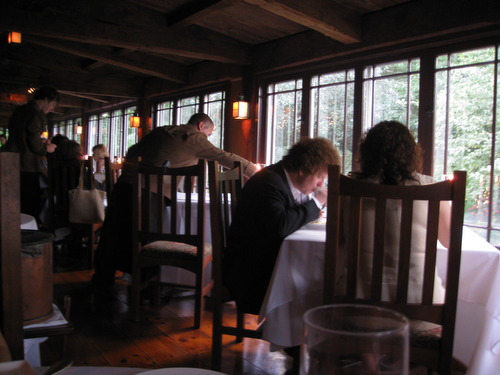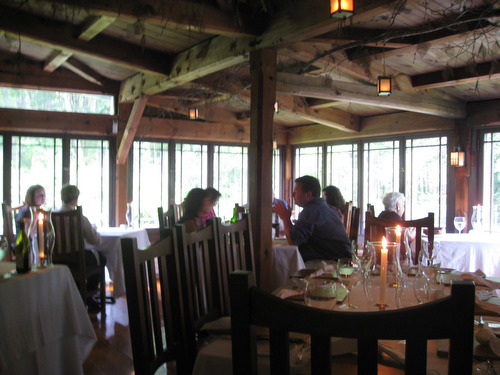 Waitstaff wear Asian-style dress: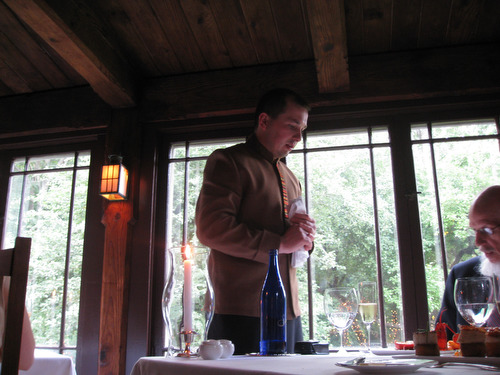 We had a little trouble ordering. Things seemed either straightforwardly simple or wildly complicated.

Let me list the appetizers for you. I'm typing them exactly as they appear on the menu. No hyphens. Yes quote marks. Yes semi colons. Yes serial comma. Yes misspellings.

"Ying and Yang": chilled Xiao Xing wine poached chicken breast with Xiao Xing wine gratina, shiitake mushroom, bamboo and scallion stuffed fried chicken wing with sweet chili sauce

House cured seafood taster; halibut terrine with white wine aspic, smoked shrimp rillette, smoked trout, gravalax, and smoked diver scallops with creme fraiche, capers, horseradish and dark molasses bread toasts

"Summer Time"; Seared foie gras "Hamburger" with house made mustard, ketchup and picnic salads

Deep fried Maine shrimp with grapefruit, orange, and a lime and vanilla bean sauce

Wood roasted garlic and herb marinated duck panini with braised onion, Freckles and Gruyere cheese, with a green apple salad with tarragon - whole grain mustard vinaigrette

Arrows 2007 house cured prosciutto with bing cherries, rhubarb and chocolate mint gelee


Right? Where do you go with that?

I'll tell you where we went. Half way down the middle. We chose the most simple and the most complicated and gave them a whirl.

First, the amuse bouche: vegetable spring rolls with a soy ginger sauce.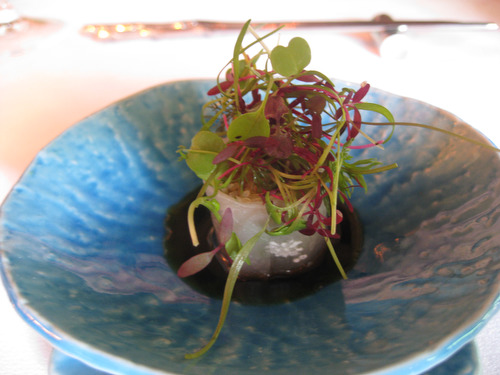 Now normally this is served to you as you enter arrows along the brick walk way. Here's a look at the people who were arriving as we were leaving.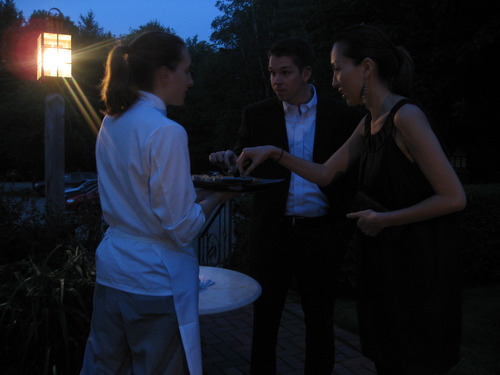 But because we were late for the official seating, we missed that. When I saw the amuse listed on the menu but noticed we hadn't had one, I just asked. "Is that something you order, or does the kitchen send it out?" Our waiter was kind enough to bring one for us.

Back to our apps. We got the "Ying (yes spelled ying) and Yang" —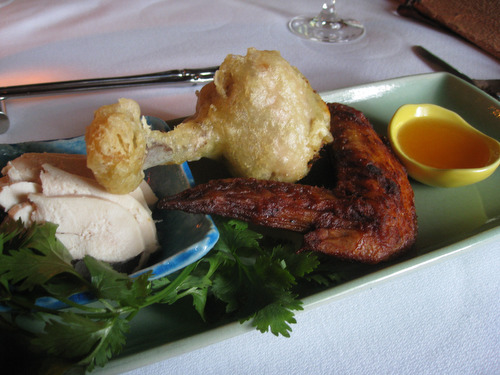 And the prosciutto: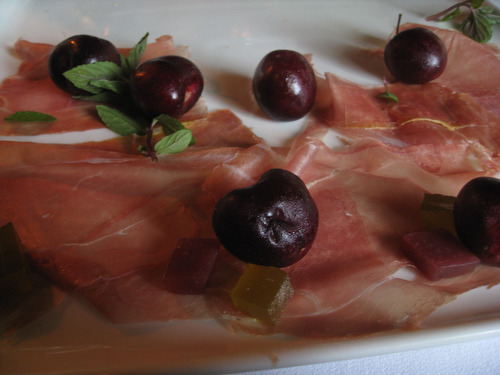 Even though the Ying and Yang looked a little weird, it was actually quite tasty. Cool chicken breast with the icy granita underneath versus with hot crisp chicken leg and the warm-spicy-sweet wing with its sweet and sour dipping sauce. It worked. But the portion sizes? Oh my.

We had that as well as this:




Prosciutto was nice. Nothing crazy. The little gelees underneath bursted in your mouth to give you some moisture and some sweet along with the dry and salty.

After that we were nearly full. We were thankful that we decided to split the salad: Arrows "duck egg" Caesar with garden lettuce, reggiano parmesan, brioche croutons, and white anchovies: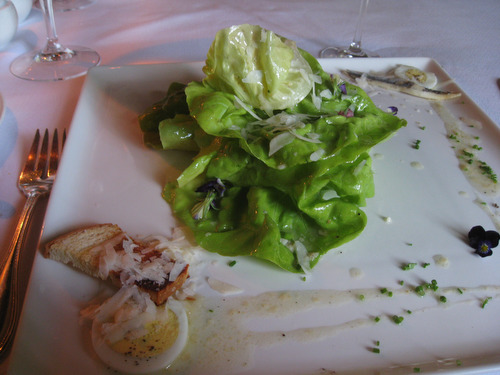 The lettuce was perfect. Literally perfect. Delicate. It was so light it could have blown away in the breeze. The dressing was gorgeous. The anchovies salty and delicious. Only one minor complaint: brioche croutons? I couldn't tell.

But seriously, seriously an amazing salad. I guess, with all those raised beds outside!

We were very happy indeed.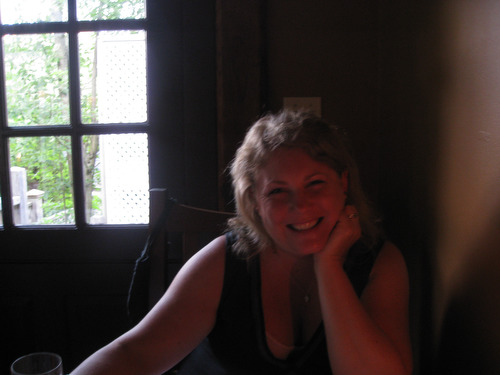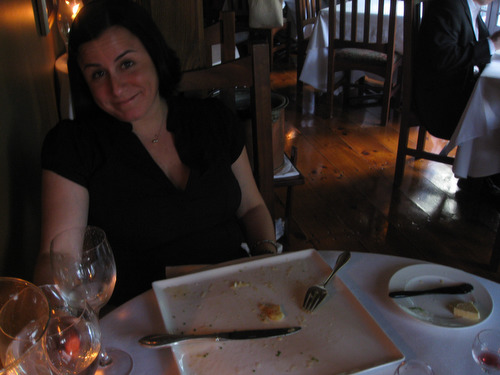 We also faced a dilemma when trying to choose our entrees. Here is the list of main courses:

Seared diver scallops with crispy foie gras potatoes, red and yellow beet salad, crispy pancetta, golden chanterelle tempura and a chervil vinaigrette

Wood roasted "eye" of the ribeye with Swiss chard, grilled paprika sausage and a green garlic-Jerusalme artichoke panna cotta

Pan roasted halibut with Maine clams, mussels, smoked cherry tomatoes, braised salsify, millet spaghetti and ham broth

"The Whole Quack" from Pebble Beach Food & Wine 2008
A poached duck egg with house cured bacon and duck consomme
Confit duck leg with English peas and chanterelle mushrooms
Chilled pine smoked duck breast with bianca, pickled baby onions and house made goat cheese

Butter poached Maine lobster claws and knuckles with a anise-olive oil emulsion and Jewish fennel; Roasted lobster tail with sweetbreads, fava beans spaetzle and a rich meat stock

Sea salt roasted rabbit loin and simmered rabbit legs served Russian style with a whole grain mustard sauce, wood wrapped potato gratin and peas and carrots

Whoa.

Having been burned by the rabbit the night before we knew that was on the chopping block. Halibut didn't really appeal either. I was thinking of the steak and Boo was thinking of the lobster, but in the end we went with the scallops and the duck.

The scallops: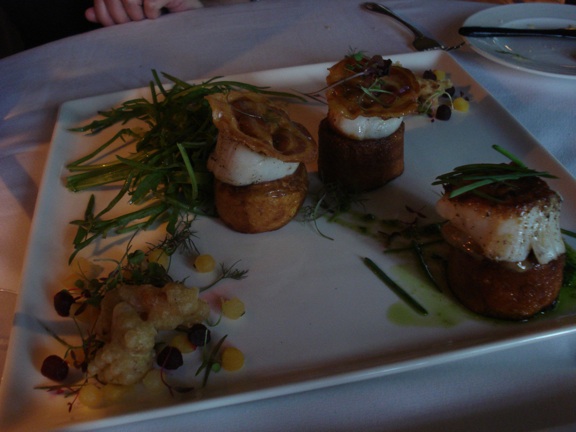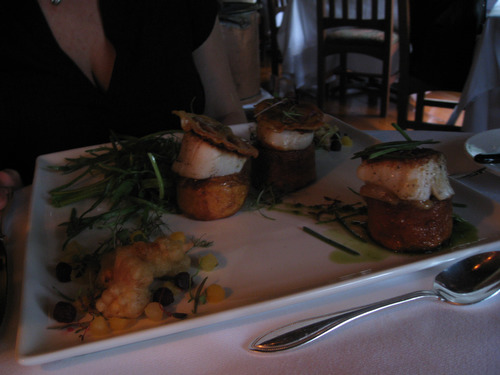 Seriously.




First there was a puff pastry cup. Inside was foie gras. On top of that was the scallop and balanced on top of that was the deep fried pancetta.

It was a disaster. Too many competing flavors and too much food. Why did we even need the chanterelle tempura? I couldn't taste the mushrooms through the breading anyway. And where was the beet salad?

The "bento box" theory also applied to my duck dish.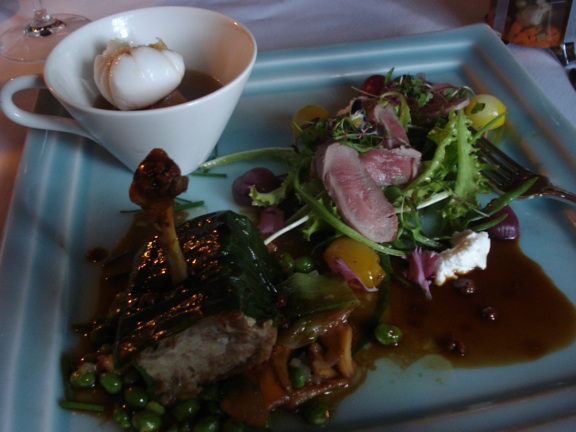 The confit duck leg: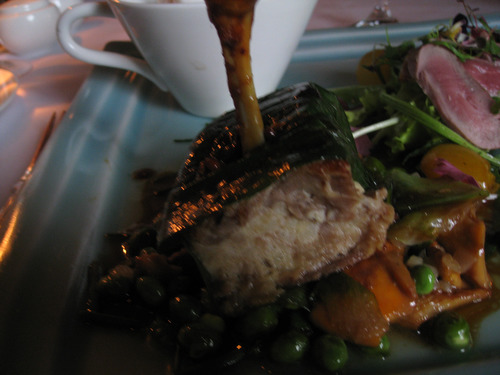 The poached duck egg: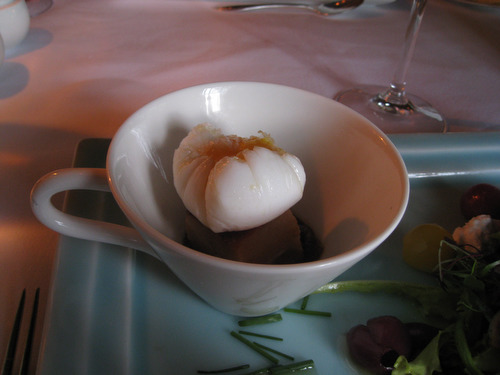 Its consomme: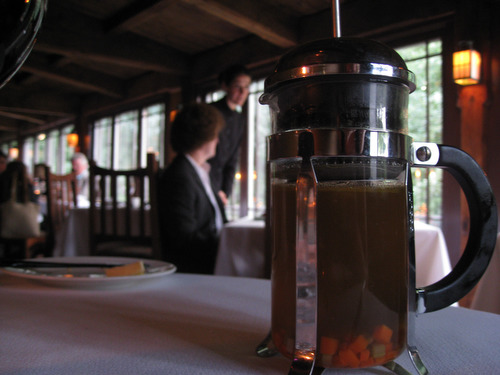 They poured the consomme on top.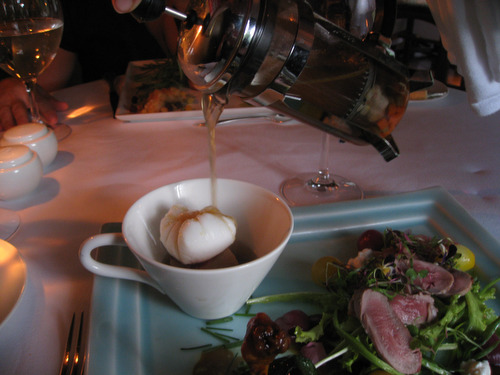 (By the way I must interject here and say that service was impeccable.)

And the pine smoked duck breast.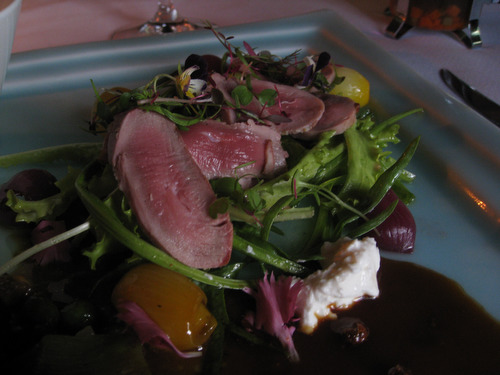 It was all very well executed (well except for the egg; it was overpowered by the pork belly underneath and the mushroom-y consomme), but it was just too much food. I didn't know where to start. My mouth was confused about which flavor goes with what and everything got all muddled.

Here's what I was left with after I couldn't eat another bite: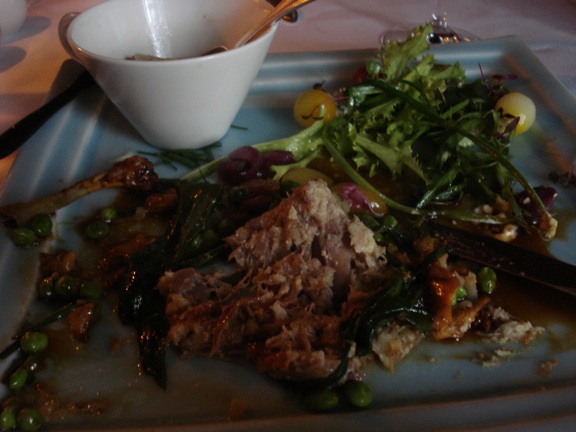 We also got a dessert. It was served in a bento box.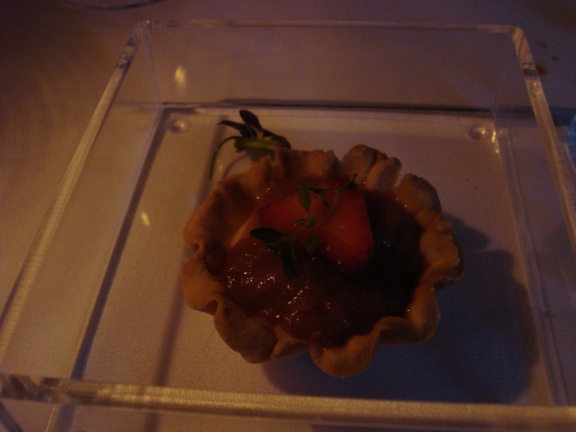 As I said, service was amazing. For example, the sommelier was taking care of our table and I could decide between a pinot noir and a syrah for the duck dish. She brough a tiny sample of both.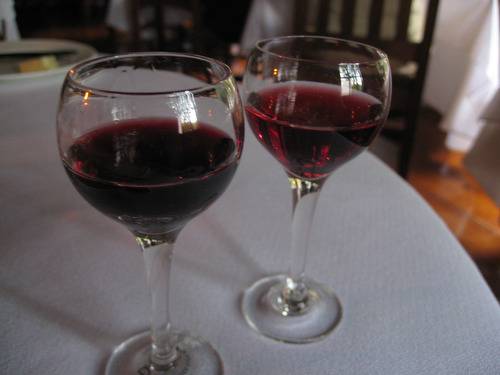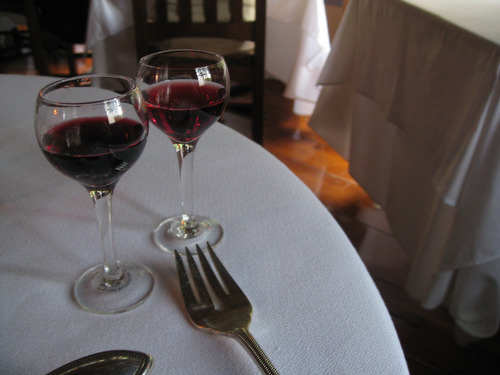 And toward the end of the meal, I commented to the waiter that the restaurant was celebrating its 20th anniversary. He smiled and said: "Oh! It's your 20th anniversary? Why don't I take a photo of you!?"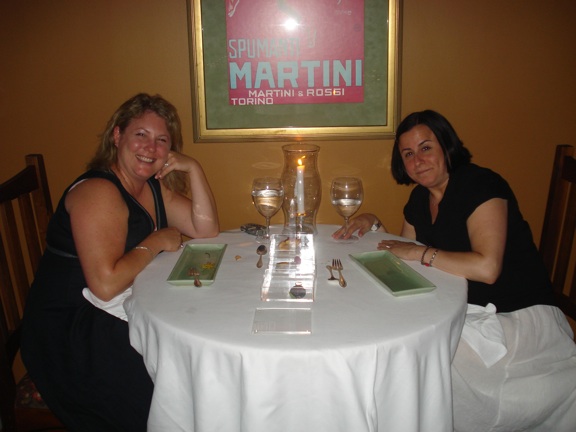 Innocent mistake, so we just smiled.

In the end, the simple things were the best things at Arrows.
Beautiful lettuces from the garden.
House-cured ham.
A crispy fried chicken leg.

That really is the direction a lot of menus are going, and something tells me that even though Arrows was a leader at one time, it's sort of stuck in its ways, only taking baby steps toward contemporary cooking.

I would have loved the duck breast salad alone as my entree. Boo would have preferred a single scallop on top of a little foie and some beet.

I guess I came away thinking that I'd rather live at Arrows than eat there.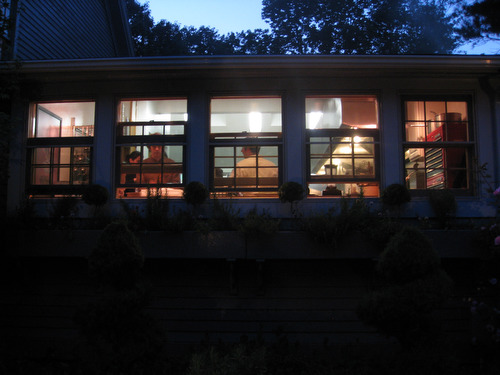 Comments
Add Comments