Jump to navigation
The White Barn Inn
And... for our final fine dining experience in May, we bring you our dinner at
The White Barn Inn
in Kennebunkport, a Relais & Chateau designated restaurant that favors classic European cooking and has a professional but friendly staff. Our favorite course? The scallop on salsify puree with American paddlefish caviar: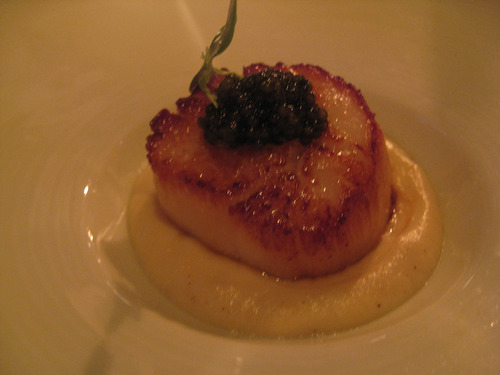 Our favorite part? Ladies and gents, I present the brothers Liesener: Daniel and Christian.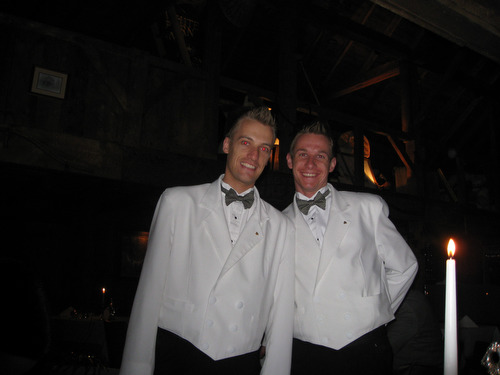 These guys — waiters, both, and brothers over from Germany — were professional, polite, warm, friendly and funny, and were two of the best servers I've seen in a very long time. Kudos, guys. And thanks.

The restaurant is in an old, yes, white barn: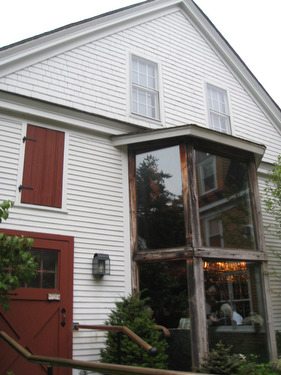 The white barn is connected to a yellow house.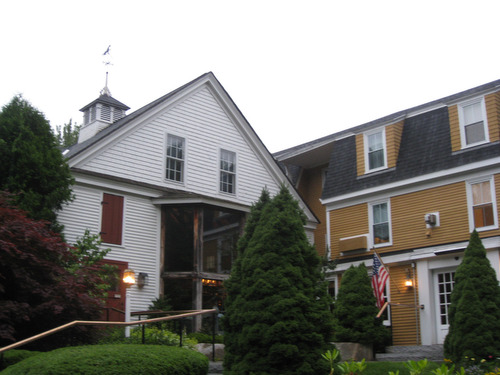 You enter through the yellow house.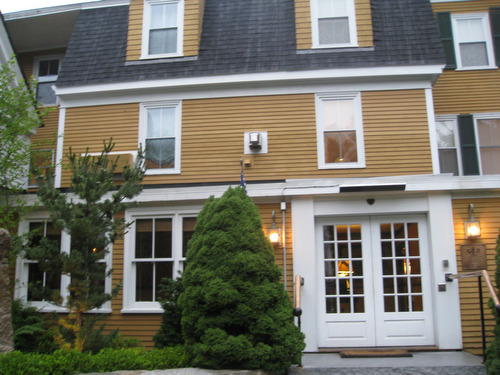 The inn is owned by the same folks who own the Beach House Inn, where we were staying. The lobby feels similar, just fancier: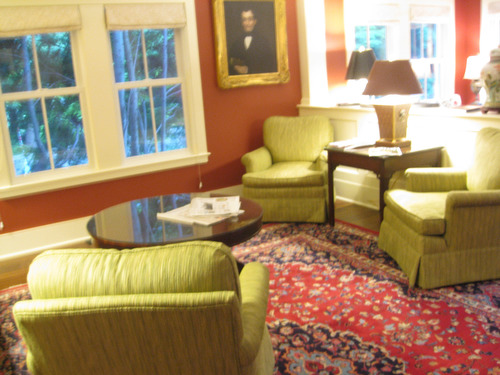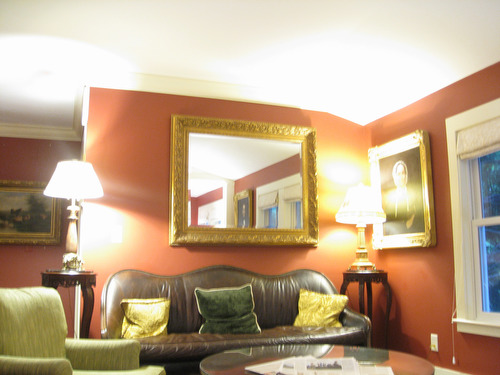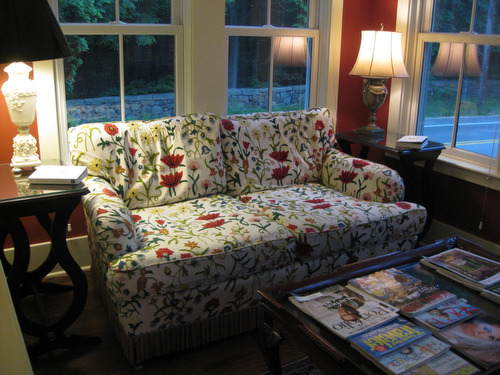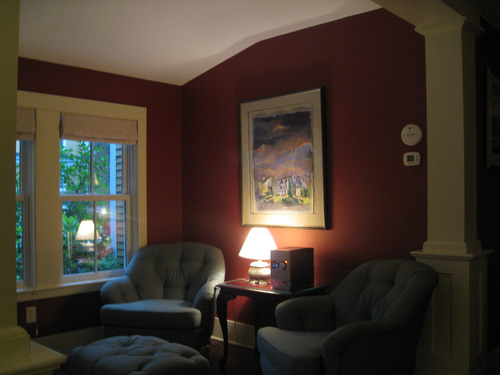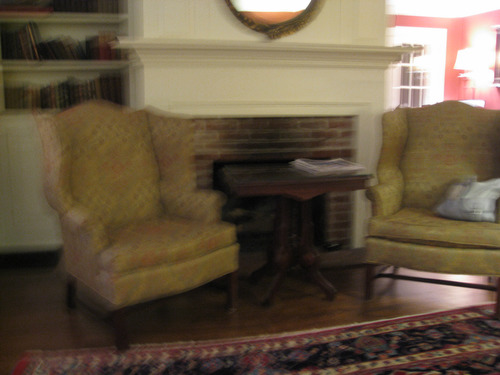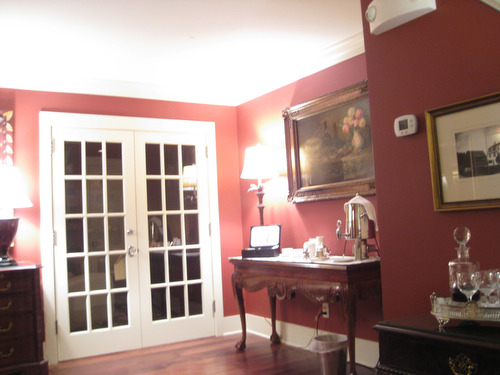 As was our MO, we arrived earlier than our reservation (pesky weather) and enjoyed a drink at the bar first.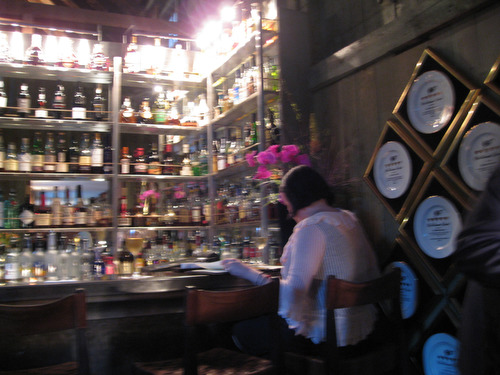 Other people were enjoying pre-dinner drinks. These people were in the bay window: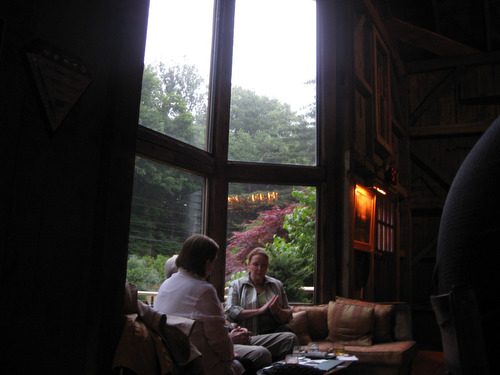 From the outside: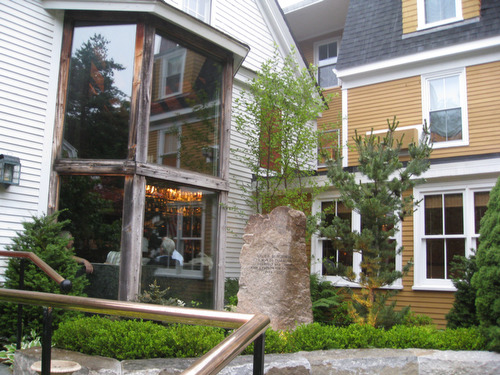 These people were enjoying drinks around the body of the piano, which I found absolutely fabulous: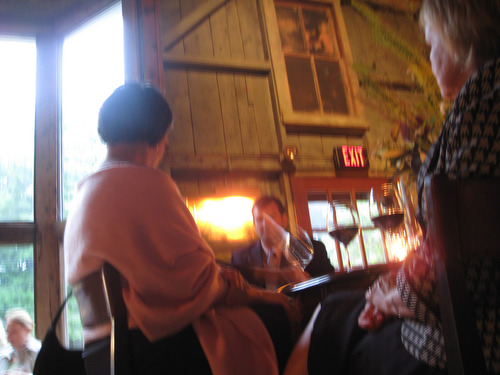 (On a side note, Boo requested the piano player play several songs from South Pacific, so we enjoyed lounge-y show tunes during dinner.)

We move to the table.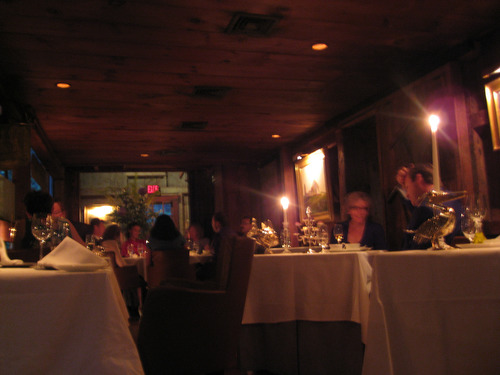 Boo futzes with her camera: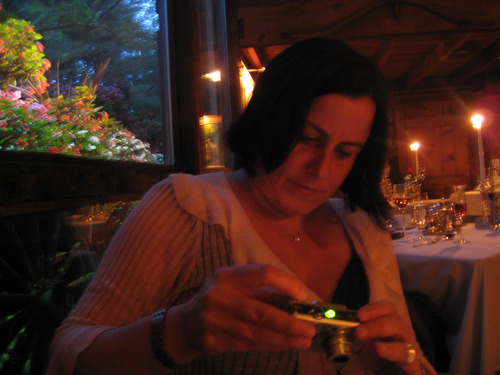 The loft, seen from our table.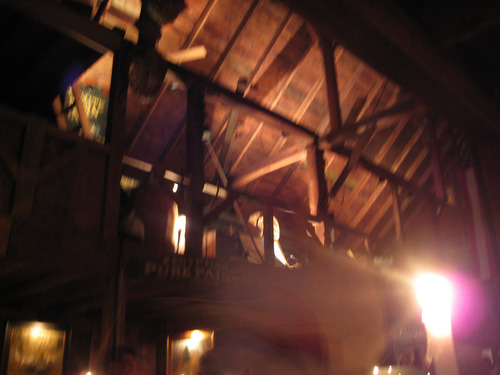 Boo: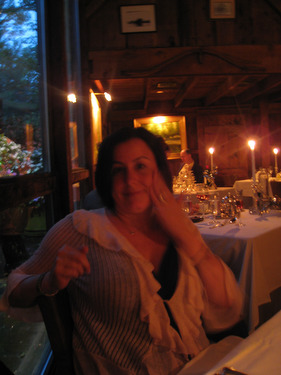 Our first course.

Prawn carpaccio with passion fruit and yuzu.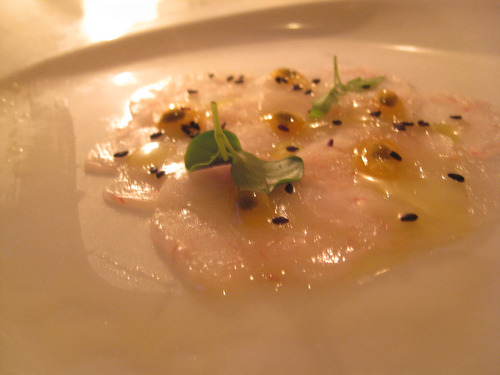 The flavors were fabulous. A light, wonderful start. Boo's was prepared perfectly. Mine, unfortunately, was still frozen. It was frozen stuck to my plate, so I had to scrape it off with the edge of my fork.

Second course was that scallop.

Sweet but not too. Eartlhy salsify. Perfect in every way.

One of the waiters serves a couple next to us: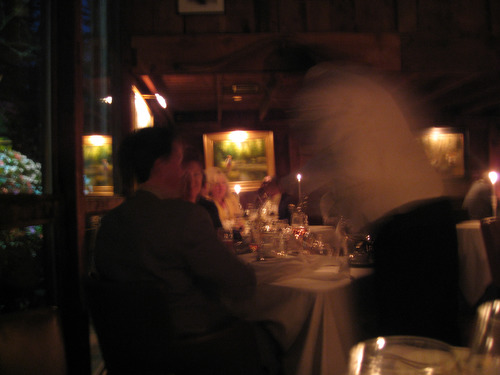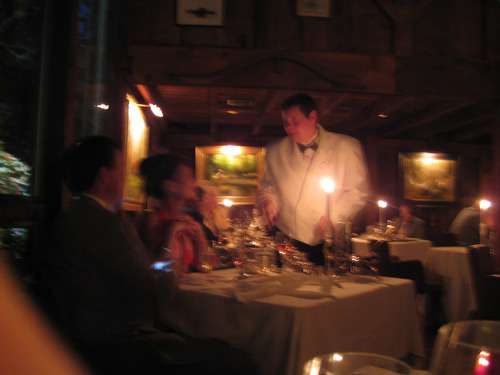 Next course was Seared Duck Breast with Confit of Fennel and Caramelized Orange Sauce: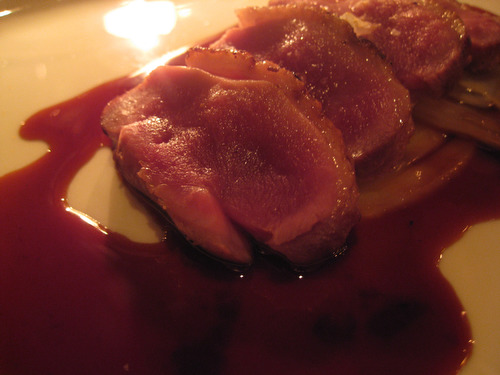 This dish had some flaws. The duck was too hard to cut and chew: it was tough. Weird for rare duck. Also, I didn't see any confit: the fennel was fanned out. Not that this is a bad thing, I'm just saying. And the reduction tasted a lot more of cassis than orange. It was good but we didn't love it.

After that, we had miso-glazed salmon with sweet soy sauce.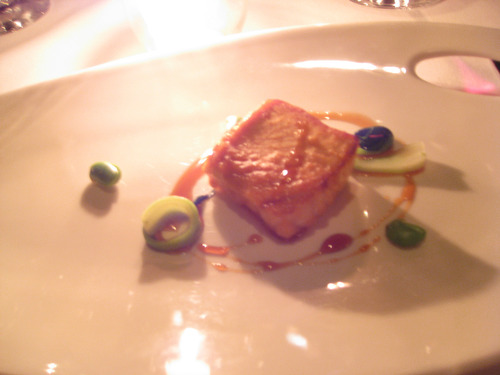 I really liked this one. The flavors were well balanced and the fish was cooked perfectly. Unfortunately, Boo's serving was overcooked. The kitchen seemed to show some inconsistencies.

We were both completely bowled over by the next course: pea and lobster risotto: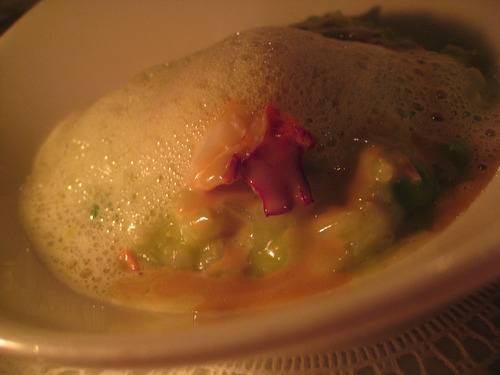 It's hard to see through the foam, but the rice was beautiful: individual grains yet they were creamy and gooey without being overdone. A couple of tiny pieces of lobster and some very flavorful peas. Bravo.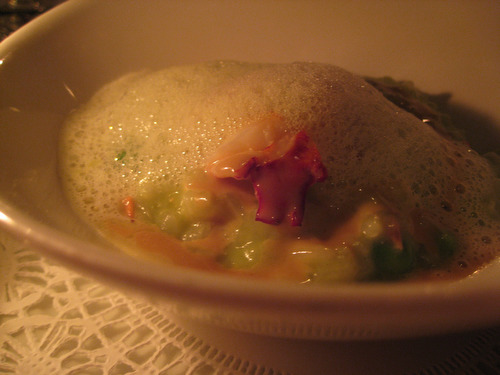 Palate cleanser — cantaloupe melon and rhubarb sorbet.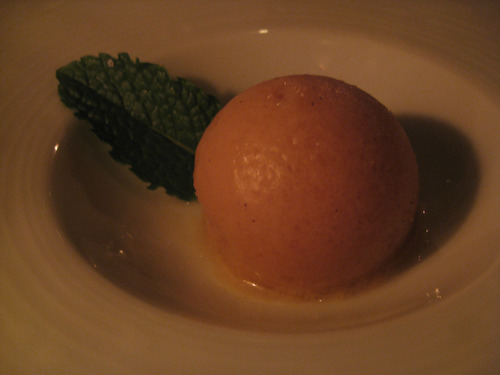 Did its job.

Final savory. Pan-roast lamb cutlet and pest-glazed loin, summer gratin potatoes and tomato-chardonnay sauce.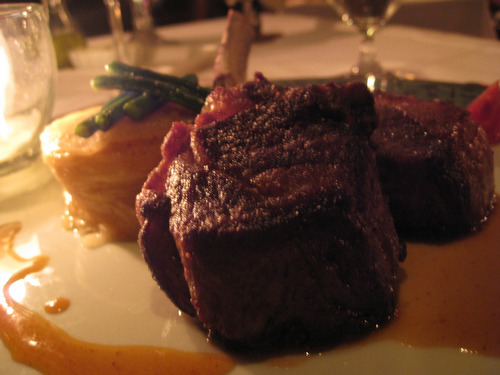 This was delicious, but we were so full that neither of us could get down more than a bite or two.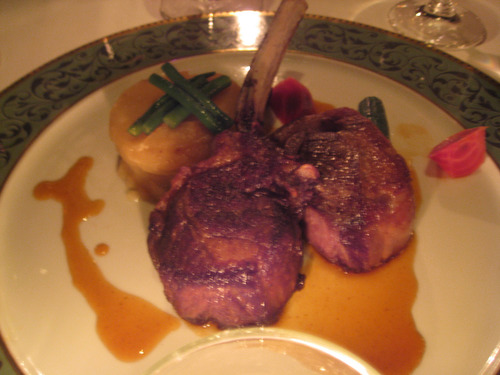 After that, we had cheese.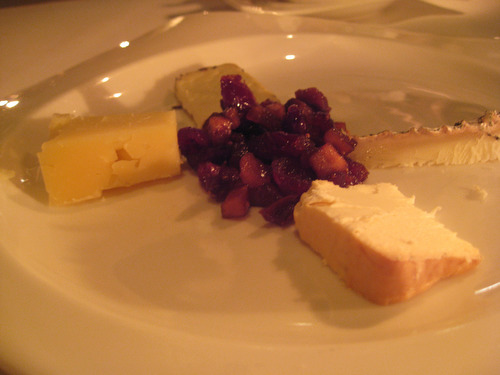 Christian wrote them down for me. I really liked the rosemary one.

Rosemary waltz silvery moon from Westbrook, Maine.
Montgomery Cheddar from Somerset county England
Smoked Bottom and Valency, both from HeartsongFarm in New Hampshire.

All great.

After the cheese we had two pre-desserts, a pudding, which I adored but didn't write down the flavor so can't remember: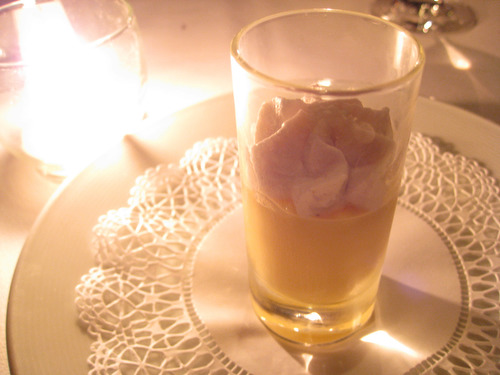 And little chocolates: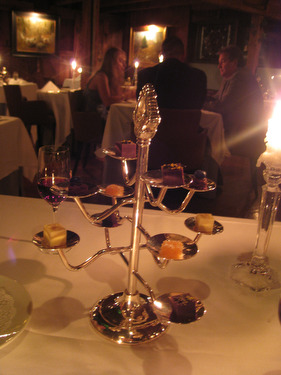 And for dessert? A fabulous souffle. I just don't eat enough souffle.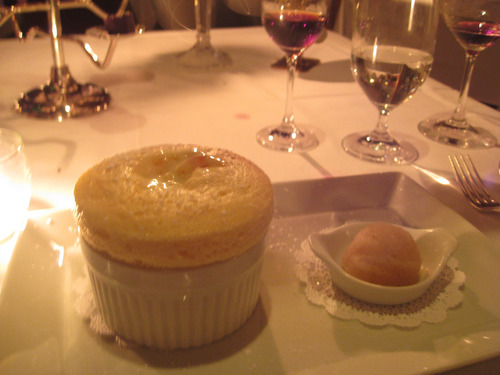 Coconut Souffle with Rum Sorbet and Lime Creme Anglaise: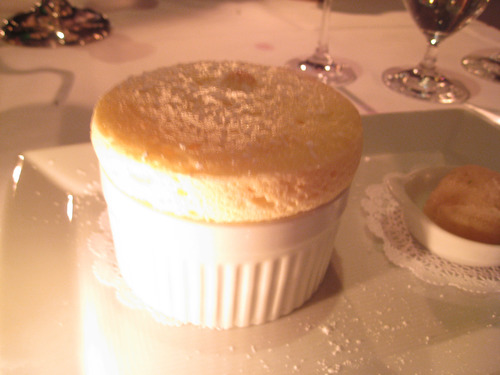 Boo is happy.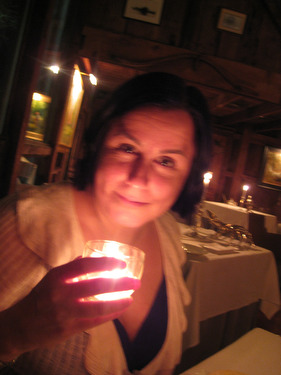 I am happy.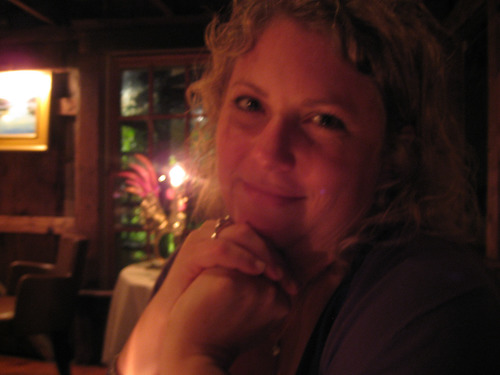 The restaurant is emptying out.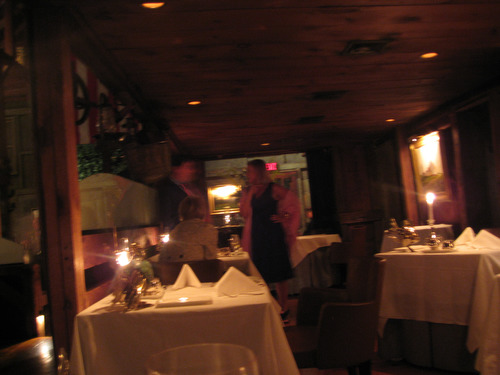 Once again, the brothers Leisener: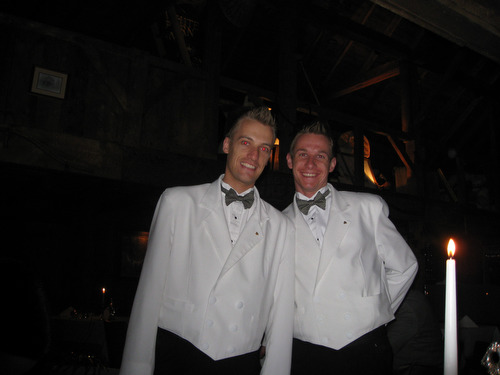 Despite a few inconsistencies, we really enjoyed our meal. The setting was great, the service was great and we tasted some great things. A lovely way to wrap up our fine dining in Maine.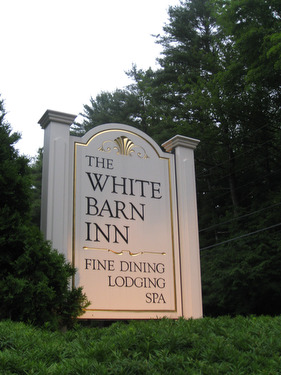 Comments
Add Comments