Jump to navigation
Lizís Rosemary Burgers
Tessa once introduced me to rosemary in burgers and Iíve been making them this way ever since. I love serving them on English muffins with a dollop of blue cheese.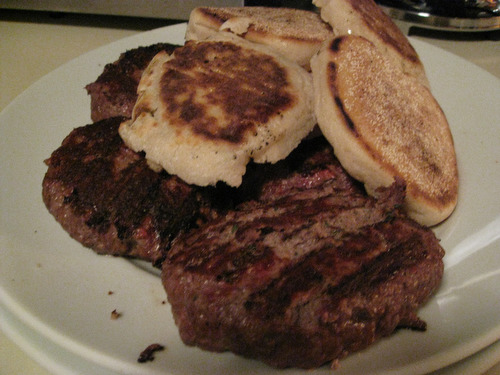 2 pounds sirloin
2 tablespoons chopped fresh rosemary
1 tablespoon Worcestshire
1 egg
3 generous shakes Tapatio hot sauce
2 teaspoons salt
1 teaspoon freshly ground pepper
Cashel Blue Cheese

Place all ingredients except cheese in a big bowl. Wash your hands and use them to mix all the ingredients well. Then form into 4 to 6 patties, about 1/2-inch thick. Place on a platter and cover with plastic wrap. Let them come to room temperature before grilling.

Grill the burgers over medium heat, turning once, 8 to 10 minutes until still pink in the center. Toast the buns on the grill.
Serve each topped with a generous slice of cheese and your selection of condiments.
Yield: 4 servings.
Comments
Add Comments