We made a few things ahead before our big feast on Christmas Eve (and our small one on Christmas Day). Here's Boo, stirring mushrooms for the porcini-bacon sauce: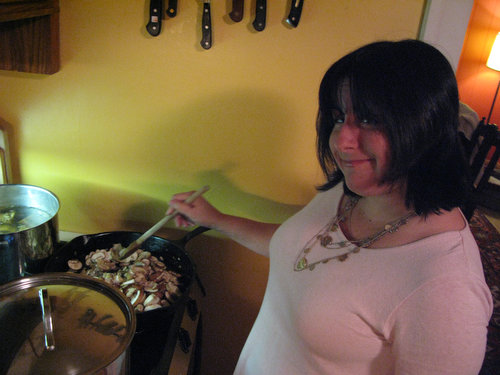 A few other prep-like things.
Soaking Rancho Gordo's Christmas Lima Beans: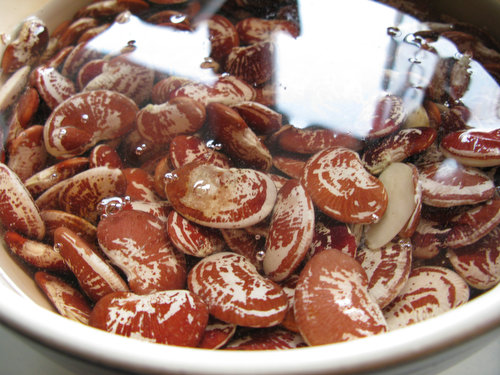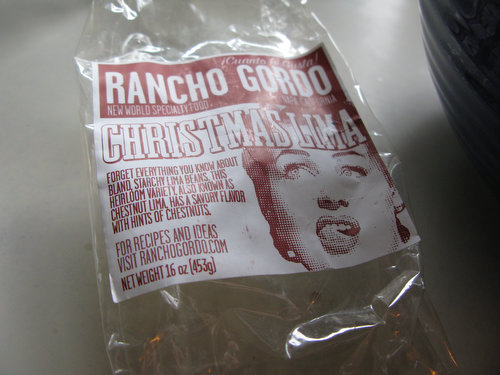 Pancetta for beans: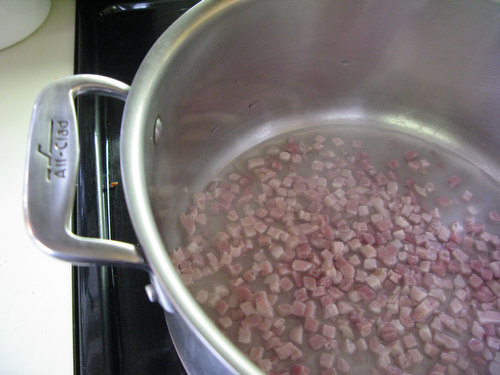 Unfortunately, even though we soaked them for 6 hours and cooked them for about 8 —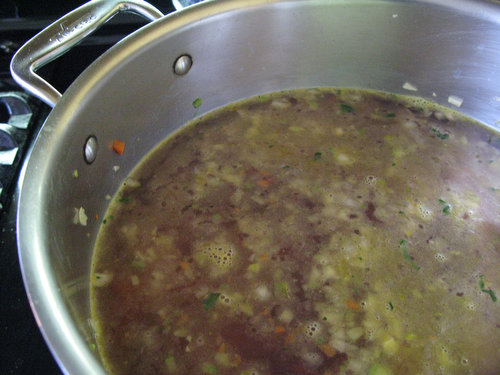 — the beans never cooked through. I think it's because they were about 6 or 7 months old, and I've heard if they're too old, they won't cook. Darn it! We made do with some Rancho Gordo pinto beans, though, that we loved.
Moving on, I needed pan drippings from the roast to make the gravy, so I decided to make my own before the fact:
I just sprinkled dried rosemary and thyme (and S&P) on a 3-pound chuck roast and seared it. Then I put it in the oven til it was 125. It was great for snacking on all weekend in sandwiches and the like, and we had pan drippings for our gravy.
I also roasted beets for our "Jeweled Roast Vegetables," the inspiration for which I found here on FineCooking.com. I put beets in a foil wrapper with olive oil, salt and thyme: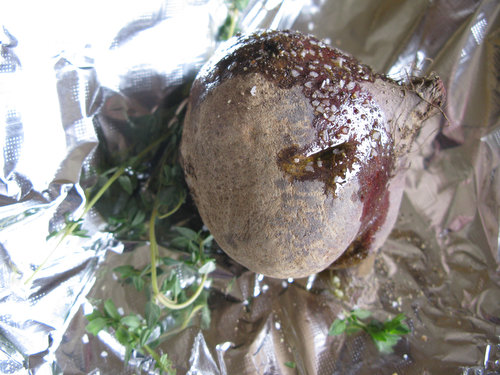 Then I seal each beet individually in its foil: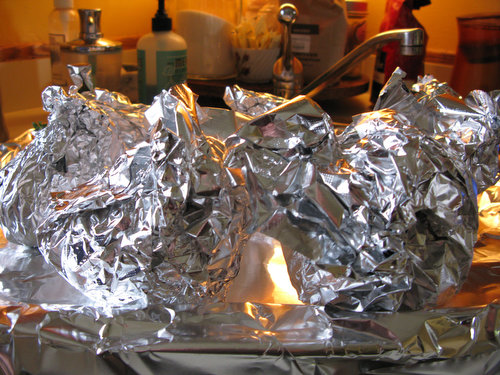 I also had some chestnuts leftover from our Roasted Chestnut Cookies, so that's where the inspiration for Chestnut Mashed Potatoes came from.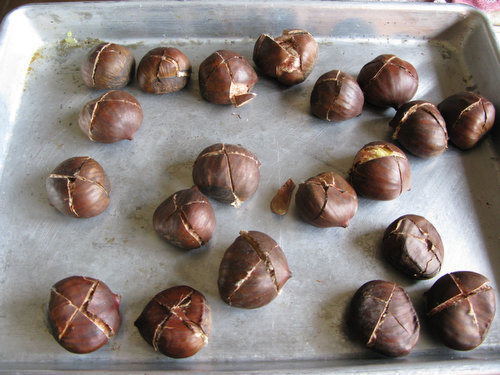 Soaking porcini for the Porcini-Bacon Sauce: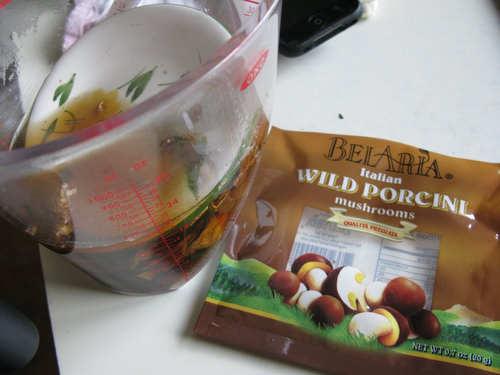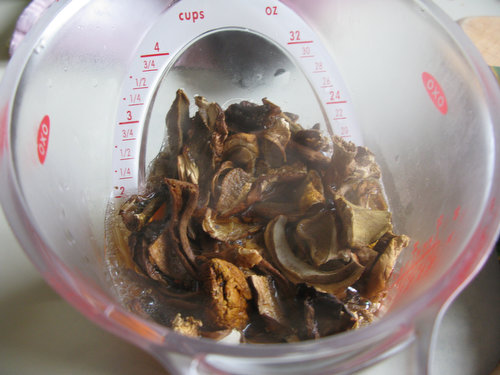 And, here's the beef stock that I made for the gravy. It sat outside overnight so the fat would rise to the top and I could easily skim it off: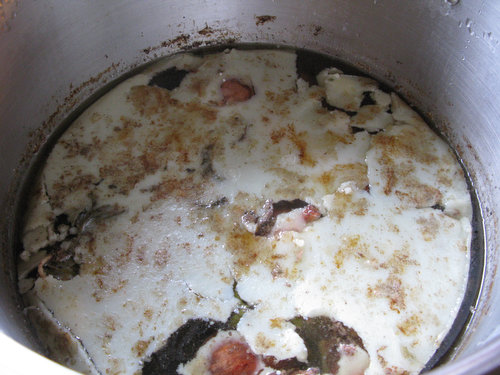 Why I took an ugly photo of the drained pot and not the deep, brown, delicious stock, I'll never know: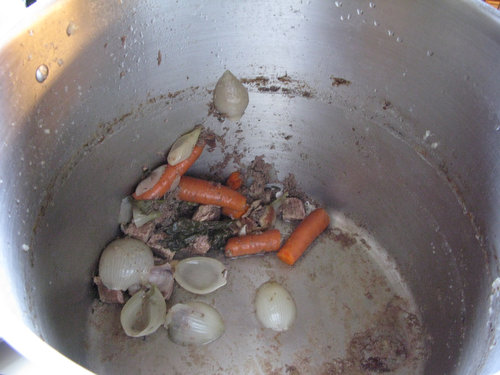 So we're just about ready to head to the pub here. But first, a few more mushroom stirring, Boo: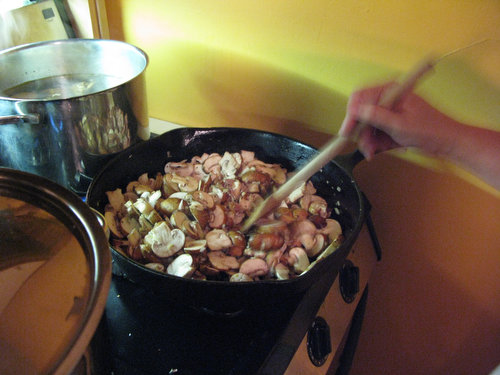 And Greg, if you don't mind, a little beet peeling: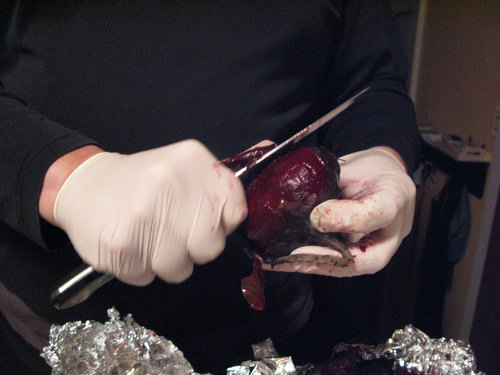 Looking forward to this meal!