I am just loving Dorie Greenspan's new cookbook "Around my French Table."  Seriously. You should buy it. Then you can discover such great recipes like this squash soup, which not only helped me use up a squash from the farmers market back in November (yes, it was still good!) but also a rogue fennel bulb in my crisper and some about-to-turn pears from the bowl on the dining room table. How serendipitous!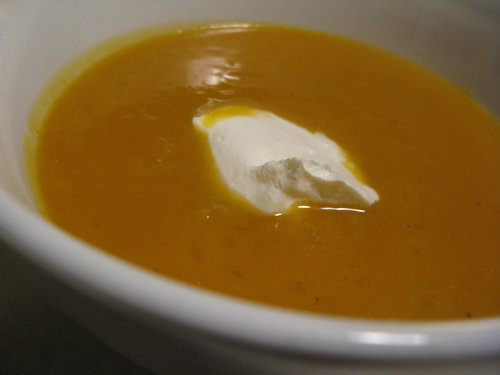 Start by roasting your squash. Here's mine, already out of its shell.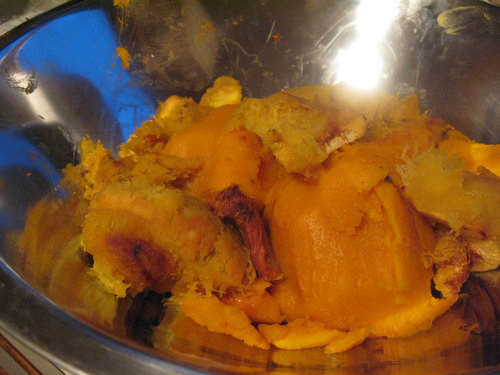 Then chop 1 onion, 1 spring onion or shallot, 1 fennel bulb, 2 celery stalks and 1 large clove of garlic.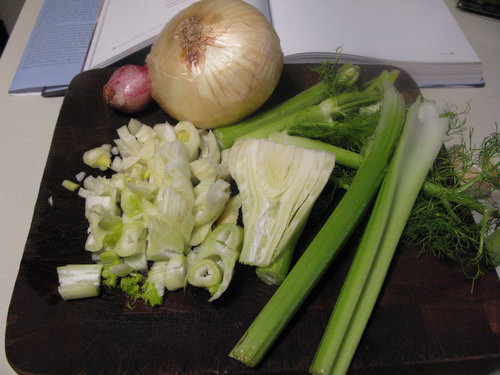 Saute all that and then add spices: ginger, cumin and nutmeg:
Add squash: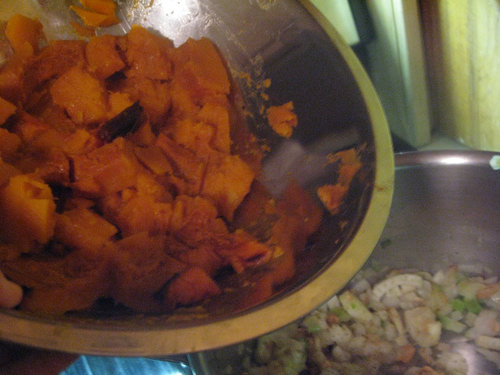 And chicken broth.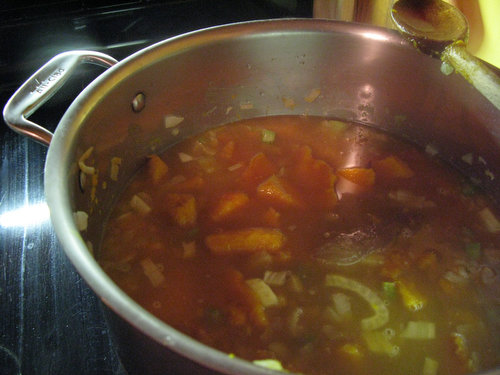 And then add pears and orange peel.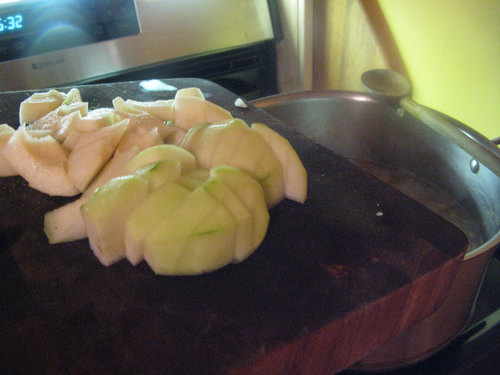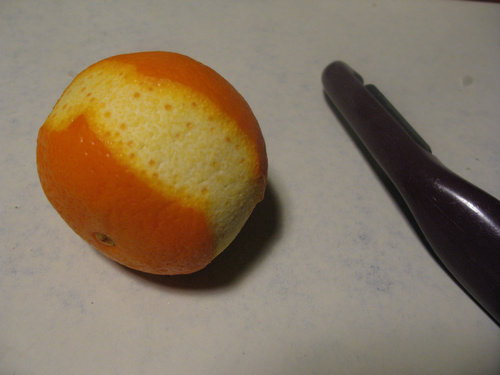 After it simmers a while, puree it. We like the immersion blender: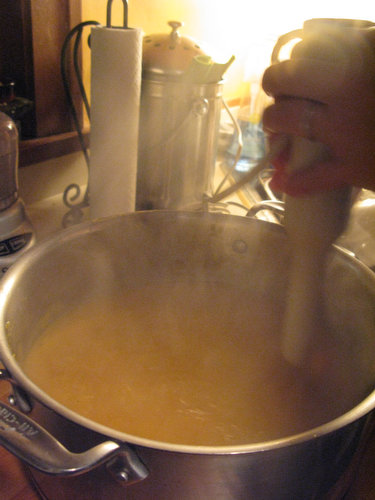 Voila. Serve with salad and bread.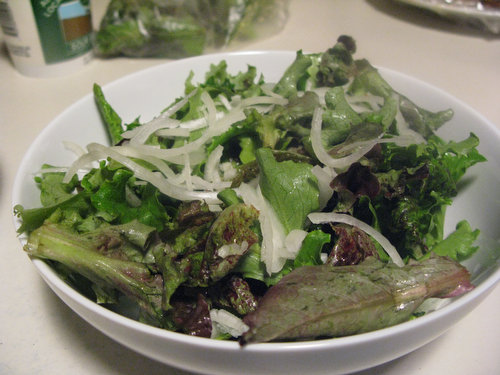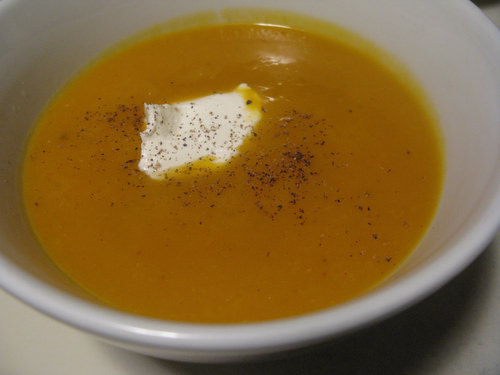 Spiced Squash, Fennel and Pear Soup
About 3 pounds squash, such butternut (or Long Island Cheese Pumpkin if you can find such a thing)
About 3 tablespoons olive oil
Salt
1 large Spanish onion, coarsely chopped
1 spring onion, trimmed and coarsely chopped or 1 large shallot, coarsely chopped
1 medium fennel bulb, trimmed, tough core removed, and sliced
2 celery stalks, trimmed and thinly sliced
1 large garlic clove, split, germ removed, and sliced
1 1/2 teaspoons ground ginger
1/2 teaspoon ground cumin
1/4 teaspoon freshly ground nutmeg
5 to 6 cups chicken broth or vegetable broth
2 ripe pears, peeled, cored and coarsely chopped
2 strips orange or tangerine peel, pith removed
1 to 2 lemons
Creme fraiche for garnish
Preheat the ove to 425. Line a baking sheet with foil.
If you're using a whole squash, cut it in half, scoop out the innards and rub the exposed flesh with a little olive oil. Sprinkle squash with a pinch of salt and put it on the baking and slide it in the oven. Whole squash will need to roast about 60 to 75 minutes, cut squash about 45 minutes. With either, trust your knife, not the clock. When you can pierce the flesh easily, it's ready to come out of the oven. As soon as the squash is cool enough to handle, peel it and cut it into cubes, about 2 inches on each side.
Warm 2 tablespoons of the olive oil in a Dutch oven or soup pot over low heat, then stir in the onions, Spanish and spring (or shallot). Season lightly with salt and cook for 5 minutes or until the onions start to soften but not color. Add the fennel, celery, garlic and a pinch more salt and cook, stirring often, for another 5 to 10 minutes, or until the vegetables are soft but still pale. Stir in the ginger, cumin, nutmeg, 1/4 teaspoon salt and a few grinds of pepper, then add the roasted squash. Pour in 5 cups of broth, increase the heat and bring to a boil, then reduce the heat so the soup simmers gently. Add the pears and the orange peel. Partially cover the pot and simmer about 20 minutes, or until the pears and squash are soft enough to be mashed with the back of a spoon.
Puree the soup in batches in a blender or a food processor or use an immersion blender. Taste for salt and pepper. If the soup is too thick for you, stir in up to one more cup of broth and reheat until hot.
Ladle the soup into bowls and finish with a little lemon juice, or serve lemon wedges. Garnish with the cream.